Fresh herbs enrich every dish – especially when they are freshly picked. Why not have your own kitchen herb garden? We'll show you which herbs are best suited for this.
A kitchen herb garden is a small paradise for the senses: fresh green color, wonderful smell and incomparable taste. Not only us humans are attracted to herbs, but wild bees and bumblebees also find their flowers to be irresistible.
If you want to grow herbs, you don't even need a garden. You can easily grow them in pots or planters – be it on your balcony, terrace or windowsill. Once harvested, you can use your herbs to refine soups, salads, dips and sauces, prepare smoothies, pestos, summer drinks and teas and even use them for medicinal purposes.
In the long run, growing your own herbs not only saves you money but also makes you less dependent on what your local supermarket has to offer – and not just in the early spring or summer. Whether frozen or dried, herbs can be easily preserved for the colder months. So don't be afraid to prune your herbs in the summer. They'll thank you for it – and grow even more abundantly!
So which herbs should you grow in your kitchen herb garden? Here are some herb garden ideas:
1. Basil
Tomatoes and basil are not only a great duo on the plate but also in a flowerpot. However, make sure that the tomatoes do not overshadow the basil in your kitchen herb garden: Basil loves the sun and warmth but dislikes dry soil.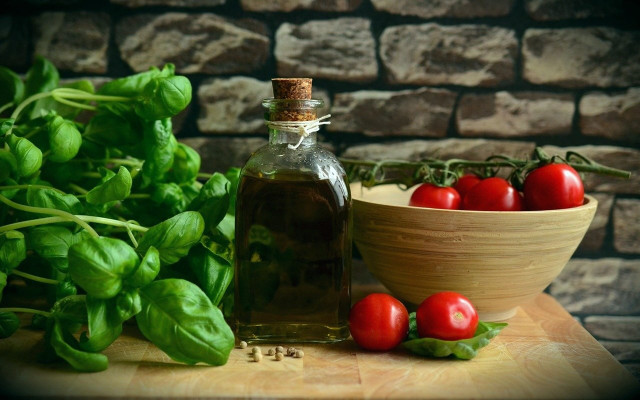 Divide newly bought basil plants into several pots. You can easily propagate basil by placing cuttings into a glass of water until they develop roots or by planting them directly into soil.
2. Borage
Borage. Never heard of it? Then you're missing out! Here's why growing borage is a great herb garden idea: This herb is also referred to as "starflower" thanks to its vibrant blue blossoms with reddish stems which attract bees and bumblebees. Use the edible flowers to add a beautiful touch to your salads or freeze them in ice cubes and add them to summer drinks.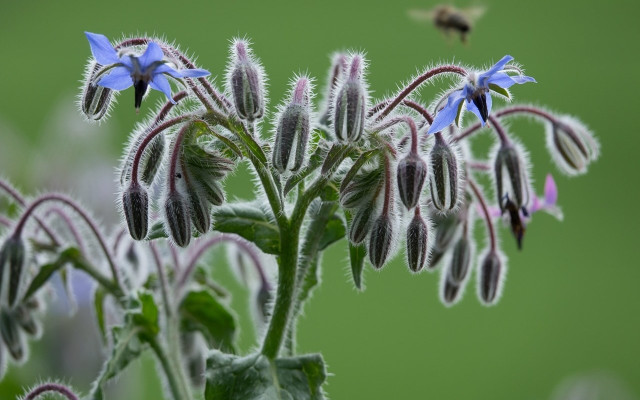 Borage's leaves develop a white, prickly fuzz as they mature, keeping pests at bay. They taste a little like cucumber and are also delicious in salads, as garnish or as an alternative to cucumber-infused water.
When planted in a sunny spot in a sufficiently large pot, the plant can reach a height of up to 35 inches. A must for your kitchen herb garden!
3. Nasturtium
If you want to grow herbs, nasturtium is another must. Why, you ask… Besides being low-maintenance, nearly the whole plant is edible:
The leaves have a cress-like flavor
The flowers, yellow and orange in color, refine summer salads, herb butter and dips
The young seed capsules taste great as a substitute for capers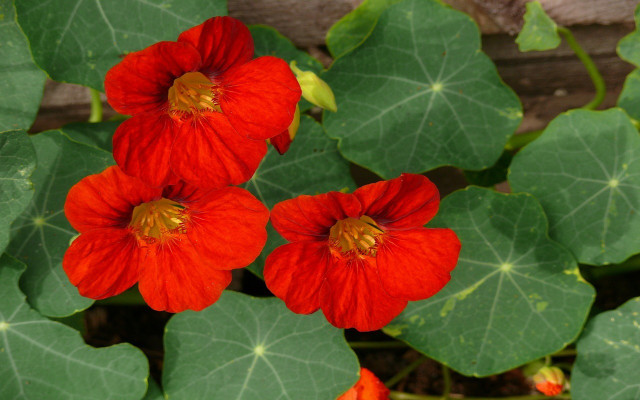 Both the leaves and flowers contain mustard oils which have antibiotic and antifungal properties, making them the perfect natural remedy for colds, sore throats, bacterial and fungal infections.
4. Lovage
Lovage belongs to the parsley family and has a celery-like flavor. You can use the fresh leaves and seeds to season soups, stews, salads and more.
Unlike the herbs mentioned above, lovage is perennial. If well protected, it can survive the winter on your balcony or terrace. Regularly fertilize the soil and always keep it moist – but not wet. Lovage thrives best in partial shade.
5. Mint
You could create an entire kitchen herb garden with mint alone – there are so many different types with flavors including strawberry, orange and chocolate. Apple mint, for instance, is mild, almost menthol-free, and therefore particularly popular with children. There's even a special mint variety for you Mojito fans out there.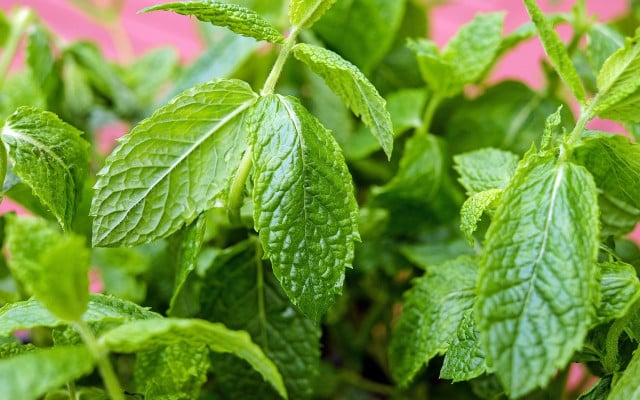 Like lovage, mint likes a partially shaded location in your kitchen herb garden with moist, nutrient-rich soil. Most importantly: Plant it on its own since it spreads underground, sending out runners which resurface, crowding out neighboring plants.
6. Oregano
Oregano is a great herb garden idea for lovers of Italian food: It's considered the pizza seasoning par excellence. There are a number of varieties with the most common being Oreganum vulgare, also known as Greek or Italian oregano. Other types include "golden" oregano characterized by its yellow-green leaves, marjoram, which is used in Southern European and Middle Eastern cuisine, and ornamental oregano such as "Kent Beauty". Each of them has a distinct flavor, except for the ornamental types, of course.
Oregano requires a sunny and warm location in your kitchen herb garden to thrive. Allow the soil to dry out a bit between watering and trim the plant to keep it growing well.
7. Parsley
Parsley comes in two varieties: flat-leaf and curly-leaf. Among gardeners, the plant has earned the reputation of being a little diva: If it gets too much sun and too little water, its leaves will turn yellow. Parsley, therefore, thrives best in partial shade.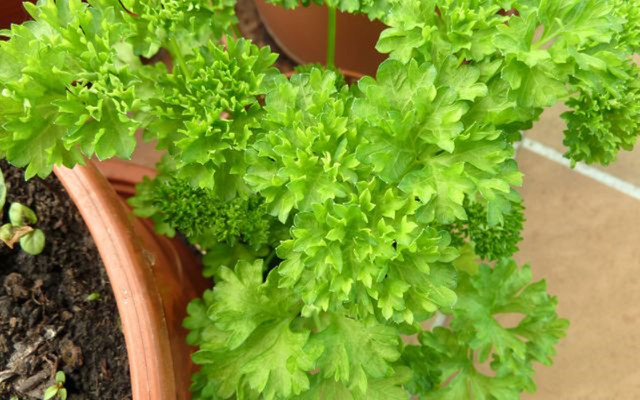 If you want to sow the seeds yourself, be patient: It can take up to a month for the seeds to germinate. Yet parsley is worth the wait. Its finely chopped leaves will refine any dish, but make sure not to heat them too long or they will lose their aroma.
8. Rosemary
Rosemary is also said to have a certain diva-like quality: It hates waterlogged soil, preferring a sunny, dry location in your kitchen herb garden. That being said, you don't want to miss out on this wonderfully fragrant plant. Whether fresh or dried, it not only refines oven-roasted potatoes and vegetables but even bread, cookies and cakes.
A word to the wise: Do not pick the needles individually but the entire branch instead. To dry rosemary, tie it in a bunch and hang it upside down.
9. Sage
Sage is considered to be an ideal neighbor for rosemary. Its preferences in terms of location are therefore identical.
The list of sage varieties is endless. Salvia officinalis is the classic version used for both medicinal and culinary purposes. You can recognize it by its beautiful purple blossoms and use its leaves to make tea, which is considered to be an antiperspirant and is said to help with colds and digestive problems. Make your own herbal candies out of their leaves, too!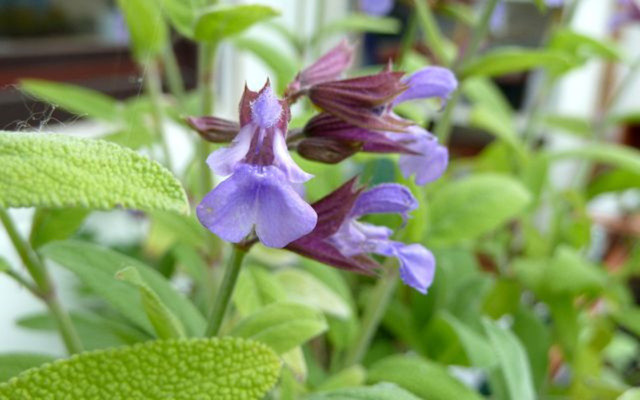 10. Thyme
Thyme also belongs in every kitchen herb garden. It is considered to be antibacterial, anti-inflammatory and an expectorant and has therefore been used to treat respiratory diseases such as wet and dry coughs and bronchitis since ancient times. Its digestive regulating properties are also said to make food more easily digestible.
The plant is easy to care for and feels most comfortable in a dry, sunny place. If you want to grow a splendid blooming variety, choose creeping thyme.
11. Garlic Chives
Here's a simple herb garden idea: Why plant normal chives when you can have garlic chives? Its leaves are broad and flat, not like its cousin's tube-shaped ones, and its blossoms are white. When grown in partial shade, you can harvest large quantities of fresh produce every week in the summer and use it to prepare dips and herb butter, refine dishes or freeze it for the winter months. By the way, its beautiful white flowers are also edible!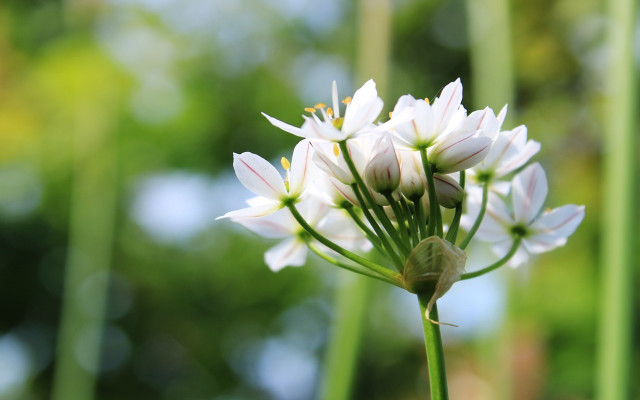 12. Lemon Balm
Lemon balm is another great bee attraction in the kitchen herb garden. If you want to use the leaves for sorbets, salads, and tea, you should harvest them before flowering when they are most aromatic.
Lemon balm likes rich, well-drained soil but cannot stand to be in full sun. Partial shade is more to its liking. Though it belongs to the mint family, it does not spread by underground runners. It does, however, continually increase in size so be sure to trim it regularly during the growing season.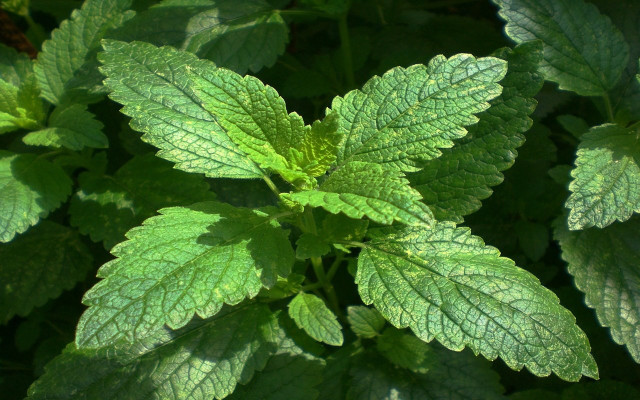 Here's an extravagant herb garden idea: If you have little space, you can try to grow your kitchen herb garden vertically. Special stackable planters are available to buy online on Amazon**.
This article was translated and adapted from German into English by Ruth Wachsmuth. You can view the original here: Kräutergarten auf dem Balkon anlegen: So klappt es.
** Links to retailers marked with ** or
underlined orange
are partially partner links: If you buy here, you actively support Utopia.org, because we will receive a small part of the sales proceeds.
More info
.
Do you like this post?
Thank you very much for voting!