Houston doesn't just have good food and great music — it's also surrounded by beautiful, accessible green spaces. Get outside and check out these fantastic Houston hiking trails.
These days it's more important than ever to get outside and spend time in the natural world. It's good for our physical and mental health (did you know sitting is considered the new smoking?) and gives us an appreciation for nature and wildlife that are difficult to find when we're inside all day. The benefits of walking and nature therapy are inexpensive and easy to access — check out these hiking trails near Houston for inspiration. 
1. Hiking Trails, Houston: Buffalo Bayou Trail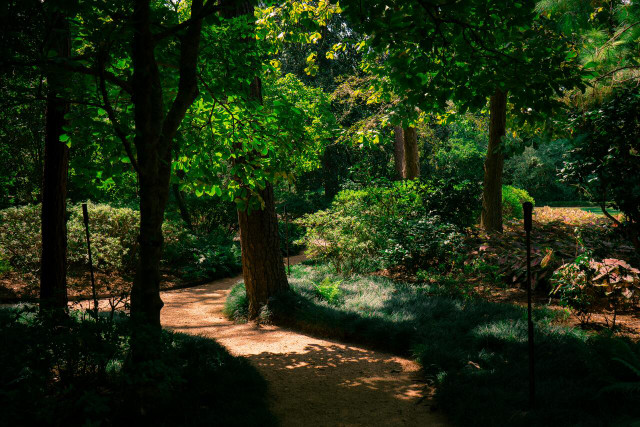 This former eyesore is now a thriving destination for people of all ages. Located just outside the downtown area, Buffalo Bayou Trail boasts impressive views of the Houston skyline, an unexpected underground cistern and numerous trails crisscrossing the parkland. From repurposed industrial bridges to thriving trees and plants and the flowing Buffalo Bayou nearby, it's a veritable one-stop-shop for urban hiking.
A 4.8-mile loop threads through the park, busy with cyclists and hikers. Additionally, the Buffalo Bayou Trail extends through the park for 15 miles. So, if you're up for a longer hike, you definitely won't be bored.
Getting there: Hike from downtown or catch the 20 Bus.
Distance from downtown: 1.5 miles 
Keeping active and exploring exciting new destinations doesn't have to mean flying internationally. Some of the best cities in the world are right here. Check out The 10 Most Walkable Cities in the US.
2. Hermann Park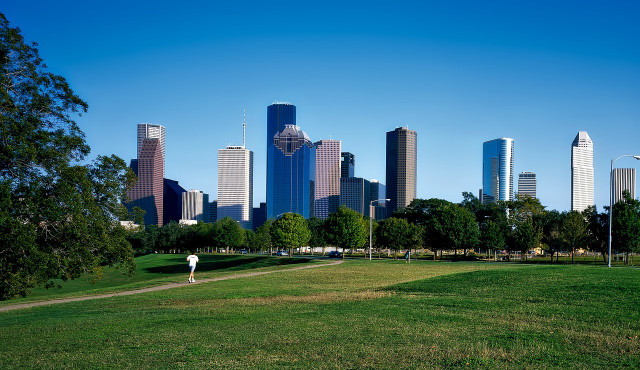 Hermann Park is renowned for having one of Texas's best zoos, and it is also home to some of the most popular urban hiking trails in Houston. Walkers and photographers will appreciate the scenic beauty of the Jessie H. Jones Reflection Pool, with its imposing obelisk, and the eight-acre McGovern Lake. But Hermann Park's crown jewel is undoubtedly the verdant Japanese Garden.
Once you're finished hiking in the famous Texan heat, drop by one of the nearby museums for some local history.
Getting there: The local METRORail red line will get you to this Houston hiking trail quickly and easily.
Distance from downtown: 3.4 miles
3. Hiking Near Houston in Memorial Park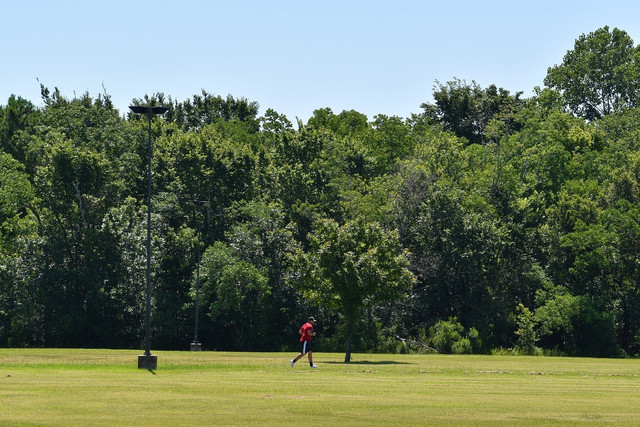 Just a few minutes from downtown Houston lies the quiet, family-friendly neighborhood of Memorial, where you can find the biggest park in the city. The former army training camp for WWI soldiers was named in their memory. The leisurely 2.5-mile loop follows the Purple Trail beneath shady native pine and elm trees. Hikers will enjoy traveling beside and over several small streams where bird enthusiasts can spot local wildlife. Well-maintained gravel trails and tranquil wooded areas characterize the park's three-mile-long hiking trail.
In addition to hikers, visitors will find locals sunbathing, picnicking, cycling or playing sports in the surrounding fields, particularly on weekends and summer evenings.
Getting there: Catch the number 20 or 85 Bus from most areas downtown to Memorial Park.
Distance from downtown: 4.7 miles 
4. White Oak Bayou Greenway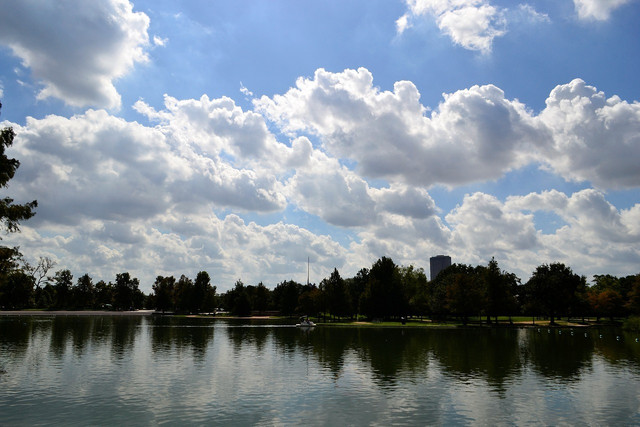 Another of Houston's beautiful hiking trails is the White Oak Bayou Greenway. Recent upgrades to the park include the extension of some of those trails, which run more than 17 miles alongside the waterway. The Greenway is becoming increasingly popular with both beginners and more experienced hikers and gives visitors another opportunity to spot some unique birdlife surrounding the Bayou.
Getting there: The local METRORail Red line will get you close, or catch the 85 Bus.
Distance from downtown: 5.5 miles
5. Houston Arboretum & Nature Center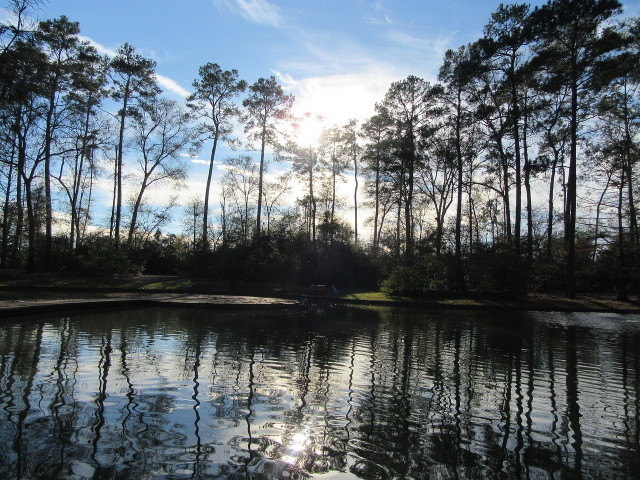 Very close to the Memorial Park area, you will find the Houston Arboretum & Nature Center, which is by far one of the best hiking trails in Houston. The park offers five miles of trail, with the longest being the 1.75-mile loop circling the entire area.
Wildlife enthusiasts exploring this conservation area can appreciate local plant species and rare birds along the way. In fact, the different trails offer something for everyone, including a bird spotting trail, a native wildflower trail, and inviting forested trails that offer plenty of shade and serenity.
Getting there: Local bus services 20, 47 and 84 will get you there.
Distance from downtown: 9.9 miles
6. Keith-Wiess Park: A Must-See Houston Hiking Trail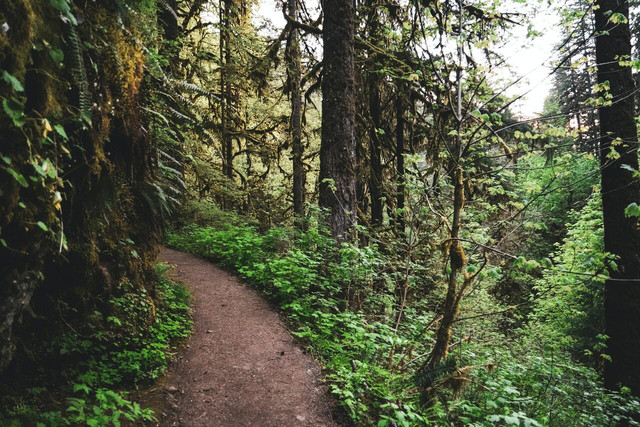 North Houston is home to the beautiful 500-acre Keith-Wiess Park, boasting inviting trails and recreation areas nestled in the shade of peaceful pine trees. Around 140 acres of the park are dedicated to old-growth forests. The area is steeped with rich local history, and although Keith-Wiess Park has one of the shortest Houston hiking trails, covering just two miles, the forested area alone makes it one of the must-see hikes near the city. 
Getting there: The local METRORail green line will get you close.
Distance from downtown: 11.5 miles
7. Terry Hershey Park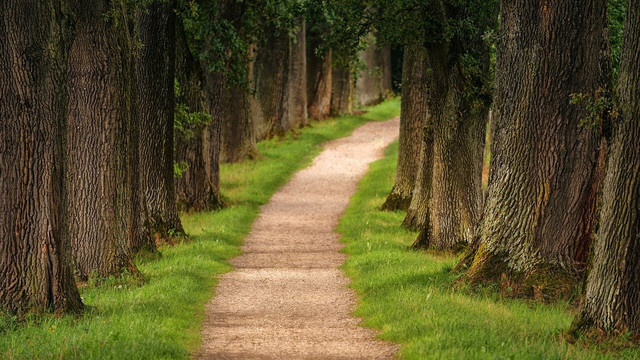 With well-maintained biking and hiking trails, Terry Hershey Park is another popular Houston hiking trail. With an impressive 10 miles of trail, this hiking and running reserve is the perfect place to escape the city noise without venturing too far. A mix of gravel and paved paths make for easy walking, and the ample tree cover keeps you cool during the hot Texas summer.
Nature lovers will especially love the park's biodiversity; it is a thriving habitat for many Gulf Coast bird species that have made Houston their home. And a quick FYI for those avid mountain bikers out there: Terry Hershey Park also has one of the best bike trails in Houston.
Getting there: Check local bus times – but 75, 82 and 151 Buses are the ones to look for.
Distance from downtown: 16.5 miles 
As the old saying goes, home is where the heart is, and sometimes, great vacation ideas are there too: Staycation Ideas: 6 Ways to Enjoy a Relaxing Vacation at Home
8. Galveston Island State Park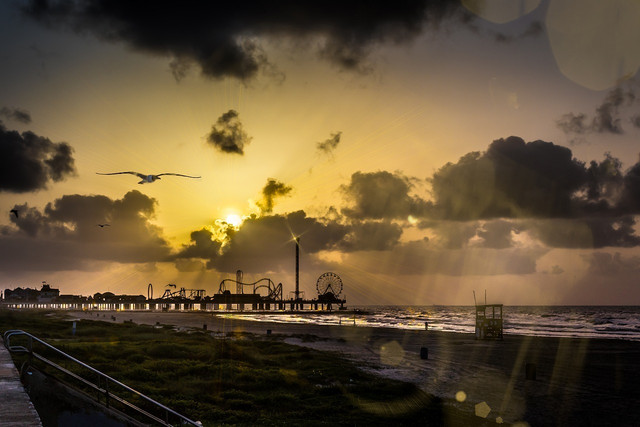 If you're looking for hiking near Houston that also makes a good day trip, Galveston Island Park is a great option. This state park is only an hour from Houston and is worth the time and effort to get there. There are a few different hiking options in the park, but a great all-rounder for hikers of all levels is the 2.7-mile loop that covers wetlands, the bay and local bird populations.
Many visitors to Galveston overlook the local state park, but it is home to some of the best hikes in the region. With nearly 15 miles of trails and only 10 miles away from Galveston, it's relatively easy to access. Hike one of the many trails that take you over dunes and through wetlands and other coastal environments. Alternatively, you can forego the hike and take off on a canoe, kayak or paddleboard instead.
Getting there: Catch the regular daily Amtrak services from Houston to Galveston.
Distance from downtown: 65 miles
Houston Hiking Trails Honorable Mention: Spring Creek Greenway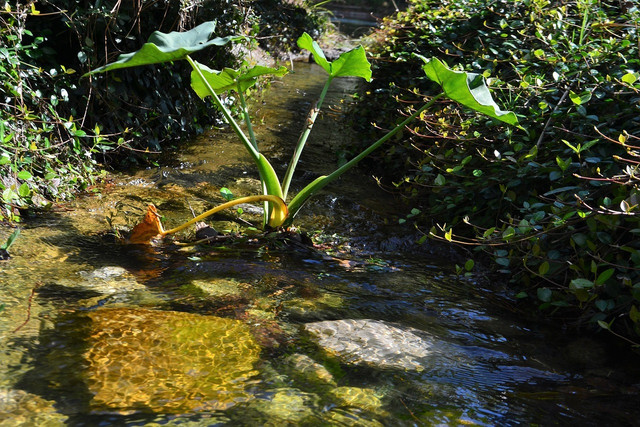 Walking along the sandy banks of Spring Creek, you may forget that you are so close to the city. The best section of the Greenway is located between Dennis Johnston Park and the Jesse H. Jones Park and Nature Center. This 12-mile stretch features sandy beaches and imposing cypress trees.
One of the best things about Spring Creek Greenway is that you can access the trail network from several different points. Spring Creek Bend, Riley Fuzzel Road Preserve, Dennis Johnson Park and Jesse H. Jones Nature Center are just a few places to begin your hike through the Greenway. 
Getting there: Public transport is limited from the city. Try carpooling with friends or family and make a day of it.
Distance from downtown: 32 miles 
Another Honorable Mention: Brazos Bend State Park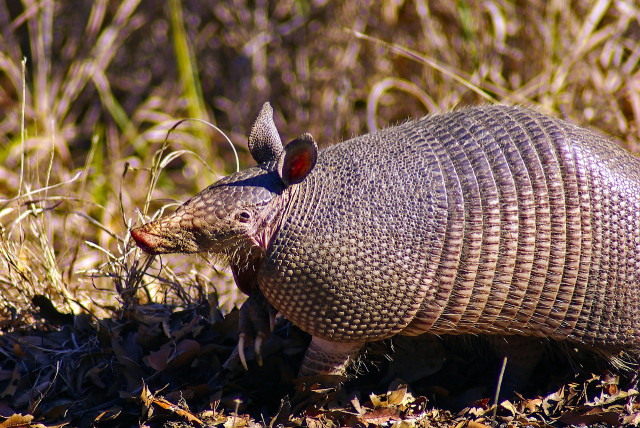 Located about 45 miles from downtown, this nearly 5,000-acre park has something for the more adventurous hikers: camping, fishing and alligators. A formidable 7.5-mile hiking loop runs along the bluffs of the Brazos River. As you wander further, you will likely spot a whole range of wildlife, including raccoons, deer, alligators, migratory birds and maybe even the odd armadillo or two.
There are 37 miles of hiking trails in Brazos Bend State Park, with several designated hikes around the park. The Elm Lake Loop Trail and the 40-Acre Lake Trail are the most popular.
Getting there: Public transport to Brazos Bend is limited from Houston, but the extra effort to get there is worth it for more advanced hikers.
Distance from downtown: 45 miles
Hike Responsibly
To protect nature and preserve our planet, don't forget to follow the seven principles of Leave No Trace: 
Plan ahead and prepare
Travel and camp on durable surfaces
Dispose of waste properly
Leave what you find
Minimize campfire impacts
Respect wildlife
Be considerate of other visitors
Read more:
** Links to retailers marked with ** or
underlined orange
are partially partner links: If you buy here, you actively support Utopia.org, because we will receive a small part of the sales proceeds.
More info
.
Do you like this post?
Thank you very much for voting!