Some of the best hikes in Canada are not too far from the American border. If you're looking for a change of scenery, look no further than your northern neighbor.
Canada is the second largest country in the world. It is filled with pristine wilderness and plenty of opportunities for outdoor fun. Plus, it's right next door to the United States, so you might not need to travel far to experience new terrain. We've gathered some of the best hikes in Canada from coast to coast to inspire you to look north for your next outdoor adventure vacation. 
1. Best Hikes in Canada: East Coast Trail
Province: Newfoundland and Labrador
Length: 336km 
Trail type: Out-and-back
Difficulty: Easy to moderate 
The East Coast Trail is made up of over 336km of pathways starting in Topsail Beach and going all the way to Cappahayden. This coastal hike in Newfoundland and Labrador takes you through a wide variety of wilderness and communities. You don't need to do the entire length of it unless you're a committed long-distance hiker. There are several smaller portions of the trail that make great day hikes:  
Cobbler's Path: 5km one way
Biscan Cove Path: 7km one way 
Silver Mine Head Path: 3.8km one way
Beaches Path: 7.1km one way 
2. Bonshaw Trails
Province: Prince Edward Island 
Length: 18km in total
Trail type: Loop 
Difficulty: Easy to moderate 
In Bonshaw Provincial Park on Prince Edward Island you'll find approximately 18km worth of trails of varying degrees of difficulty. The second of our best hikes in Canada, this trail is particularly beautiful in the fall months when you'll be able to enjoy the vivid autumn colors. No matter which trail you choose, you'll also have spectacular views of the West Elliot River. 
Trails by color:
Green: Easiest and suitable for those looking for a nice walk with avoidable obstacles
Blue: A bit more advanced featuring steeper slopes and narrower trails 
Black: The longest and most difficult trail available, with steep climbs, obstacles, and loose ground
3. Best Hikes in Canada: Skyline Trail
Province: Nova Scotia 
Length: 8.2km
Trail type: Loop 
Difficulty: Easy 
Next, we head to Cape Breton Island in Nova Scotia for the Skyline Trail. This easy 8.2km loop trail will provide the opportunity to whale watch in the Gulf of St. Lawrence and give a bird's eye view of the famous Cabot Trail. You will be rewarded for your efforts with rugged cliff views.
If you're lucky, you might just spot some local wildlife such as moose, bald eagles, bears, and boreal birds. Go in the fall to find the best autumn colors the island has to offer. 
4. Best Hikes in Canada: Mount Carleton Trail
Province: New Brunswick
Length: 9.3km
Trail type: Loop 
Difficulty: Advanced 
To round out the best hikes in Atlantic Canada, you can head to Mount Carleton Provincial Park in New Brunswick. This hike is a seasonal hike best suited for the summer months, so plan ahead. It's a strenuous 9.3km loop, but the views are worth the effort. Mount Carleton is the highest peak in the province (and the entire Maritime region) and this trail is part of the International Appalachian Trail. 
5. L'Acropole des Draveurs
Province: Quebec
Length: 10.6km 
Trail type: Out-and-back
Difficulty: Advanced 
Located near Saint-Aime-des-Lacs in Quebec, the L'Acropole des Draveurs trail is a 10.6km out-and-back trail with 885m of elevation gain, known for its stunning views on clear days. Plan your visit between May and October, which is the best time to go. Thought to be one of the best hikes in French-speaking Canada, you don't want to miss it. 
6. Best Hikes in Canada: Cup & Saucer Trail
Province: Ontario 
Length: 14km 
Trail type: Loop 
Difficulty: Easy to moderate 
For number six in our list of best hikes in Canada, head to Manitoulin Island in Ontario for this 14km trail featuring 230-foot high cliffs and incredible vistas over the forests below. It's a part of the Niagara Escarpment, home to the oldest forest ecosystem in eastern North America. Ladders, ropes, and stairs exist on the more challenging parts of the trail to facilitate a safer journey. 
Trails by color:
Red Trail: The main trail, consisting of a 4km loop 
Blue Trail: The south loop, which adds an additional 5km to the journey 
Yellow Trail: The adventure trail, which is an additional 500m
7. Best Hikes in Canada: Hunt Lake Trail
Province: Manitoba 
Length: 12.6km 
Trail type: Out-and-back
Difficulty: Moderate 
The Prairies are known for their flat landscapes, but that doesn't mean you can't find beautiful hikes in this region. The Hunt Lake Trail is a 12.6km out-and-back trail located in Manitoba and is part of the Whiteshell Provincial Park. It's open in all seasons so it's great for winter hiking and you're sure to see other outdoor enthusiasts making the most of the lake. Bring your binoculars to catch a glimpse of some local birds. 
8. Best Hikes in Canada: Valley of 1000 Devils Route
Province: Saskatchewan 
Length: 11.2km 
Trail type: Out-and-back
Difficulty: Moderate to Advanced 
Saskatchewan is home to some of Canada's badlands, and this 11.2km out-and-back trail in Grasslands National Park takes you right through them. This is truly one of the best hikes in Canada. You'll have great views of hoodoos, buttes, and other unique rock formations. Keep in mind that this area is similar to a desert environment, so ensure you bring enough water and start early, as temperatures can be up to 10 degrees hotter than in other areas nearby. 
9. Helen Lake and Cirque Peak
Province: Alberta 
Length: 11.6km to 16.1km
Trail type: Out-and-back
Difficulty: Advanced 
The Canadian Rockies are located in both Alberta and British Columbia, so these two provinces are home to some favorites among the best hikes in Canada. This trail can easily be modified to suit intermediate and advanced hikers. The Helen Lake Trail, located in Banff National Park in Alberta, is an 11.6km round trip hike with 540m of elevation gain. If you want to add the trip up to Cirque Peak via Helen Lake, you're looking at a 16.1km out-and-back trail featuring 1131m of elevation gain. 
10. Best Hikes in Canada: Black Tusk Hike
Province: British Columbia 
Length: 29km 
Trail type: Out-and-back
Difficulty: Advanced 
This is one of the best hikes in Canada, offering stunning panoramic alpine views. The Black Tusk hike is located in British Columbia and is unsuitable for beginners, as it's a 29km roundtrip and features 1740m of elevation gain. You will be rewarded with views of Garibaldi Lake, pristine forests, lush meadows, and runoff streams. This hike is a seasonal one, so plan your trip between July and October. 
11. Nines Creek Connector
Territory: Yukon
Length: 6km 
Trail type: Point-to-point 
Difficulty: Moderate
Located in the Kluane region of the Yukon, the Nines Creek Connector is an incredible hike in "the Alaska of Canada". It's a 6km point-to-point trail with 750m of elevation gain. The Yukon is not nearly as popular as other parts of Canada, so you can experience nature without the crowds. Due to its northern location, you can also catch the midnight sun during the summer months. 
Best Hikes in Canada Hiking Tips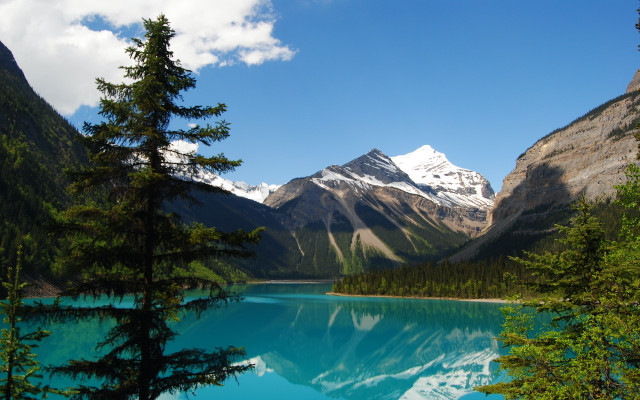 When heading out to experience outdoor activities and adventures, remember to be respectful to the environment and others around you. Use the following tips: 
Choose your routes carefully and don't overestimate your abilities.
Inform friends or family of where you're headed.
Leave no trace — take all your trash with you. These won't stay the best hikes in Canada if they get covered in litter.
Opt for eco-friendly hiking gear from sustainable brands or look to purchase secondhand. 
Use some of our healthy vegan hiking lunch ideas to limit your impact on the environment.
Respect wildlife and don't try to feed any animals. 
Carpool with friends to get to the trailheads, or search for options accessible using public transit.
For more hiking best-ofs in North America, check out our listicles:
Read more: 
** Links to retailers marked with ** or
underlined orange
are partially partner links: If you buy here, you actively support Utopia.org, because we will receive a small part of the sales proceeds.
More info
.
Do you like this post?
Thank you very much for voting!