From traditional evergreens to unique pines and spruces, we've compiled a list of the coolest types of real Christmas trees you can use to decorate your home.
The season for Christmas trees is fast approaching. Shopping for the perfect tree can be a difficult task because there are so many types and sizes to choose from. But fear not! Here are 15 of the coolest types of real Christmas trees you can find this holiday season to make your home look even more festive. From traditional evergreens to unique species, we've got it all covered. So grab your ornaments and decorations and get ready for some serious tree fun!
We'll also discuss tips for selecting and caring for the tree to make sure it lasts through Christmas and beyond. Read on to find the perfect type of real Christmas tree for your home this holiday season.
Choosing Sustainable Christmas Trees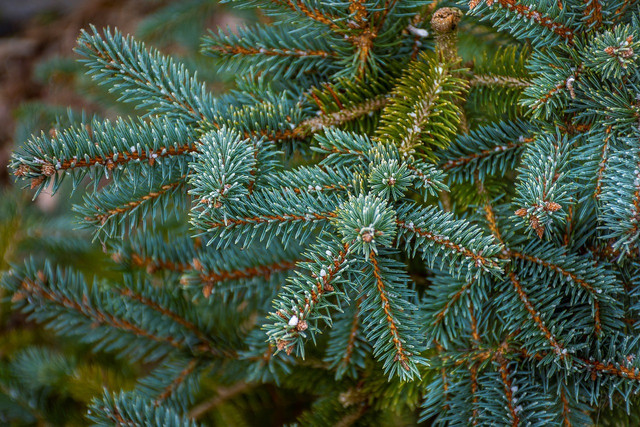 While we will go through several types of Christmas trees, it's important to know that the tree you pick is sustainably sourced and locally grown to keep your carbon footprint to a minimum. Before you jump into buying a tree, consider also renting a Christmas tree this year as another sustainable alternative.
How to Tell if a Tree is Sustainable
Sustainable Christmas trees are trees harvested using renewable practices so as not to harm the environment. These trees are usually grown on tree farms and are not cut from forests and are typically grown using eco-friendly methods with minimal environmental impact, such as using natural fertilizers and harvesting rainwater.
Additionally, sustainable Christmas trees are frequently locally sourced, meaning they don't require excessive transportation which saves energy, fuel, and money. Take a look at our article on how to make Christmas trees last longer for more tips on how to choose and care for your trees.
Refer to this list of 'Christmas trees' by state alongside our list to help you make the most informed decision.
1. Type of Real Christmas Tree: Noble Fir
There are several types of Christmas trees, but the noble fir is one of the most popular thanks to its strong fragrance, which many people associate with Christmas. Found naturally in the Pacific Northwest, the noble fir has a beautiful dark green color and thick, yet evenly spaced branches. These strong needles and branches tend to curve upward, making them great for holding heavy ornaments without breaking.
2. Nordmann Fir
Naturalized to Oregon, the Nordmann Fir has thick, soft, glossy needles that are dark green on the top and blue-green on the underside. It is one of the strongest and toughest types of real Christmas trees you will find. The Nordmann Fir has been favored for its shape and the fact that its needles are not sharp and do not fall off easily. This tree is suitable for busy households with children and pets.
3. Balsam Fir
Balsam firs are great ornamental trees, but they are not the best for heavy ornaments. The balsam fir is known for its flat dark-green leaves that look like needles. There are also hints of silvery-white on the leaves of the balsam fir, which are common in wreaths and bouquets for Christmas. They also emit a wonderful scent and have good needle retention. It can be found from Northern Alberta down to Pennsylvania. These trees tend to grow tall and slender, so if you want a Christmas tree that fits in a tight corner, this is the tree you need.
4. Type of Real Christmas Tree: Fraser Fir
The Fraser fir is very similar to the Balsam fir in its color, shape, and fragrance, but it has a lighter tone to its needles. Its leaves are needle-like, soft to the touch, and spiral along the trunk of the tree, giving off a strong, pleasant scent. These Christmas trees are ideal for keeping ornaments in place, as the branches angle slightly upward. The Fraser fir grows at elevations above 4,500 feet in the Southern Appalachian mountains and is extra sturdy, making them a great option for heavy ornaments.
5. Norway Spruce
This variety has adorned Christmas imagery all over the world since Victorian times and is a firm favorite as a result. The Norway Spruce produces amazing forest fragrances that fill the home with the scents of Christmas, but it is also especially popular as an outdoor Christmas tree due to its commanding potential height.
The traditional cone-shaped Christmas tree has a good scent, but poor needle retention, so not always the best choice for pet owners. Properly watered, the foliage is dense and spiky with a vibrant green color that stands out beautifully against the simpler winter colors. The Norway spruce is native to Europe but is now commonly found in the United States.
6. Canaan Fir Tree
The Canaan Fir is known for its similarities to both the Balsam and Fraser Fir. It has a richer green color than the Fraser; however, the fragrance is not quite as strong. These trees feature fantastic needle retention and strong branches. This species comes from the mountains of West Virginia and is relatively new to the Christmas tree market. Like the Fraser Fir, its branches are strong enough to hold multiple types of ornaments.
7. Type of Real Christmas Tree: Douglas Fir
The Douglas fir has a grand pyramid shape with blue or dark green leaves that have one of the richest scents of all Christmas trees. It has flat, soft leaves that tend to grow in bunches. A large number of Christmas trees sold in the United States are Douglas firs, which are primarily found in the Pacific Northwest. This tree's strong branches and funky fullness are sure to make a statement in any home during Christmas.
8. Serbian Spruce
The Serbian Spruce is a slightly fuller relative of the Norway Spruce. The dense green foliage is soft with blue-silver undersides with relatively good needle retention, making it pet-friendly. Due to its unique coloring, this would make a great minimalist Christmas tree. This Spruce produces a pleasant rich aroma that will fill your home with wonderful scents of the forest at Christmas. The branches are slightly drooping yet well-spaced and curly, making decorating easy.
9. Scotch Pine
The national tree of Scotland, Scots or Scotch pines have a long-lasting aroma and, when watered properly, they won't lose their needles for a long time. This means less cleanup for you when Christmas ends. Dark green foliage and sturdy branches make this tree perfect for plenty of Christmas lights and decorations. The Scotch pine is native to Europe and Asia but now grows in the eastern United States.
If you take good care of your tree, you can also collect and use the pine needles and the end of the Christmas season to really make the most of your tree. Use your pine needles in everything from teas to cleaning products!
10. Type of Real Christmas Tree: Grand Fir
The name of this evergreen tree really says it all. The grand fir features bicolored frilly needles with yellow-green hues and a white stripe beneath the needle. This tree produces beautiful, thick foliage and gives off that wonderful spicy Christmas tree scent that will fill your entire room with its warm and earthy fragrance. The branches are strong enough to hold a variety of decorations on them. The grand fir grows from British Columbia, down through Montana, and into Northern California.
11. Blue Spruce
With its wintry, blue/silver hue needles, the Blue Spruce is more prickly than other trees but holds its needles better than the Norway spruce. If you have toddlers or pets at home, this probably isn't the best choice. The blue spruce is native to the Rocky Mountains and has dense foliage, which is perfect for decorating. This tree has a strong fragrance and a perfect Christmas tree shape as well.
12. Type of Real Christmas Tree: Concolor Fir
The Concolor Fir is a round-bodied tree with a blue-green hue, a slightly lighter appearance than other trees on our list. The needles are flat and pointed at the tip and don't fall off easily. This tree is strong enough to hold Christmas ornaments. This type of real Christmas tree is native to the western United States and has been gaining in popularity in recent years. The needles don't have a strong smell unless they're crushed when they have a nice citrus smell.
13. Arizona Cypress
As the name implies, the Arizona cypress is native to the Southwestern United States. It is a medium-sized evergreen tree with bluish-gray colored soft and aromatic leaves. The branches are relatively strong and will withstand the weight of Christmas decorations. The pyramidal shape makes it beautiful to use as a Christmas tree or landscape ornament. If you're looking for a tree that makes a statement, the Arizona cypress may just fit the bill.
14. White Pine
If you're looking for a Christmas tree with a lighter color, then a white pine is a great choice. The white pine features needles that grow in clusters with bluish-green hues and pointed tips. The branches of this Christmas tree are flexible and give off little to no aroma. Growing just about all over North America, the white pine has a mild fragrance and a tall stature. White pines are best if you're going for a natural look and want the tree to be the focus in and of itself or to decorate without heavy ornaments.
15. Type of Real Christmas Tree: White Spruce
A lovely, compact, slow-growing conifer that makes the perfect mini Christmas tree. This tree grows all over North America and has dense branches and a blue hue, great for ornaments. Many people buy fake Christmas trees with a snow-dusted appearance, but with the white spruce, you can have the best of both worlds. With proper care, the tree will hold its needles well. However, the needles have an unpleasant aroma when crushed.
Read more:
** Links to retailers marked with ** or
underlined orange
are partially partner links: If you buy here, you actively support Utopia.org, because we will receive a small part of the sales proceeds.
More info
.
Do you like this post?
Thank you very much for voting!