Eid is a wonderful time for Muslims to celebrate the end of 30 days of fasting and religious devotion. We'll share some decoration ideas that you can make at home to celebrate.
Eid-al-Fitr or Eid is one of the most important festivals in the Islamic calendar. It falls at the end of Ramadan, when Muslims fast for 30 days, give to the poor and offer extra prayers, amongst other things. On Eid, Muslims are encouraged to pray together, a special Eid prayer in the morning, often in the mosque or a local park.
After this, the festivities begin. Families, friends and neighbors visit each other and eat sweet treats, kids are frequently given money and everyone wears their best clothes. Some families decorate their homes with paper chains, lanterns and fairy lights (inside the house), but decorations are unfortunately not usually recyclable and are thrown in the trash when Eid is over.
To reduce the amount of trash produced during Eid, we'll give you some eco-friendly Eid decoration ideas and explain how to make them at home.
1. Reuse Paper to Make Eid Decorations
Instead of buying plastic decorations, make your own using reused paper. Try making your own decorative paper chains for as below:
Cut used paper into strips about 1 inch wide and 8.5 inches long. You can use newspapers, mix different colors of paper or choose a color scheme, such as green and yellow.
Link the strips together by gluing a strip of eco-friendly glue at one end of the strip and sticking the other end to it to make a ring. Hold the ends together until the glue dries. Tip: Try one of our homemade glue recipes — depending on which materials you're using, you might have to adjust which glue you use.
Thread a strip of paper through the ring as above, to start the chain.
Continue adding links to the chain until you reach the desired length.
Leading up to or on Eid, hang them around the house on picture frames or curtain rails, for example.
2. Don't Use Glitter in Decorations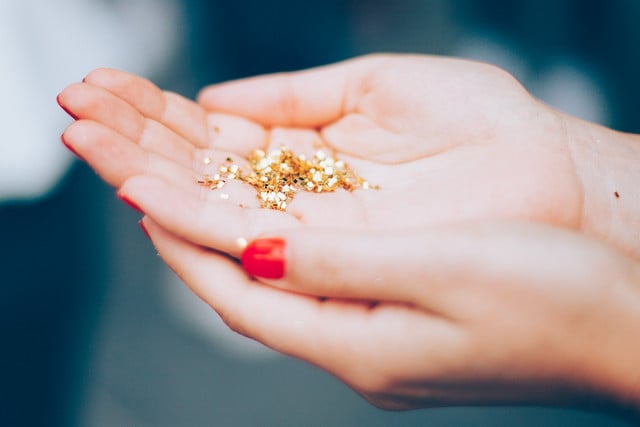 Glitter is usually made out of a combination of aluminum and plastic. It is, therefore, nothing more than minute particles that are poisoning our oceans with plastic pollution, in the form of microplastics. Glitter is often stuck onto plastic decorations which are used once and then thrown away.
Glitter is typically not biodegradable. Once its components make their way into our ecosystems — from landfill sites, for example — these tiny microplastic particles pose a serious threat to our planet's ecosystems. As we release microplastics into the environment, we pollute oceans and destroy ocean ecosystems.
These microscopic plastic particles pose an immediate risk to marine organisms. They are ingested by a wide variety of sea creatures when they are consumed along with their natural food sources. And, completing the cycle, microplastics can make it back into our food, already inside the catch of the day. Learn more about what glitter is made of and if bio-glitter is better.
3. Make Can Lantern Decorations
Use old food cans to make your own Eid lanterns.
Be sure to completely remove the lid and make sure there are no sharp edges before working on it.
Wash the inside and outside of the can, removing the outer label and any glue.
Fill with water and freeze overnight, the ice will assist in stabilizing the sides later when making holes in them.
Remove from the freezer and place on a thick towel, on a work surface.
Use a hammer and large nail to punch holes in the side of the can in the design of your choice, such as a crescent moon or star.
Punch two holes at the top, on opposite sides, to enable hanging (if desired).
Pour the melted ice away and dry the tin carefully.
To hang, use a piece of wire from an old coat hanger and thread through the holes, then link the ends together to form a loop.
Make your own soy candles or homemade candles from leftovers to light up the lantern.
4. Opt For Non-Plastic Alternatives This Eid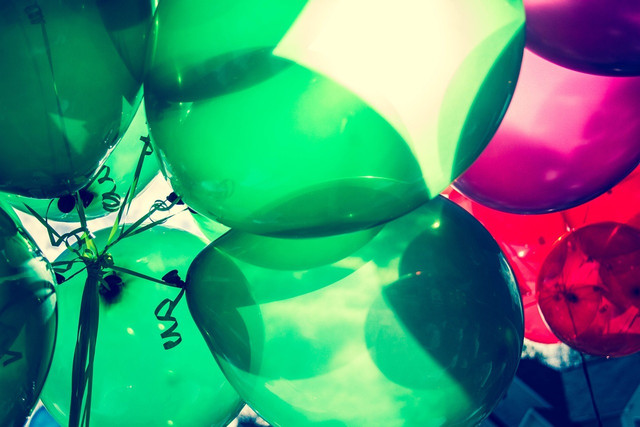 Instead of buying plastic buntings for your decorations, which break easily and often get thrown away after one use, you can make decorations using recycled materials from around the house.
Try to upcycle broken or worn items (think: clothes, old gifts wrappers, bags) and reuse decorations from previous years. For a change, you could swap decorations with a neighbor or friend so that both of you don't have to buy new ones — be creative with your Eid decoration ideas.
Check out these 7 upcycling ideas for home decor. Common party balloons are made of latex, which is a product of nature and commonly considered biodegradable — but until that degradation happens, they can harm and kill a lot of marine life. If you really want balloons for decorations, make sure to not release them into the air but instead dispose of them responsibly: cut them up and put the pieces into the trash or compost bin. Learn more about whether you can reuse balloons and the difference between foil and latex.
5. Eid Decoration Idea — Use Second Hand Linen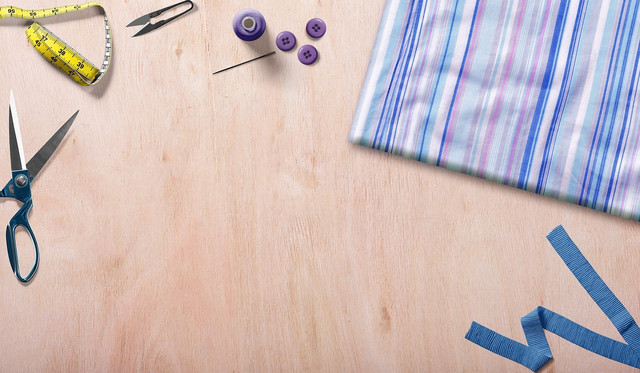 For your meal on Eid-al-Fitr, you'll want the table to look lovely for your guests. Instead of buying a new tablecloth, upcycle an old piece of linen or fabric or buy one from a thrift store. Simply measure the size of your table and add some extra length on each side, then choose to sew the hems or leave them loose. Learn more about what upcycling is and how it's different from recycling.
You could decorate the table with potted plants rather than fresh flowers, which die quickly. Don't forget about the food on your Eid table, try these traditional Maamoul cookies from the Middle East, perfect for visitors.
6. Make Your Own Bunting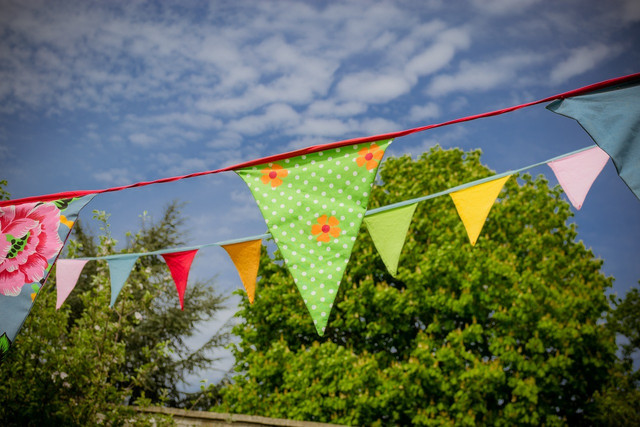 Fabric bunting is stronger than paper and plastic bunting and can be washed to be reused. An eco-friendly option is to make your own bunting using old clothes or fabric scraps. Simply cut some triangle shapes from the fabric and sew the seams with a sewing machine. Then attach them to a long piece of cotton tape by sewing across the top of each one.
Alternatively, you can make bunting without using a sewing machine — simply don't sew the seams of the triangle shapes and then use glue to attach them to the cotton tape. You may want to add a greeting to the bunting, such as Eid Mubarak ("blessed holiday") or Ramadan Kareem ("generous Ramadan"), using fabric pens or other pieces of fabric.
Check out these other 11 eco-friendly party ideas.
7. Environmental Art as an Eid Decoration Idea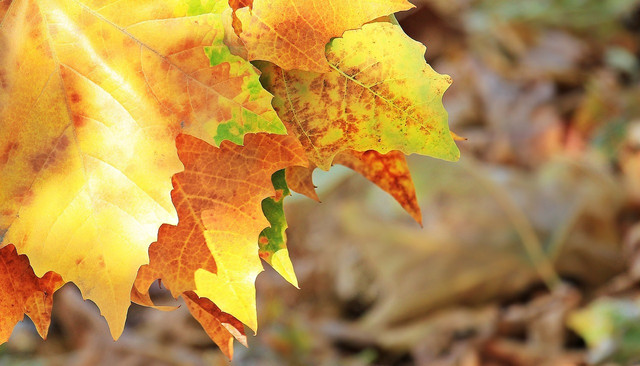 Use fallen leaves to create some hanging decorations. Collect fallen leaves from your yard and gently wash them and then press and dry the leaves. Next, take a long piece of natural twine and some wooden clothespins and peg your leaves at intervals along the twine. You could hang your leaf decoration horizontally like bunting, or cut shorter lengths of twine and hang it vertically, for example from the branches of trees in your yard, if the party is outside.
Read more:
** Links to retailers marked with ** or
underlined orange
are partially partner links: If you buy here, you actively support Utopia.org, because we will receive a small part of the sales proceeds.
More info
.
Do you like this post?
Thank you very much for voting!