Planting fast-growing shade trees is not only a sustainable way to beat the heat. It can also reduce your power bill, enrich the biosphere and decrease emissions.
It's often remarked that "Society grows great when old people plant shade trees under which they know they will never sit." Somewhat more modestly, we suggest that gardens grow great when people plant shade trees. And when you plant fast-growing shade trees, you get to enjoy sitting under them, too, along with their various other benefits.
Trees that grow quickly and cast shade come in many varieties suited to different climates and hardiness zones. While some are thirstier than others, most are relatively drought-tolerant and require little maintenance — just plant and watch them grow. We've compiled a list of nine fast-growing shade trees to choose from, each of which can provide you with aesthetic appeal and enjoyable shade in (almost) no time.
Understanding Hardiness Zones
Hardiness zones are geographical areas defined by the average minimum winter temperature. They are a useful tool in landscape planning, for use in determining which plants are most likely to thrive in a given location. In the United States, the USDA has established 13 zones, with Zone 1 being the coldest and Zone 13 the warmest. We've provided the range of hardiness zones for each fast-growing shade tree discussed below.
What Are the Benefits of Fast-Growing Shade Trees?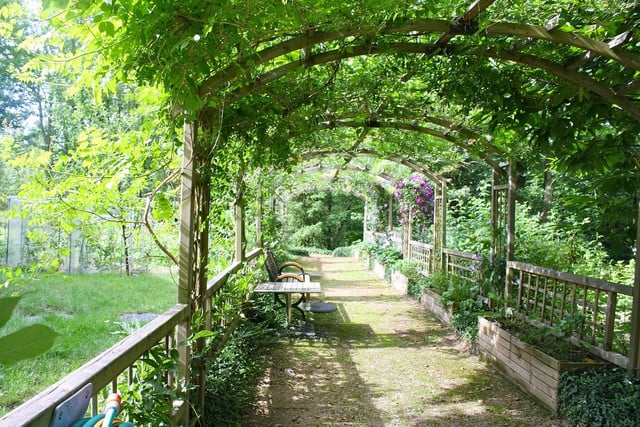 Shade trees are nature's parasols. As their name implies, they cast shadows that offer valuable protection against direct sunlight. Did you know, for example, that you can get sunburned eyes from too much exposure to ultraviolet rays?
Besides shielding you from that UV, shade trees also support local biodiversity by creating food sources and habitats for insects, birds and other wildlife. They also provide shelter for shade-loving plants that can thrive beneath them, giving you more opportunities for companion planting as their canopies grow.
Speaking of growth: the fast-growing shade trees in the following list live up to the name. Each grows at least 12 inches annually, and some high performers can potentially double or even triple that growth rate. Hold on to your hat — unless it's a sun hat, in which case you won't be needing it once these trees mature.
1. Paper Birch

The paper birch (Betula papyrifera) is a fast-growing shade tree beloved in New England (where it represents New Hampshire as the state tree). Its bark whitens and peels as it matures, which gives the tree its distinctive black-on-white appearance after about 10 to 12 years.
You'll need to water and mulch regularly to create optimal conditions for the paper birch, but that's about all the maintenance required. However, its trunk tends to divide into several low arches, so if you prefer a single trunk, you'll want to prune additional growths as they appear. Also, paper birch should not be planted near black walnut, as the latter's roots contain chemicals that can be toxic to the birch.
Having a hard time identifying different trees? Check out our five best free tree identification apps.
2. Hackberry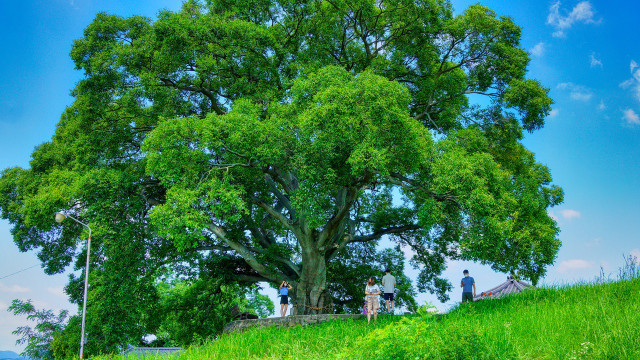 The hackberry (Celtis occidentalis) is a hardy tree that can thrive in many environments due to its soil adaptability and a high tolerance for the elements. It typically grows up to 50 feet, producing a thick canopy of serrated leaves ideal for shading. A resilient and relatively self-sufficient tree, the hackberry does not require watering or mulching, which makes it an appealingly low-maintenance option.
3. Red Maple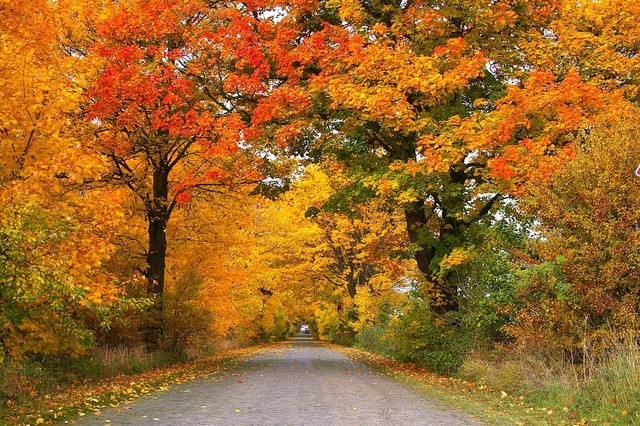 Prized for its aesthetic appeal and adaptability, the red maple (Acer rubrum) is a relatively fast-growing shade tree, often achieving rates of up to two feet per year. At maturity, it can reach up to 50 feet in height with a spread of about 40 feet, providing plenty of shade during the summer months before transitioning to its brilliant fall foliage.
While they can tolerate brief droughts, red maples prefer consistently moist soil, so you'll want to water regularly and mulch around the tree's base. And if you prefer a single trunk, you may want to prune any branching trunks to promote a centralized structure.
4. Sugar Maple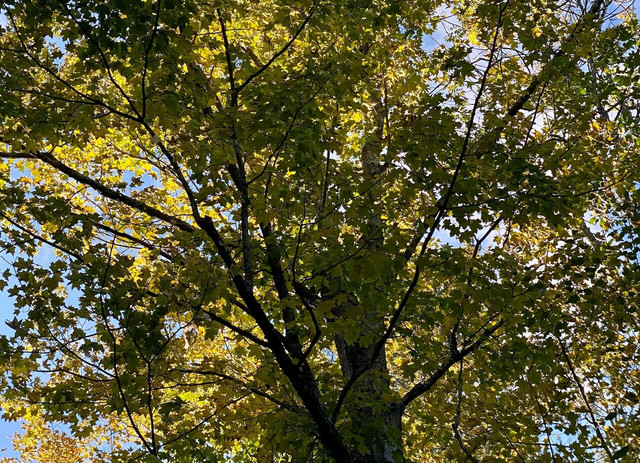 The sugar maple (Acer saccharum) is valued for its dense and lustrous foliage, which provides plenty of shade in the summertime before undergoing a gorgeous transition from yellow to auburn in the fall. It can grow to over 60 feet tall at maturity. If you cater to its preference for moist and well-drained soil, its dense canopy will provide you with bountiful shade in summer, followed by a beautiful autumnal transformation.
5. Dawn Redwood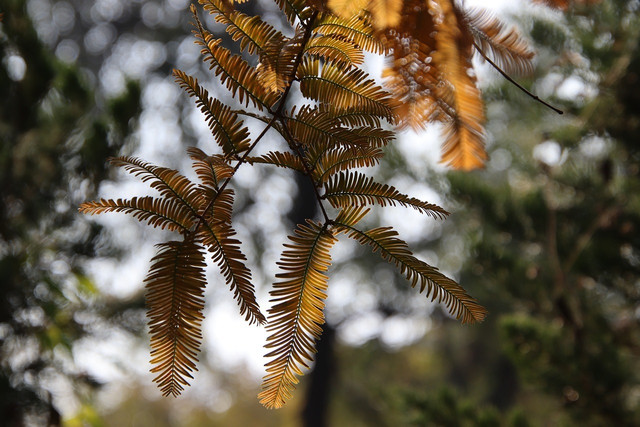 Thought to be extinct until its rediscovery in China in 1946, the dawn redwood (Metasequoia glyptostroboides) was reintroduced to North American soil following the Second World War and has been thriving here ever since. A highly versatile tree, it will be comfortable in various soil types with minimal care.
The dawn redwood enjoys a vigorous growth rate of between two to four feet per year. While this is great news if you need shade on a schedule, keep in mind that it will eventually reach heights upward of 70 feet, so its suitability is subject to spatial constraints.
Also interesting: Silvopasture: Pros and Cons of the "Forest Farming" Principle
6. Eastern Redbud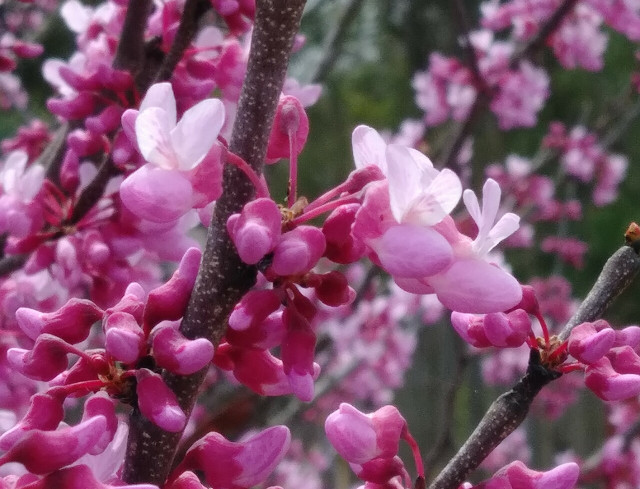 The eastern redbud (Cercis canadensis) is a relatively low-maintenance, fast-growing shade tree whose broad, heart-shaped leaves provide ample refuge from the sun. Hardy in a variety of settings, it can thrive in both acidic and basic soils as long as the soil is well-drained. An eastern redbud will typically reach around 20 feet, making it an ideal shade tree for smaller garden sites.
Did you know that trees communicate with each other? Learn more fun facts about trees.
7. Green Ash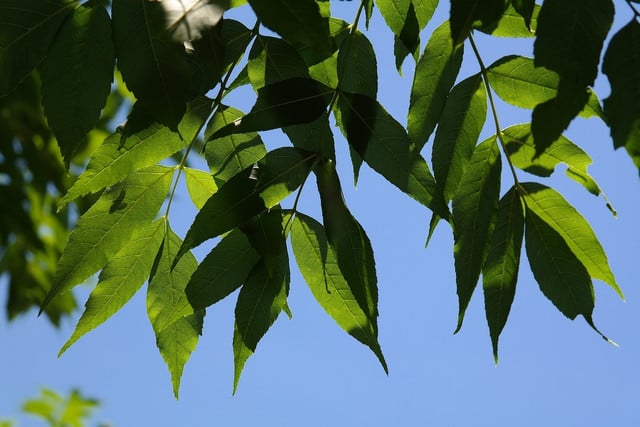 Combined with its long leaves and fast growth rate, the modest dimensions of the green ash (Fraxinus pennsylvanica) make it an ideal shade tree suitable for various garden or landscape settings. Widely distributed and highly adaptable, it can flourish in various soil conditions, provided the soil is kept moist.
You can cultivate the green ash in all but one hardiness zone, so with minimal maintenance, this highly versatile, fast-growing shade tree will keep you cool throughout the warmer seasons.
8. American Sweetgum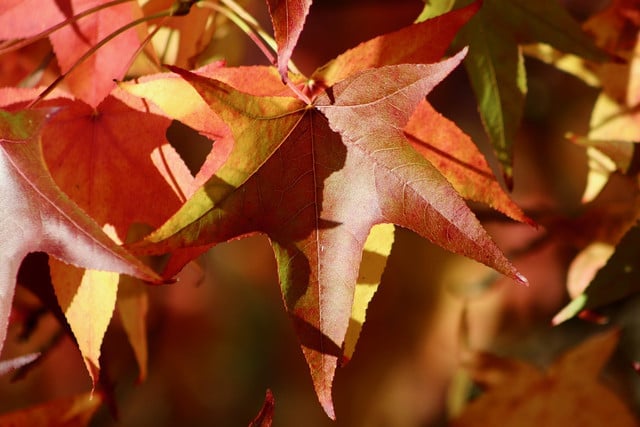 The distinctive star-shaped leaves of the American sweetgum (Liquidambar styraciflua) will provide plentiful shade in the summer before turning dramatic shades of yellow, orange, red and even purple in the fall. While it prefers moist soil, it is moderately drought-tolerant and can handle various temperatures. It will show little to no growth in the first year, but after this incubation period, it will more than make up for it, eventually reaching heights of 60 feet or more.
9. Quaking Aspen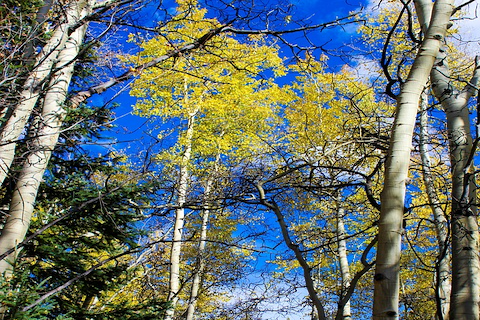 Boasting the widest distribution of any tree species in North America, the quaking aspen (Populus tremuloides) is a fast-growing shade tree you can cultivate with minimal maintenance in no less than seven hardiness zones. It takes its name from the tendency of its flat, rounded leaves to flutter in the gentlest breeze, producing a soft, sibilant sound that might lull you to sleep while you enjoy its plentiful shade.
More Benefits of Fast-Growing Shade Trees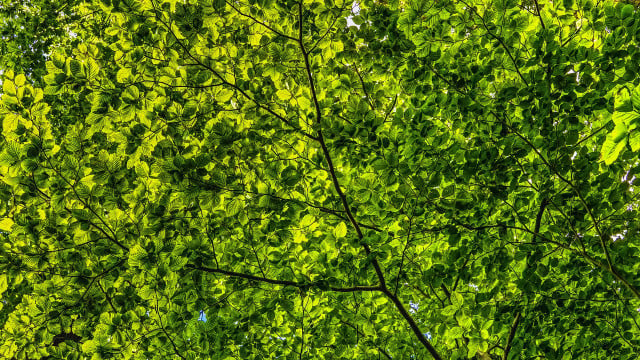 Besides the obvious benefit of shielding you from ultraviolet rays, there are several other reasons to consider planting a shade tree. In the context of a garden, they can create microclimates where shade-loving plants such as ferns, hostas and astilbes can thrive under the canopy.
Furthermore, a well-positioned shade tree planted on the south or west side of your home is one of many ways to keep it cool without using air conditioning. Requiring a mere modicum of patience and maintenance in return, shade trees have plenty to give.
Read more:
underlined orange
are partially partner links: If you buy here, you actively support Utopia.org, because we will receive a small part of the sales proceeds.
More info
.
Do you like this post?
Thank you very much for voting!