Gochujang is used in Korean cuisine to give flavor. It's a fermented paste that is a mix of spice, salt, and smoke — lots of umami for a taste that packs a punch.

Gochujang is a spicy paste used in Korean cooking. Its flavors are salty and smoky, with a hint of sweetness and the color is a deep red. It comes in varying levels of spiciness and can be added to a variety of Korean dishes. Gochujang goes through a fermentation process to achieve its unique taste, which can be very time-consuming if done at home — it can take up to two months.
Some examples of where gochujang is traditionally used in Korean cuisine are in naengmyeon (Korean noodles), jjigae (stew), classic and vegan bibimbap (rice bowl) and tteokbokki (rice cakes). It can be difficult to find gochujang in the store, so we'll show you nine great gochujang substitutes ranked from best to worst and what not to use.
Let's get started.
1. Homemade Gochujang Substitute Recipe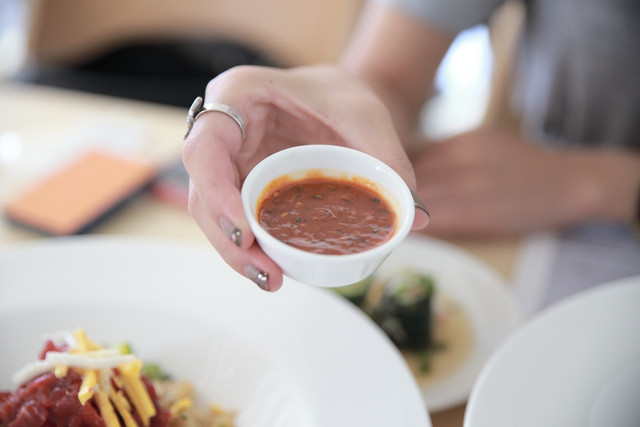 Yield: 16 tablespoons
Ingredients:
½ cup gochugaru (Korean red pepper) powder or flakes
½ cup miso paste
1 tsp. onion powder
¼ cup maple syrup
1 tbsp. light soy sauce
1 tsp. rice vinegar
Instructions:
If using gochugaru flakes pulse them in a blender until they form a powder.
Add the gochugaru powder, miso paste, onion powder, maple syrup, soy sauce and rice vinegar to the blender and blitz until a smooth paste is formed.
Add a tablespoon of water at a time if it is too thick and blend again until the desired texture is achieved.
Tip: Wondering what to do with leftover gochugaru flakes? Add them to a Korean steamed eggplant recipe, or a homemade vegan kimchi.
2. Ssamjang Paste
Available on Amazon**, this spicy, thick, Korean paste contains gochujang, so it is a perfect substitute. The flavor can be improved by mixing in a dash of maple syrup and a pinch of chili powder and cayenne pepper. The color is similar to the red of gochujang, as is the texture.
3. Combine Gochugaru and Doenjang
Grind some gochugaru flakes to make a powder and mix with Korean doenjang paste in equal parts and a pinch of sugar. Doenjang is a kind of fermented bean paste, a little like miso paste with a salty, smoky taste. If necessary, gradually add a drop of water to the paste until the desired thickness is reached to make it a suitable gochujang substitute.
4. Mix Sambal Oelek with Maple Syrup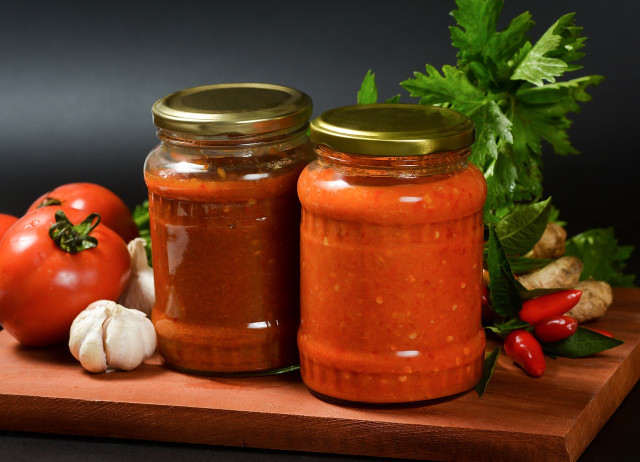 Sambal is a spicy sauce from Indonesia, it is made from chilis, tomatoes, shallots, garlic, sugar and lime juice and ground together to form a paste. There are various varieties of sambal made from green or red chilis of varying levels of spiciness.
When choosing a sambal as a gochujang substitute, not all varieties of sambal will be suitable. Sambal oelek is the most common kind of sambal found in grocery stores in the US, in the Asian food section, as it is the base for most other sambals.
To use sambal oelek as a substitute for gochujang, mix a tablespoon of maple syrup with every quarter of a cup of sambal oelek. To complete, add a tablespoon of miso paste.
5. Use Miso Paste and Cayenne Pepper
Perhaps easier to get hold of than the pastes in the previous recommendations, miso paste is a staple in Japanese cuisine. It tastes salty and smoky, making it a great gochujang substitute. Gradually add cayenne powder until the desired level of spiciness is achieved, plus water if the paste is very thick. You may want to add a pinch of sugar for extra sweetness, or salt for a more savory flavor.
6. Tomato Paste with Soy Sauce and Maple Syrup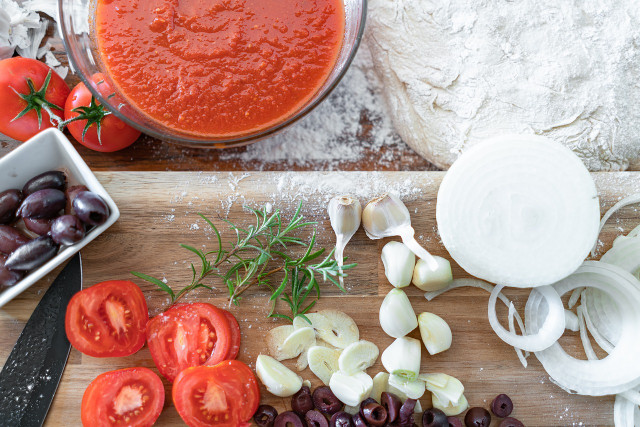 Tomato paste alone does not taste like gochujang, but with a few additions, it can make an easy substitute.  Add a tablespoon of soy sauce and maple syrup to a quarter of a cup of tomato paste and season with cayenne pepper and salt to taste. The red color is the same as gochujang, but the texture may be slightly more watery.
7. Try Sriracha Sauce as a Gochujang Substitute
The texture of sriracha sauce is not as thick as gochujang, making this option one of the least preferred. It is a kind of hot sauce from Thailand and is also a little sweet. For extra thickness mix in some miso paste. Learn more about whether sriracha is vegan.
8. Chilli Bean Paste
You can either use broad bean paste with chili oil or chili bean sauce. The taste is spicy and sweet, but a little saltier than gochujang, so you might want to use less.
9. Tomato Ketchup combined with Chili Powder
Tomato ketchup can provide sweetness, but not spice, so add half a teaspoon of hot chili powder or as much as desired. The texture and color will not be the same as gochujang. Try making your own homemade ketchup and learn more about whether ketchup is vegan.
What NOT to use as a Gochujang Substitute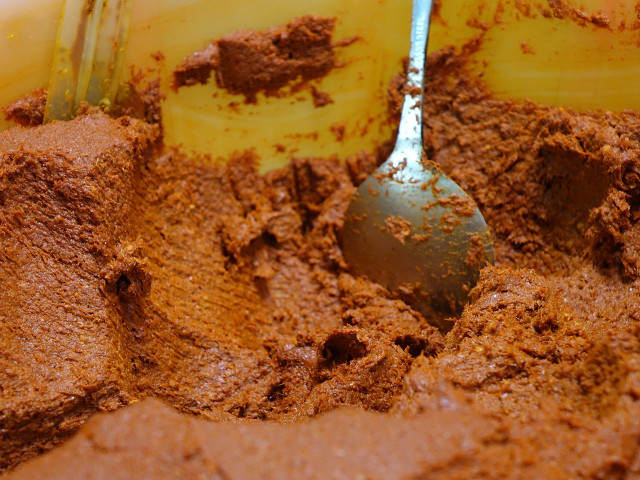 So now you know what to use as a gochujang substitute, let's look at what not to use.
Thai chili paste, which is made of shrimp paste, is therefore too fishy to replicate the taste of gochujang.
Harissa paste, from Tunisia, is very fragrant and uses dry spices — but these flavors are not present in Korean cooking.
Read more:
** Links to retailers marked with ** or
underlined orange
are partially partner links: If you buy here, you actively support Utopia.org, because we will receive a small part of the sales proceeds.
More info
.
Do you like this post?
Thank you very much for voting!