Pomegranates are a tasty and colorful fruit, ideal for juicing, with or without a juicer or blender. We show you how to make pomegranate juice in just a few simple steps.
Below, we'll explain how to make the perfect pomegranate juice — but first, let's look at why you may want to include pomegranate juice in your diet.
Pomegranates are a healthy fruit, recognizable by their vibrant round, red appearance. They are densely packed with juicy, crunchy seeds, known as 'arils.' The edible seeds are full of vitamins, minerals and anti-oxidants (they also pack a small punch of protein). Furthermore, recent scientific evidence suggests that pomegranates might assist in preventing serious conditions such as heart disease, diabetes and cancer.
In addition to eating the seeds intact, you can extract them for juicing to enjoy a delicious and healthy beverage. You can, of course, buy pomegranate juice from the store, but making your own fresh juice avoids unnecessary chemicals, preservatives and other additives.
Preparing Your Pomegranates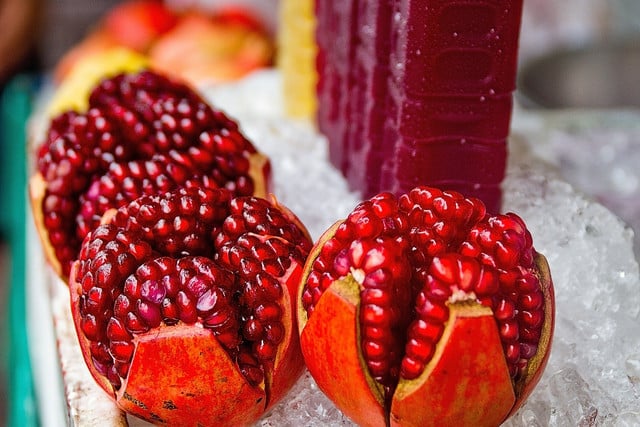 Remove the pomegranate seeds before juicing with an electric juicer or blender (skip this step if juicing by hand). You want to use the seeds and not the white flesh, as this membrane is very bitter. Here is a quick guide to extracting the seeds with minimal mess:
Cut around the top 1/4 of the fruit, where it looks like flower petals. Only make a light incision, so you do not remove the entire top.
Make five or six light cuts down the fruit towards the bottom.
Now you can remove the top. The seeds may stain, so be careful around clothes and surfaces.
Keep a bowl ready for the seeds, as now you can peel the outer skin away and pry the sections apart a little.
Turn it upside down and hit the fruit with the palm of your hand or a wooden spoon.
Any remaining seeds can be further scraped or picked out of the fruit.
To remove any attached white membrane, you can cover the seeds with cold water and let them sit for a few minutes. The membrane will float to the top for easy removal.
Use the seeds immediately for the best flavor. They can be stored in an airtight container in the fridge for a week or in the freezer for three months.
Now that the seeds are ready, here's how to make pomegranate juice.
How To Make Pomegranate Juice in a Juicer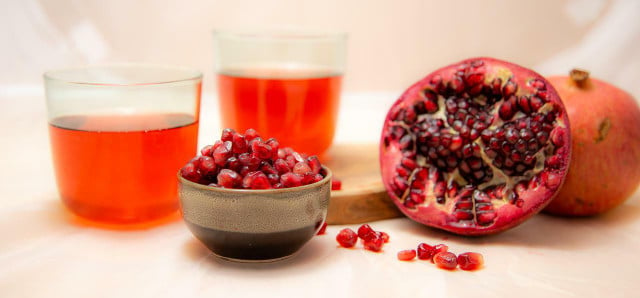 These instructions also apply if you use a blender. One large pomegranate should yield about a 1/2 cup of juice, so these recipes will produce approximately three cups of fresh juice.
Materials:
Prepared pomegranate seeds (from six large pomegranates)
Juicer/Blender
Strainer (sieve or cheesecloth is fine)
Instructions:
Strain the seeds. You can do this with a fine sieve or cheesecloth. Note that your juicer may have a straining function — if so, you can follow the instructions in the manual for this feature.
Put the seeds into the electric juicer basket or blender jug.
Juice, or blend, until all seeds have been crushed but remain intact. This can take around 15-20 seconds.
Use the strainer again to separate the juice from the pulp. You can speed the process up by pressing the pulp with a wooden spoon or spatula.
Chill before serving, or pour over ice.
Any remaining juice should stay in the fridge for five days.
You can also get good results with a hand blender, but be careful not to blend the seeds themselves, as you may not be able to see what you're doing as easily.
How To Make Pomegranate Juice Without a Blender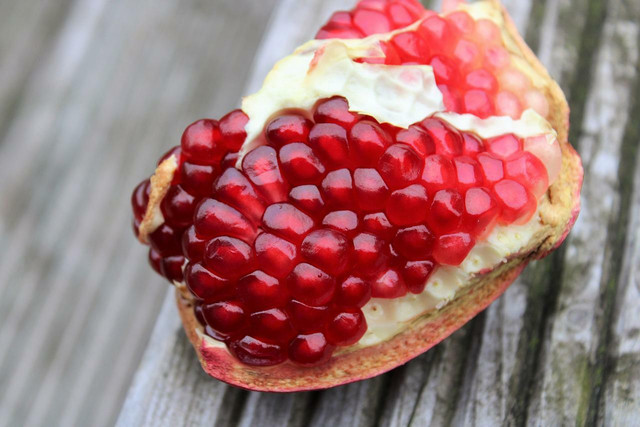 You can make pomegranate juice by hand, too — just be especially careful not to stain clothes and surfaces. The process is similar to that of juicing citrus fruits. You do not need to prepare the pomegranate for this process as you would if you were using a juicer or blender.
Materials:
Prepared pomegranate seeds (from six large pomegranates)
Fork
Strainer (sieve or cheesecloth is fine)
Instructions:
With a bowl ready to catch the juice, pierce each pomegranate with a fork. Puncture the fruit at the bottom and hold them puncture-side-down.
Squeeze the pomegranate, keeping it close to the bowl to avoid spillages.
Continue until you have captured as much juice as you can from each fruit.
Alternatively, if you already have prepped seeds, you can wrap the seeds in the cheesecloth and squeeze the juice out. However, that method may be a little messier.
Read more:
Important Information regarding Health-related Topics.
** Links to retailers marked with ** or
underlined orange
are partially partner links: If you buy here, you actively support Utopia.org, because we will receive a small part of the sales proceeds.
More info
.
Do you like this post?
Thank you very much for voting!