Do you love sipping on a snow cone on long, hot days? Or enjoy a frappuccino before work? We'll show you how to make shaved ice for cold treats — without a blender.
When large blocks of ice are finely grated, they produce shaved ice — or ice flakes — which can be used in drinks and cold desserts. Shaved ice can be made using a blender or shaved ice machine, but you can also get a great result by using a knife to shave the ice off by hand. You can also get great shaved ice by placing the block of ice in a bag and pounding it with a rolling pin.
Drinking an icy, sweet snow cone packed with shaved ice on a hot day is a great way to feel refreshed and cool down. However, sometimes we don't have time to go to the store or may not want to spend the money. Buying a shaved ice machine or blender can also be pricey. Read on for the lowdown on how to make shaved ice quickly and inexpensively using a metal cheese grater. We'll also give you some recipe ideas for using your chilled, crispy shaved ice. Chill out and enjoy!
How To Make Shaved Ice With a Cheese Grater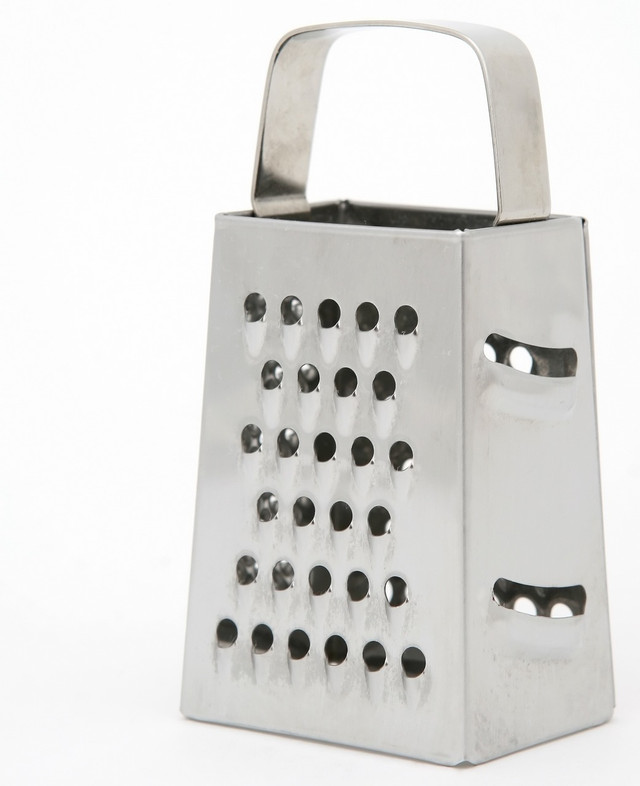 Equipment:
Metal box cheese grater (available on Amazon**)
Recyclable cardboard quart milk carton
Instructions:
Wash out the milk carton with soapy water.
Pour drinking water into the clean milk carton and put the cap back on.
Set in the freezer for two days.
Put a large freezable bowl in the freezer for later.
After two days, remove the milk carton from the freezer and place it on a large chopping board.
Tear the carton from the block of ice. Try not to touch the ice!
Using the coarse shred/grated cheese side of your grater, carefully shave the ice by firmly running the grater up and down the ice in a sliding motion.
When the center of the grater is full of shaved ice, remove the bowl from the freezer and place the ice inside. Continue grating.
Use the ice immediately or keep it in a freezer-friendly container in the freezer. Keep in mind that if you don't use your shaved ice quickly, it may freeze back into a solid block.
Pro tip: Grate from the corners of the ice block to speed up the process.
Berry Snow Cone Recipe With Shaved Ice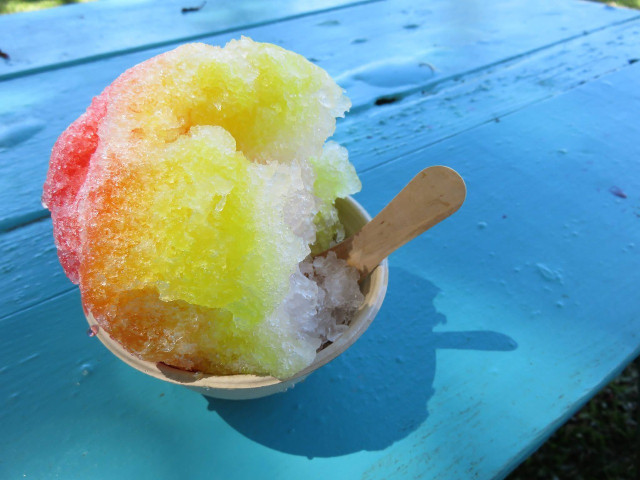 Yield: 6 servings
Ingredients:
1-2 tbsp cane sugar to taste
1 cup fresh or frozen raspberries or blueberries
2 cups shaved ice
Instructions:
Simmer the fruit and sugar in a medium saucepan until the fruit softens and sugar dissolves.
Remove the mixture from the heat and use a potato masher to make it into a purée.
Press the purée through a fine mesh sieve into a bowl to get the juice. If it's a little thick, add a tablespoon of water to thin the mixture out, then allow it to cool.
Place the shaved ice in serving bowls and press it down tightly.
Drizzle the fruit juice over the shaved ice.
Serve immediately.
Store any remaining juice in the refrigerator for up to a week.
You can also make red and blue snow cones by using blueberries and cranberries to make the juice and pouring it in stripes over the ice.
Vegan Taiwanese Shaved Ice Recipe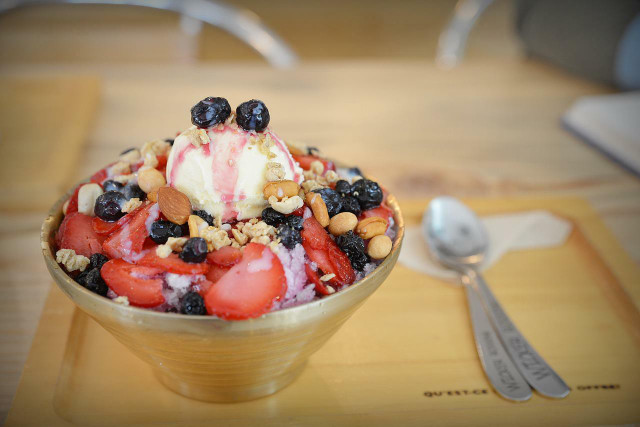 Yield: 6 servings
Ingredients:
2 tbsp brown sugar
15 oz can coconut milk
Pinch of salt
1/2 tsp vanilla
1 cup sliced strawberries
1 cup diced watermelon
1 cup of blueberries
1 cup diced mango
2 cups shaved ice
Vegan ice cream for serving
Instructions:
Beat brown sugar and coconut milk in a small pan.
Boil the mixture on medium-high heat, then reduce to medium and simmer for 20 minutes until the volume is reduced by half.
Remove from the heat and allow it to cool.
Mix in the salt and vanilla.
Wash and slice the strawberries, watermelon, blueberries and mango.
Press the shaved ice into serving bowls and top each serving with sliced fruit.
Pour two tablespoons of the coconut milk blend over each bowl.
Serve immediately — with vegan ice cream if desired
How To Use Shaved Ice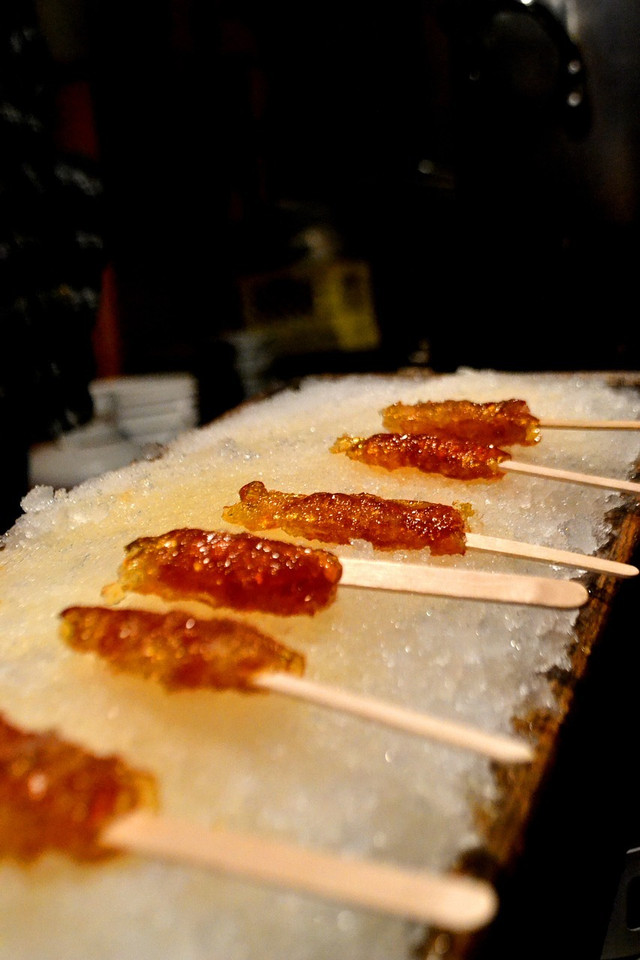 You can use shaved ice to replace ice cubes or if you intend the ice to be eaten. It's an excellent addition to a homemade frappuccino — much less expensive than buying cold drinks from overpriced chain coffee shops. Alternatively, if you prefer less caffeine, try an iced dirty chai latte made with shaved ice.
Instead of a snow cone, you can also make a homemade slushie from natural ingredients. Kids especially will love how the shaved ice melts into a cool, sweet juice. Maple taffy is another hit for kids (and adults)! It's quick and easy to make at home using shaved ice.
One recipe purely for the grown-ups is classic peach punch, a sweet drink you can serve over shaved ice at parties and celebrations. For those who don't drink alcohol, try the perfect summer margarita mocktail using shaved ice instead of ice cubes.
Finally, shaved ice makes great chilled desserts. Check out our sweet summer fruit soups, like melon surprise soup and Indonesian es buah, both of which will benefit from delicious homemade shaved ice.
Read more:
** Links to retailers marked with ** or
underlined orange
are partially partner links: If you buy here, you actively support Utopia.org, because we will receive a small part of the sales proceeds.
More info
.
Do you like this post?
Thank you very much for voting!