Whether your shave your legs or face, shaving cream is just as important for your skin as a good razor. Follow this recipe for an all-natural DIY alternative to store-bought shaving cream.
Caring for your skin before you shave is just as important as caring for it after. As well as exfoliating, you should always use a shaving cream is as part of your skincare routine if you plan on shaving any part of your body. Applying a cream before you shave is an essential step, as it forms a barrier between the razor and your skin, minimizing friction while shaving and helping you avoid razor burn and accidental nicks.
However, many commercial shaving creams and foams contain sulphates, artificial fragrances and other chemicals, which may dry out and irritate sensitive skin. Whether you're shaving your face or your body, this natural DIY shaving cream recipe will make your shaving experience more enjoyable and skin-friendly. You can also keep it zero waste by reusing an old jar to store your homemade shaving cream, as opposed to purchasing it in plastic or aluminum containers from the store.
DIY Shaving Cream Ingredients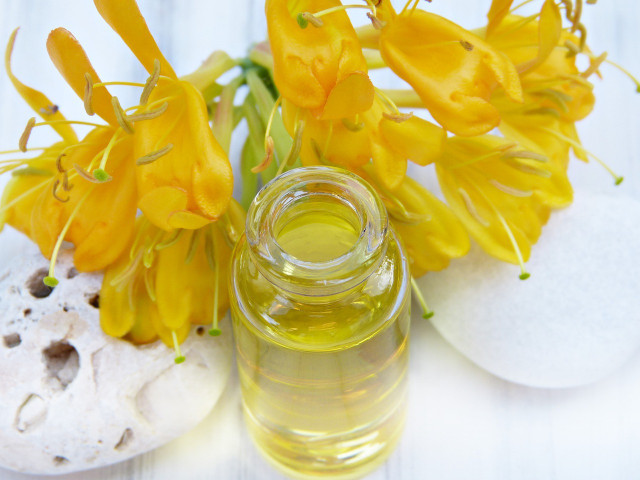 When you make a DIY shaving cream, one of the benefits is that you know exactly what ingredients you're putting on your body. Here's a brief breakdown of the main ingredients in this recipe:
Jojoba Oil
The following recipe's main moisturizing ingredient is jojoba oil, which has anti-inflammatory, moisturizing and cleansing properties. Funnily, it's not an oil at all, but a liquid wax extracted from the seeds of the jojoba plant, native to the Americas. Jojoba's properties make it ideal for use in homemade shaving cream, and it can even be used as an alternative all on its own in a pinch!
It is possible to use other oils for this recipe, such as apricot oil or almond oil, as they all possess similar properties when it comes to skincare. However, the environmental impact of each oil should be taken into consideration when deciding which one to use, as much as their skin and health benefits. Almond oil especially has many natural benefits, but also just as many drawbacks, and therefore should only be used in moderation or if you already have some.
Always try to purchase certified fair trade and organic oils whenever possible. Jojoba oil is available in most health food stores and comes in a variety of grades. We recommend using cold-pressed or virgin jojoba for this recipe, as this means there has been very little interference with the oil, keeping it is as close to its natural state as possible.
Cocoa Butter
Cocoa butter is an excellent all-round natural skincare product. It gently helps to deeply moisturize and hydrate skin thanks to fatty acids. Although cocoa butter can be substituted for shea butter in the following recipe, we would recommend choosing cocoa butter if you have to make a purchase. Cocoa butter has a smaller carbon footprint than shea butter for North American users, as it is native to South and Central America. Shea butter is primarily produced in Africa and therefore needs to travel much farther to reach our shelves.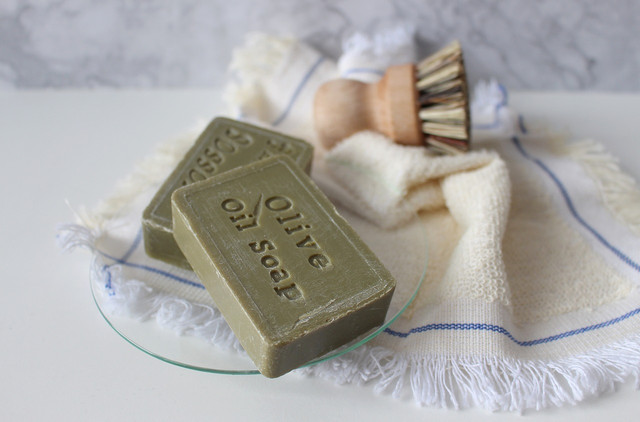 Castile Soap
Castile soap produces a gentle lather when wet, which makes it great for shaving. It's made from olive oil, which means it's completely free from animal fats and synthetic ingredients, as well as being non-toxic and 100% biodegradable. Castile soap comes in liquid and bar form, as well as a variety of scents. For this shaving cream, we recommend using an unscented soap so that you can add your own fragrances.
While this recipe calls for liquid Castile soap, you can easily make your own using solid Castile soap if this is all you have to hand. All you'll need is a grater and a blender, and you're good to go.
To make the amount of liquid Castile soap necessary for the following recipe:
Grate roughly a quarter ounce of soap into a bowl.
Add ¼ cup of filtered water, cover, and soak the soap flakes overnight.
Blend the soapy water at a low speed for about a minute or 30 seconds if your blender only has a one-speed setting.
While this make-shift liquid Castile soap will look different from regular store-bought, it will still work the same way and will save you a bit of money at the same time. However, if you would rather purchase your liquid soap, we recommend using natural and organic liquid Castile soap, which can be found in most health food stores.
Aloe Vera
Aloe Vera is well known for its use as an after-sun, with its healing, anti-inflammatory, and soothing qualities. Its addition to this recipe not only protects you from cuts by forming a light barrier between yourself and the razor, but it also deeply nourishes your skin. You can easily make your own Aloe Vera gel for use in this recipe if you have an aloe plant at home.
What You Need to Make DIY Shaving Cream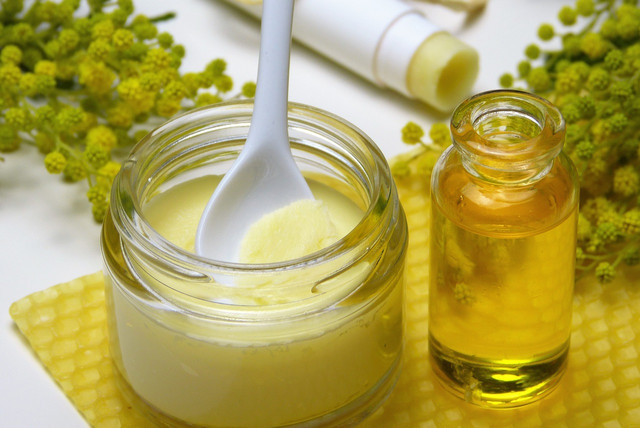 This recipe is suitable for both face and body. Remember to look for organic, fair trade products when buying essential oils and cocoa butter.
Equipment:
Measuring cups and spoons
A small pan and a heatproof glass bowl to make a bain-marie
Whisk
Spatula
Sterile, sealable jar with a wide brim for storage
Ingredients:
¼ cup jojoba oil
2 tbsp. cocoa butter
1½ cup filtered water
1 tsp. baking soda
¼ cup liquid Castile soap
¼ cup aloe vera gel
For a floral scent:
5 drops rose essential oil
5 drops jasmine essential oil
For a forest scent:
5 drops of pine essential oil
5 drops of rosemary essential oil
Makes about 2 cups or 480ml.
Keeps for at least 3 months when stored in a cool, dry place.
How to Make Shaving Cream
Follow the following steps to make your own shaving cream:
Heat the jojoba oil and cocoa butter in the bain-marie over low heat without letting the water in the bottom pan boil. Stir occasionally until translucent.
Remove from heat and let cool slightly. Empty the bottom pan of water and place it back on the stove.
Gently heat the filtered water, baking soda, and liquid Castile soap together using the bottom pan of the bain-marie on low heat. Stir well until completely dissolved and well combined.
Add the aloe vera gel and stir again.
Remove this solution from the heat and place it on a heatproof surface.
Slowly add the solution to the oil and butter mix, whisking well between each addition.
Let stand for about 5 minutes once combined
Continue to whisk until semi-solidified.
Place into the sterilized jar using the spatula and store in a cool, dark place.
How to Use Shaving Cream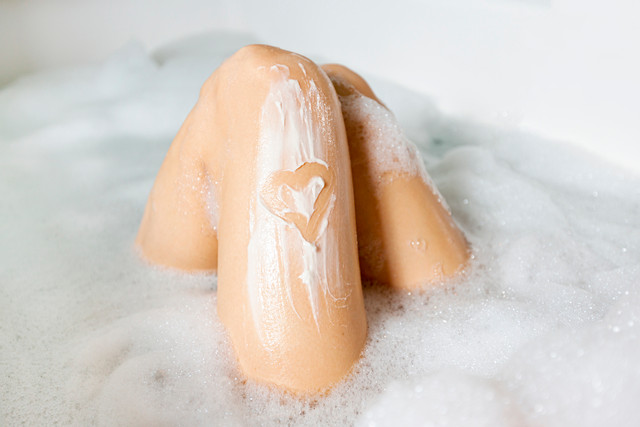 To use, simply lather a small amount of cream between your hands and massage a thin layer into your skin before shaving. It is always best to shave at the end of your shower or bath once your skin is clean and exfoliated and your body hair is soft.
Resist the urge to use too thick of a layer. Remember, this is a homemade alternative to shaving cream and won't look the same way as a store-bought cream or foam. The oils will naturally begin to melt on contact with your skin and the lather will be subtle.
To finish your shave, rinse off any excess cream and gently pat your skin dry to avoid irritation. If you have some jojoba oil left over, you can use a light application as an aftershave.
Finally, feel free to experiment with the essential oils in this recipe to craft a shaving cream that is tailored to your skin's needs. However, make sure you are always sourcing your essential oils from sustainable and organic producers. Choosing distilled oils is best as this means they will be free from any solvents which are often used in other extraction methods.
Read more:
** Links to retailers marked with ** or
underlined orange
are partially partner links: If you buy here, you actively support Utopia.org, because we will receive a small part of the sales proceeds.
More info
.
Do you like this post?
Thank you very much for voting!