Is caramel vegan? The short answer is: no. Traditional caramel is loaded with sugar and dairy. But don't worry! Here is a vegan caramel recipe and some tips so you can veganize your favorite recipes.
Every caramel recipe starts with sugar. Heated until it melts, then cooked low and slow until it starts to brown — or caramelize — which gives us the delicious bittersweet burnt sugar taste we all love. Butter and heavy cream are then added. The amounts of each ingredient will determine the consistency of the caramel: pourable, soft, or more like a hard candy. Is caramel vegan? Not if it's made traditionally.
Is Caramel Vegan?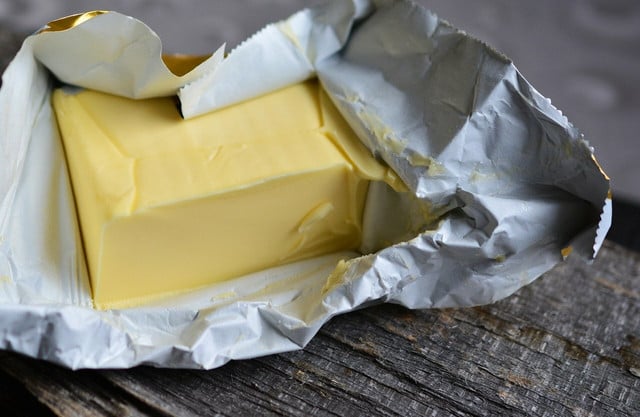 Traditional caramel is not vegan because it is made with butter and heavy cream. Unless it's USDA organic certified, the sugar might not be vegan, either. Since all three main ingredients pose a problem, if you are vegan you will find it hard to source vegan caramel.
But that doesn't mean that we have to miss out on the sweeter things in life. As they say, "Anything you can do, I can do vegan." Caramel is no exception.
Making your own vegan caramel is easy and also ensures that you know exactly what the ingredients are. Even if you aren't vegan, using vegan ingredients in place of dairy is better for the animals and the environment.
Vegan Substitutes for Dairy Ingredients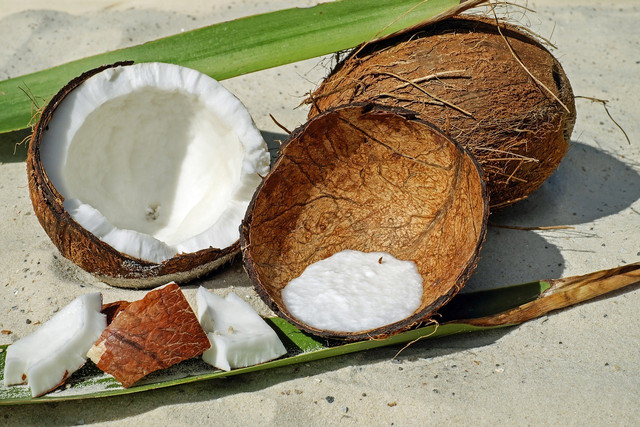 Caramel recipes will differ depending on exactly how the caramel will be used. As a sauce on nice cream? In home made candy bars? If you want to veganize some classic caramel recipes, here are some tips and ideas for replacements:
Sugar: Make sure its organic, beet or coconut sugar. Although it might seem like it is more 'pure' and unprocessed, brown sugar still might not be suitable for a vegan diet.
Heavy cream: Contains around 40 percent fat, and can be replaced with coconut cream or full fat coconut milk. You can also increase the fat content by using a nut butter. Nuts contain beneficial monounsaturated fats which can help reduce the risk of heart disease. Caramel isn't exactly a health food, but every little bit helps.
Butter: There is a lot of choice of vegan butter these days. The solid block style will work best. As always, be sure to choose organic, and try to avoid palm oil to be more sustainable and help protect the rainforest.
Milk: Really, any plant-based milk is going to be a great alternative, but oat milk is a good sustainable choice. To be even more eco-friendly, you could make your own oat milk.
Condensed milk: Essentially a reduced and sweetened milk. This is usually used in recipes that require a thicker caramel at the end, and cuts down the cooking and reducing times. You can buy organic vegan condensed milk from Amazon**.
A Vegan Caramel Recipe
Making your own vegan caramel is easier than you might think. This recipe is perfect on pancakes, poured on top of a healthy vegan cheesecake, or swirled through a vegan brownie before baking.
Tip: Use a pan that is a size larger than what you think you need. The sugar will be very hot and will bubble when you add the liquid.
Ingredients:
Makes around 8 oz.
1/2 cup organic white sugar
4 tbsp. organic plant based butter (the block type), at room temperature
1/4 cup organic plant milk blended with 4 tbsp. organic coconut cream
1/2 tsp. sea salt (depending on how salty you like your caramel)
1 tsp. organic vanilla extract
optional — 1/4 cup organic smooth peanut butter
Instructions:
1. Measure All the Ingredients and Keep Them Close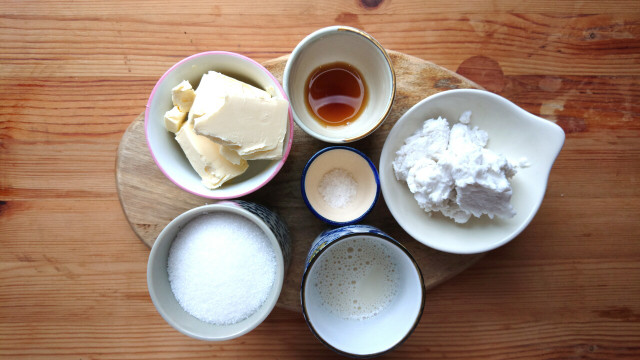 Measure out everything that you will need, and keep it within reach. Once your start making caramel, don't walk away from it!
2. Add the Sugar to the Pan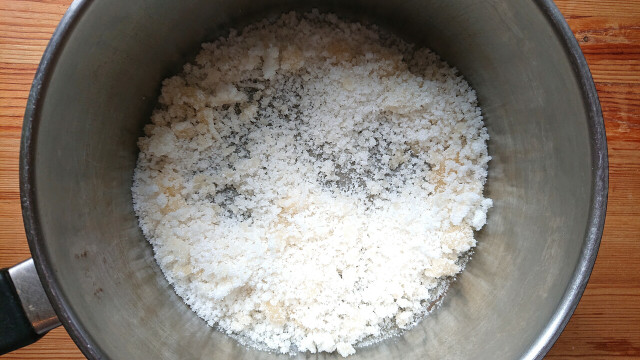 Place the sugar in a medium sized pan on a low heat. Stir as the sugar begins to get hot. It will go a bit clumpy at first, but will soon melt.
3. Caramelize the Sugar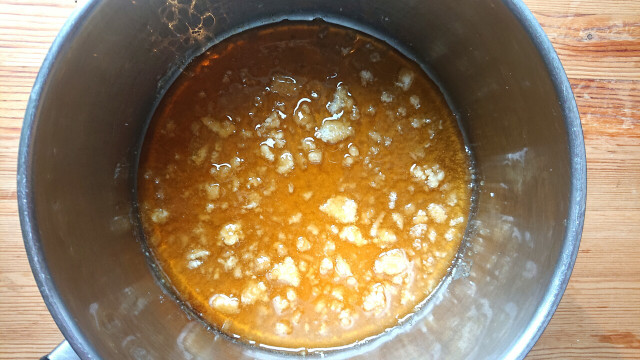 Keep stirring the lumps to evenly heat the sugar and prevent it from burning. It will start to change color. The darker the sugar, the more bitter the caramel. Be careful: there is a fine line between delicious and burnt.
4. Finish Your Homemade Vegan Caramel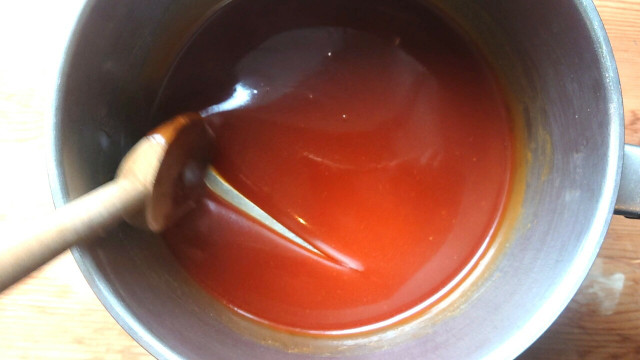 Once the sugar is a golden brown, turn off the heat and add the cream mixture. It will bubble furiously! Stir quickly but carefully with a wooden spoon. Add the butter and keep stirring.
Return to a low heat and cook for about five minutes while stirring. The longer you reduce the caramel, the thicker it will become and it will be thicker once cold. Lastly, remove it from the heat and stir in the vanilla and the salt.
5. How to Store Your Vegan Caramel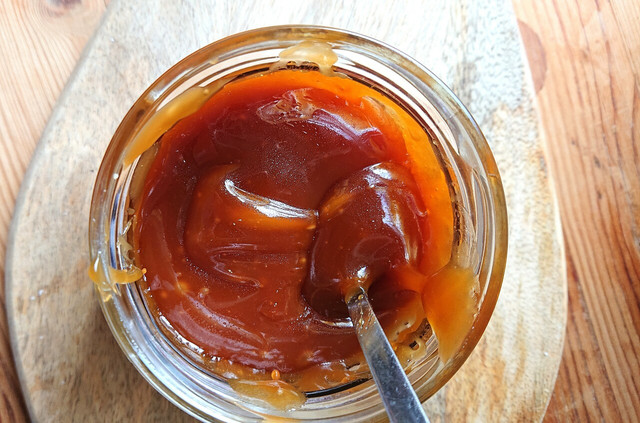 Pour in to an 8oz sterilized jar. Store in the fridge for up to a month. You can heat it before serving if it has been in the fridge. It will also freeze well.
Tip: You can make a peanut butter caramel sauce by mixing 1/2 cup of the hot caramel sauce with 1/4 cup smooth peanut butter and enjoy. It can be stored in the fridge for up to a month.
Read on:
** Links to retailers marked with ** or
underlined orange
are partially partner links: If you buy here, you actively support Utopia.org, because we will receive a small part of the sales proceeds.
More info
.
Do you like this post?
Thank you very much for voting!