Herbal remedies for headaches are natural and can be fairly inexpensive. We'll take a look at the best herbs for headaches so you can relieve the pain naturally.

For thousands of years and across many cultures, herbal remedies for minor health issues have long been touted for their myriad of therapeutic benefits. While herbal treatments will never replace the peace-of-mind given by visiting a professional health practitioner, herbal remedies can definitely provide temporary relief for common complaints, and headaches in particular.
Why Opt For Herbal Remedies?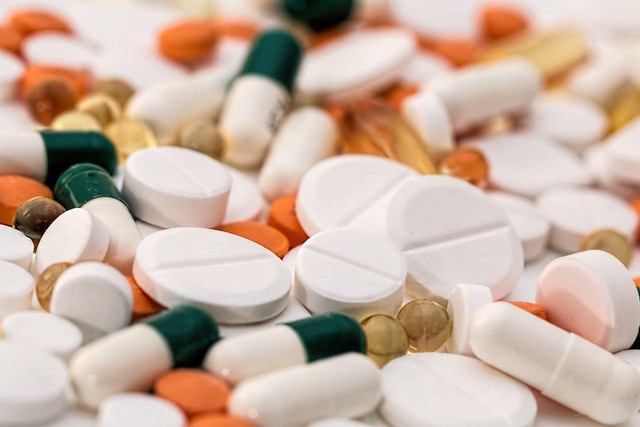 Herbal remedies offer some real positives when compared to their synthetic pharmaceutical counterparts. First of all, herbal treatments are often much cheaper – especially if you're sourcing herbs from your own garden.
Herbal remedies are also entirely natural, and will lack any artificial chemicals and substances that might actually affect your over all health negatively in the long-term. Using herbs for minor health conditions will only go so far, so maintaining a healthy diet, undertaking regular exercise, and avoiding substances such as trans fats, alcohol, and tobacco will accelerate their positive effects on your body.
By opting for natural herbal alternatives, you are drawing upon hundreds, if not thousands of years of proven therapeutic benefit and can feel at ease knowing that by ingesting these natural substances in moderation, you are doing your health and well being a favor.
Common Garden Herbs for Headaches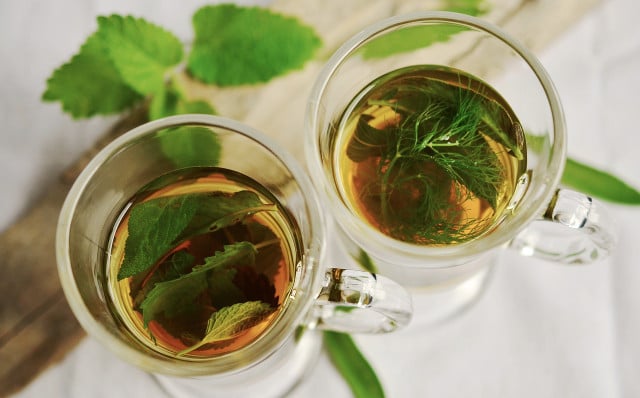 Lavender
The pleasant scent of lavender is enough to have a calming effect and the vibrant flowers contain substances that act as relaxants, which is just what you need for those small muscles around your eyes and temples, where headaches often develop. You can create your own lavender tea infusions (try 2 tbsp. of dried lavender flowers to 4 cups of hot water). You can also inhale lavender essential oil scent directly or rub a little of the oil your temples for instant headache relief.
Mint
Mint leaves are full of antioxidants and also works wonders when it comes to relieving headache discomfort naturally. Making mint tea is incredibly easy, and you can use homegrown mint. All you need to do is boil some water, pour it over some freshly plucked mint leaves in a teapot and let it steep for 10 to 15 minutes. Once done, use a strainer to remove the mint leaves as your pour into a cup. Sweeten with a little honey if you like, but usually the fresh mint on its own is just perfect.
Basil
Normally associated with Italian cuisine, rather than acting as a herbal remedy, basil is a worthy companion when it comes to natural pain relief. Just take 5 or 6 fresh basil leaves, place them in a pot and pour some boiled water over them. After 5 minutes or so, your basil tea should be cool enough to drink. If tea isn't your thing, just eat a few organically grown basil leaves raw. They taste great and will have the same effect as having them in tea.
Rosemary
Commonly found in most gardens, rosemary is not only a good addition to your favorite dish, it has also been known as a herbal pain remedy. The best way to this herb for headaches is to rub some rosemary oil on to your temples to ease tense muscles in the head. Rosemary oil produces a pleasant smelling vapor that can be inhaled, or much like the other herbal treatments outlined already, you can just brew yourself a soothing rosemary tea. For the best rosemary tea, boil some water, pour over a small handful of rosemary leaves in a pot, and let it infuse for 10 minutes.
4 Additional Herbs for Headaches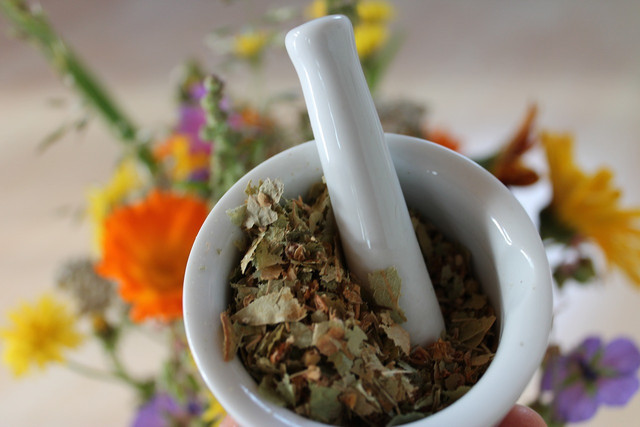 Chamomile
Much like lavender, chamomile is another natural herb known for providing stress relief and a calming effect. A cup of chamomile tea is often enough to remedy stress-induced headaches resulting from a long day at work – it's also known as an anti-inflammatory. Chamomile works best as a herbal tea, just add 2 tsp. to 1 cup of water and sweeten with a little organic honey or vegan honey alternative to taste.
Catnip
We all know it makes your cats act strangely, but as a part of the mint species, catnip also doubles as a good herb for headaches – and for repelling mosquitos. Acting as a very mild natural sedative, catnip is a herb that can aid in reducing feelings of stress and anxiety, which commonly contribute to headaches. The flowers of the catnip plant are what works best for herbal tea. Take 2 tsp. of dried catnip flowers, place in a large cup, and pour in some hot water. After 8 to 10 minutes your catnip tea should be ready to drink. Keep in mind that catnip has a somewhat bitter woody flavor so keep some organic honey on hand to help sweeten the deal.
Fennel
Fennel has a unique a punchy flavor and like the herbs already described here, works wonders when it comes to ridding yourself of a mild headache. Fennel tea is quick and easy to prepare and aside from the leaves, you can also use fennel stalks or seeds to brew up your natural herbal treatment. Once you have poured in your boiled water, you will need to let the fennel steep for at least 15 to 20 minutes to extract all of its headache cancelling benefits.
Willow Bark
Willow bark was prized in Ancient Greece for its strong pain relief properties. It has been used to soothe not just headaches, but more sustained pain such as period cramps, aching muscles, and even milder forms of arthritis. To make your own willow bark tea, all you need to do is add 2 tsp, of ground willow bark to 2 cups of hot water. Allow the mix to lightly simmer on the stove top for 10 minutes, take it off the heat and let it rest for another 20 minutes before serving. The gritty bark residue left over will need to be strained before pouring into your cup to drinl. Willow bark tea will also benefit from a little honey to make it go down better.
Read more:
Important Information regarding Health-related Topics.
** Links to retailers marked with ** or
underlined orange
are partially partner links: If you buy here, you actively support Utopia.org, because we will receive a small part of the sales proceeds.
More info
.
Do you like this post?
Thank you very much for voting!