Here are some easy summer thrift flips: Transform your old clothes into super fashionable garments you can wear all summer long (and all following summers, of course) by following these three tutorials.
Summer is well and truly here, but there's no need to go out on a shopping spree to get all the latest summer looks. You probably have everything you need already at home and might not even need to go to the thrift store! If you have a sewing machine and basic sewing skills, these easy thrift flip tutorials will get you ready for summer in no time without breaking the bank.
All you'll need is an afternoon for each project, no advanced sewing skills necessary.
Thrift Flip 1: Dress Shirt → Wrap Top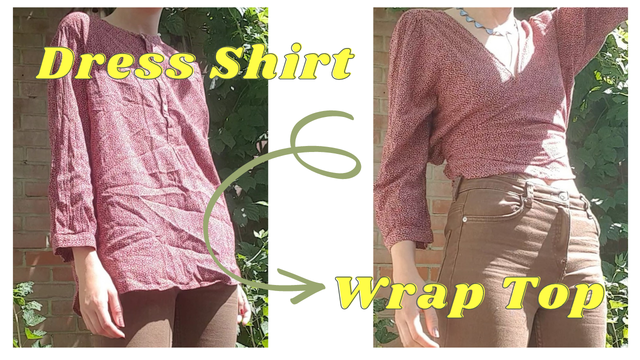 You can make this wrap top out of any long dress shirt. The lighter the material, the better it will be for summer. You can also cut off the sleeves for an even cooler top!
Steps:
1. Cut down the middle if it isn't already a button down. 
2. Pull each of the halves across the chest so that the edge lines up with the breast.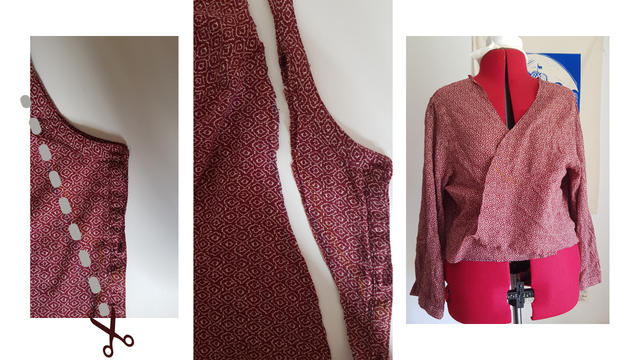 3. Wearing the shirt or using a mannequin, pull one half at a time slightly over the other half of your torso.
4. Draw a line from the edge of the neck seam near the shoulder to under the breast using chalk or a washable marker.
5. Cut along this line and around the back of the neck along the seam as well as any trim at the center front if using a button down dress shirt.
6. Put the shirt on and decide how short you want the top and draw a line to mark the new hem. Cut half an inch below this line. Hold on to the removed bottom piece. This will become the ties for the wrap top.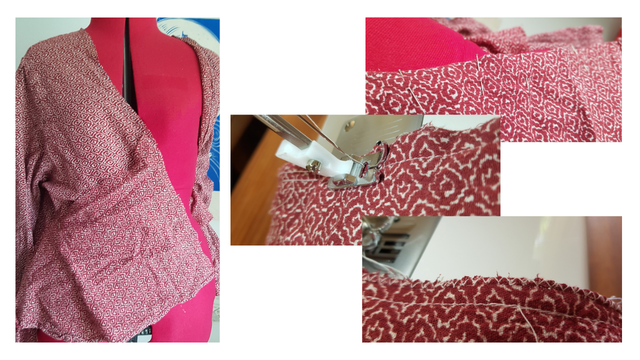 7. Cut the excess from the bottom in half along the center back.
8. Turn each piece upside down and pin right sides together to each half of the shirt. Sew into place using a straight stitch. Do this for both sides.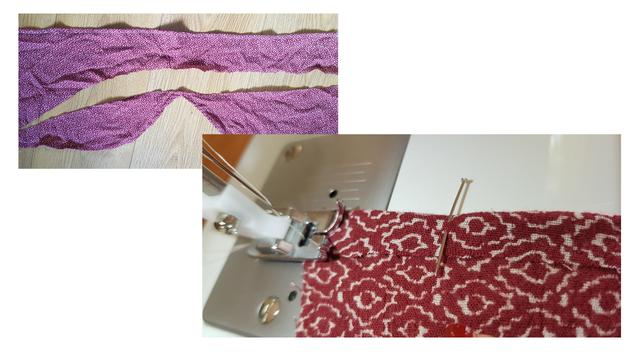 9. Sew and zigzag stitch along the raw edges to stop them from fraying. Do this on both sides.
10. Cut off excess from the bottom again and hem all the raw edges on the bottom and along the neckline 1/4 inch away from the edge.
Elasticated Skirt → Fitted Mini Dress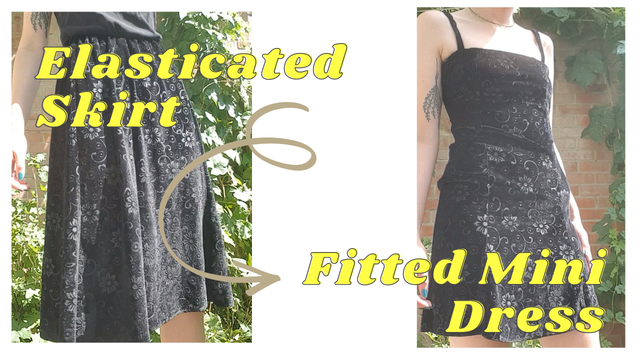 This dress is super quick to make as a thrift flip for summer 2022. Since it's elasticated, it's also very forgiving of imperfect sewing.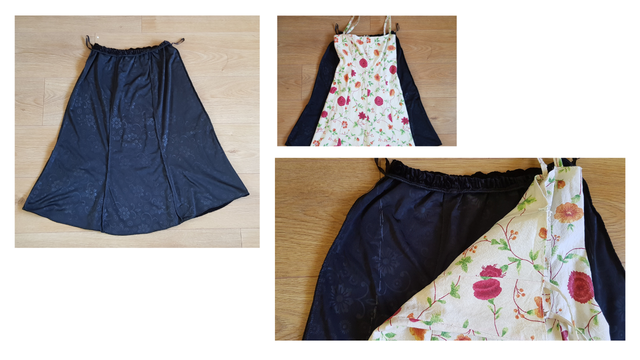 Steps:
1. To shape the dress to fit you, you can either:
A. Put on the skirt inside out with the waistline pulled up to where you want the new neckline to sit, pinch and pin in the sides until you're happy with the fit
OR
B. Lay the inside out skirt flat on the floor and place a dress that fits you well over top of it and trace around this.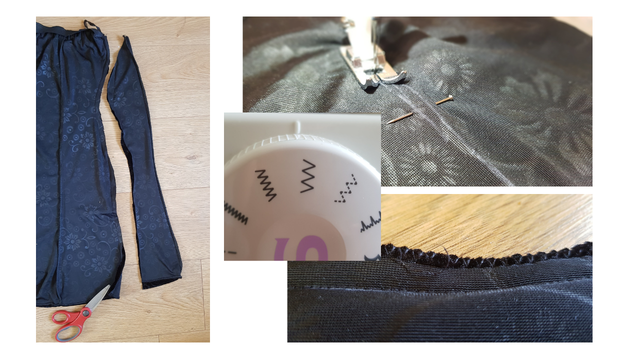 2. Sew along the markings made in step 1 with a straight stitch. 
3. Cut off excess fabric leaving a 1/4 in seam allowance. 
4. Zigzag stitch along the raw edges to prevent fraying.
5. (Optional) Use scraps to make some straps.
White T-Shirt → Tie Dye Crop Top With Lettuce Hem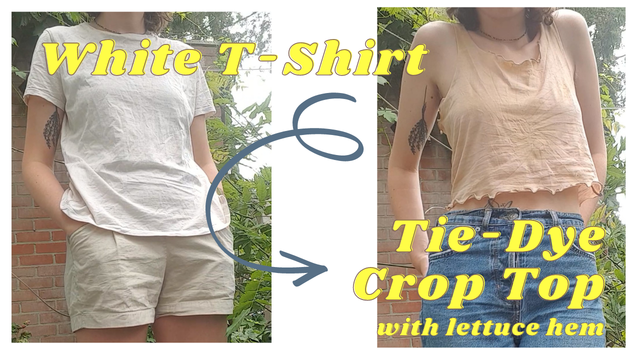 Plain white tee too boring for you? No worries, this cute and modern crop top is a fun easy thrift flip project that'll liven up your wardrobe without breaking the bank.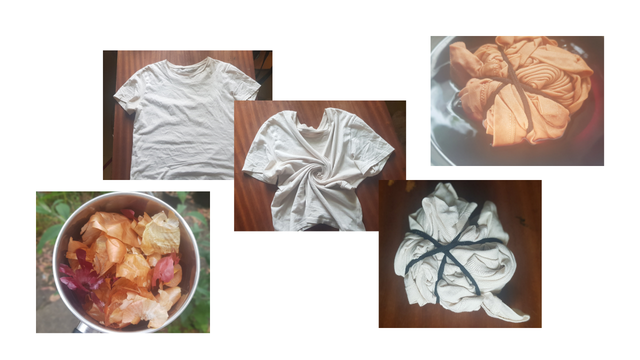 1. Tie-dye your t-shirt using natural ingredients. Here we've used a mix of white and red onion skins for a peachy yellow color. Leave soaking overnight for a darker color.
2. Rinse with water and let dry.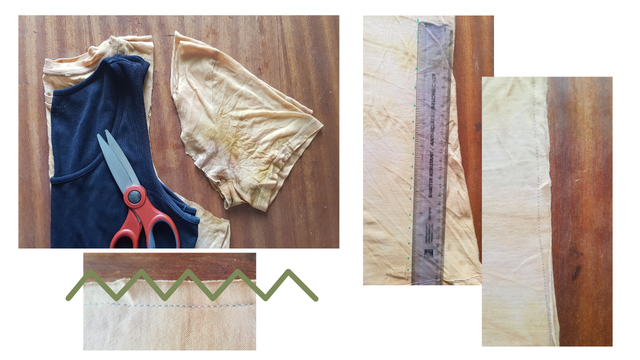 3. Lie flat and using a tank top, trace armholes onto the t-shirt.
4. Fold in half and carefully cut off the sleeves with as clean of a cut as possible. 
5. Bring in the side seams with a straight stitch by about an inch or an inch and a half, depending on how tight you want your crop top.
6. Remove excess fabric and zigzag stitch the raw edges to prevent fraying.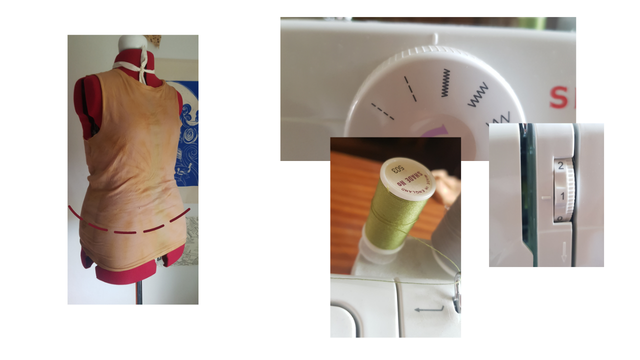 7. Decide where you want your crop top to sit and mark it with calk or a washable marker and cut along it.
8. Prepare your sewing machine to make the lettuce hem by setting your machine to a small zigzag stitch and low thread tension. You can also optionally use a contrasting color of your choice for the top stitching just to give your top that extra bit of detail.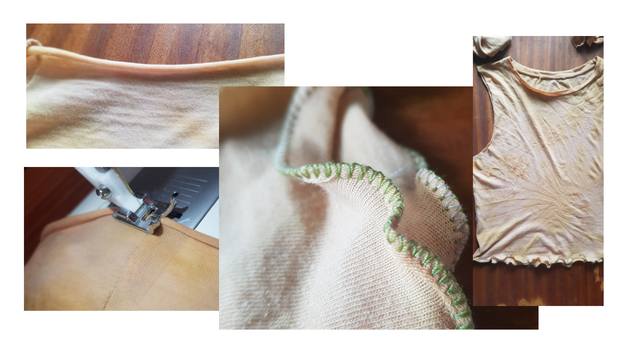 9. To make the lettuce hem, simply pull your fabric along the edge, and it should start to naturally curl up. With the zigzag stitch, you want to catch that curl between the stitches of the zigzag. Continue to pull both sides of the fabric as you work your way around the edge.
10. Do this on both of the armholes as well. Optionally, you can also cut away the neckline and lettuce hem along there, too.
Read more:
** Links to retailers marked with ** or
underlined orange
are partially partner links: If you buy here, you actively support Utopia.org, because we will receive a small part of the sales proceeds.
More info
.
Do you like this post?
Thank you very much for voting!