Zero waste toothpaste is the sustainable alternative to conventional tube toothpastes. But all-natural ingredients and sustainable packaging are just the beginning. Here's all the need-to-know info on zero waste toothpaste.
When it comes to the sustainability of the steadily growing number of zero waste products – in particular the long list of personal hygiene items– conventional toothpaste doesn't come anywhere close to making the cut. Our daily efforts to keep clean unfortunately leave quite a mess. Microplastics contained in conventional facial soaps and peelings alongside other forms of single-use plastic packaging contribute to the growing problem of plastic in the ocean. Toothpaste is just another common culprit.
Producers of sustainably produced and responsibly packaged personal hygiene items are making a push in today's market. As a result, a large number of notable toothpaste manufacturers have also been quick on their feet to react to calls for change.
Utopia has compiled some of the most important need-to-know information on zero waste toothpaste, what to look out for when buying and what dentists say about swapping out a zero waste DIY for your regular toothpaste.
Conventional Toothpaste: The Environmental Impact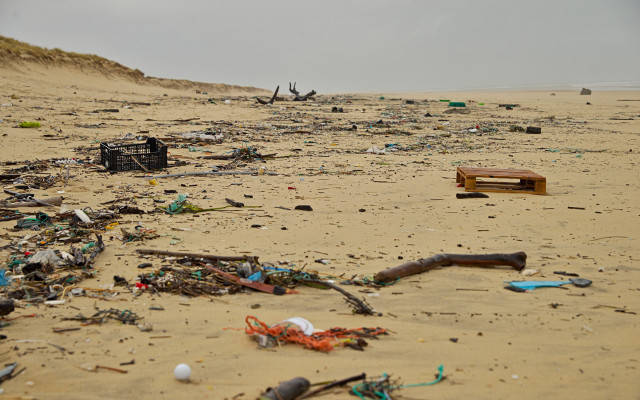 Standard toothpaste poses a couple of environmental challenges – with some less apparent at first glance than others. First off, toothpaste tubes are generally made out of a mixture of plastic and aluminum. This makes them practically impossible to recycle. Unfortunately, the majority of toothpaste tubes on the market today are still non-recyclable. With a market which was valued at $26.09 billion in 2018 and is expected to continue to grow, this is a serious problem.
Alongside packaging, questionable ingredients contained in conventional toothpastes need not go unmentioned. The contents of conventional toothpastes that typically get the most heat are detergents and antibacterial agents: Sodium lauryl sulfate (SRS) and triclosan. Both have raised health as well as environmental concern among experts.
Sodium Lauryl Sulfate (SLS)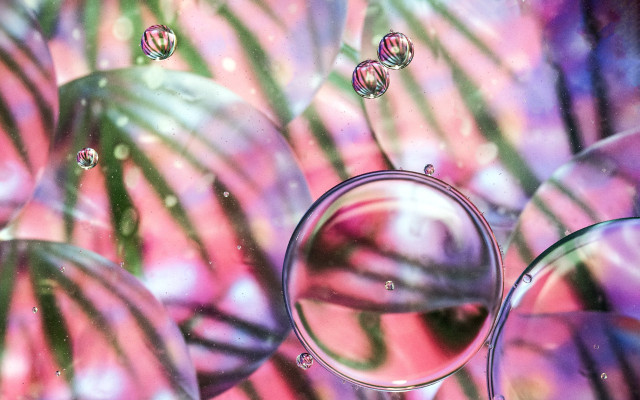 Sodium lauryl sulfate is a detergent typically found in conventional toothpastes at a concentration range of 0.5-2%. Surfactants (short for surface-active agents) are common in soaps and hygiene products as they function to create foam and lower surface tension. Sulfates are frequently debated about their safety, which is probably why many zero waste toothpaste brands on the market today feature "SLS-Free" labels front and center on packaging. Another reason for this is most likely that SLS is actually patented in the United States for use as a pesticide.
While often listed in oral care forums as one of the most common "ingredients to avoid" in toothpastes, the EPA actually lists sodium lauryl sulfate as safe. However, the chemical can lead to occasional irritation of the skin and mouth. In addition to this, SLS carries with it a couple environmental shortcomings you need to consider. These and related sulfates are primarily produced from fruit oils–- the most common of which is palm oil.
Palm oil is an especially problematic yet all-too common ingredient in close to half of all packaged products Americans buy. Found in lipsticks to ice cream, palm oil demand has resulted in the vast clearance of tropical forest in efforts to make room for palm plantations. This destroys local habitats, threatens biodiversity and eliminates opportunities for carbon storage.
Zero waste and conventional toothpaste producers alike thus often turn to coconut oil as a more environmentally-friendly alternative. However, you should nevertheless be on the lookout for other ingredients containing palm oil – such as palm oil glycerin. Keep an eye out for USDA Organic and Fair Trade certifications where possible.
Triclosan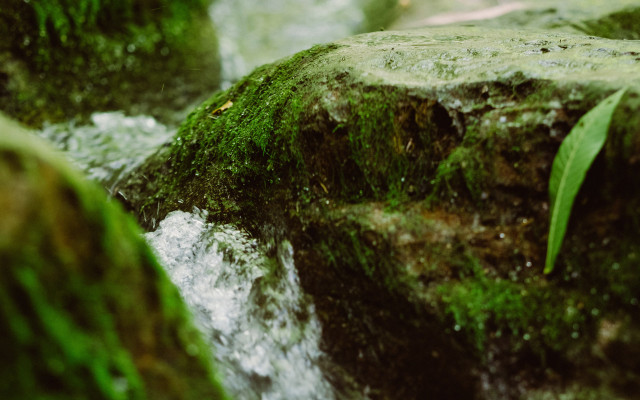 Triclosan serves as an antimicrobial and antifungal agent in a variety of different products. It is often added to FDA regulated products such as body washes, toothpastes and some cosmetics as well as unregulated items such as clothing, kitchenware, furniture and toys. Added to toothpastes, triclosan is effective in eliminating bacteria that contribute to plaque buildup and prevent gingivitis.
According to the FDA, some studies "have raised the possibility that exposure to triclosan contributes to making bacteria resistant to antibiotics. At this time, we don't have enough information available to assess the level of risk that triclosan poses for the development of antibiotic resistance." The FDA also reports that additional studies are underway investigating the chemical's link to skin cancer in animals.
The non-profit environmental advocacy group Beyond Pesticides notes that 95% of consumer products containing triclosan are washed down the drain. Once the chemical has entered our waterways, it has the potential to wreak havoc on aquatic ecosystems. Triclosan is highly toxic to certain types of algae and can convert into highly toxic compounds when exposed to sunlight in aquatic environments.
Microbeads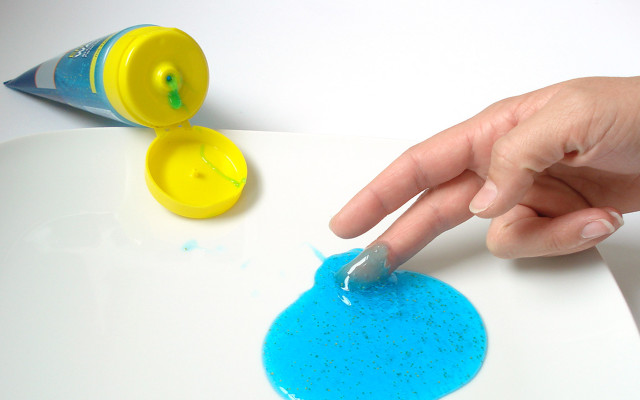 Thankfully, Congress banned the use of microbeads in "rinse-off" health and beauty products (including toothpaste) in 2015. Nonetheless, loopholes were left open for a number of products. These include detergents and cosmetics that can be left on the skin.
Although we won't find microplastics in zero waste toothpastes or many other hygiene products, they're still a problem. The international environmental campaign "Beat the Microbead" has compiled a detailed list of plastic-free beauty and hygiene products on its website. They also have an app with which scans products directly and tells you whether they contain microplastics. The app is available for download for free on iTunes as well as GooglePlay.
Zero Waste Toothpaste: The Trend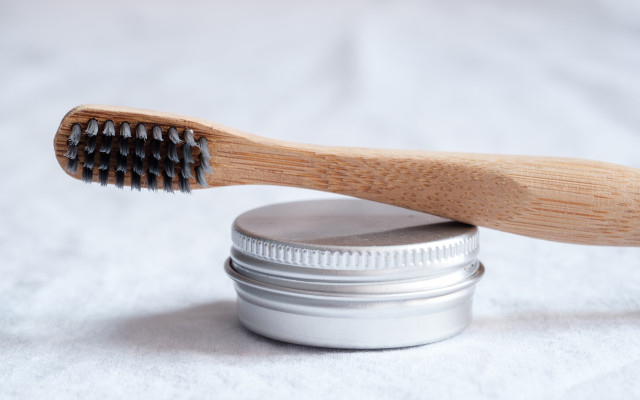 In light of the environmental and health hazards often attributed to conventional toothpastes, zero waste toothpaste recipes and products have become increasingly popular throughout the past few years. First off, zero waste toothpaste is a win because, well, it produces zero waste. You can store zero waste toothpaste DIYs conveniently in reusable small glass jars. Many commercial zero waste pastes come in recyclable packaging or reusable containers you can easily upcycle.
Search and you'll find endless easy Do-it-yourself recipes alongside an abundance of retail options packaged with green-living practices in mind.
Here are some of Utopia's top picks for simple sustainable low waste toothpastes:
Hello Oral Care Naturally Whitening Fluoride Toothpaste (Vegan and SLS-free) found on Amazon**
The Humble Co. Natural Fluoride Toothpaste (2 pack, Vegan) available on Amazon**
Lucky Teeth Charcoal Xtra Whitening Toothpaste (packaged in a zero waste reusable glass jar) found on Amazon**
Zero waste toothpastes also come without the paste or the plastic. Here are some sustainable no-plastic and no-paste low to zero waste toothpaste alternatives to consider:
Hello Oral Care Antiplaque + Whitening Flouride-Free Toothpaste Tablets (60 tablets, pack of 2) available on Amazon**
Denttabs 100% Natural Toothpaste Tablets (contain fluoride, great for travel, 125 tablets) available on Amazon**
SIMPLUT Toothpastes Tablets Lemon/Lime/Peppermint 60 count found on Amazon**. This true zero waste toothpaste option comes in a neat resealable glass bottle you can wash and reuse however you'd like!
Although these toothpastes aren't 100% zero waste (although tubes and no-paste tablets can indeed be recycled), they offer a thoughtful alternative to conventional toothpastes. The zero waste toothpaste tablets and powder come in specially packaged containers meant for upcycling. Utopia recommends these first and foremost!
Please note: In the United States, zero waste toothpastes (and other cosmetics, personal care and body care products) are also eligible for USDA Organic certification according to their organic content and other factors. Keep a look out for these where you can!
Zero Waste Toothpaste DIYs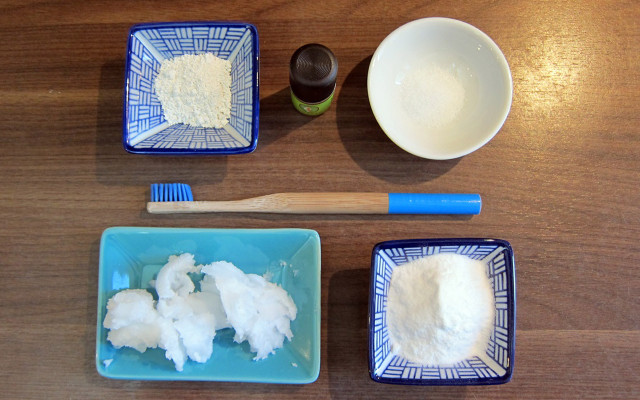 The only real way to make absolutely sure your toothpaste is zero waste is to make it yourself. You"ll usually find DIY zero waste toothpaste recipes in one of two forms: tooth powders and coconut-oil based pastes.
A quick Google search will yield endless zero waste toothpaste DIYs and homemade recipes for beginners. Utopia has collected a few easy recipes here to get you started.
This first zero waste toothpaste recipe uses 2 tbsps. organic coconut oil, 1 tbsp. of baking soda and 15-20 drops of essential oil. It's super easy to make and ready within minutes!
Coconut oil is considered comodogenic – meaning it can clog pores and encourage the formation of blackheads and other forms of acne. If your skin is prone to breakouts, it's best to leave coconut oil out of your recipe.
Here's an alternative zero waste toothpaste recipe which substitutes coconut oil with aloe vera gel:
Ingredients
4 tbsp. baking soda
2 tbsp. aloe vera gel
1 tbsp. bentonite clay
1 tsp. water
1 tsp. peppermint oil
10 drops stevia extract
This zero waste toothpaste recipe couldn't be easier: First, mix the dry ingredients together. Mix the wet ingredients together separately. Add the wet ingredients to the dry ingredients and whisk using a fork. Seal in a resealable glass jar. Done!
With these sustainable zero waste toothpastes recipes, you know exactly what goes into your toothpaste and have full control over how they're stored and packaged. And that's what green living is all about.
Zero Waste Toothpaste: What Would Your Dentist Say?
Currently, scientific studies on the benefits of zero waste toothpaste are scarce. The American Dental Association requires all commercial toothpastes bearing their seal to contain fluoride (strengthens tooth enamel and helps prevent tooth decay) and a long list of other ingredients scientifically proven to improve dental health. Many times, homemade zero waste toothpastes lack these ingredients.
If you're thinking of making the switch, run your own homemade zero waste toothpaste recipe by your dentist. They will be the ones best able to inform you on whether your zero waste toothpaste is the best fit.
** Links to retailers marked with ** or
underlined orange
are partially partner links: If you buy here, you actively support Utopia.org, because we will receive a small part of the sales proceeds.
More info
.
Do you like this post?
Thank you very much for voting!