Tired of gaudy plastic Christmas decorations? Minimalist Christmas decorations spare you waste, are more sustainable, and are often more aesthetically pleasing.
Every year, between Thanksgiving and Christmas, Americans throw away 25% more trash compared to other times of the year, resulting in one million extra tons of waste per week. Part of that is due to Christmas decorations made of materials that are not recyclable that are used once and then disposed of.
It's similar to the fast fashion industry — some decorations are trending this year, but completely out of style the year after, which results in a vicious cycle of plastic waste. Minimalist Christmas decorations, on the other hand, are timeless, more environmentally friendly, and create a clean atmosphere, contributing to a stress-free minimalist Christmas.
1. Swap Plastic Ornaments With Decorations From Nature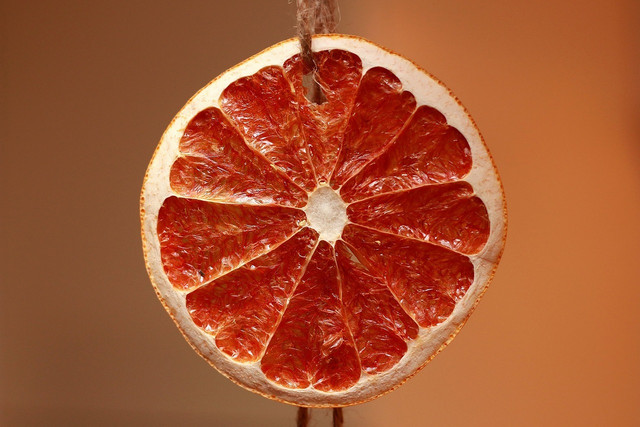 Store-bought ornaments can look fun and classy, but there is always a fine line between that and being just a tad too much. Plus, heavy decorations and ornaments are not the healthiest as they put unnecessary strain on your tree.
Instead of ornaments, use natural items to create minimalist Christmas decorations, such as cinnamon sticks, dried orange slices, rose hips, or pinecones. Pinecones are also a great way to keep your cats away from the Christmas tree!
Learn why renting a Christmas tree can be the more sustainable option, independent of the ornaments you put on it. Similarly, just getting a smaller Christmas tree also means you get to save on decorations, while the tree still looks just as richly decorated. Find out how to care for a Christmas tree in a pot so you can replant it after the holiday season, for example.
2. Use Paper Stars as Minimalist Christmas Decorations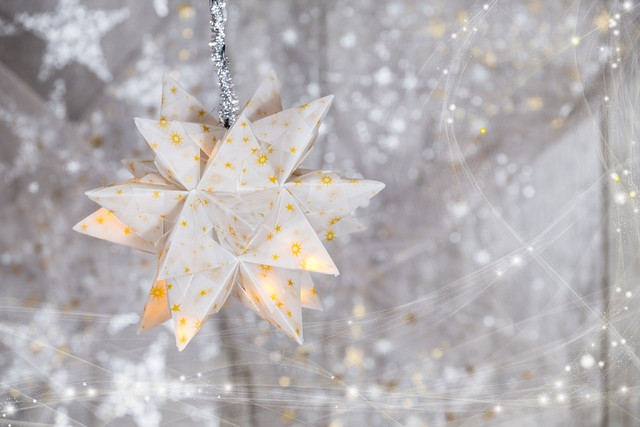 Check out this easy crafting tutorial for paper stars. Not only are they beautiful, but they're also sustainable. You can make them by reusing old tea packets, newspapers, gift wrapping, or any other type of paper. Paper stars are also the perfect last-minute Christmas decoration — the crafting process is fairly simple and can take as little time as ten minutes.
3. Make Salt Dough Ornaments With the Whole Family
Another simple and minimalist idea for Christmas decorations is salt dough ornaments. These Christmas-cookie-shaped ornaments just take three ingredients, are not as heavy as other decorations, and are completely plastic-free. They're also a fun project for the whole family and a great way to get creative together during the holidays.
To stick to natural ingredients throughout the process, you could use cumin, beets, or matcha powder for natural food coloring. Another bonus is that you don't even have to bake them, but can simply let them air-dry for a couple of days and save energy through that.
4. Crochet Minimalist Christmas Decoration
Pick your favorite color of yarn and try crocheting small stars or snowflakes. For a small snowflake, all you need is lightweight yarn, a crochet hook of 3.75 mm, and scissors. There are many video tutorials online that are perfectly suitable for beginners.
Once you've created these minimalist decorations, you can keep them forever. If you don't have the time for that, support a local business that offers crocheted decoration or browse through the internet to find a trustable, sustainable online shop to buy from.
5. Wispy Garlands
Natural garlands can be used as door wreaths or simply hung across a window — in any case, they bring that holiday cheer to your home. It's best to check for garlands at your local nursery and place them in a cooler spot out of the sun. Moreover, make sure to keep a distance from fireplaces or vents, as they will otherwise easily dry out or even create a fire hazard.
6. Make DIY Scented Candles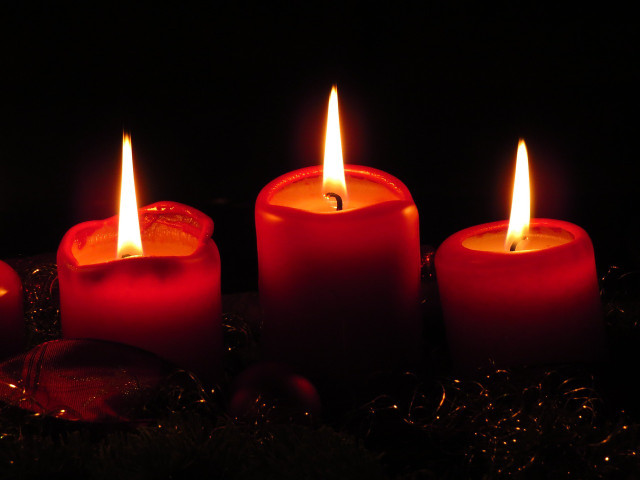 Candles are one of the most popular minimalist Christmas decorations and create a cozy, magical atmosphere. Making your own scented candles is a great way of using up leftover candle wax. You'll only need a few ingredients and can pick your favorite scents by choosing which essential you want to use for your candles.
You could also give candles made from soy wax a chance. They are long-lasting, environmentally friendly, and completely vegan.
7. Use Recycled Glass Jars as Candle Holders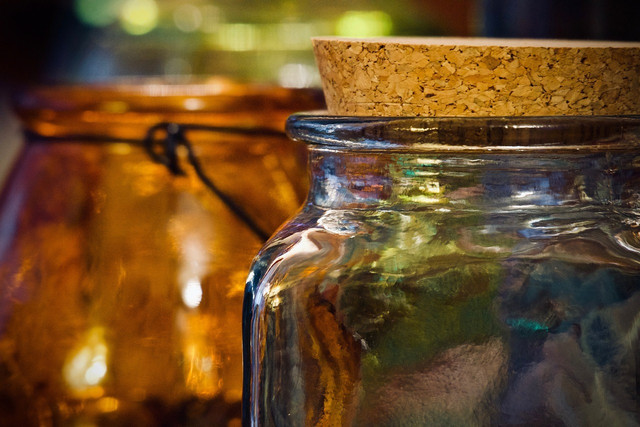 Related to the previous minimalist Christmas decoration, here's how to arrange your self-made candles: Simply look for empty jam glasses, milk jars, small vases, or anything else you find at home, and tie a sprig of evergreen leaves around the glass for an extra cheery look. Just like you can reuse your candle wax, later on, you can reuse candle jars in many different ways.
Worried about your electricity bills? How to Save Up to 75% Energy on Your Outdoor Christmas Lights
8. Decorate With Gingerbread Houses
Decorating a gingerbread house is a perfect activity for children and at the same time, a simple way to decorate your living room, kitchen table, or windowsill. They can last about a month before they become inedible and of course, only last as long as you or your kids can resist. For a minimalistic look, don't overdo it with the toppings, and stick with decorations like white frosting and powdered sugar.
9. Arrange Greenery Nicely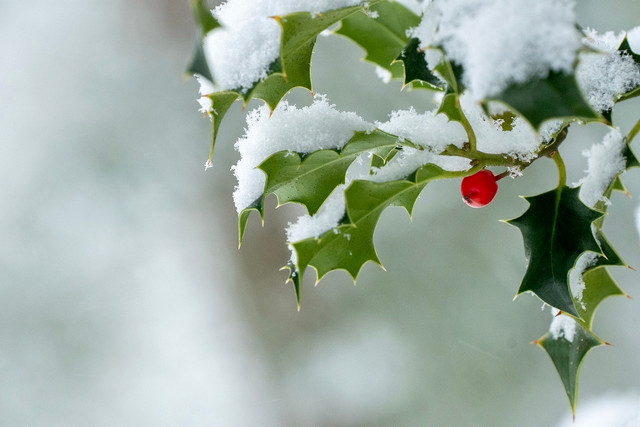 Sometimes the simple act of lying out some greenery around the house can do the trick and put those around you into the Christmas spirit. Here are some types of greenery that can set beautiful accents around the house:
Holly leaves: English and American holly are often used as ornamental Christmas greens. Place boughs of holly leaves and berries along the fireplace mantle or on windowsills, add sprigs of holly to vases or hang it on your Christmas tree.
Pine: Another classic Christmas greenery that not only looks beautiful and minimalistic but also comes with a wintry, wooden scent.
Ivy: Also a popular decoration and especially paired with some fairy lights, ideal to create a jolly atmosphere.
Mistletoe: The story goes that the mistletoe is a symbol of love, vowing to plant a kiss on everyone passing beneath it. You'll have to hang up one yourself to find out whether that's true.
10. Decorate With Fuzzy Blankets and Pillows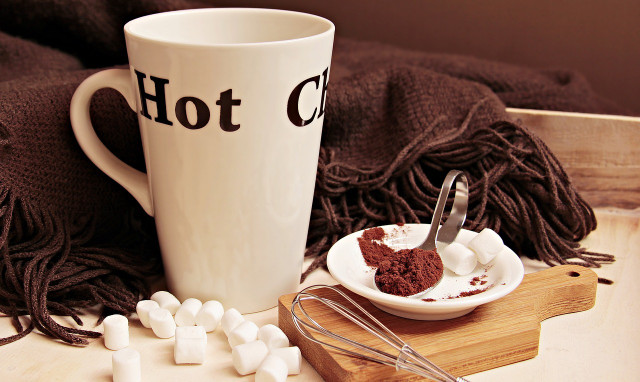 For a soft minimalistic look, decorate your couch or chairs with cozy pillows and blankets. This simple way of decorating will make everyone in the house want to snuggle up and sip on homemade hot chocolate.
Read more:
** Links to retailers marked with ** or
underlined orange
are partially partner links: If you buy here, you actively support Utopia.org, because we will receive a small part of the sales proceeds.
More info
.
Do you like this post?
Thank you very much for voting!