If you feel out of sync, uninspired, or overwhelmed in your space, creating a fēng shuǐ kitchen might help bring you some clarity and a fresh, energized perspective.
An ancient Chinese art of placement and aesthetics, fēng shuǐ is a Mandarin term which translates to "the way of wind and water." Traditionally, it is written as 风水. There are five basic principles of fēng shuǐ, including the commanding position, the bagua, and the five elements. The commanding position refers to the diagonal position from the door of a room, the most dominant spot in any space. The bagua is a fēng shuǐ energy map which helps balance different areas of your life. The five elements of fēng shuǐ are water, earth, fire, metal and wood.
The fēng shuǐ style is highly intentional with room orientation, furniture placement, colors, and more. The goal is to harness the environment's qi, vital flowing energy, to create a peaceful living space. This is meant to increase well-being, happiness, good fortune, and success. It can be a bit more difficult to incorporate fēng shuǐ into your kitchen, as there's less opportunity to rearrange the space, but there are still plenty of ways to get started. 
1. Keep Clean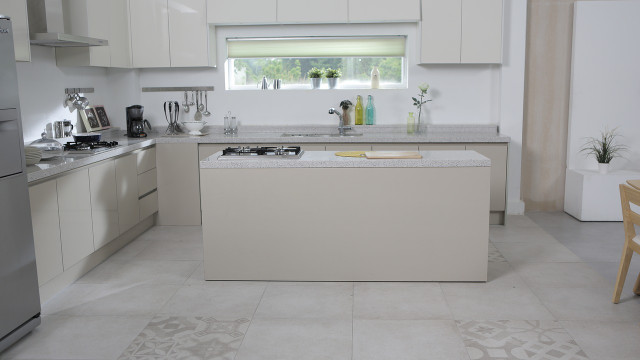 According to fēng shuǐ philosophy, your space gains power to support your dreams according to how much time and effort you put into nurturing it. Cleaning is therefore a big part of fēng shuǐ. This includes keeping your kitchen fresh and wiped down as you go, as well as regular deep cleanings. Pay attention to smaller aspects of cleaning that you may normally forget, such as making sure the fridge and pantry are organized. The stove is especially important in fēng shuǐ, because it represents the career, wealth, and resources. It's also seen as the heart of the home, and an overall symbol of warmth and prosperity, so make sure to wipe it down regularly. Keeping your kitchen aesthetically pleasing will make it a more comfortable space to be in. 
2. Use Non-Toxic Products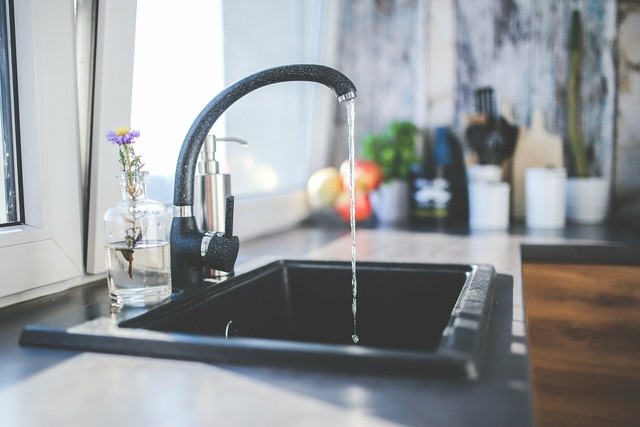 Using chemical-free products is essential to fēng shuǐ. Opt for plant-based, organic, and natural products when purchasing things like cleaning products and candles for your kitchen – or try homemade all-purpose cleaner. Try to avoid harmful and toxic chemicals, as these will bog down the energy you're trying to achieve with the fēng shuǐ philosophy. You can often use household items you already have lying around, such as baking soda, apple cider vinegar and citric acid for cleaning. 
3. Pops of Color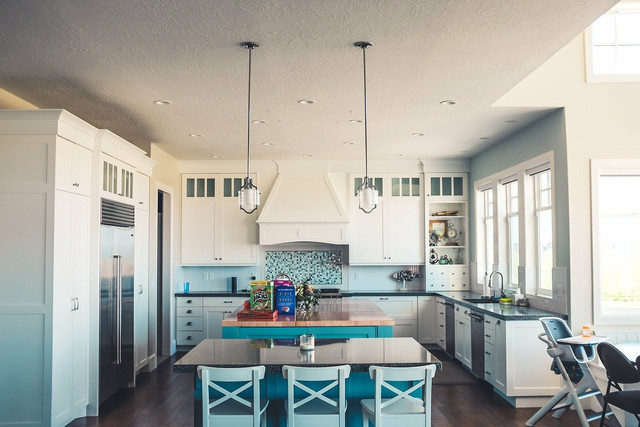 Fēng shuǐ kitchens typically are full of bright white, which represents purity and cleanliness. Pops of color are encouraged to make the space more vibrant, and to represent the elements. Fēng shuǐ kitchens will have often feature earthy colors like brown and yellow, which symbolize stability and security. Blue, representing water, is associated with abundance, movement and cleansing.
The wooden element can be represented by green for growth and flexibility. Metal colors like gray and bronze are for precision and happiness. Lastly, fiery colors like red and orange should be avoided in fēng shuǐ kitchens, because the kitchen already inherently has a fire element. Too much fire can lead to an energy imbalance. Keep this in mind when painting and investing in kitchen furniture and decor.
4. No Hanging Items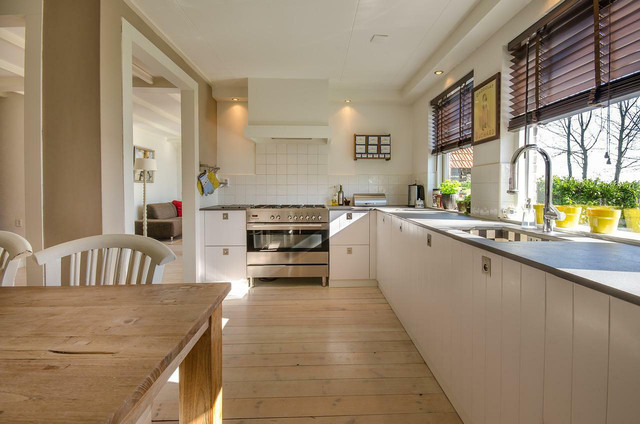 Hanging items are a big no-no for fēng shuǐ kitchens, as they introduce anxiety and bad qi. Instead, it's best to pack pots and pans away into cabinets, drawers and pantries. While glass door cabinets are encouraged in order to keep the space open, knives should never be on display as these lead to bad qi. 
5. Incorporate Wooden Pieces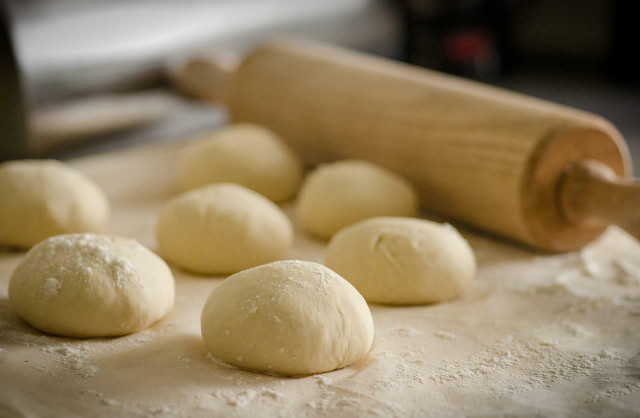 One easy way to make a fēng shuǐ kitchen is to introduce wooden pieces. Wooden accents are seen as a tree of knowledge in fēng shuǐ. They are used to increase trust, spirituality, stillness, growth and creativity. If you don't already have hardwood flooring or a large wooden table, you can rearrange some of your kitchen tools to represent the wooden element. Use a wooden fruit bowl, put your wooden spoons behind a glass cabinet, or keep a nice wooden cutting board out on the counter for food prep. 
6. Stove Location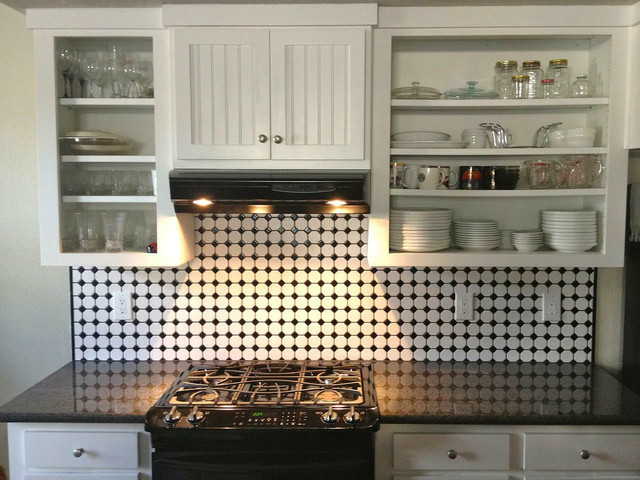 The stove location is very important in fēng shuǐ. Since the stove represents career and resources, it's important to place it in the commanding position of the kitchen, so that you are in control. Ideally, when standing at the stove you can see the door without actually being in line with it. This can be difficult to achieve without ripping your stove out of the ground.
Instead, you can symbolically achieve the commanding position by placing a mirror in a spot which helps you see the door while cooking. Mirrors can also be helpful in creating the illusion of additional stove burners. The more stove burners, the better, as they represent opportunities for sources of wealth.
7. Rotate Stove Burners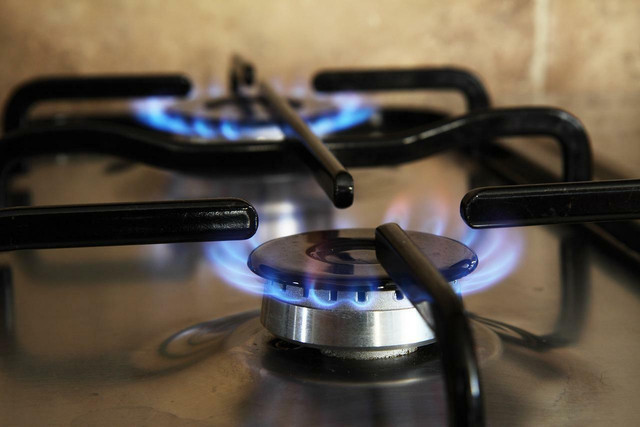 Because stove burners are so important, we must be mindful of which stove burners we use. While it's easy to get stuck in a routine and always use the same one to two burners, fēng shuǐ philosophy encourages people to rotate burners so that we're open and ready for all opportunities of new sources of wealth. Even just boiling a kettle of water on the stove every day will help. 
8. Avoid Space Above Cabinets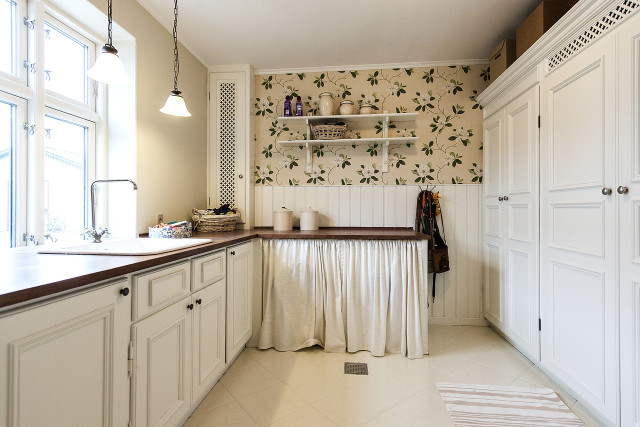 Keep your positive qi flowing through the kitchen is very important to fēng shuǐ. Make sure not to leave open space above your kitchen cabinets where dust can get trapped and stifle positive qi. If your cabinets don't reach the ceiling, fill up the space by topping them off with energy-filled pieces like houseplants for the kitchen and artwork.
9. Repair Broken Items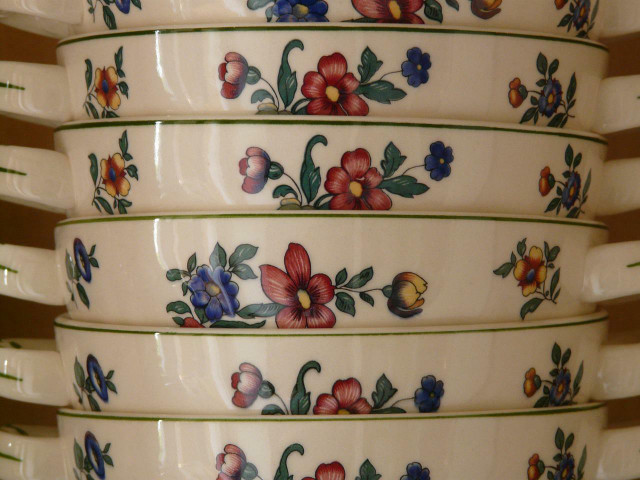 Fēng shuǐ kitchens are symbolized by warmth, nourishment and love. Similar to the importance of keeping your kitchen clean, the pieces within the kitchen need to be cared for as well. Maintaining appliances, tools and dishes represents positive intention to take care of yourself and your family. Make sure to fix broken items, or replace those which are beyond repair. You can even glue porcelain dishes at home.
10. Good Lighting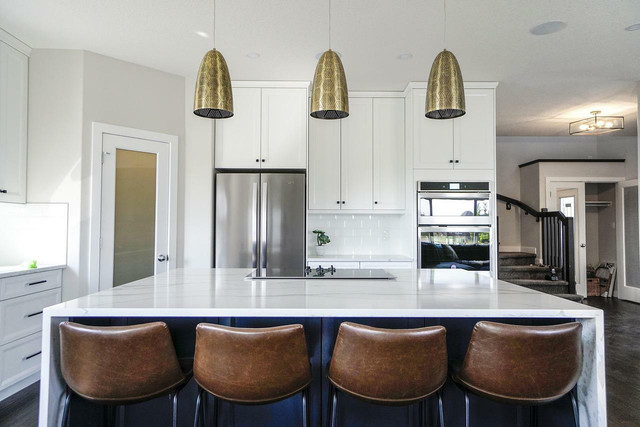 Ample lighting is important to maintain positive qi in a fēng shuǐ kitchen. Try to soak up as much natural light as possible by using light curtains, opening windows whenever you can, and keeping glass sparkling clean. Mirrors and white walls can also assist in brightening up spaces. Store overly dark pieces in hidden spaces if possible. Otherwise, you may be able to paint them. 
11. Accent Pieces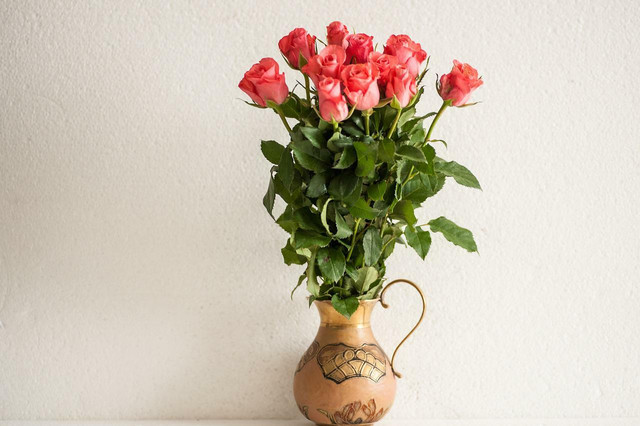 Use artwork and home decor to tie your home together. Curved vases and soothing images of the ocean are great ways to represent the water element, for example. Introduce the metal element with grays, white, and brassy, gold and silver tones. You can use metallic furniture, metallic frames, mirrors, candle sticks and more. Pastels are also a great way to work the metal element into the kitchen without it being overwhelming. Just remember that you should use the items you already have at home, or purchase secondhand before buying new. 
Read more:
Important Information regarding Health-related Topics.
** Links to retailers marked with ** or
underlined orange
are partially partner links: If you buy here, you actively support Utopia.org, because we will receive a small part of the sales proceeds.
More info
.
Do you like this post?
Thank you very much for voting!