When changing up the look of your home, choosing VOC-free paints may be more important than the color! Keep reading to find out why and which eco-friendly paint we recommend.
The smell of new paint, like chlorine, gas stations and new cars are all well known for their strong, overpowering odors. While some people claim to enjoy these smells, there's nothing fun about the organic chemicals which, at least in part, cause them. 
The effects of these volatile organic compounds, or VOCs for short, on human health are still being understood. However, recent studies have linked them to eye, nose, and throat irritation, headaches, damage to the central nervous system, and cancer. We'd say that's reason enough to recommend avoiding them when choosing paints, especially in your home. 
You should think about getting a good quality product if you know that paint covers a massive percentage of the internal surfaces of your indoors. While new paint might change the look of your home for the better, the same can't be said for indoor air quality.
What Are VOCs?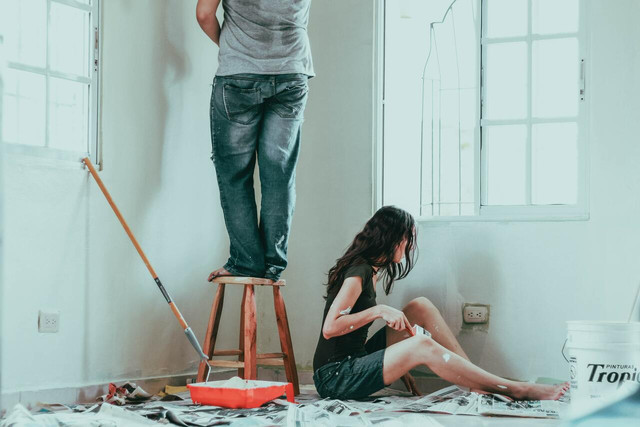 While some VOCs, such as those found in citrus peels, are harmless, VOCs also include many toxic compounds, such as toluene, xylene, acetone, formaldehyde, and benzene. These chemicals are found in many products we use to maintain our homes, where they are slowly released into the indoor air we breathe in a process called "off-gassing". Air fresheners, cleaning products, and furniture polish are some familiar sources of VOCs. However, an absence of smell isn't indicative of a product being VOC-free.
Even some items in your home that don't necessarily contain these substances but had them used during their manufacturing can release them into the surrounding air. The process of off-gassing is a slow one, usually taking several weeks, and its effects can linger in the environment for months. 
Negative Impacts of Volatile Organic Compounds
As well as the effects mentioned above, VOCs are also known to cause general feelings of illness, failing memory, and increased asthma symptoms. The health risks of breathing in VOCs depend on how much you breathe in, the specific chemicals you breathe in, and how often and long you do it. If you want to prevent a build-up of VOCs indoors, the best thing you can do is regularly ventilate your home and stop buying new products that contain them. 
Volatile organic compounds are dangerous to human health and the environment by contributing to the climate emergency. Furthermore, the synthetic components in paint that contain these unsafe VOCs are produced by burning coal and fossil fuels. All of which add to the already dangerous levels of carbon dioxide in the environment.  
What Are Zero-VOC Paints, and Why Should You Choose Them?
Many substances used in paint emit volatile organic compounds. They are typically added to improve how well paint clings to walls, to decrease the dry time, and to keep it looking fresh for longer. 
More eco-friendly lines of paint have been introduced to respond to the growing concern over these volatile organic compounds, with most well-known paint manufacturers producing low-VOC or VOC-free paints. To make the best decision for your home, you only need to understand the differences between low- and zero-VOC paints and what this means.
The amount of VOCs in paint is measured in grams per liter. For low-VOC paints, the maximum amount of VOCs is 150 g/L, and for ultra-low-VOC paints, it's 50 g/L. Zero-VOC paints have less than 5g/L. We'll run through a few more details on each:
Low-VOC
Traditional paints off-gas more than low-VOC paints, but as the name suggests, low-VOC still contains some VOCs, just a reduced amount. While we have provided guidelines above for what "low" means in relation to other paints, the parameters are too broad for meeting this criteria to be a reliable measure of danger or severity. 
Zero-VOC
If you are looking for a completely eco-friendly and safe paint option, zero-VOC paints are a better choice. They are water-based paints that offer the lowest possible VOC content. Some paints may still have trace amounts of VOC, even if they weren't added to the paint during the manufacturing process. This is because VOCs may be present in the raw materials used to make the paints. If the VOC composition is below 0.15%, the volume is rounded down to the 'zero' classification.
VOC-Free
For absolutely no VOCs, you can sometimes find natural paints classified as VOC-free. These paints are made from all-natural ingredients, including beeswax, chalk, and milk. They are entirely biodegradable, non-toxic, and environmentally friendly. However, even natural paints can off-gas due to synthetic solvents. These evaporate within a few hours and stop emitting once the paint has fully dried.
Top 5 Zero-VOC Paint Brands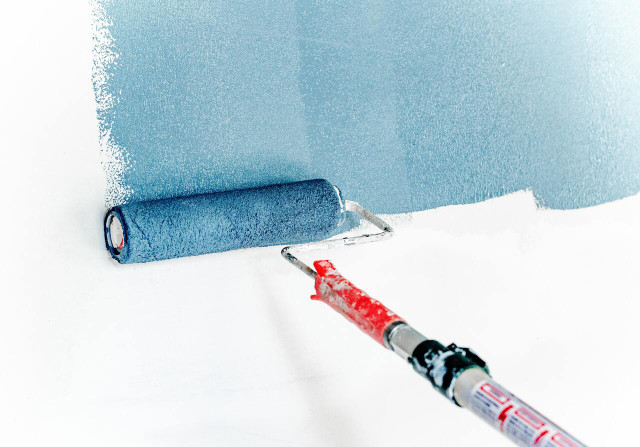 1. Ultra Spec 500 by Benjamin Moore
Benjamin Moore's "Ultra Spec" is their most environmentally friendly interior paint and is probably the easiest to find on this list in your local retailer. They also offer several other paints with zero-VOCs, each tailored to slightly different projects. The Asthma and Allergy Foundation of America has certified all paint products in this line as Asthma & Allergy Friendly.
These paints come in various finishes and colors, always tinted with a zero-VOC colorant. Benjamin Moore claims to be the first company to introduce a zero-VOC waterborne tint system so that their zero-VOC paints stay zero-VOC even after being tinted. You can find samples of all their paint colors on Amazon**. They also offer a primer with zero volatile organic compounds and zero emissions so that you can get a professional finish without any VOCs at all.
2. ECOS Paints
ECOS Paints are water-based and eco-friendly, made without using harsher substances found in conventional paints. Free from strong fumes, ECOS paint is one of the freshest looking and most durable zero-VOC paint companies on the US market. They offer a free color matching service, as well as a wide range of products, such as wood varnishes and sealers, which you can find on Amazon**. Each can of paint comes with an ingredient list and test data, so you can feel secure knowing exactly what you're putting in your living spaces.
A popular option is their Air Purifying paint, which promises to absorb VOCs already in your interior atmosphere. However, if you're trying to remove tougher smells from your home, such as cigarette smoke, we'd recommend following our tutorial on how to remove the smoke smell from your house first before using VOC-trapping paint. Finally, since all of their paints are manufactured in the US, ECOS will even deliver their zero-VOC paints directly to your door.
3. Safecoat by AFM
Safecoat by AFM is a zero-VOC paint that is environmentally safe and high-quality. They have every type of paint, sealer, and product you could possibly want. Their formula was made to reduce air pollutants and off-gassing by creating a "film" that traps any off-gassing from paints beneath it. Safecoat was initially created as a safe solution for hospital patients that are sensitive to certain substances. They have since become a staple brand in health and environmentally-conscious re-decorators. Some customers report that this paint has quite a strong odor despite its zero-VOC credentials. You can also buy some samples to make sure you can stand the smell before committing to painting your whole house. 
4. Harmony by Sherwin-Williams
Another zero-VOC paint option is "Harmony" from Sherwin Williams. This acrylic latex paint promises not only zero-VOC emissions but also features anti-microbial ingredients to reduce mold and mildew growth, which makes this perfect for humid rooms in your home. Sherwin Williams also claims that this paint reduces the VOCs in your home, such as those in previous paint applications, furnishings, and fabrics. 
5. Clare Paints
If you are willing to spend a bit more on high-quality, environmentally friendly paint, you'll appreciate the zero-VOC formula from Clare paints. This super low-odor paint is 100% acrylic, which can withstand dirt, mold, and mildew. 
Clare also makes shopping for paint online simpler, with loads of designer-picked colors and easy-to-use peel-and-stick swatch tests you can have delivered to your home. They also offer a collection of brushes and rollers available on Amazon** for flawless results.
Read more:
** Links to retailers marked with ** or
underlined orange
are partially partner links: If you buy here, you actively support Utopia.org, because we will receive a small part of the sales proceeds.
More info
.
Do you like this post?
Thank you very much for voting!