Regular coffee pods are expensive, resource-intensive and wasteful, producing tons of garbage every year. Reusable Nespresso pods are better than single-serving coffee products in many ways. We've tested a few for you.
Dive into a world of eco-friendly, budget-conscious, and delectable coffee with reusable Nespresso pods! Traditional coffee pods are not only expensive but also contribute to excessive waste and strain our planet's resources. By making the switch to reusable Nespresso capsules, you're choosing a path that benefits both your taste buds and the environment.
We've taken the time to explore a variety of these sustainable alternatives, so you can make an informed decision and join the movement towards a greener, more enjoyable coffee experience.
Tip: No matter what kind of coffee you're using, Utopia recommends you go plastic-free and store your coffee in resealable glass jars. This also makes it easier for you to refill your coffee pods.
Why Choose Reusable? Because Regular Coffee Pods Are Wasteful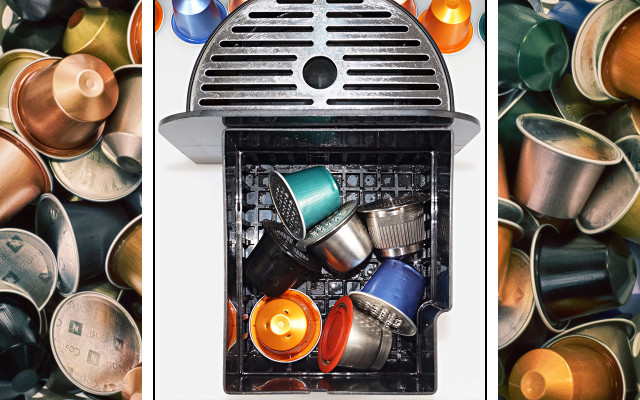 Did you know that single-use coffee pods are wreaking havoc on our environment? It's a staggering fact: one British producer even estimates that every minute a whopping 39,000 coffee pods are manufactured, while 29,000 end up in landfills. That's a massive amount of aluminum waste. Although some recent studies assert that single-use coffee pods aren't that bad for the environment, until we know more, it's best to err on the safe side when it comes to sustainability and planetary health.
A major issue is that popular brands like Nespresso offer non-reusable pods, and yet, single-serve coffee machines are a staple in over 40% of US households. But fear not, coffee lovers! There's no need to abandon your beloved pod machine and splurge on a new one. We've got the ultimate solution to brewing eco-friendly coffee with your current machine: reusable Nespresso pods.
Get ready to reduce your environmental footprint and enjoy your favorite caffeinated beverage guilt-free with these amazing reusable Nespresso pods.
Are you interested in exploring other sustainable and ethical ways to enjoy your morning cup? Check out our popular articles Why Drink Fair Trade Coffee? Separating Fact From Fiction and Fair Trade Coffee: 9 Brands to Start Your Day.
The Best Reusable Nespresso Pods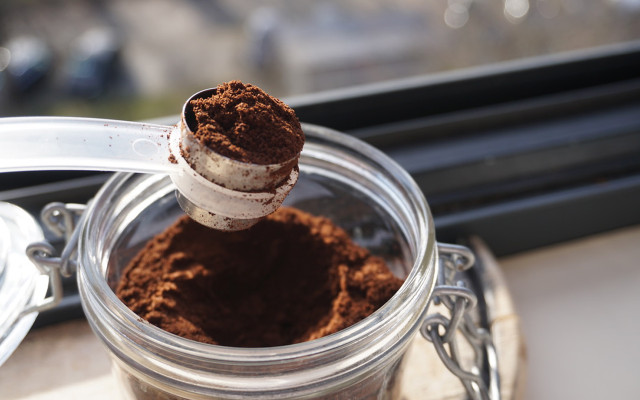 Your Nespresso or Vertuo machine can be transformed an eco-friendly powerhouse with one simple upgrade: refillable Nespresso pods from top-notch brands like Mister Barista, Soprety, BRBHOM and MyCoffeeStar. This sustainable switch not only benefits the environment but also enhances your coffee experience.
However, it's worth noting that some people may be hesitant to use reusable coffee pods due to concerns about taste or compatibility with their machines. Rest assured, we've researched and tested the best options to ensure a seamless transition and great-tasting coffee.
Is it worth investing in this eco-friendly change? Absolutely! Reusable Nespresso capsules will save you money in the long run, potentially cutting hundreds of dollars from your coffee expenses while protecting the environment.
However, there's a small catch: Most machine producers won't honor their warranty if the machine is damaged by another company's pods. Despite this, the benefits of reusable coffee pods often outweigh this concern.
Now, let's compare the best alternative reusable pods for your Nespresso machine, ensuring you make an informed decision and a positive impact on the planet.
1. Mycoffeestar: The Original Reusable Nespresso Pod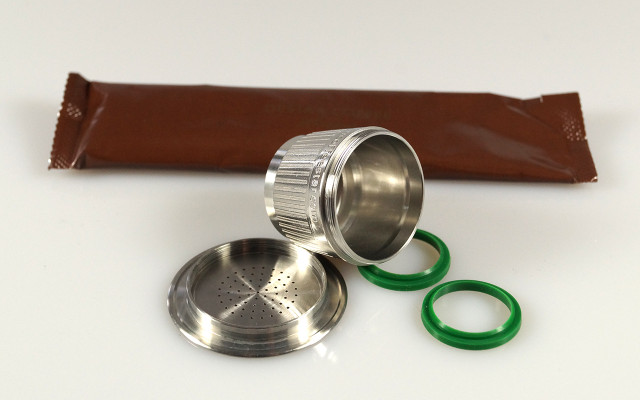 Back in early 2012, Switzerland's trailblazing Mycoffeestar brand took the market by storm as the first to introduce reusable Nespresso pods. These game-changing capsules boast compatibility with all Nespresso machines sold since 2003.
What sets Mycoffeestar's refillable Nespresso pods apart is their all-stainless-steel construction, featuring a unique screw-top opening for effortless filling and sealing. A few coffee maker models with grooves inside may require an additional silicone ring to prevent leakage; thankfully, two rings are included, although we didn't need either.
While usage instructions come with the product, they're also readily available online. We found the screw-top to be a bit tricky to use, especially when wet, but it offered the most secure seal among all the models we tested. Mycoffeestar highly recommends using finely ground coffee and even includes a sample in their shipment for your convenience.
Built to stand the test of time, these reusable Nespresso pods can be ordered directly from the manufacturer's online shop. However, keep in mind that shipping from Switzerland might not be the most sustainable or cost-effective option. Below, we've gathered some choices for the best reusable Nespresso pods that are more easily available in the US.
Utopia's tip: Want to learn how to make coffee without a machine? Try our delicious recipe for cold brew coffee.
Refillable Nespresso Capsules: Close Runners Up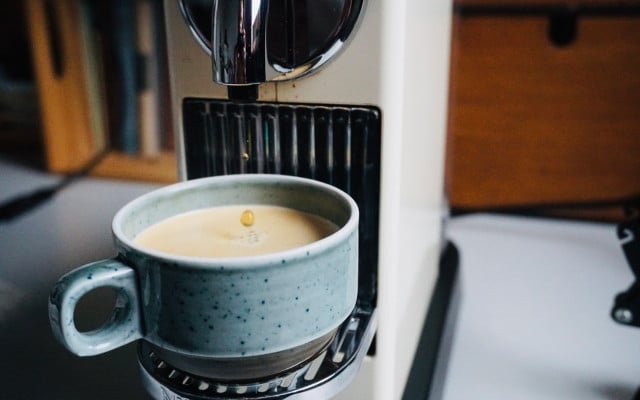 Here are some additional refillable Nespresso pods that are available for purchase in the US:
2. Triplot Reusable Capsules typically come in packs of six reusable coffee pods, made of stainless steel and compatible with Nespresso's Original Line machines. These convenient coffee capsules have great reviews across the board and are easy to access all around the country. (Available on Amazon**)
3. Reusable Nespresso pods from CAPMESSO are perfect for a nice strong coffee made on your Nespresso Vertuo machine. The stainless-steel cups are sized for a double espresso with a great crema, but be careful — these refillable pods aren't compatible with the Vertuo Next. (Available on Amazon**)
4. "i Cafilas"-Capsules from BRBHOM come with lids containing a steel mesh filter, coffee spoon, and brush. They are compatible with Nespresso U, CitiZ, Pixie, Le Cube, Essenza, Maestria, Lattissima, Inissia, and Concept. (Available on Amazon**)
Other reusable Nespresso capsule brands may offer a steel capsule but not the steel or rubber screw-on filter. Instead, manufacturers will provide you with a limited amount of thin stick-on tops or filters similar to those used in conventional Nespresso capsules. These are most often made of aluminum and are meant to be thrown away after use. Utopia recommends only those reusable Nespresso pods that produce no waste — apart from the spent coffee grounds.
Read more:
** Links to retailers marked with ** or
underlined orange
are partially partner links: If you buy here, you actively support Utopia.org, because we will receive a small part of the sales proceeds.
More info
.
Do you like this post?
Thank you very much for voting!