A vegan diet doesn't mean giving up your favorite treats, just take a look around for the best vegan chocolate alternatives! Satisfy your sweet tooth with these tasty and dairy-free chocolate brands for vegans. 
Chocolate is one of the most popular treats worldwide. Every country has its own flavor combinations and favorite brands. Have you ever thought about what's in your go-to chocolate? Seeing as the main ingredient in chocolate is cacao beans, which are grown in pods on trees, it must be vegan, right?
Is Chocolate Automatically Vegan?
Conventional milk chocolate is definitely not vegan (hello, dairy!) but chocolate can easily be made vegan. In fact, originally, chocolate was quite bitter and needed to be sweetened to suit the tastes of European explorers. That's when supplemental ingredients first started getting incorporated.
In most chocolate bars on the market today, you'll see ingredients like sugar, cocoa butter (vegan) and flavorings like vanilla. However, you have to watch out for dairy products like milk, milk powder or butter.
If you don't want to be reading through a long list to make sure your chocolate is vegan, opt for higher-quality chocolate. Usually, dark chocolate is vegan and dairy-free. High-quality chocolate is typically made from fewer ingredients and tends to stick to the basics: high chocolate content, no additives and pure ingredients.
The Importance of Fair-Trade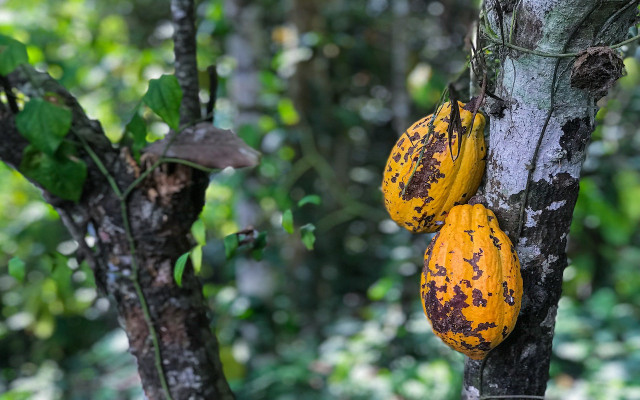 Chocolate is loved around the world; however, cultivation and harvest typically occur in the Global South. This, unfortunately, leaves room for large corporations to take advantage of cheap labor and pay unfair wages. That means it's absolutely essential to buy fair-trade products whenever possible.
Other benefits of fair-trade chocolate include:
No child labor. Cacao isn't well regulated in terms of harvest, which means that children often do the work. Approximately 1.56 million children, some as young as five, participate in cacao harvest in Ghana and the Ivory Coast. Purchasing fair-trade chocolate avoids inactively supporting child labor!
Financial safety nets. The price of commodities like wheat, corn, coffee and cacao fluctuate throughout the year, making it difficult for those who rely on getting every last penny out of their crops. Fair-trade guarantees that farmers get a fair price, even when global cacao prices go down. It also allows farmers to negotiate prices when cacao prices are higher.
Supporting fair-trade practices mean that those who are growing the chocolate beans are paid appropriately for them.
Best Vegan Chocolate Brands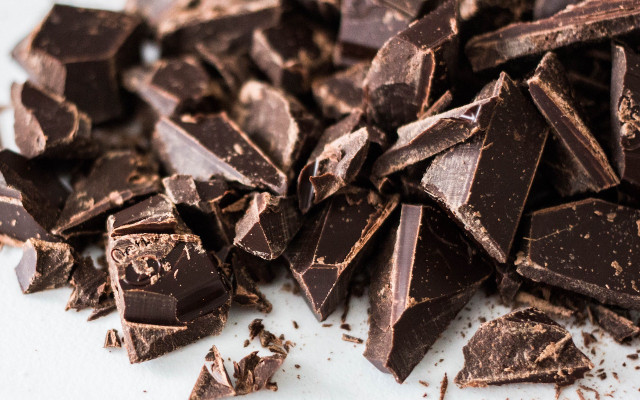 Keep in mind most of these brands have vegan chocolate bars in their product line but are not exclusively vegan. To be completely certain, always read the ingredients — unless the packaging states it's vegan on the front. For each brand below, we will list their vegan chocolate bar options!
1. Raaka Chocolate: Organic, Non-GMO & Vegan Chocolate
Raaka is one of our favorite vegan chocolate brands. All of Raaka's chocolate is organic, non-GMO and vegan, and their milk-style chocolate bars are made using oat or coconut milk. Raaka has some fairly inventive flavors including purple yam mochi (pictured above), waffle cone, maple & nibs, pure cacao/strawberry/coconut, bananas foster, bourbon cask aged, green tea crunch, pink sea salt, coconut milk, rose cardamom, snicker doodle and cacao/coconut swirl.
Raaka is carried in hundreds of locations across the US. Find your nearest retailer with their store locator, or order directly from the Raaka website. If you've got a cart started, they also sell on Amazon**.
Utopia's Pick: Snicker Doodle
2. Alter Eco Organic Chocolate: Vegan Chocolate with Compostable Wrappers
San Fransisco-based Alter Eco Organic Chocolate is a Certified B Corp, and they're carbon neutral! Their fair-trade cacao comes from small-scale, organic farmers, and their products are even wrapped in compostable wrappers.
Their vegan, dairy-free chocolate lineup includes Super Blackout, Sea Salt, Classic Blackout, Mint Blackout, Salted Almonds, Total Blackout, Raspberry Blackout and Quinoa Crunch. Find them on Amazon** or use Alter Eco's online store locater.
Utopia's Pick: Quinoa Crunch
3. Endangered Species Chocolate
If you're looking for a wide variety of American-made vegan chocolate, Endangered Species Chocolate is for you. Their focus is on fair trade, sustainable practices and wildlife conservation.
They have your standard fruit and nut combinations, along with mint, espresso beans and cacao nibs. Endangered Species also has creative and unique flavors of vegan chocolate including an Oat Milk + Dark Chocolate range, as well as a Cinnamon, Cayenne & Cherries + Dark Chocolate combo. Buy them direct from the Endangered Species website, use their store locator, or shop on Amazon**.
Utopia's Pick: Oat Milk, Sea Salt & Almonds + Dark Chocolate
4. Equal Exchange: Fairly Traded Vegan Chocolate
Equal Exchange is all about fair trade, and they offer fair-trade coffee, tea and chocolate. Their vegan chocolate brand lineup includes: Coconut Milk, Total Eclipse Dark Chocolate, Organic Dark Chocolate, Almond and Sea Salt, Chocolate Almond, Mint Crunch, Chocolate Orange and Lemon Ginger with Black Pepper.
You can also purchase fair trade organic cocoa powder from them in bulk so you can experiment with chocolate recipes like homemade vegan Nutella or vegan chocolate mousse! Shop directly on the Equal Exchange website, or their storefront on Amazon**.
Utopia's Pick: Organic Dark Chocolate Lemon Ginger with Black Pepper
5. Evolved Chocolate: Keto-Friendly Chocolate
If you've ever had vegan cookie dough, you know it would great mix in for a chocolate bar. Well, Evolved Chocolate had the same thought — their vegan chocolate bar line includes flavours like Cashew Cookie Dough and Oatmeal Cookie Dough. Other vegan flavours are almond, cashew, or hazelnut butter, butter, keto brownie batter, keto snickerdoodle, keto nut butter, signature dark, almond sea salt, midnight coconut, cashew milk, quinoa crunch and keto white.
Their cocoa is Rainforest Alliance Certified and their bars are organic. Shop the Evolved website, use their store locator, or add some bars to your cart on Amazon** 
Utopia's Choice: Cashew Cookie Dough
6. Hu Kitchen: Unique Flavors
After being unable to find a chocolate that met their standards, the co-founders of Hu Kitchen created their own. They're on a mission to make snack foods healthier and help people "get back to HUman".
Try their variety pack with eight non-dairy chocolate bars like: crunchy mint, vanilla crunch, salty dark chocolate, simple dark chocolate, cashew butter/raspberry dark chocolate, hazelnut, cashew and almond butter. They also have chocolate gems which are great for snacking or using in cookies. Shop the Hu Kitchen website or find their products on Amazon**
Utopia's Pick: Cashew Butter + Raspberry Dark Chocolate
7. No Whey: A Vegan Take on the Classics
New Jersey-based No Whey Chocolate makes chocolate like you've never seen it before: all their products are top-9 common allergen free, vegan and kosher. Talk about a company that does it all!
If you love Reese's Peanut Butter Cups, but have switched to dairy-free chocolate, add their Pea Not Cups to your cart on Amazon**, or find this vegan chocolate brand in stores across the country.
Utopia's Pick: No Whey! Bars (caramel/nougat in a chocolatey coating)
8. Purdys Chocolatier: Canadian Chocolate
One of Canada's favorite chocolatiers, Purdys' vegan dark chocolate bar is sweetened with beet sugar and made using sustainable cocoa. They also offer vegan milk chocolate bars and trail mix bars!
You'll have to head north of the border to get your hands on these dairy-free chocolate bars in person, or you can order it directly from the Purdys website — they ship to the US!
Utopia's Pick: Vegan Dark Trail Mix Bar
9. Theo Chocolate: Vegan Variety
If you're looking for choice, you'll love Theo Chocolate. They have 20 different dairy-free chocolate bars and vegan chocolate bars including orange, salted almond, sea salt, raspberry, mint, cranberry orange, ginger, cherry almond, turmeric spice, salted black licorice, black rice quinoa crunch, grapefruit ginger, root beer barrel, salted cashew, coconut and vanilla cocoa nib. Plus, when you buy in bulk, you save money!
Their concept is simple: the chocolate-making process should benefits everyone. You can visit their factory and flagship store in Seattle, buy from the Theo Chocolate website, or find their products on Amazon**.
Utopia's Pick: Turmeric Spice
** Links to retailers marked with ** or
underlined orange
are partially partner links: If you buy here, you actively support Utopia.org, because we will receive a small part of the sales proceeds.
More info
.
Do you like this post?
Thank you very much for voting!