Are you the kind of person who has a thousand post-its with to-do's and appointments? Learning how to bullet journal is the solution. We'll tell you how to start a bullet journal and give you some ideas about how to use it in the most effective way. 
Do you write endless to-do lists and then try, try and fail to get everything done? Bullet-journaling will change your life. What is a bullet journal, anyway? It unites the concept of a to-do list with an appointment book. Firstly, you establish a yearly overview, then a a monthly overview, then a weekly overview.
Bullet journaling promises to end the chaos of endless lists, calendars, and notes jotted down on paper or on your phone. The layout of bullet journaling is flexible, so you can format it however suits you best.
How To Start a Bullet Journal
Here's how it works: The first thing you'll need is an empty notebook. Make sure it's one that you really like. You have to want to carry it with you, otherwise it will just end up buried in the corner. You'll also need a ruler and different color pens. 
Now you can put together the individual parts of the journal. 
1. The Table of Contents
How to start your bullet journal is largely up to you. We recommend filling the first pages with a table of contents. This way, you'll be able to navigate quickly through your bullet journal and find what you're looking for. Start by writing the heading and leave at least two pages empty. This way, you can fill the table of contents bit by bit as the year goes on.
2. The Yearly Overview
Next comes the yearly overview. You can make this as brief or as extended as you want to. You can lay this out however you want: list the twelve months on two pages, or take six pages or even more. Just be sure to leave enough room under each month to add tasks and goals. 
3.  The Monthly Overview 
After the yearly overview comes the monthly overview. We recommend using two pages for this: on the left side, list all the days of the month and leave space for notes on the right. 
4. The Weekly Overview
Now it's time to create the weekly overview. This too can be done however you please. For example, you can use one page for all days of the week and the second side for notes. Or divide a double page into eight sections (one for each day and one to fill with notes). It's a good idea to leave extra space outside of the weekday section so that you can record things like upcoming appointments that have not yet been tied down. 
How to Start Bullet Journaling
You are now done with the layout of your bullet journal. But how to start? It's a good idea to start with the coming week. A few tips:
Whether or not you write down specific times for specific tasks is up to you. Try to judge realistically how much time you will need and make sure you leave space for breaks and free time. Otherwise, your bullet journal will quickly become the opposite of motivational.

 

Write out tasks in small steps. For example, instead of writing "clean the house," write "wash the dishes," or "vacuum the den." This will help you stay motivated because you can check off tasks more quickly and they won't seem overwhelming.

 

Check off all tasks or appointments that you have completed. This way you can see at first glance what you've accomplished.

 

Mark all the tasks that you did not accomplish with an arrow. The arrow means that you are pushing that task back. Go ahead and plan those tasks in for some time during the following days.

 

Put tasks that you are pushing to the following week in an "Upcoming Tasks" section in your notes. Then write them in at the start of the following week.

 

Use different colors. This will make the pages of your bullet journal eye-catching and interesting. If you assign different tasks to different colors, this can also make organization clearer.

 
At the beginning of every week, take about fifteen minutes of time to plan the coming seven days. The same goes for the beginning of the month. What appointments do you have coming up? What are your goals? What do you have to remember to keep in mind? Add the monthly tasks to the weekly tasks according to when they need to be completed by, and use the check and arrow system to either cross them out when they are finished, or carry them over to the following week. 
More Bullet Journal Ideas
Does the bullet journal concept lack a few fundamental things that you would really prefer to have?  Since the format and layout is entirely up to you, you can add or toss out whatever you like. Here are some ideas for your bullet journal:
Lists: for example, grocery shopping lists, an overview of monthly spending, books that you would like to read, movies that you want to see, or places you want to go.

 

Goals, wishes, and dreams: What do you want to achieve in the next year? The next five years? Ten years?

 

Tracker: Tracking your habits can be useful in many ways. You can keep track of whether you're drinking enough water, how your mood has been, what you've eaten or how much you've exercised. Simply make a chart with all the days of the month in a row at the top and list whatever you want to track underneath. Then, you can keep track of things with colors or smileys. For example, if you drank enough water today, or exercised, etc., make a green mark for the day. If not, use red.

 

A birthday list can also be very useful.

 

A space for weekly reflection can help you focus and collect your thoughts.

 
A Note About Bullet Journaling
The bullet journal can be a helpful tool to keep your life in order, to discipline yourself and even to reduce stress. If you work through your tasks one by one, you'll actually be productive as opposed to always busy. But be careful not to overdo it and turn your bullet journal into a book of obsessive self-optimization, leading to more stress and pressure. Using the method this way is unhealthy and will make you unhappy in the long run.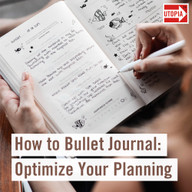 Read more:
This article was translated from German to English by Christie Sacco. You can view the original here: Bullet-Journal: So kriegst du Ordnung in deine Planung.
** Links to retailers marked with ** or
underlined orange
are partially partner links: If you buy here, you actively support Utopia.org, because we will receive a small part of the sales proceeds.
More info
.
Do you like this post?
Thank you very much for voting!