They say that the eyes are the windows to the soul, but what then, does our skin say about us? We'll share the twelve ultimate tips on how to get clear skin naturally using home remedies and organic skincare tips that'll leave you looking radiant in no time. 
Since you're here looking for ways to get clear skin naturally, we assume you're familiar with spots and blemishes. In fact, anyone reading this that's gone through the trials and tribulations of puberty will be painfully aware that our skin can become cracked, blemished, or break out with dark spots often when we least want or expect them.   
Why Do We Get Spots?
Why do we get spots you ask? Well, close to the small hair follicles on the skin of our face lies glands which are called the sebaceous glands which secrete an oil called sebum. Sebum is actually employed by our skin to prevent it from drying out. However, these pores can easily become clogged or inflamed, hence our breaking out in spots. 
Additionally, there is an abundance of environmental and lifestyle factors which can also wreak havoc on our complexions, therefore we should be wary of them. Here are some factors that can contribute to a cloudy complexion:  
Poor Nutrition 
Lack of Proper Sleep 
Physical Inactivity 
High-Stress Levels 
Constant Exposure to Pollutants 
Smoking 
Excessive Alcohol Consumption 
Negligent Skin Care 
Thankfully, one doesn't need to travel far to discover how to get clear skin naturally. There's no need to open up your wallet and fork out a pretty penny for fancy chemical products that will promise to make you beautiful.   
12 Tips on How to Get Clear Skin Naturally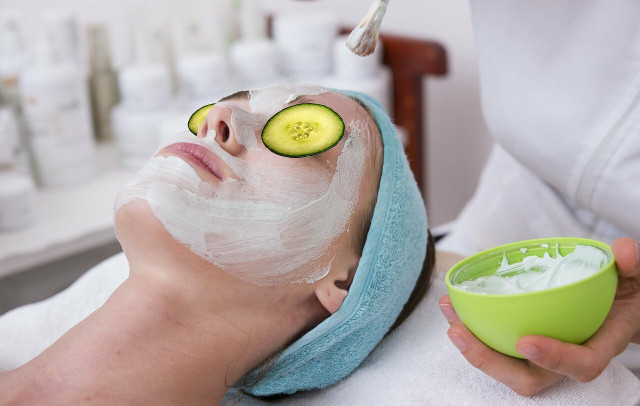 Instead, you can try several tried and tested remedies that you can find right under your nose in the comfort of your own home. Try these, and your skin will be bright and brilliant before you know it.  
A lot of these clear skin home remedies are incredibly easy and relatively inexpensive to make. Many of the all-natural ingredients can be found in your kitchen or the nearest organic food store. So, without further ado, here are our top twelve tips on how to get clear skin naturally.   
Aloe Vera – We've sung the praises of using fresh aloe vera on your face before on this site. Thanks to its antiseptic and anti-inflammatory properties, aloe vera can be used to tighten and moisturize the pores. It can be applied to combat dryness and flaky skin. To apply, grab a leaf from an aloe vera plant, remove the leaf cover, and rub the gel directly onto the skin. Be mindful that this might not work for all skin types. 
Cucumber – Curiously, cucumber has the same pH level as the skin which only enhances its skin-cleansing properties. It can also be used as a home remedy for sunburn and itching, and studies of its benefits have produced favorable results. Regular use can lead to a reduction of pimples, blackheads, dry skin, and allegedly even wrinkles. You can benefit from cucumber by making detoxifying water or rubbing the slices directly on your skin. 
Rose Water – Another wonderful natural remedy, rose water is fantastic for clearing the skin as it has well-documented anti-inflammatory and antioxidant qualities, that can help produce collagen and a nice glow to your skin tone. Chill your rose water in the fridge for half an hour and apply it to the face with a clean cotton ball. Do this twice daily. 
Coconut Oil – Coconut has been praised for its antioxidants, as well as its antimicrobial, anti-fungal, and anti-inflammatory properties that can help keep your skin clean and healthy. Warm it up slightly and apply gently to the skin by dabbing a cotton ball soaked in the oil. Apply twice daily for best results, although we must urge caution that this may irritate sensitive skin types. 
Mint – Mint can really help you get clear skin naturally. This is partly because mint contains menthol, which gives its trademark cooling sensation. To clear blemished skin, apply mint juice or a homemade facemask to your skin. Apply fresh mint juice nightly to your face and rinse with warm water. For the mask, blend mint leaves, honey, and cucumber, into a fine paste and apply once a week to the face before rinsing. 
Turmeric – A natural antiseptic, turmeric can also be used to treat a whole host of minor ailments like acne, cuts, and wounds. To apply, mix two tablespoons of ground turmeric with water to make a thick paste. This can then be applied gently to the face before rinsing with cold water after five minutes. 
Apple Cider Vinegar – Apple Cider Vinegar contains beneficial acids that can help shed dead skin cells and make way for the healthy layer underneath. Its antimicrobial properties have also been occasionally used to treat infections, which means it can help save your pores from inflammation. Mix 1 part apple cider vinegar with 1 part water and dab gently with a cotton ball. Apply in the morning or leave overnight. 
Oatmeal – Like most of the ingredients on our list, oatmeal has anti-inflammatory properties, plus its texture is great for skin exfoliation. Mix two tablespoons with one teaspoon of lemon juice and one teaspoon of honey. After you've made your thick paste, apply this face mask and leave it on your pores for 15 minutes before rinsing with warm water. 
Honey – An incredibly nourishing substance, honey can give you clear, healthy skin once applied to the pores. It's also a great moisturizer. Use one teaspoon of organic, raw honey and apply in a thin layer to your face. Let it sit for 15 minutes before washing off with warm water. 
Lemon – A great source of Vitamin C, lemon can be rejuvenating and beneficial for skin health once applied correctly. Simply cut a lemon in two halves and rub one half gently on your face for five minutes in a gentle, circular motion. Rinse with cold water. 
Green Tea – It's no secret that green tea is great for cleansing the body and skin. This is largely due to its high levels of antioxidants and anti-inflammatory properties which can play a key role in healthy skin care. To help you get clear skin naturally, you can simply drink more of this herbal tea or buy an organic face wash, mask, or moisturizer at a local health store. 
Make a Cleansing Water and Drink It Regularly – Combining several of the ingredients mentioned above means that you can combine their multitude of healing properties. For example, you can add cucumber, lemon and mint leaves to pure distilled water in a pitcher and leave it to refrigerate. By staying hydrated and drinking this detoxifying water regularly, you can enhance your skincare routine. 
As a quick aside, for many of the more exotic ingredients included in this list, such as coconut or turmeric, often come with a hidden cost to both the environment and to the disadvantaged workers who help produce them. To help minimize this damage, we strongly recommend that you buy organic, and fair trade products whenever possible.
Self-Care Tips to Help You Get Clear Skin
Although the tips on how to get clear skin naturally listed above are effective, for the best results, you should combine them with positive self-care steps that will help maintain your clear skin. These include:  
Regular Exfoliation – An effective step is to make sure to exfoliate your face once or twice weekly. This will banish dead skin, impurities, and excess oil and sebum from your pores which can quickly build up to bumps, blackheads, or spots. Also, try to avoid squeezing spots and touching your face too often as it can spread bacteria. People with very sensitive skin should avoid exfoliating scrubs.
Reduce Stress – Do regular, calming activities that help relax your mind and ensure that you get proper rest. Stress can have an adverse effect on our skin. Lowered stress means lower cortisol levels, which can lead to healthier-looking skin. 
Stay Hydrated – Drinking at least 8 ounces of water every single day not only keeps your body running in tip-top shape but also detoxifies the body and hydrates the skin. 
Remove Make-Up Before Bed – Obviously, this is only applicable if you wear make-up. If you do, be careful to avoid leaving make-up on overnight, as it can block your pores over time and build up bacteria, leading to breakouts. 
Get More Sleep – By not getting enough sleep, we can cause our body to release compounds that make us more prone to inflammation and breakouts. To stay ahead of this, try to catch between seven to nine hours a night. 
Watch Your Diet – Diet is key to the overall health of our skin. Try to limit processed foods with high amounts of sugar, excessive dairy intake, and saturated fats as this can exacerbate your complexion. Eating foods that are rich in vitamins, fiber, and protein is a great step to take in looking after your skin.  
If none of these tips on how to get clear skin naturally seem to work, don't be afraid to make an appointment with a dermatologist. They will offer invaluable insight and can also prescribe stronger treatments.
Final Tips & Thoughts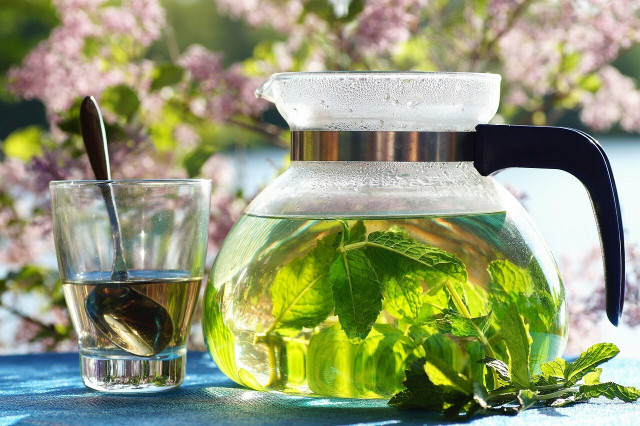 Before we leave you, we'd like to offer up some indispensable tips that will help you achieve optimal results.  
All of the aforementioned remedies are completely natural, although for some allergy types they may not work so keep that in mind when applying them to your own skin. To double-check that you're not going to have an unwanted reaction, test the remedy on a small patch of your skin, like your elbow, before applying it to your face. 
Be sure to use distilled water if you have especially sensitive skin that's easily irritated. If no distilled water is at hand, check out our guide on how to distill water easily at home. Although a lot of these remedies have been effectively tested, results won't occur overnight, so patience is important. 
We sincerely hope that your skin can now avail itself of our all-natural, organic tips on how to get clear skin naturally. Hopefully, your complexion will be blemish-free, clear, and glowing in no time. Stay gorgeous!
Read more: 
** Links to retailers marked with ** or
underlined orange
are partially partner links: If you buy here, you actively support Utopia.org, because we will receive a small part of the sales proceeds.
More info
.
Do you like this post?
Thank you very much for voting!