Find 10 fantastic skincare ingredient checkers that will help you learn more about the household and personal care products you use every day.
In a world brimming with products claiming to be natural, organic and eco-friendly, discerning the truly green from the merely greenwashed can be an overwhelming task. Every trip to the store or a scroll through an online marketplace can feel like diving deep into a complex maze of ingredients — a mix of scientific jargon, unfamiliar terms and hidden nasties. But what if you had a trusty guide to help navigate this labyrinth?
Enter the world of ingredient checkers — powerful tools designed to decipher product labels with ease. Whether you're on the hunt for the purest skin care routine or aiming to green your household cleaners, these top 10 skincare ingredient checkers will empower you to be a conscious consumer who makes informed, sustainable choices.
Here are the best tools for finding out what's really inside your products.
The Problem with Product Labels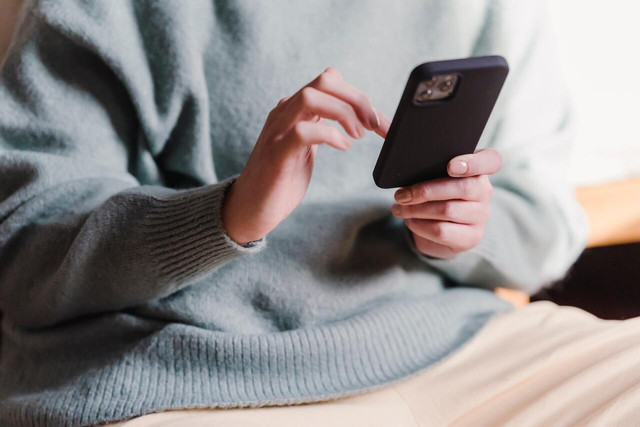 Whether you're shopping for a new eyeliner, laundry detergent or window cleaner, unless you have a sound knowledge of chemical compounds, it can be difficult to understand the ingredients contained in many household products.
It doesn't help that the US has very few mechanisms in place when it comes to regulating its billion-dollar beauty industry, which, over the course of its history of more than a hundred years, has mostly been self-regulated.
To put it into perspective: whereas the EU has banned or restricted the use of more than 1300 chemicals in cosmetics, the US has prohibited only 11. So, while it may be against the law to sell products containing ingredients that are harmful to the consumer when used as intended, cosmetic products are not necessarily subject to testing before entering the market — it isn't always easy to get information on allergens, for instance. In the EU, however, manufacturers must ensure that their products "undergo an expert scientific safety assessment before they are sold."
Another problem is that descriptions on labels can be obscure. An example: most manufacturers don't break down the individual chemical components of artificial fragrances on their product labels. This is problematic, since scientific studies have linked many of these chemicals to health risks such as allergic reactions.
That means it's largely up to you to figure out which potentially harmful products to avoid. Fortunately, some fantastic ingredient checkers are becoming available. They can explain what your products are made of and if they are safe to be on your skin and in your home.
Below, we recommend 10 apps and websites to help you make informed decisions.
1) EWG Healthy Living: A User-Friendly App With Detailed Ingredient Information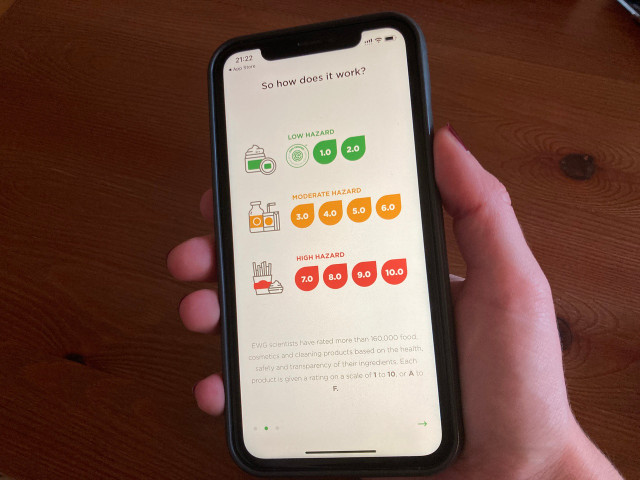 We'll start by taking a close look at the most comprehensive apps in terms of product range and information provided.
Let's begin with an ingredient checker that features several product categories, provides detailed information on ingredients and offers helpful consumer guides. EWG, short for Environmental Working Group, offers a comprehensive database that focuses on three major areas: food, skin care and cleaning products.
Who's behind it:
The Environmental Working Group is a nonprofit corporation that runs on donations from various private foundations, some of which are listed on their website.
Its staff includes a roster of scientific experts from a range of fields including toxicologists, data specialists and environmental health scientists.
How it works:
You can find this food, household and skincare ingredient checker online as a web tool and in the app store. We'll focus on the app.
Type in the product name, scan the barcode or browse through different product categories. It's easy to find the information you need.
For each item listed in the database, you'll get an overall product rating based on factors that are relevant to each category. Take sunscreen, for example: product scores are based on possible risks with the chemicals it contains and on its UVA/UVB balance, so you'll learn whether physical or chemical sunscreens offer the most effective sun protection.
Click on individual ingredients to learn why they rank high or low on the hazard scale and get information on concerns linked to these ingredients.
What we like about it:
Free download and no subscription or in-app purchases necessary. No ads.
Evaluations of ingredients take into account individual hazards and how much data is available. This makes EWG Healthy Living more transparent than other apps that don't make users aware of data gaps.
The app displays synonyms used for each ingredient, which is helpful when analyzing labels.
It combines different resources offered by EWG, so you can browse skincare and cleaning products in one place and don't need an extra app for each product.
Notes whether ingredients are listed in PETA's Caring Customer Guide, which tells you whether they are derived from animals.
User-friendly layout and structure. You can also research products through the website.
EWG VERIFIED mark: helpful for quickly finding products which, according to EWG, meet strict criteria in terms of health, ecotoxicology and contamination concerns.
Drawbacks: 
E-mail registration necessary to save a list of your favorite products.
Descriptions of chemicals and hazards could be more accessible.
Product-centered: You can't search for chemical ingredients directly but only click on them when they appear in a product.
If there's no data available on a certain ingredient, in the rankings this translates to no risk.
References to scientific studies are not always specific enough to look up and the app offers no direct links to sources.
EWG VERIFIED mark: This app does promote articles that conform to EWG standards over others. So, you must scroll through all EWG verified products in each category to get to products that haven't received the checkmark. EWG receives licensing fees for these verifications.
Besides consulting apps like EWG Healthy Living to learn about safer household products, you may want to consider replacing some of these products with simple ingredients: from citric acid for cleaning to a natural fridge cleaner, our guides offer lots of practical alternatives.
2) Detox Me: The Least Commercial Ingredient Checker With Vast Product Range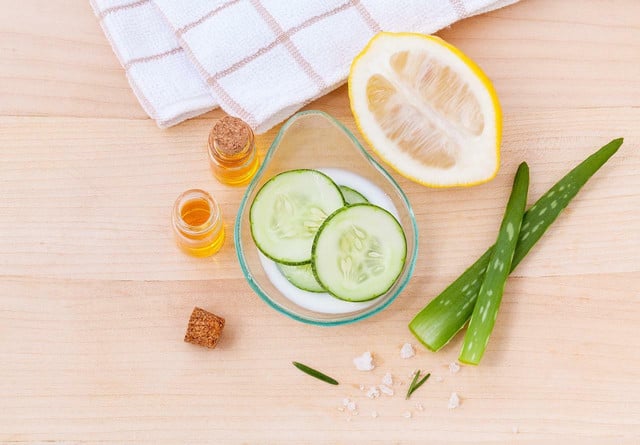 Ready to Detox? This app helps you on your individual journey to a non-toxic lifestyle. Detox Me offers clear and accessible information and is not built around brands and products, focusing on sustainable, healthy habits. It can also track and compare activities for groups like schools, neighborhoods and companies, encouraging communities to take action together.
Who's behind it?
Detox Me was created by the Silent Spring Institute, a non-profit scientific research organization dedicated to women's health. It works to identify chemicals linked to severe health risks, with a special focus on breast cancer research.
Staffed with researchers who conduct scientific studies and advise the government about legislation concerning toxic ingredients. Its research has contributed to laws being passed banning certain toxic substances in household items.
Research funded by federal grant money.
How it works:
Personalize your settings to receive tips that are relevant to you.
This free app is one of the most comprehensive we have seen in terms of its wide range of product categories: Home, Food & Drink, Cleaning, Children, Personal Care and Clothing. This is the only app we found that covers fashion. If you want to learn more about this topic, consult our list on vegan clothing brands that are also eco-friendly.
Click on each category to get a list of Top 10 Tips and consult the Buying Guide for an overview of what to look for and what to avoid.
In each category you can also "Get Tips": this feature offers tips to help you avoid toxic ingredients in certain products (only refers to types, not to brands).
Scan a product, search for a product type, topic or chemical to receive general tips that are linked to these entries. You will not get an analysis of individual ingredients or specific products.
Receive news updates about new studies on toxins, pollution, climate change and more.
We love:
It was designed by a scientific research organization with expertise in the field of toxicology.
While the Silent Spring Institute is focused on women's health, their app offers relevant information for anyone trying to avoid toxic chemicals.
Detox Me measures progress to motivate you and lets you decide which habits you're ready to work on. It is easy to use and helps you learn about healthy habits.
If it doesn't recognize a product you can still get relevant tips for the product type.
Focuses on what NOT to buy, rather than recommending products and encouraging you to make purchases. Instead, it tells you about healthy habits, and even offers DIY recipes to help you replace commercial products with healthy, natural alternatives. To check out some cosmetics DIYs right away, see our sugaring recipe, homemade deodorant or DIY dry shampoo.
You can preselect product categories you regularly use for personalized recommendations, thereby taking into account different preferences, life stages and living situations.
Drawbacks:
You won't receive information on specific products or brands, and tips are somewhat generic.
It also does not offer recommendations on alternative products. So, when you're at the store you'll have to figure out whether a product is safe on your own. While this is certainly a drawback if you're looking for specific recommendations, it does limit the risk of getting inaccurate or incomplete information. It also encourages you to learn about common health hazards, rather than simply relying on the app's recommendations.
Individual tips don't link to scientific literature.
It only offers information on commonly used chemicals.
3) Yuka Food & Cosmetics: A Quality Skincare Ingredient Checker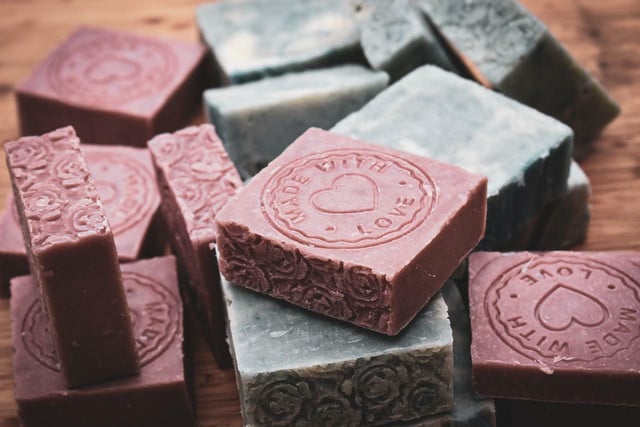 This app focuses on two categories: food and personal care products. With 10,000 reviews and a 4.8 rating on the AppStore, consumers seem to love this one. Let's take a closer look.
Who's behind it:
Unlike the EWG and Detox Me, Yuka was created outside of the US — in France. As it began with users who based in Europe, the US search results may be affected.
Yuka's three founders have backgrounds in economics and engineering and came up with the app as part of a Hackathon. It is now an independent company that doesn't receive funding from manufacturers.
How to use it:
Yuka has a simple system that has two main purposes: product analysis and recommendations.
It is free to use and doesn't rely on in-app advertizing. It is financed through premium memberships that unlock additional features like personalized warnings for ingredients such as lactose and gluten. You also get access to its search bar, so you can enter product names rather than having to scan the barcodes.
Before you can get started, you have to sign up via e-mail.
Scan or search to get results for more than one million products and a detailed list of ingredients and information on possible health risks. The overall product rating depends on the ingredient with the highest risk level.
Products are assigned one of four risk levels: from risk-free to low risk, and moderate risk to high risk.
Thumbs up:
Easy to use, gives clear advice and offers alternatives to products it doesn't recommend. This can be helpful when you're at the store and don't have a lot of time to decide.
Each ingredient is assigned a risk level according to the most recent available data.
It adds new products regularly and keeps improving the application.
The app gives detailed information on sources, so you can find and look them up.
Drawbacks:
Doesn't advertize, but does pushes products through recommendations made by the app.
Oversimplified product ratings (good, bad, excellent, poor) urge the consumer to quickly decide for or against a product.
Forces users to sign up via email, and cannot be used without registering.
Recommendations aren't always great alternatives for the product you originally searched for — sometimes, they're totally different.
Skincare Ingredient Checkers
Want to keep your skin healthy and avoid harmful ingredients in cosmetics? Here are the five best skincare ingredient checkers to check out.
4) INCI Beauty
INCI Beauty was created in France by two engineering students from a renowned chemistry school.  The cosmetic ingredient checker is common throughout Europe but can be used in the US as well. It is available in 13 languages, making it extremely accessible. The app claims to be the "most completed" (meaning comprehensive) application on the market to help you decipher the contents of your cosmetics. Here's what you need to know:
Why INCI?
The app gets its name from the International Nomenclature Cosmetic Ingredient, a system for names internationally recognized to identify cosmetic ingredients. The system is used in the U.S., Europe and many other parts of the world and is intended to enable consumers, scientists and physicians to identify ingredients used in personal care products through standardized designations. It can help recognize allergies and other adverse health effects caused by certain ingredients and increase transparency on a global level. An INCI name does not imply that an ingredient is safe or that it has been approved for use in cosmetics. Since the app uses the INCI system, the ingredients are globally recognizable.
How does it work and what are its best features?
You can scan barcodes, search for product and ingredient names. Products are rated on a scale from 1 (controversial) to 20 (good).
What's nice is that you receive information on the safety of ingredients but also on a product's other properties such as its texture, which may be relevant for your decision.
It is a more community-driven app, it lets you comment on and rate individual products for everyone to see.
The app compares online offers and gives suggestions on where you can buy a product you like.
It recommends alternative products.
What are the drawbacks?
Descriptions of individual ingredients and associated risks are not very accessible — also due to odd translations.
Only some descriptions contain links to relevant sources.
It encourages users to shop for products by displaying different online offers.
A premium account necessary to unlock all features.
5) Think Dirty
Think Dirty was created by an independently-owned Canadian company and has helped consumers decode product labels for years. Its large database features cosmetics and personal care products and offers good search results for products from the US and Canada. Users in Europe have complained of a low product hit rate. The company can identify over 850,000 individual products.
How it works:
The app features the typical keyword search and you can both scan or type in barcodes.
Products receive an overall rating on the "Dirty Meter" based on the worst individual ingredient score. The chemical makeup of products is then ranked on a scale of 1-10 from clean to "half n' half" and dirty.
You can create shopping lists, submit new products and "rate your bathroom."
Free download, but several features are only available with the premium account. These include setting ingredient preferences, and unlocking ingredient lists for more detailed information about use, health impact and references. The free version also limits the categories you can browse.
Benefits:
Categories go beyond product types and include lists on cruelty-free skincare, paraben-free skincare, vegan skincare and more. Mind you, if you're looking for more transparency, you can always make your own products. This easy lotion bar recipe only uses 3 ingredients.
Describes ingredients and alternative phrases used for them, usage and health impacts.
Helps you make quick decisions based on the available data.
Its 40,000 reviews and 4.8 stars on the AppStore speak to its user-friendliness.
Drawbacks:
The app is overloaded with offers and coupons, which make it seem like a marketing tool for beauty products. In general, the app seems like a place where brands can easily reach consumers and convince them to make purchases. This may distract consumers from why they were using it in the first place and makes unbiased decisions difficult.
Premium account contains relevant information that can be accessed for free in other apps and is somewhat costly at about $30 USD annually.
Not all ingredients in every product have received ratings, which makes overall product rankings somewhat unreliable.
Haven't found an app that's right for you? Here are three more ingredient checker applications focused on skincare:
6) CosmEthics
Scan a bar code, get information on ingredients and suitable alternatives — you know the drill. What's special about CosmEthics, a well-designed and visually appealing app, is that it puts your personalized skincare routine first.
Besides getting information on the general safety of ingredients contained in your makeup, you can also customize your settings to reflect ingredients you believe are safe. You can also get alerts for ready-made lists of chemicals you want to avoid. However, you need a premium account to unlock this feature.
The paid subscription also lets you set a filter for cruelty-free products. While the app was designed by an EU-based company, it is available internationally.
Another way to make sure your products are "cruelty free" is to check for certifications such as the Leaping Bunny label.
7) INCIDecoder
Here's a lesser-known skincare ingredient checker that analyzes ingredient lists. It is available as an app and on a website, so you don't absolutely have to download it. You can type in ingredients to get all the relevant facts or search for products. INCIDecoder is based in Europe, which may have an effect on the products already referenced in the database.
For each ingredient you enter you'll get information which product they appear in. Take a look at the chemical composition, description and see some "proof". You don't need to subscribe or create an account to use it.
8) Cosmily
Cosmily is a web-based ingredient checker with a lot to offer. It looks a bit like a translation tool at first, and works similarly. Paste a list of the ingredients you want to study in a text box and get a safety report that translates the meaning of different chemical ingredients. You can find ingredient lists for many products on the manufacturers' websites.
The results include any negative effects as well as positive ones (like anti-aging, UV-filtering, antiseptic) of each product. Remember: positive effects don't necessarily neutralize negative effects!
This platform also offers a product comparison tool. Search for any two products you want to compare. The results are displayed in an accessible way, as ingredients are labeled with symbols that are linked to adverse effects. Drawback: the information can be generic and does not explain what the effects mean. It can still be helpful if you're deciding between two products and want to know which is safest.
Other ingredient checkers for skincare products include Skin Sort, Skin Carisma, Skin Face and Good Face.
Ingredient Checkers for Sustainable Cleaning Products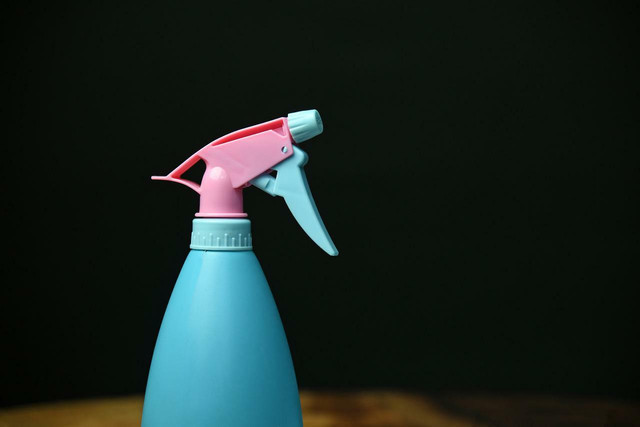 Here are two more web tools you can use to identify safer cleaning products:
9) EPA Safer Choice
Perhaps not a typical ingredient checker, the Environmental Protection Agency's Safer Choice Program offers consumers another way to scan products for problematic ingredients. The agency has developed a label to mark products that they consider to be safe for you and the environment. Approximately 1900 household and personal care products carry the label.
You can check whether your product meets the EPA's criteria on their website or browse the Safer Chemical Ingredients List. While this tool may not be as convenient as the typical barcode scanner, the EPA offers many valuable resources to teach you about ingredient safety and identify health hazards beyond individual products.
You can also explore product categories not included in other apps, like those claiming to be fragrance-free. This label helps you identify products without fragrances, which lack toxicological data and may be associated with allergic responses.
One such product we use every day that almost always contains the blanket-term fragrance is hand soap. Here's an all-natural DIY foaming hand soap recipe you can try instead!
10) EWG's Guide to Healthy Cleaning
If you do not want to download the app but simply want to check for cleaning products now and then, pop onto their website to browse the Healthy Cleaning Guide. There, you can search through more than 2500 products in 70+ categories. The results offer brand and company information, including the manufacturer's position on animal testing, as well as notes about product use, since "many hazard recommendations associated with chemicals depend on a product's use and/or composition."
Read more:
** Links to retailers marked with ** or
underlined orange
are partially partner links: If you buy here, you actively support Utopia.org, because we will receive a small part of the sales proceeds.
More info
.
Do you like this post?
Thank you very much for voting!