Do you need sour milk for a recipe but don't have any on hand? Don't worry! Here, we will show you how to make sour milk at home with an easy buttermilk recipe. Read on for both dairy and vegan versions!
Sour milk is just that: milk that has gone sour, and buttermilk is an excellent replacement for sour milk.
Traditionally, buttermilk was a byproduct of making butter. After cream was churned into butter, the thin, low-fat liquid that was leftover would ferment, creating buttermilk. These days, pasteurized milk is actively turned into buttermilk by using lactic acid bacteria. It is thicker than milk and has a slightly tangy flavor.
Buttermilk or sour milk is more acidic than fresh milk. The acidity reacts with the other ingredients in a recipe: in pancakes, it reacts with the baking soda leading to fluffy, super tall stacks. In marinades, it helps to make the protein more tender and gives a pleasant tang.
Luckily, it is very easy to learn how make sour milk or buttermilk at home, using either local organic dairy milk or plant-based milk alternatives.
The Downsides of Cow's Milk
Milk is a staple in our diets – in our morning coffee, on cereal, in baking, and in cooking. We consume a lot of the white stuff in the United States – 226.2 billion pounds of milk was produced for human consumption in 2020 alone.
Unfortunately, a huge amount of the milk produced is wasted. Globally one out of every six pints of milk goes unused, according to research from 2018, with many of us pouring gallons down the drain each year.
Around 270 million dairy cows are put to work around the world to keep up with the global demand for milk, and are given hormones in order to produce as much milk as possible. The dairy industry not only affects animal welfare, but also the environment. Dairy cows and their manure produce greenhouse gasses which contribute to climate change, and waterways can be polluted. Enormous amounts of water and land are needed to produce the feed for the cattle, with 144 gallons of water needed for just one gallon of milk produced in the US.
One way to cut down this waste would be to check milk before throwing it away. Milk past its expiry date which is a little sour – so sour milk – can be used in any recipe calling for sour milk or buttermilk, there is no need to buy any extra products. As long as it doesn't smell foul, has been stored correctly and isn't lumpy, it will be safe to use.
Plant-Based Buttermilk: Better For Animals and The Environment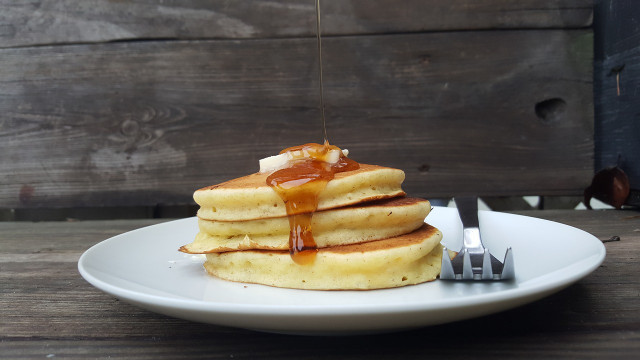 However, making the switch to a plant-based milk alternative is the best way to help reduce this unnecessary waste, combat climate change and improve animal welfare.
Of course there are many plant-based milk alternatives out there on the market. But it can be difficult to source dairy-free buttermilk.
Do not worry! You can make your own vegan sour milk and dairy-free buttermilk at home. For a more sustainable option, you could even make your own oat milk at home, and use that to make buttermilk!
How to Make Vegan Buttermilk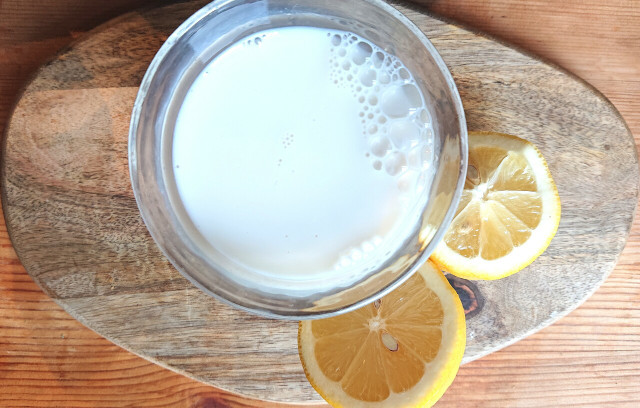 You can use any plant-based milk, simply use whatever you have on hand. There is no special equipment required. It can be used in any recipe that requires buttermilk, like this soda bread. Just scale up or down depending on the quantity needed.
Ingredients:
1 cup organic plant-based milk
1 tbsp. organic lemon juice or apple cider vinegar
Instructions:
Stir the lemon juice or vinegar into the milk. It will start to curdle, but don't worry, this is what you want to happen.
Let it sit for 10 minutes. It should have thickened and soured. It's ready to use!
How to Make Sour Milk: A Buttermilk Substitute
Instead of buying extra dairy products that may go to waste, why not make the exact amount of buttermilk needed for a recipe when you need it? Make your own sour milk in just 5 minutes.
Ingredients:
1 cup organic milk
1 tbsp. organic lemon juice or apple cider vinegar
Instructions:
Stir the lemon juice or vinegar into the milk.
Let it sit for 5 minutes. It should have thickened and soured. It's ready to use!
Read on:
** Links to retailers marked with ** or
underlined orange
are partially partner links: If you buy here, you actively support Utopia.org, because we will receive a small part of the sales proceeds.
More info
.
Do you like this post?
Thank you very much for voting!