Preserving plums is a great way to enjoy these tasty fruits for longer — especially if you have a plum tree in your backyard! We'll show you how to freeze plums, how to dry them, and how to preserve fresh plums as jams and sauces.
There's something undeniably enchanting about biting into a ripe, juicy plum at the peak of its freshness. This low-histamine food is not just delicious but also packed with nutrients and health benefits. However, as with many fruits, their season is fleeting, leaving many of us longing for them for the better part of the year.
The good news? By preserving plums, you can savor their vibrant flavor throughout all seasons! Below, we explore three delightful and eco-friendly ways to keep the essence of summer alive in your pantry, ensuring you have a perfect treat whenever you desire.
What You Should Know Before Preserving Plums
When preserving plums, be sure to pay attention to the quality of the fruit you're buying:
Use ripe plums — the fruit should be fully ripe but still firm to the touch
Only use plums with an intact skin
Separate out mushy plums or fruits with rotten spots
Across the US, plums are harvested from May through to the end of October. Depending on the variety of plum, the sizes, shapes and colors can vary.
Choosing which plums you want to preserve is very much a personal choice. However, if you're not growing your own, we highly recommend purchasing organically grown plums. You can find package-free organic plums at local farmers' markets — check out LocalHarvest to find one near you!
1. How to Freeze Plums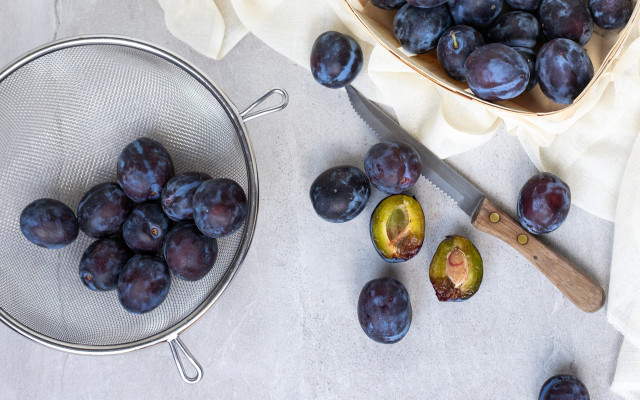 Freezing plums is one of the simplest ways of preserving them: it doesn't require much time or any special equipment. Depending on how you plan on using your frozen plums, there are two methods of freezing them. All you need is:
a freezer
a silicone baking mat
some reusable containers
a knife
To freeze plums, start by washing and drying them very gently. Then cut them in half to remove the pit.
From here, you can:
How to Freeze Plums Whole
Preserve the plums by putting the halves back together.
Layer them carefully on top of one another in your reusable containers.
Note: For this method, it is best to portion out the plums so you can freeze one recipe's worth of plums in one container.
How to Flash Freeze Plums
Line a baking sheet with a silicone baking mat (available on Amazon**). They make it easy to remove the frozen fruit from the tray and you can reuse them.
Slice the plums into smaller pieces and place them on the lined baking sheet. For best results spread them out so they aren't touching.
Place in the freezer for about half an hour or until plums feel hard.
Remove the plum pieces from tray and pop them into a reusable container of your choice and place them back in the freezer.
Frozen plums keep in the freezer for at least six months. You can use defrosted plums for baking, in smoothies or sauces or in jams or chutneys.
Note: When baking with preserved, frozen plums, increase the baking time by five to 10 minutes.
2. Preserving Plums by Drying Them (Making Prunes)
Unless you're a dried fruit enthusiast, chances are you don't have a food dehydrator at home. This oven drying method of preserving plums requires a lot of energy as they need to sit in the oven for approximately eight hours. To save energy, try drying a few different things at once.
Start by carefully washing and drying the fruit.
Slice into the side of each plum to remove the pit.
Heat the oven to 200˚F using the convection setting if available.
Place a baking rack over a lined baking tray and lay plums on the rack.
Baking time depends on your personal preference – check the fruit every hour or so until the desired dryness has been reached .
Store in airtight containers at room temperature for up to two months or store them in the freezer for up to six months.
Note: If you don't have any other fruit you wish to dry, check your kitchen herb garden: drying sage, mint and other herbs is always a good idea.
3. Preserving Plums as Jams, Chutneys, Sauces and Liqueurs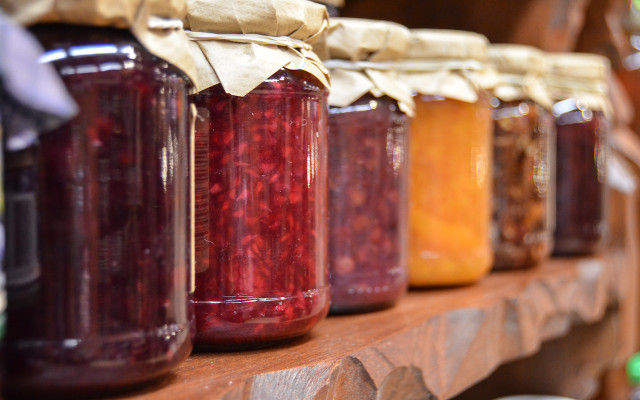 This is the most well-known method when it comes to preserving plums. The list of ways to preserve plums in sauces or jams could go on and on, so we've rounded up a few of our favorite ones to share.
Plum Chutney: an aromatic mix of plums, apples, shallots, oil, red wine, mustard, sugar, and spices. It is a wonderful accompaniment to sandwiches, meats, cheeses, or even an alternative to cranberry sauce for Thanksgiving dinner. Try adding plums to this delicious pear chutney for an extra flavor boost!
Plum Jam: the best part about preserving plums as a jam is that there's no need to add pectin. Plums naturally have moderate levels of pectin so all you need are plums, water, lemon juice, and maybe a little bit of sugar.
Plum and Apple Sauce: try adding plums to the mix when you're making applesauce. Check out our recipe here: Unsweetened Applesauce: Easy Sugar-Free Recipe
Plum Liqueur: this is another fantastic gift idea for holidays and birthdays. While just about any fruit can be used to make liqueur, we think plums turn this delicious drink into something really special. Check out how to make homemade liqueur for more details.
Tip: When making preserves, remember to sterilize all jars and lids beforehand.
Regardless of how you choose to preserve your plums, they make a delightful treat throughout the year. If you have more jars of plums than you know what to do with, consider giving them as homemade Christmas gifts!
Want to learn more about sustainable lifestyle choices? Follow us on Instagram!
** Links to retailers marked with ** or
underlined orange
are partially partner links: If you buy here, you actively support Utopia.org, because we will receive a small part of the sales proceeds.
More info
.
Do you like this post?
Thank you very much for voting!