Mochi is a Japanese rice cake with a unique soft and chewy texture, and is often filled with something sweet. Keep reading for an easy vegan mochi recipe, two ways.
Mochi is the name given to both the traditional plain rice cake and the dough that is used to make a variety of Japanese treats or wagashi. It is naturally gluten free, low in cholesterol, and vegan. It's a popular Japanese food made from glutinous rice or mochigome. Glutinous rice is pounded with water to form a chewy, soft and gummy dough, which can be eaten plain or stuffed with a filling. Daifuku-mochi is traditionally filled with sweet red bean paste — but also comes in many flavors and varieties. 
Pounding rice into a paste is quite labor intenstive which is why it is very common to use glutinous rice flour or sweet rice flour when making your own mochi or daifuku at home. Of course, when making your own, the flavors and filling are entirely up to you, making sure that you can enjoy vegan mochi whenever you want to.
Mochi can be flavored or plain, colored or left naturally white. It is eaten all year round, but is especially popular around Japanese New Year. Filled daifuku-mochi are delicious, relatively simple to make and make excellent tea time treats, dessert or gifts. Keep on reading to learn how to make your own vegan mochi and daifuku.
Traditional Daifuku-Mochi and Flavor Ideas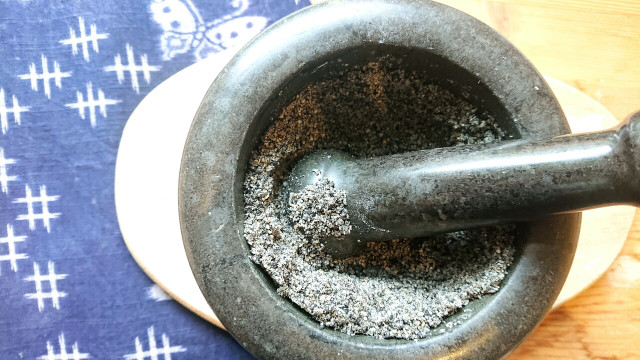 The most traditional type of daifuku-mochi is filled with a sweetened red bean paste or anko. Anko is used in a lot of Japanese sweets and can be made yourself, or purchased on Amazon** if you don't have the time. However, you can be pretty adventurous with your fillings, as long as the filling that you want to use isn't too liquid when wrapping the mochi dough around it.
Here are a few other flavor ideas and combinations to get you inspired when making your own vegan mochi:
Ichigo daifuku-mochi is filled with a strawberry and usually anko. They can also be prepared with the addition of a vegan whipped cream. Ichigo daifuku-mochi is a great way to prepare seasonal, fresh strawberries. Peak strawberry time is late spring, earlier if you live in California.
Kusa-mochi is colored and flavored with Japanese mugwort and is often stuffed with red bean paste.
Ice cream is an excellent filling as it is usually recommended to freeze balls of the filling before you wrap the mochi dough around it. Why not try one of these sustainable nice cream recipes? Of course you can then store the leftover mochi in the freezer: simply defrost for 5 minutes before eating whenever you want a sweet treat!
Chocolate and peanut are a match made in heaven. Keep reading for an easy vegan truffle recipe. 
Black sesame is a very popular flavor in Japan. It pairs particularly well with matcha, giving a sweet, savory, nutty and slightly grassy taste. This is the delicious pairing detailed in the recipe below. 
Vegan Matcha Mochi with Black Sesame Filling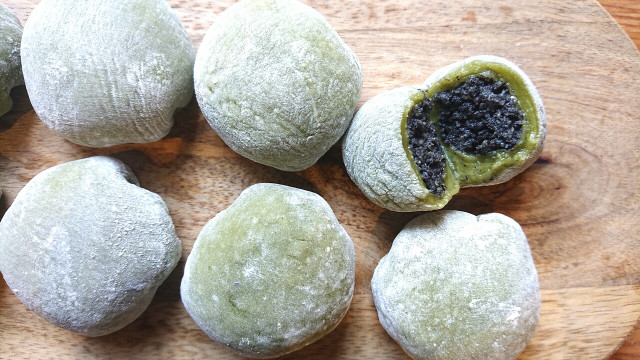 Many recipes for mochi and daifuku use quite a lot of parchment paper or plastic wrap when rolling and stacking the dough. Reaching for these single use items is not only wasteful, but we have found it isn't necessary. This recipe is sustainable and was made using only cornstarch to prevent sticking.
You will need a heat proof bowl, a steamer basket, a rolling pin, and a cookie cutter. This recipe makes 8 daifuki-mochi.
Ingredients:
For the mochi:
½ cup + 2tsp. glutinous rice flour or sweet rice flour
2 tsp. organic matcha powder
1½ tbsp. organic white sugar
½ cup water
cornstarch, for dusting
For the black sesame filling:
¼ cup organic toasted black sesame seeds
1½ tbsp. organic white sugar
1½ tbsp. organic coconut oil, melted (deodorized if possible)
1½ tbsp. water
pinch of sea salt
Instructions:
First make the sesame filling: Grind the black sesame seeds, sugar and salt in a pestle and mortar until the seeds have broken down and have become sandy. 
Add the melted oil and water and mix well. Transfer to a shallow dish and put in the freezer.
Make the mochi: mix all the dry ingredients together in a heat proof bowl, and gradually stir in the water to make a thin batter.
Steam the mochi for 20-25 minutes. Place the bowl into a steamer basket with the lid on. Stir half way through with a wet spatula. The mochi is ready when it is stretchy and not too wet. You can check by sticking a toothpick into the dough. If it comes out clean, it's ready.
While the mochi is steaming, take the sesame filling out if the freezer and form 8 evenly sized balls using the palms of your hands. Return to the freezer.
Liberally dust the counter with cornstarch and scoop the hot mochi on to it. Dust the mochi with cornflour. While it's still hot, use a floured rolling pin to roll the mochi dough to a medium/thin thickness. 
Transfer carefully on to a plate dusted with cornstarch and leave in the fridge for 10 minutes.
Using a 2⅝ inch (about 7 cm) cookie cutter, cut out 8 rounds of dough and stack them. You will have to gather and re-roll the scraps. The dough should stack well without sticking if you have used enough cornstarch, if in doubt, dust a little more in between layers. You will brush the excess off before wrapping.
Salted Dark Chocolate and Peanut Truffle Filling
This vegan truffle recipe is delicious wrapped in the matcha mochi dough. It is rich and slightly salty, balancing out the sweetness. If matcha isn't your thing, you could leave it out and keep them plain. Simply follow the instructions above to make and form the mochi (with or without the matcha powder), and use this recipe for the filling.
Ingredients:
Instructions:
Place all the ingredients in to a heat proof bowl and set over the top of a pan of water. Turn on the heat and make sure the bowl doesn't touch the water. Stir until melted.
Transfer to a shallow container and place in the fridge while you make the mochi.
Once it is semi solid, use a spoon to scoop out a portion and roll in your hands to form a small truffle. Be quick so that it doesn't melt!
Place the truffles in the freezer until ready to wrap the daifuku-mochi, and follow the instructions below.
Tip: rolling the truffles in desiccated organic coconut or crushed peanuts before placing in the freezer is a nice twist that adds a little texture!
Step by Step Daifuku-Mochi Wrapping

Make the daifuku:
Take the sesame balls from the freezer and get ready to form the daifuku.
Carefully pick up a circle of dough and gently remove excess cornstarch from both sides with a pastry brush.
Place the black sesame filling in the middle. 
Pinch two of the opposite sides together.
Then pinch the other two opposite sides together.
Then pinch all the corners together, as if you are making a dumpling.
Place the daifuku sealed side down on to a plate dusted with cornstarch and repeat.
Read on:
** Links to retailers marked with ** or
underlined orange
are partially partner links: If you buy here, you actively support Utopia.org, because we will receive a small part of the sales proceeds.
More info
.
Do you like this post?
Thank you very much for voting!