Making veggie sushi rolls yourself can be a lot of fun and definitely worth the effort. You can tailor them to your tastes by filling the sushi rolls with your favorite vegetarian or vegan ingredients. Our instructions will show you how to make delicious veggie sushi yourself.
Making Your Own Veggie Sushi — The Rice
When it comes to making sushi of any variety, the first step is preparing the rice. In order to do this, you'll need to use Koshihikari or Tamanishiki rice, which you can find in any Asian grocery store. It will take about 45 minutes to make four portions of sushi rice for your veggie sushi. You'll need the following ingredients:
1 cup sushi rice
4 tbsp. rice vinegar
1 tsp. salt
You'll also need nori seaweed leaves to roll the rice up in later.
Both ingredients (the seaweed paper and the rice) are usually transported from South Korea and Japan which adds to their carbon footprint. Luckily, with the rise in popularity of (veggie) sushi across the US, you can purchase American grown organic sushi rice (available on Amazon**). While seaweed farming is on the rise on both coasts, there aren't any American grown seaweed papers on the market just yet.
How to Make Sushi Rice:
Rinse the rice three times until the water is no longer milky, making sure to save the rice water — you can still use it, for example for a Rice Water Rinse.
Soak the rice in 1 ½ cups of water for ten minutes.
Bring the rice to a boil, then simmer on low for another ten minutes.
Remove from heat and let sit for fifteen minutes with the lid closed — it shouldn't boil anymore.
Mix the vinegar with the salt and heat it in a pot.
Mix vinegar and rice and let everything cool down.
Tip: Put a damp cloth over the rice to prevent it from drying out while cooling.
How to Make Veggie Sushi Rolls: Using Good Ingredients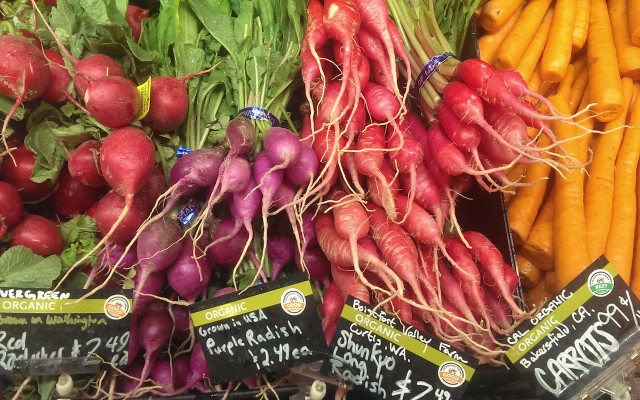 To roll sushi, you'll need a sushi mat. What you fill the sushi with is up to you — here's a small selection of good ingredients.
Top 5:
Cucumber: Ideal for sushi beginners, cucumbers are easy to slice into thin sticks and roll.
Carrot: Carrots are also great for beginners, as you can easily cut them into sticks.
Radish: Easy to cut, adds a nice peppery kick, radishes make a great addition to any sushi.
Beet: Add some beet juice to the rice at the very end for a pink color, or chop them into sticks to add to your veggie sushi rolls.
Peppers: Ripe peppers are delicious no matter what you eat them with. They can be chopped into sticks and can add a variety of color to your sushi.
Tip: Head to your local farmer's market to buy fresh, regional produce for your veggie sushi rolls. Some states have longer growing seasons than others, however, summertime is great for the freshest produce.
Veggie California Roll Instructions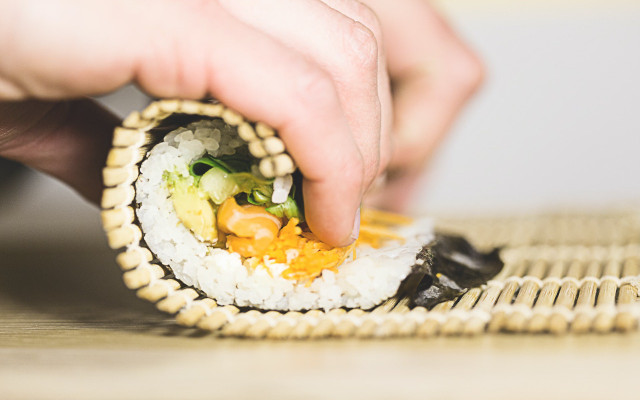 The most popular sushi roll in the US is the California roll, which consists of imitation crab, cucumber and avocado. By replacing the crab with carrots, you can make your own vegetarian California roll.
Here's how to make it:
Cut the nori sheet in half and place it rough side up on the bamboo mat.
Spread about two tablespoons of sushi rice evenly on the seaweed sheet, leaving about ¾ of an inch of space at the top edge of the sheet.
Place a few cucumber sticks, carrots sticks, and some avocado in the lower third. Careful not to overfill, you still need to be able to roll it!
Lift the bottom end of the seaweed sheet with the mat and roll it up. The two inches of edge will ensure that the roll holds together at the end. Make sure the edge sticks well to the sushi roll.
Use a sharp knife to cut individual pieces of veggie sushi from the large roll.
Tip: Place a small bowl with water and two tablespoons of rice vinegar in it next to the sushi mat. Keep moistening your fingers so the rice doesn't stick to them.
Depending on your taste, a little wasabi, sushi ginger and soy sauce can make this extra tasty!
Making Other Veggie Sushi Variants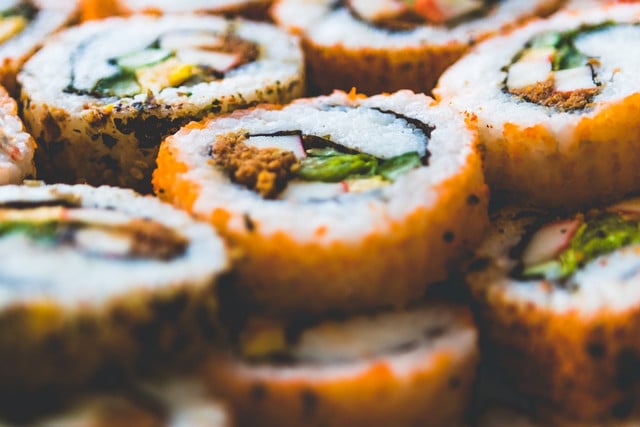 Hosomaki — this version is the most basic style of sushi as it contains one filling. Great fillings for this roll include cucumber sticks, carrot sticks or bell peppers.
Uramaki — also known as the inside out roll, this type of sushi has the rice on the outside and the seaweed paper on the inside. To make veggie uramaki sushi, you can use whichever type of filling you'd like.
Temaki — or Hand Roll, these cone shaped rolls can be served like tacos. Simply place your ingredients on the table, give everyone some seaweed paper and let them fill them with their preferred vegetables.
Nigiri — this version is easy to make, and is great if you're short on seaweed paper. First you roll a ball of rice, place your ingredients on top and then tie it together with a small strip of seaweed paper. Normally you'd find salmon on shrimp on top of these rolls, but there's nothing stopping you from subbing vegetables instead!
This article has been translated from German by Karen Stankiewicz. You can find the original here: Sushi selber machen: Anleitung und leckere Inspirationen
** Links to retailers marked with ** or
underlined orange
are partially partner links: If you buy here, you actively support Utopia.org, because we will receive a small part of the sales proceeds.
More info
.
Do you like this post?
Thank you very much for voting!