These veggie sausages are easy to make and even easier to flavor just the way you like them. Great for grilling, they are sure to be a hit at your next BBQ.
This veggie sausage recipe makes use of both chickpeas and vital wheat gluten, also known as seitan flour. These, and the other ingredients work together to create a meaty and juicy vegetarian sausage that even has a satisfying meat-sausage-like skin without any added casings. Seitan needs to be steamed before you cook and eat it, and when it steams it expands. In order to achieve a dense and firm texture to the veggie sausage, the dough needs to be wrapped tightly (else it could become spongy). You can wrap the dough in a number of things like muslin cloth, but be careful as muslin does have a tendency to stick to the dough.
Parchment paper works very well and doesn't stick. Most parchment paper is not recyclable, but it can be used a number of times before being disposed of. Because the paper is steamed and then left to cool, it is very easy to gently unwrap the sausages and re-use the paper for the same purpose. Be sure to never use wax paper or aluminum foil as a substitute for parchment paper, the wax will melt at high temperatures and aluminum foil is an ecological disaster. We recommend using If You Care Parchment Paper (available on Amazon** ) because it is unbleached, compostable, and FSC-certified.
The base veggie sausage recipe is delicious as it is, and it is easy to change the flavors and seasonings without affecting the firm, meaty texture. 
Veggie Sausage: Base Recipe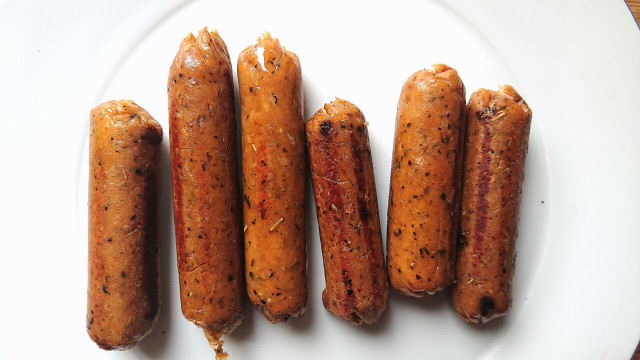 This veggie sausage recipe is actually accidentally vegan if you use vegan bullion. Deceptively meat-like in their texture and flavor, these would be great grilled, pan-fried, baked, or added to a veggie sausage casserole. Once they have been steamed they can be cooked any way you like and would be fantastic for a summer barbeque. 
Makes 6 medium-sized sausages, and the recipe can easily be doubled.
Ingredients:
1 small onion, sliced
3 tbsp. olive oil
2 cloves garlic, chopped
1/2 cup hot water mixed with 1 tsp. vegan/vegetarian or mushroom bullion
1/4 cup cooked chickpeas
2 tbsp textured vegetable protein (TVP) /granulated soy
1 tbsp. nutritional yeast
1 tsp. soy sauce
1 tsp. tomato paste
a few drops liquid smoke (optional)
1 cup vital when gluten
1 tbsp. gram flour
1 tsp. onion powder
1 tsp. garlic powder
1 tsp. dried mixed herbs
1/4 tsp. smoked paprika
1/8 tsp. nutmeg
1/2 tsp. salt
1/4 tsp. pepper
Instructions:
Fry the onion in the oil on low until translucent, then add the garlic and fry for 2-3 minutes more. Set aside.
Add the bullion, chickpeas, TVP, nutritional yeast, soy sauce, tomato paste, and liquid smoke to a blender. Add the onion and garlic, and any oil from the pan. Blend till smooth.
Mix the vital wheat gluten, gram flour, and herbs and spices in a bowl and stir to combine.
Add the wet ingredients to the dry and mix briefly with a spoon. A slightly wet dough should come together. Rest for 10 minutes.
Divide the dough into 6, and roll each piece into a rough sausage shape. 
Take a small square of parchment paper and roll the dough into a tight sausage shape. Twist the ends to keep it secure. You can tie the ends with string to prevent them from unwrapping (they will expand as they cook). Repeat for the other five.
Steam the sausages for 40 minutes. Leave in the papers and chill in the fridge for a few hours before cooking.
These vegan sausages will keep in an air-tight container in the fridge for up to 5 days, and they also freeze well for up to 3 months.
Flavor Variations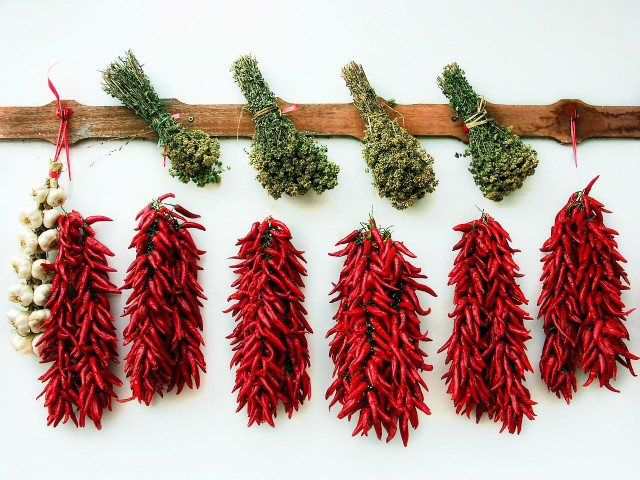 Simply make the base recipe and add the extra herbs, spices, and substitutions to the veggie sausage. Remember to double the flavorings when doubling the recipe.
Veggie Italian Sausage:
Herby, garlicky, with a slight kick.
1 tsp. chili flakes 
1/2 tsp. ground fennel
1/2 tsp. cayenne
1 1/2 tsp. garlic powder
1 tsp. dried oregano
1 tsp. dried basil
Spanish Chorizo:
To flavor the veggie sausage with the smoky, sweet spice of Spanish chorizo, simply add and substitute the following:
1 tbsp. red pepper paste instead of the tomato paste
2 tbsp. smoked paprika
1 tsp. garlic powder
1 tsp. onion powder
1 tbsp. olive oil added to the wet ingredients
German Bratwurst:
If you can find ground mace, that's great. If not, some nutmeg will be delicious.
1/2 tsp. black pepper
1/2 tsp. mace
1/2 tsp. ground ginger
1/2 tsp. marjoram
1/4 tsp. mustard
1/8 tsp. ground coriander
1/8 tsp. caraway seeds
Alternative Equipment and Cooking Methods
A high-speed blender is really useful for this (and many other vegan or vegetarian recipes), but if you don't have one you could also use an immersion blender, a small food processor, or, failing that a fork to mash the wet ingredients together. Just make sure to chop the onion and garlic super fine before frying. 
If you want to achieve the smooth, shiny 'skin' and shape of a traditional sausage, then you do really have to wrap them up tightly before steaming. As stated, muslin cloth will work the wheat-meat but might stick. Try brushing the cloth with neutral oil beforehand. If you have any organic cotton mesh vegetable bags, these could also work. Of course, you could opt to make sausage patties instead of links. Make sure to weigh the patties down in the steamer so that they don't go spongy. 
Once your sausages are steamed, they can be fried, grilled, BBQ'd or put into a casserole. They would be delicious in a bun and with your favorite hot dog toppings— they really are versatile. 
Read more:
** Links to retailers marked with ** or
underlined orange
are partially partner links: If you buy here, you actively support Utopia.org, because we will receive a small part of the sales proceeds.
More info
.
Do you like this post?
Thank you very much for voting!
[contextly_main_module]