If you want a great vegan steak recipe, you're in the right place! Follow our easy recipe for seitan steak that has all the satisfying, unctuous flavor of real meat.
Seitan, pronounced 'say-tan,' is used around the world as a plant-based alternative to meat. In this case, it makes delicious vegan steak. It is made by washing the starch off of wheat, leaving only the gluten behind. Also known as "wheat meat," seitan steak has a chewy, meaty texture and a wonderful ability to take on massive amounts of flavor. 
Seitan Steak: Meat Made From Wheat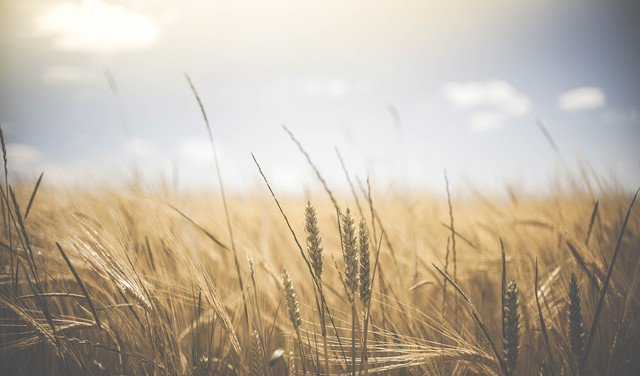 What is seitan, exactly? Seitan is generally healthy, sustainable and cruelty-free. It is protein-rich and packs around 20 grams of protein per 100 grams of wheat product. It has low amounts of (heart-healthy) monounsaturated fat and is a great source of iron. Of course, one of the best parts of meat made from wheat is that no animals were harmed in the making of your meal — making this vegan steak both tasty and cruelty-free.
The only downside to seitan is that it cannot be made gluten-free and is therefore unsuitable for those with a gluten allergy or intolerance.
If you are looking for something to get you out of your tofu comfort zone or would like some inspiration for Meatless Mondays, then why not try seitan?
Vital Wheat Gluten
You can buy pre-made vegan steaks in stores, but they can be expensive, laden with additives or packaged in single-use materials. For a more sustainable, eco-friendly option, why not make your own?
You can make seitan steak at home using flour and water, which is known as the washed flour method. This approach takes some time and a bit of effort. Luckily for us, there is a much easier alternative on the market, in the form of vital wheat gluten, which is a powdered form of seitan and available on Amazon**
It is easy to add flavor to your vegan steak —  both inside and out. You just need to mix some herbs and spices into your dry flour before forming it into a dough. The dough is then shaped, steamed and marinated before cooking.
Your New Go-to Vegan Steak Recipe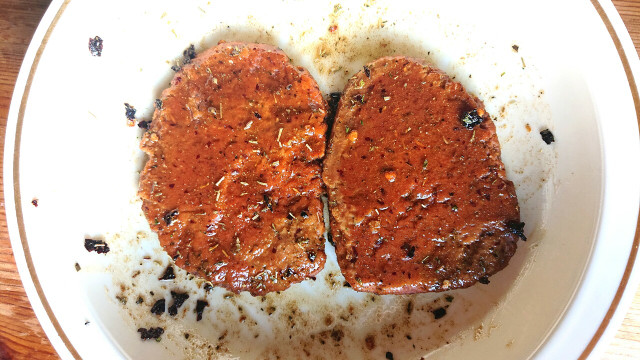 This may seem like a lot of ingredients, but this classic vegan steak recipe has only a few steps. You'll see it's worth it! Gather your ingredients together and measure them out ahead of time to make the cooking process smooth and quick.
You'll need a blender or a food processor and a steamer basket.
You can marinate the steamed vegan steaks in whatever flavors you like: tomato paste, soy and maple syrup go great on the BBQ. Here, we use a garlic-herb marinade for a classic flavor.
As always, we recommend using locally-sourced and organic ingredients whenever possible. Keep in mind that if you don't have any on hand, these 3 substitutes for nutritional yeast work well in a pinch.
Yield: 4 seitan steaks
Ingredients:
Wet:
1 small onion, diced
1/2 cup vegetable or mushroom stock
1/4 cup dried mushrooms, soaked in the stock for 5 minutes
1/4 cup cooked kidney beans
1 tbsp. tomato paste
2 tbsp. olive oil
1 tbsp. soy sauce
a few drops of liquid smoke (it makes vegan steak taste fresh off the BBQ)
Dry:
1 cup vital wheat gluten
2 tbsp. chickpea flour
2 tbsp. tapioca flour
1/4 cup nutritional yeast (for flavor and all nine essential amino acids. Available on Amazon**.)
1 tbsp. smoked paprika
1 tbsp. garlic powder
1 tbsp. onion powder
1 tsp. ground cumin
1 tbsp. dried mixed herbs
1 tsp. black pepper
Garlic herb marinade (A vegan steak classic)
4 cloves garlic, peeled and chopped
1 tsp. smoked paprika
1 tsp. dried herbs
1 tbsp. olive oil
Instructions:
Fry the onion in a little oil until it starts to brown, then blend with the rest of the wet ingredients in a food processor or blender.
Add the dry ingredients and pulse until a dough comes together. It should be sticky. If it's too wet, you could end up with spongy steaks.
Knead for two minutes and rest for 10. Knead for another minute. You want a slightly elastic dough that springs back when pressed. Over-kneading could result in an overly chewy texture.
Cut into four pieces and flatten them with the palm of your hand, shaping them into cutlets.
Place the vegan steaks in a steamer basket and steam for 25 minutes. Seitan expands as it cooks, but we want a dense texture. You could wrap them individually in muslin or place a plate on top of the steaks in the steamer basket to weigh them down.
While the steaks are steaming, mix the marinade ingredients together in a shallow dish.
Coat the steamed seitan steaks in the marinade. Cover the dish with a plate (don't just reach for the plastic wrap!), and place in the refrigerator. Leave to soak up the flavor for 20 minutes or up to eight hours.
Cook your vegan steaks! Heat a skillet with a little oil and cook on both sides until browned and slightly charred.
Utopia Tip: For an extra decadent meal, add a little vegan butter substitute and minced garlic into the pan towards the end. Tilt the pan so you can spoon the garlic butter over the top of the steaks as they finish cooking. Serve immediately with mashed sweet potatoes and freshly steamed organic veggies or a side salad.
Leftover cooked steaks will keep in the fridge for a few days, just store them in a lidded container. Try slicing them up and using the strips as a filling for a sandwich.
Want to try your hand at a few more seitan recipes? Try our seitan shrimp or vegan schnitzel with seitan. To customize the taste even more, learn how to make seitan with three easy ingredients.
Want to learn more about sustainability and the environment? Follow us on Instagram or Twitter!
Read more:
** Links to retailers marked with ** or
underlined orange
are partially partner links: If you buy here, you actively support Utopia.org, because we will receive a small part of the sales proceeds.
More info
.
Do you like this post?
Thank you very much for voting!