If you're looking for a wonderful vegan schnitzel recipe, you're in luck! Follow our three recipes for vegan schnitzel alternatives that are both tasty and good for the earth.
Schnitzel, meaning 'cutlet' in German, is a popular traditional meal in many Germanic countries. Typically composed of veal or other light meats such as pork (in the United States), it is breaded and fried, then served with potatoes, salad, and a wedge of lemon.
Aside from the cruelty concerns associated with eating veal and using eggs to bread the meat, there are several issues associated with deforestation, water scarcity, and pollution, all of which are repercussions of the meat industry. By making a vegan schnitzel from a plant-based meat alternative, you are combating harmful environmental side effects of global food production. There is no need for any animal-derived ingredients, as we use vegan egg substitutes for breading in these vegan schnitzel recipes.
Furthermore, you can reap some of the benefits of a vegan diet too. Some studies have made the correlation between vegan plant-based meat alternatives and health benefits. In the following sections, we'll introduce you to three delectable vegan schnitzel substitutes that are inexpensive, sustainable, and, most importantly, delicious.
Note: It's best to use organic and/or Fairtrade-certified ingredients that are seasonal and sourced from nearby retailers wherever possible to reduce your carbon footprint.
1. Tofu Schnitzel Recipe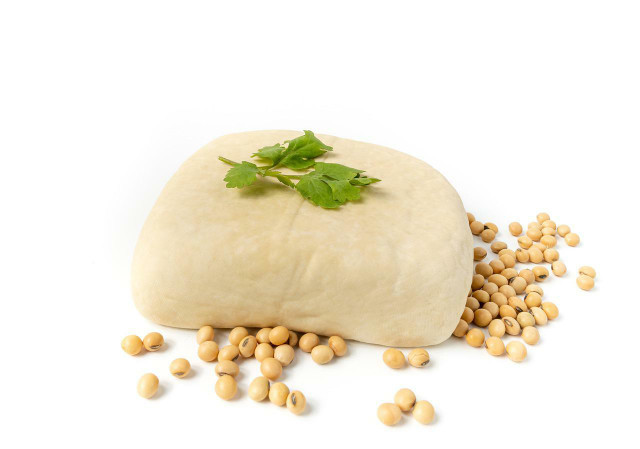 Preparation time: 25 minutes
Serves: 4
Ingredients:
16 oz. super firm seasoned tofu (learn how to season tofu in our guide)
1 tsp. sea salt
1/4 cup of soy sauce
2/3 cup cornstarch
1/2 cup all-purpose or chickpea flour
2/3 cup any plant-based milk (unsweetened)
3/4 cup breadcrumbs (use gluten-free if required)
2 tbsp. onion powder
1/2 tsp. garlic powder
1/2 tsp. black pepper
1/2 tsp. paprika
3 tbsp. nutritional yeast
1 tbsp. of oil for frying (sunflower/vegetable will do)
A lemon wedge for serving
Optional: a few sprigs of parsley for serving
Instructions:
For the tofu schnitzel, first salt the tofu on both sides and spread with soy sauce.
Put the cornstarch or all-purpose flour into one bowl with the plant-based milk, and the breadcrumbs, spices, seasonings, and nutritional yeast in another. These will be the wet and dry mixes, and you'll need to put the tofu in the wet first, then the dry mixture afterward to season correctly.
Slice the marinated tofu into four equally-sized slices. Lightly moisten the first schnitzel piece in water or broth and add to the bowl with your cornstarch or flour.
Next add the schnitzel piece to the bowl with the breadcrumbs, yeast, and seasonings. Bread the tofu slices on both sides.
Heat the oil in a pan and fry the tofu slices on both sides until golden brown. Drain the excess oil and repeat the process until all pieces of tofu are cooked.
Plate it with a few sprigs of parsely and a lemon wedge, and enjoy!
2. Schnitzel Recipe With Chickpeas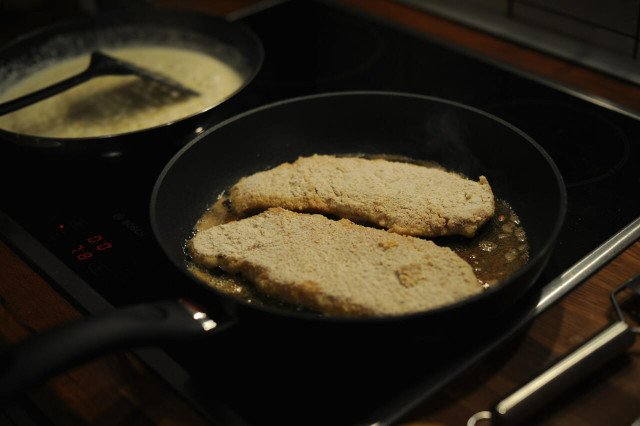 Preparation time: 25-30 minutes
Serves: 4
If you're looking for a tasty vegan schnitzel that doesn't include any soy, give this chickpea version a try! Although it takes slightly more time to prepare than the tofu vegan schnitzel, it is cheaper and slightly crispier.
Ingredients:
9 oz. chickpea flour
1 and 1/2 tbsp. cornstarch or all-purpose flour
1/2 tsp. cumin
1/2 tsp. garlic powder
1/2 tsp. onion powder
1/2 tsp. paprika powder
1 tsp. sea salt
1 tsp. black pepper
1 tbsp. organic, sustainable olive oil
3/4 cup water
3 and 1/2 oz. breadcrumbs
Instructions:
Combine the chickpea flour, cornstarch, cumin, garlic powder, onion powder, paprika, salt, and pepper in a large bowl.
To make a uniform dough, add the olive oil and water and mix well. You need to get a mass that is sticky and thick, yet still pliable. Adjust the consistency by adding additional chickpea flour or water as desired.
Place a large spoonful of the mixture in a bowl of (gluten-free) breadcrumbs. Use the breadcrumbs to shape the lump into a schnitzel. Without cooking, the patties are quite flimsy. The cooking process makes them very cohesive. 
Prepare the vegan schnitzel cutlets into your preferred size. This recipe generally would make four larger chickpea schnitzel pieces, but you can definitely yield more if you roll them smaller.
Cook the cutlets in a pan with enough oil over medium heat, flipping them until they are golden brown.
Enjoy the meal!
As this recipe requires slightly more gluten than the previous entry, we suggest gluten-free alternatives.
3. Seitan Vegan Schnitzel Recipe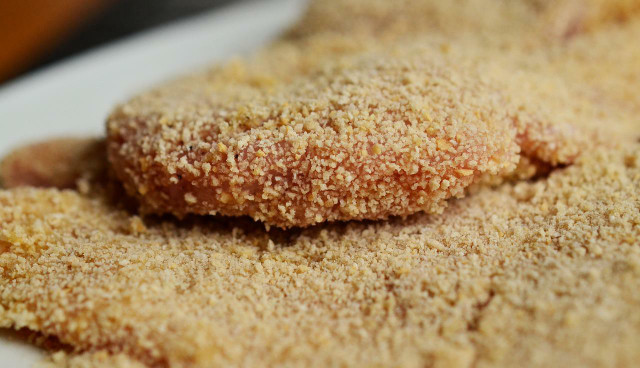 Preparation time: 1 hour and 30 minutes
Serves: 4
Materials: Food processor
Although this recipe is more time-consuming, the payoff is the extra flavor of the spices. Out of the three vegan schnitzel alternatives we have listed here, the seitan schnitzel is definitely the option with the most meat-like texture and consistency. It's also got the highest protein levels. The only downside is that it's made from wheat, making it unsuitable to celiacs and those with similar intolerances.
While the recipe looks complex, it can be simply broken down into three stages:
1. Make the Seitan Vegan Schnitzel Base
Ingredients:
1/2 white onion, chopped
2 garlic gloves, peeled
Optional: 1/2 tsp. cumin seeds
Optional: 1/2 tsp. fennel seeds
1/4 cup cooked chickpeas
1/2 cup kidney beans
1 tbsp. tomato paste
1/2 tsp. paprika powder
1/2 tsp. thyme
1 tsp. sea salt
1 tsp. black pepper
1 tbsp. soy sauce (for base)
1/2 cup sparkling water
3/4 cup vital wheat gluten
2 cups vegetable broth
1/3 cup soy sauce (for stock)
Optional: 1 tbsp. worcestershire sauce
Instructions:
Sauté the chopped onion and garlic cloves until soft, and if you like, add the cumin and fennel seeds. Cook until slightly toasted.
Next blend this mixture with the chickpeas, kidney beans, onion-garlic-spices mixture, tomato paste, paprika powder, thyme, salt, black pepper, soy sauce, and sparkling water. Pulse until it's saucy. Then add the vital wheat gluten and pulse again until it comes together in a ball. If you don't have a food processor, then you can whisk everything together until well combined.
Once you've got the dough-like ball of the mixture, knead it for five minutes and allow it to set for a few minutes afterward.
Next, you need to prepare the stock. This is what you'll baste the seitan vegan schnitzel with once you stick it in the oven. To get started, combine the vegetable broth and a 1/3 cup of soy sauce designated for the base. Whisk well until combined. For an extra kick of flavor, you could even add some vegan Worcestershire sauce.
Once your stock is prepared and the dough has rested, divide the seitan dough into equal cutlets and add to a baking tray or casserole dish. Next, baste it thoroughly with the new stock.
Bake the schnitzel base in the oven for an hour, flipping it three-quarters of the way through. Once it's completely cooked, take it out of the oven and leave it to marinate while you finish the rest of the steps.
2. Bread the Vegan Seitan Schnitzel
Ingredients:
200 grams all-purpose flour
1/2 cup chickpea flour
1 tsp. black pepper
1 1/4 cups breadcrumbs
1 cup unsweetened plant-based milk
Instructions:
While the seitan schnitzel is cooking in the oven, you can prepare the section of your kitchen that you'll use for breading the cutlets once they're done.
After the seitan cutlets have cooled sufficiently, you may begin the breading process. Fill one deep dish with all-purpose flour, chickpea flour, black pepper, another with just bread crumbs, and a third with plant milk. To begin, flour the seitan cutlets. After that, lightly dip them in the plant-milk before rolling them in breadcrumbs. For the distinctive texture, make sure the vegan schnitzel is evenly coated.
3. Fry the Schnitzel Cutlets
Ingredients:
2-3 tbsp. oil for frying the schnitzel cutlets (vegetable/sunflower/olive work fine)
Instructions:
You're nearly there! Now that the vegan schnitzel seitan base is thoroughly cooked and breaded, you can begin frying.
Pour enough cooking oil to coat the base of a skillet. To achieve a golden and crisp exterior, pan-fry the seitan schnitzel for roughly five minutes per side.
Remove the schnitzel pieces from the pan, drained of excess oil, and served with a side of your choice. Squeeze some fresh lemon juice on top for flavor. 
As the Germans would say: Guten Appetit!
Tip: As you may have noticed, this recipe is almost the most energy-consuming alternative of the three. Which is why we invite you to read our guide on how to save electricity at home, and especially during cooking. If you'd like to conserve some energy, you can turn the oven off a few minutes before you take your vegan schnitzel out so that it can cook in the lingering heat.
Read more:
** Links to retailers marked with ** or
underlined orange
are partially partner links: If you buy here, you actively support Utopia.org, because we will receive a small part of the sales proceeds.
More info
.
Do you like this post?
Thank you very much for voting!