Palm oil drives deforestation in some of the world's most biodiverse forests. Avoid palm oil products easily with these sustainable alternatives.
According to the WWF, palm oil is the most produced, consumed and traded vegetable oil in the world. You likely consume numerous palm oil products every day. It is present in things like spreads, chocolate, soups, soap bars and lipstick — just to name a few. The consequences for our planet are severe.
Palm oil production and distribution cause the destruction of tropical rainforest ecosystems and the loss of wildlife, exacerbating global warming. One result of deforestation is the destruction of the habitat of species that are already endangered, like orangutans. The growth of palm oil also threatens freshwater ecosystems and causes soil erosion and air pollution. If you're interested in this topic, read Is Palm Oil Sustainable?
Unfortunately, increasing global demand means that palm oil production isn't slowing down. The silver lining? You can exercise your purchasing power and help lower demand by switching from palm oil products to sustainable alternatives.
So, what products contain palm oil, and what can you use instead?
1. Chocolate Spreads
One of the most popular products containing palm oil is chocolate spreads! Luckily, there are also plenty of delicious alternatives without palm oil. For example, the rich and chocolatey hazelnut spread by Pyure is organic, peanut-free, keto-friendly and vegan. You can purchase it online or find it at Walmart and other locations — the easiest way is to search for your zip code here.
Another alternative is the hazelnut cocoa spread by tbh. Order it online or find it at grocery stores across California.
Last but certainly not least, homemade vegan Nutella is easy to make and puts you in the driver's seat regarding ingredients.
2. Chips Often Contain Palm Oil
Movie-night munchies are popular for a reason. To avoid products with palm oil, steer clear of canned chips and snacks — more often than not, they are palm oil products.
One brand against using palm oil is Lesser Evil. Lesser Evil offers non-dairy snacks made from organic ingredients only. Use their search form to find a store near you or purchase them online.
There are also some more well-known snack foods made without palm oil, including:
Cheetos
Garden Veggie Straws
Cape Cod Chips
Lay's Regular Potato Chips
3. Soap
Palm oil products aren't just in the food industry. Body care sections of most drugstores and grocery stores are also rife with palm oil — soap being the most notable example. The good news is that there's a wide range of products on the market made without this problematic ingredient. You can also make your own homemade soap if you want to avoid the issue altogether.
One brand is Peet Brothers, whose products are exclusively made without palm oil. On their website, you can find a table with all the ingredients they use, including descriptions of why they're used, along with lots of information on sustainability and their role in tackling climate change. Besides soap, you can find shampoo bars, lotions, accessories and more.
Soaps from Luxiny, ZoZiLo and Doana are also great alternatives without palm oil.
4. Convenience Food: Common Palm Oil Products
Convenience food is another whole category of products containing palm oil. Instant soups and instant oatmeal, for example, frequently have it. Read the ingredients thoroughly to be sure.
There are alternatives to convenience foods, too. Instant oatmeal from Simple Truth, available on Amazon**, contains no palm oil. When it comes to quick soups and other dishes, try Amy's Kitchen. Their organic lentil soup, for example, is nourishing and rich in protein. You can find their products in almost any grocery store or drugstore in the US or locate a store nearby.
5. Chocolate Bars
Most popular chocolate bars like Snickers or Mars or snack bars like Cliff bars contain palm oil. Even when packaging claims sustainably sourced, it's best to check to see if they're made without palm oil specifically.
Divine is a fair-trade chocolate company co-owned by cocoa farmers. They offer creamy and filling chocolate bars made from real cocoa butter and vanilla. You'll find them at Whole Foods or Walgreens. Another palm oil-free choice is NuGO. They use fresh, high-quality and non-GMO ingredients.
Snack bars are also affordable and easy to make at home. How about trying these homemade energy bars?
6. Palm Oil Products Include Chocolate
Like snack bars, a lot of well-known chocolate retailers use palm oil. Hershey's, for example, has made some progress in their palm oil sourcing and has committed to responsible and sustainable palm oil — but that doesn't cut it to protect the environment. Oreo and Nestlé have made the same claims, but it's important to be wary of potential greenwashing.
Furthermore, given all of the controversy surrounding Nestlé, you may want to stay away from it altogether.
There are chocolate companies that make their products without palm oil, so you can still enjoy your chocolate free of guilt. Beyond Good produces its chocolate directly in Madagascar, which allows customers to trace their supply chain. Find your nearest store here. Other great alternatives are vegan chocolates by Moo Free or Booja-Booja.
7. Cereal
Many cereals sold in US grocery stores are actually produced by Nestlé, who have been criticized for their use of palm oil (among other things) for years. But there are other companies to buy your cereal from, and they're just as delicious — and even better for the planet. 
One amazing option is the crispy and crunchy cereal from Mom's Best cereals. Instead of palm oil, they use canola oil and a balanced mix of other healthy ingredients. You'll find them at Whole Foods, CVS and other grocery stores throughout the country. Some other options are:
Love Grown Cereals (available on Amazon**)
Envirokidz Frosted Flakes (available on Amazon**)
8. Surprisingly, Makeup Can Contain Palm Oil
Make-up is no exception when it comes to palm oil products. More often than not, mascara contains palm oil, especially mascaras produced by more prominent beauty brands. Fortunately, there are quite a few good options for cosmetics without palm oil.
Have a look at the mascara from River Organics. Besides being free of palm oil, it is also 100% vegan and zero waste. Unlike conventional Mascara, the product and bamboo brush are separate, so you roll the brush onto the mascara to apply it. The easiest way to find this one is to check with your local zero waste store or directly order from their webshop.
If you prefer the customary way of using mascara, Biome Dusk by Adele Mascara or the Plant Shadow Mascara may be the right fit for you.
9. Cookies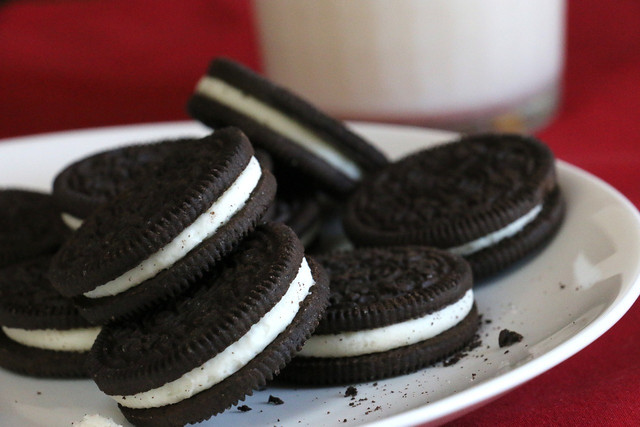 Just like chocolate, snack bars and convenience food, cookies often contain palm oil. One example is Oreos, loved by vegans for being plant-based but relying on palm oil as a key ingredient. Good thing there are plenty of dupes that taste almost the same and contain no ecologically harmful byproducts! You can also try these tasty homemade Oreos.
A delicious and palm oil-free alternative is Chocolate Sandwich Cookies from Simple Truth. Moreover, you can find Chocolate Sandwich cremes by the Whole Foods brand at any Whole Foods nearby. Or, give the organic Sandwich Cookies by Tasty (available on Amazon**) a taste.
10. Palm Oil Products Hide in Butter Alternatives Like Margarine
Lots of people prefer margarine or vegan butter substitutes over regular butter as they contain less saturated fat and are typically made from vegetable oils, containing no cholesterol. However, such alternatives are frequently palm oil products. However, as with the other items on this list, there are exceptions.
Have a look at the butter by Miyoko's, and be sure to check out their amazing options for palm oil-free and vegan cheeses. Another great option is WayFarre's Salted Whipped Butter or the vegan butter by Culcherd's.
Read more:
** Links to retailers marked with ** or
underlined orange
are partially partner links: If you buy here, you actively support Utopia.org, because we will receive a small part of the sales proceeds.
More info
.
Do you like this post?
Thank you very much for voting!