Whether you live in a small space or want to go low-key with your tree this year, these 12 minimalist ideas for Christmas tree styling and decoration are ideal.
The holiday season is a time when many people want to decorate their homes with Christmas trees. But, if you are looking for a more eco-friendly way to celebrate the holidays, then minimalism can be your best bet. Minimalist Christmas trees are a great way to have fewer decorations and may cause less stress this festive season while still making your home look wonderful.
We'll look at 12 great ideas for minimalist Christmas trees, so you can make your decorations greener without sacrificing style. From vintage decor to stash-busting crafts, discover how minimalist decorations can still be festive while also being kinder to our planet.
Why Minimalism Can Be Better for the Environment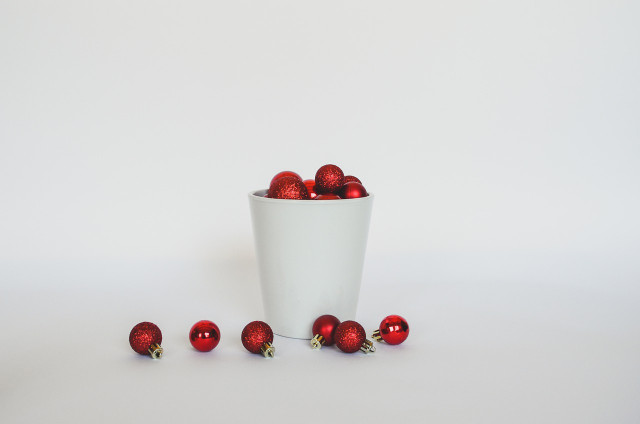 Minimalism is about living with less stuff and focusing on experiences and relationships rather than material possessions. This is a practice that has been gaining popularity in recent years for both its simplicity and its ability to help reduce your environmental footprint.
There are many reasons why minimalism can be better for the environment, for example:
Reduces consumption and the amount of stuff that needs to be produced.
Encourages people to live more simply and in harmony with nature.
Helps people appreciate the things they have more and waste less.
When it comes to the holiday season, many people are inclined to give into the consumerism and overconsumption that is sold to them as the ideal and only way to enjoy this time of year. However, it doesn't have to be this way, and we can all make small changes in our behaviors and traditions toward a more sustainable future.
1. Bare Tree
As always, the most eco-friendly and truly minimalist option is to opt out of owning more items altogether. Forget about buying mass-produced, multicolored ornaments that use up countless resources and generate unnecessary waste. Instead, show off the natural beauty of a bare living and locally sourced Christmas tree in your home to reduce your carbon footprint while keeping your holiday season merry and green.
2. Minimalist Christmas Trees With Strung Popcorn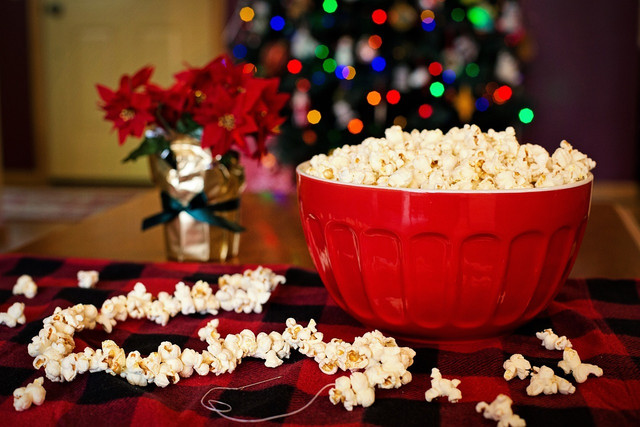 Looking for a unique and beautiful way to decorate your Christmas tree this year? Look no further than the timeless classic of strung popcorn! With a minimalistic yet festive style, it's sure to bring out the holiday spirit. This wonderfully creative idea is easy to do, yet looks stunning with minimal effort.
All you need is:
1 cup popcorn kernels
Strong cotton string
Sharp thick sewing needle
Simply pop your corn with no butter or oil. Thread your needle and stick it through the fattest part of the popcorn, and gently pull it out the other side. Do this carefully and take your time!
This decoration is budget-friendly and environmentally conscious, meaning you can celebrate without breaking the bank or damaging our planet. So, why not add a pinch of tradition to your minimalist Christmas tree?
3. Gold and Silver Branches
For those looking to add a unique glitzy but eco-friendly touch to the festivities, gold and silver branches are a great addition to minimalist Christmas tree decorations. Forage for some fallen and interesting-looking branches in your backyard, local neighborhood, or parks. Once you have a handful or two, coat them in shimmering metallic colors or eco-friendly glitter (available from Unicorn Sparkle Association on Amazon**).
Either place his finished branches among the foliage of your live Christmas tree or even place them in a vase to use as a very minimalistic Christmas tree alternative. This will surely liven up any nook in your home this holiday season.
TIP: Be careful choosing your materials, as not all products are transparent about their ingredients despite claiming to be eco-conscious or biodegradable, especially glitter.
4. Natural Ornaments for a Minimalist Christmas Tree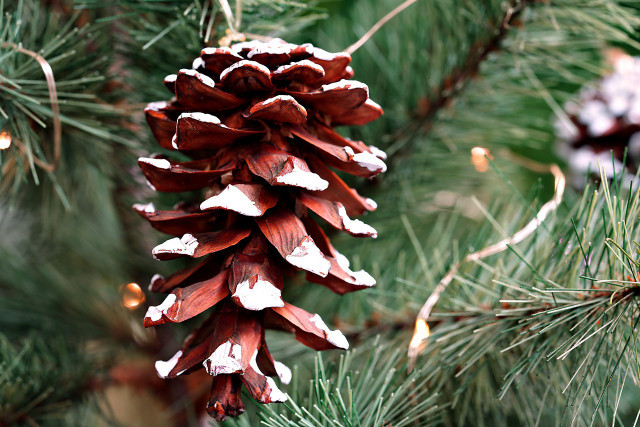 From dried oranges and pinecones to cinnamon sticks and berries, using natural elements offers endless possibilities when it comes to decorating a Christmas tree. Taking it a step further, combine them with upcycled old materials like string, ribbon, or fabric scraps to create beautiful and original ornaments that reflect your personal style. If you're looking for a truly ethical and minimalist look this festive season, natural ornaments are the perfect solution!
5. Vintage Tree Decorations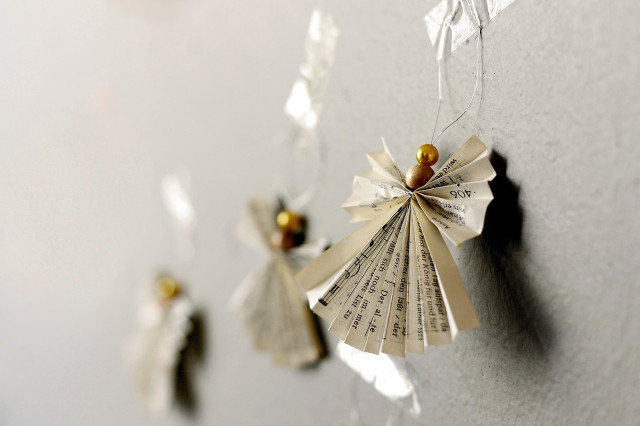 Trends always come back around, and for the upcoming holiday season, Christmas decorations that were popular decades ago are coming back into style. Vintage decorations such as paper angels, paper stars, and little wooden characters are not just stylish minimalist alternatives; they are also eco-friendly since they are often made of natural materials instead of plastic.
You could also opt for vintage decorations that have been passed down in your family and can be reused year after year. These special vintage adornments can add a unique charm to your Christmas tree this year.
6. Minimalist Christmas Trees With Neutral Colors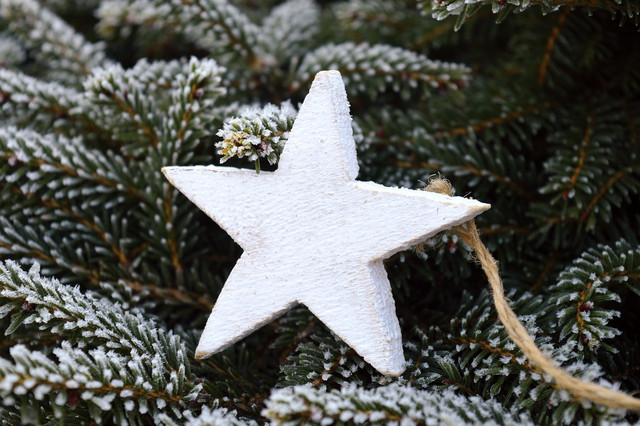 This year, ditch the traditional red and green Christmas decorations and opt for a more modern look with neutral minimalist and eco-friendly Christmas tree decorations. Think white and beige, handmade paper snowflakes, hand-crafted salt dough ornaments, and sustainably sourced wood decorations.
These decorations are sure to please even the most Scrooge-like family member or friend. Not only will your home look chic and stylish, but you'll also be doing your part to save the planet.
8. Pompoms for Your Minimalist Christmas Tree
Making your own pompoms from fabric and yarn scraps can be an environmentally friendly alternative to traditional Christmas tree decorations and can also help you to utilize materials that have been sitting in your stash for a while. Choosing to stick to one color of the pompom is the perfect way for minimalists to save time and effort on their festive decorations while creating a natural and cozy feel to your Christmas tree.
9. Ribbons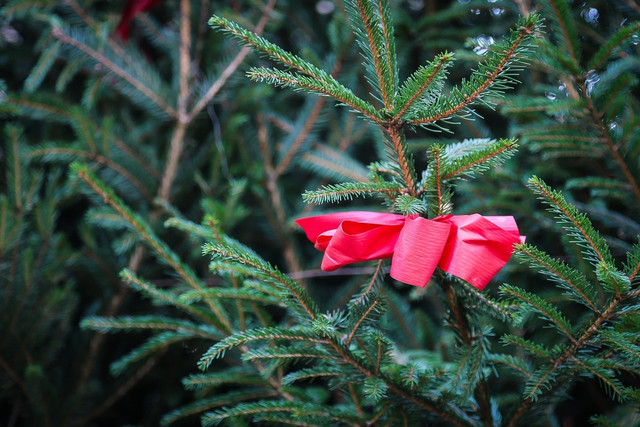 A simple and stylish way to decorate your tree is with ribbons. Ever wonder what to do with all the ribbons you get from your presents? Keep a stash of them and reuse them as eco-friendly decorations for your minimalist Christmas tree!
Choose ribbons from your stash in festive colors like red, green, and gold, or go for a more subdued and minimalist look with white or cream. You can wrap the ribbons around the tree trunk, or tie them in bows and drape them over the branches.
10. Presents in Your Minimalist Christmas Tree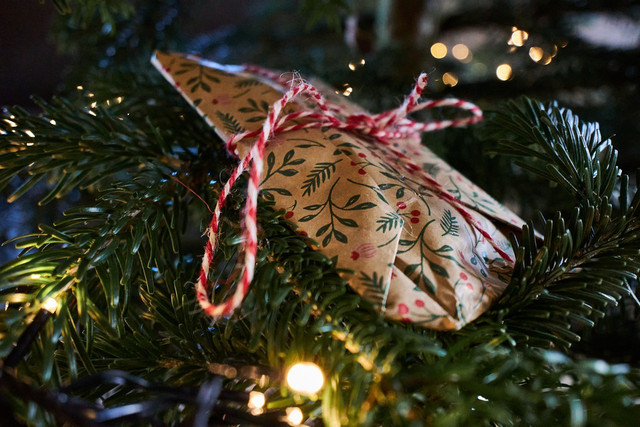 Did you know that in the 1800s Christmas presents used to be hung on the tree? There are many ways to hold gifts on a tree, such as using ribbons or simply hiding them among the branches. Not only is this a unique and stylish way to decorate your Christmas tree, but it's also a great way to save money. Instead of buying expensive ornaments, you can simply use presents that you already have.
This minimalist decor adds a touch of mystery and intrigue and is a great way to make sure any tiny presents don't get lost in the pile beneath. Here are some tips for decorating your minimalist Christmas tree with presents:
Choose presents that are similar in size and shape.
Wrap your presents using neutral-colored paper.
Use twine or a single color of ribbon to hang any presents from branches.
11. Minimalist Christmas Tree With LED Lights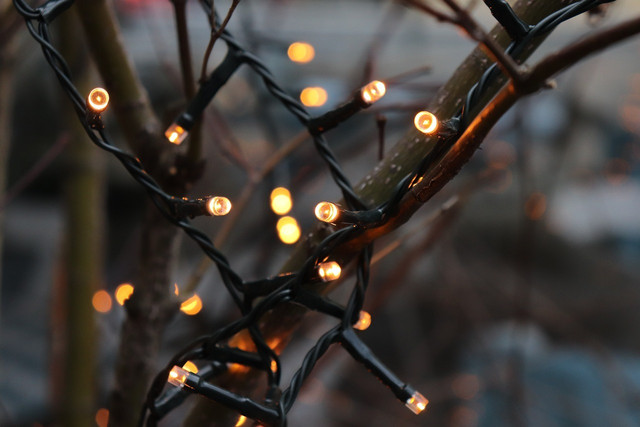 While LEDs are the more eco-friendly option for lighting all year round, consider skipping the ornaments and just decorating your Christmas tree with LED fairy lights for a cozy minimalist look instead. LED lights use less energy than traditional incandescent bulbs, so they'll help you keep things eco-friendly and save you money in the long run.
If you think you'll miss the warm glow of incandescent, there are plenty of options for warm-colored LEDs. Plus, they're much more durable, so you won't have to worry about replacing them as often. Check out our guide on recycling Christmas lights for more information.
So if you're ready to deck the halls with some holiday cheer, make the switch to LED Christmas lights. Your wallet and the planet will thank you.
12. Small Potted Tree
The perfect fit for small homes or temporary accommodations, small potted Christmas trees are the ultimate minimalist option for decoration. Being smaller, it is far less likely that you will be inclined to overload it with unnecessary and gaudy decorations.
Finding the perfect place for it in your home is a cinch, you can even change up its position halfway through the holiday season if you decide it's in the way. Small potted Christmas trees are also just naturally eco-friendly and minimalist. If you choose a real potted tree, you can replant it after the holidays are over.
Read more:
** Links to retailers marked with ** or
underlined orange
are partially partner links: If you buy here, you actively support Utopia.org, because we will receive a small part of the sales proceeds.
More info
.
Do you like this post?
Thank you very much for voting!