These eco-friendly concrete options are inexpensive alternatives to traditional concrete, which is hard on the environment. Here are the best sustainable concrete alternatives.
As we grapple with the pressing challenges of climate change, sustainability is becoming increasingly relevant. Across all sectors, industries are realizing the necessity to adapt and shift towards more eco-friendly practices. One sector where this change is deeply needed is construction.
Concrete, the mainstay of modern construction, has a heavier environmental footprint than many realize. Due to its strength, durability and longevity, concrete is a popular material in the construction of buildings, pipes, pillars, pavements and floor slabs. However, it comes with a hefty ecological price tag.
But here's the silver lining: innovative, sustainable concrete alternatives aren't just concepts in a lab — they're making their way into everything from towering buildings to smaller-scale DIY projects, offering a beacon of hope for a sustainable construction future.
Whether you're planning a garden renovation, brainstorming a household DIY project or undertaking a major home renovation, these sustainable concrete alternatives could be the game-changer you've been looking for.
Also interesting: What Are Sustainable Building Materials and Why Are They Important?
What Is Concrete Made Of? What's the Problem?
At its most basic, concrete is a mixture of an aggregate material (usually sand and gravel), water and a binding agent (typically Portland cement). The cement acts as a glue, binding the aggregate into a rock-like mass once the water is added. This mixture can be poured into molds or forms of various shapes, allowing it to harden into nearly any form required, from building foundations to pillars and pavements.
When the concrete mix dries and hardens, it forms a stone-like, sturdy material resistant to compression and environmental factors like weather changes. This is why it's become such a fundamental part of modern construction.
The Problem With Traditional Concrete
Despite its popularity in construction, concrete comes with an environmental cost. It's akin to a heavyweight champion in terms of its impact, packing quite a punch when it comes to greenhouse gas emissions. With concrete production responsible for approximately 8% of global carbon dioxide emissions, it's clear that this construction mainstay is anything but green.
But it's not just about the CO2. Concrete's insatiable appetite for raw materials is another environmental concern. Its primary ingredient, limestone, is extracted from the Earth in massive quantities, making concrete production a significant player in resource depletion. While limestone is still relatively abundant, it's a finite resource, and the increasing demand for concrete could put pressure on our natural reserves.
In addition, once it's set, traditional concrete doesn't break down naturally. This means that when demolished or worn out, concrete structures create significant waste that can't be easily reabsorbed into the environment. This lack of biodegradability contributes to our growing global waste problem.
However, don't let these sobering facts turn you off construction completely. There's a whole world of eco-friendly concrete alternatives out there. So let's dive in and discover the greener future of construction with these sustainable concrete options.
1. Sustainable Concrete Alternatives: Bamboo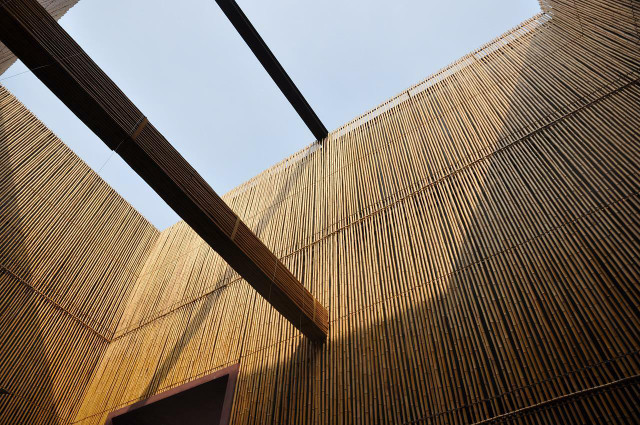 Bamboo is a practical concrete alternative. It is robust, lightweight and structurally sound. It is also environmentally friendly, as it is a renewable material source, and bamboo grows quickly. It can also replace concrete altogether in constructing some smaller-scale buildings and shelters.
Learn more: 5 Surprising Uses for Bamboo
2. Wood
Wood has been used as a building material for centuries — and for good reason. Wood is strong and much lighter than concrete, making its carbon footprint much lower than concrete in terms of vehicle and tool use. It can also be recycled or sourced from recycled materials.
3. Ferrock
Ferrock is composed of steel waste dust and ground silica glass. It absorbs carbon dioxide during manufacturing, making it a carbon-neutral alternative to concrete. Ferrock is also flexible, making it a good building material for construction, as it can bend easily without breaking from compression.
4. Sustainable Concrete Alternatives: Rammed Earth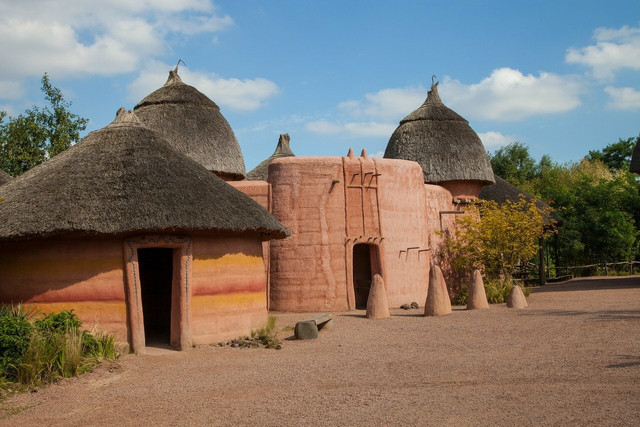 Rammed earth is made by collecting dampened subsoil and compacting it tightly, creating robust and durable building material resistant to the elements. Subsoil is readily available on most construction sites, so producing rammed earth is more carbon neutral than concrete and far cheaper.
5. Straw Bales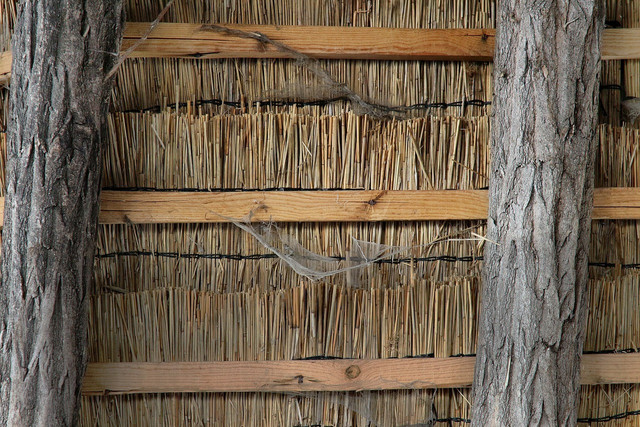 When compacted tightly for construction, straw bales are tough and sturdy sustainable concrete alternatives. Straw bales have strong insulative properties, making them a valuable building material for many climates. Straw bales are more affordable than concrete and comprise more eco-friendly, sustainable and renewable materials.
6. Hempcrete
Hempcrete is made from the waste produced from processing hemp into fiber, which is then mixed with lime and sand to create a sturdy building material that is lighter than concrete and has an equally impressive lifespan. Hempcrete is, therefore, a more sustainable alternative, as lightweight fibers require less effort and energy for transportation and construction.
When grown, hemp also stores lots of carbon dioxide, making it a carbon-negative concrete alternative. Furthermore, hemp is a renewable resource and grows quickly.
7. Sustainable Concrete Alternatives: Grasscrete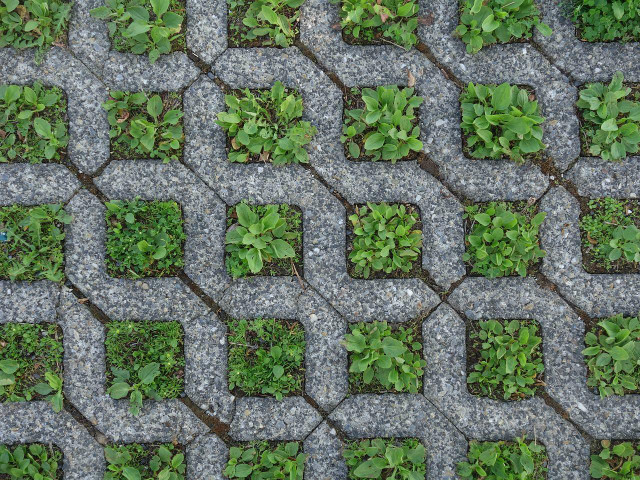 Grasscrete works by creating gaps between concrete slabs to allow for grass to grow. Using grasscrete reduces the amount of concrete needed and promotes the growth of more grass and plants. In turn, these plants absorb more carbon dioxide from the air. So, grasscrete is a more sustainable concrete substitute.
8. Steel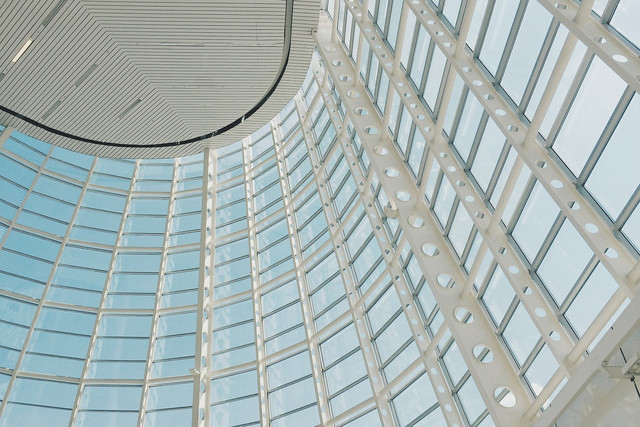 Steel is cheaper and easier to use in construction than concrete. Steel is also easily recycled, as it can be separated into raw materials for reuse.
9. Ashcrete
Ashcrete is made from fly ash, the byproduct of burning coal, and can be easily recycled. This makes ashcrete a more environmentally sustainable and renewable concrete alternative.
10. Sustainable Concrete Alternatives: Timbercrete
Timbercrete is created by mixing concrete with sawdust waste. The result is a building material that is lighter than concrete and doesn't emit as much carbon dioxide during the production process. Timbercrete can be shaped into blocks and used as bricks or paving stones for pathways, driveways and garage floors.
11. Sand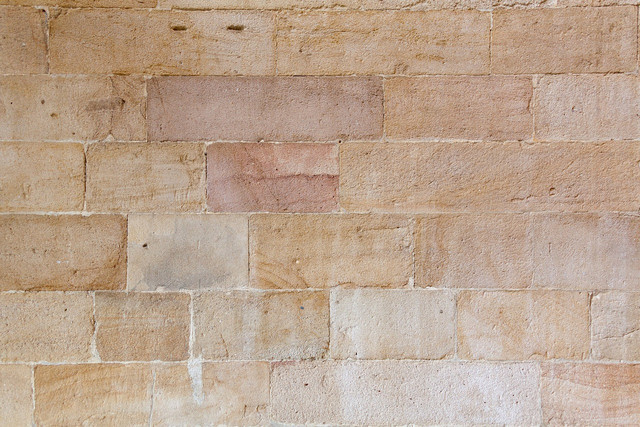 Sand works well as a concrete alternative, in particular for creating pathways. Sand can mimic the look and function of concrete in many DIY home projects. Furthermore, sand is a natural substance and so is a less expensive, more sustainable choice.
12. Papercrete
Papercrete is another sustainable alternative to concrete. It is made by recycling paper waste and adding it to a cement mixture to make concrete. Although papercrete is not 100% eco-friendly (it still uses cement), it reduces the required amount, lowering carbon emissions.
13. Sustainable Concrete Alternatives: Gravel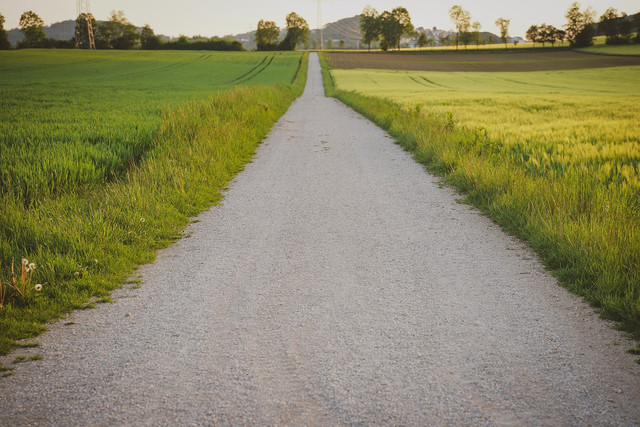 Gravel is inexpensive, easy to use, and is a typically reliable option for driveways or pathways. All types of gravel work are readily available at local home improvement stores.
14. Concrete Debris
While concrete debris does technically use concrete, it reduces concrete production by reusing scraps left over from use and production. This eco-friendly concrete alternative limits the need for additional raw material consumption and saves on landscape space, too.
15. Sustainable Concrete Alternatives: Asphalt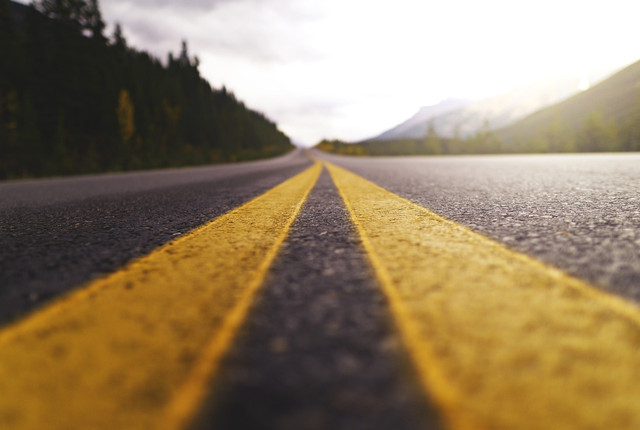 Asphalt uses tar as its main material, not concrete, making it less carbon-intensive than concrete. Asphalt is also cheaper to produce and use, making it an attractive replacement.
16. Aircrete
Aircrete, or concrete with bubbles, is an inexpensive and long-lasting alternative option for driveways, flooring and walls.
17. Mycelium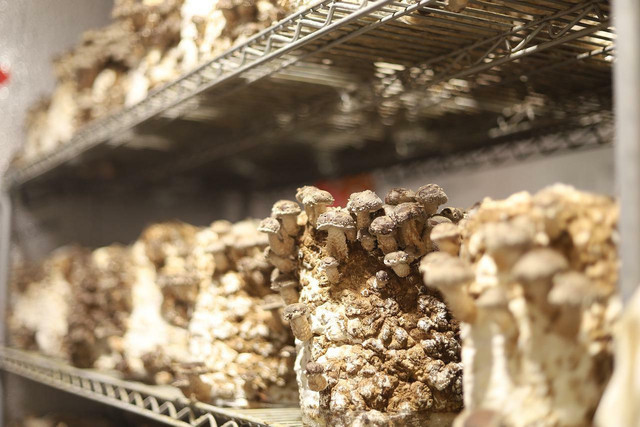 Mushroom mycelium has the structure of mushrooms and fungi and is totally natural. It can be grown in molds to mimic the shape of blocks and can be added to other natural materials, like straw, where it grows around the other substance to make it stronger. Mycelium is a sustainable alternative to concrete as the building blocks are extremely lightweight and renewable.
18. Sustainable Concrete Alternatives: Blast Furnace Slag
Blast furnace slag is a byproduct of molten iron slag from furnaces. Once transformed into water or steam, the waste product is granular and glassy in structure and can be molded into building blocks for construction. The recycling process of iron slag makes this an environmentally-friendly choice.
19. Micro Silica
Micro silica is a byproduct of silicon and ferrosilicon production. It is a fine powder that can replace a portion of cement. Micro silica increases the durability of concrete and reduces the volume of cement needed to make it, thus minimizing carbon dioxide released into the atmosphere.
20. Sustainable Concrete Alternatives: Plastic Waste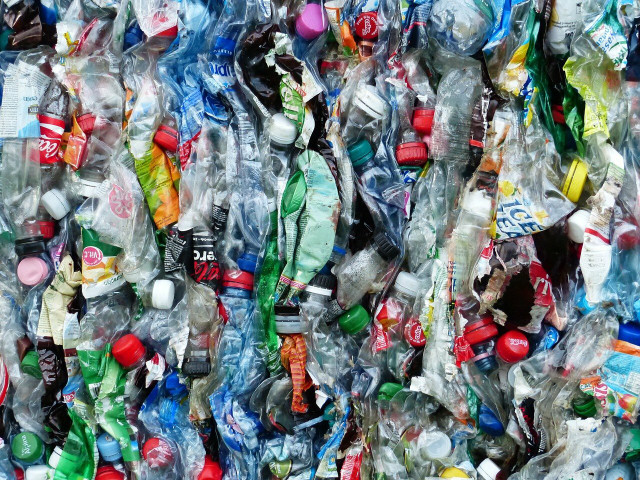 Plastic waste is everywhere. While it is not, it can be made into pellets for building blocks, reducing the need for concrete and repurposing plastic that would otherwise pollute landfills or end up as ocean pollution. Plastic waste is not as strong or durable as concrete but is suitable for smaller-scale construction projects.
Read more:
** Links to retailers marked with ** or
underlined orange
are partially partner links: If you buy here, you actively support Utopia.org, because we will receive a small part of the sales proceeds.
More info
.
Do you like this post?
Thank you very much for voting!