They usually contain the letter V, the color green, and the shape of a leaf in one form or another — the labels of vegan certifications tend to look similar and can be hard to differentiate. We'll explain the six most important vegan labels you should know about and what they promise.
Forget vague slogans like "Vegan Friendly" and familiarize yourself with independent labels to help you find out whether a product contains any animal-sourced ingredients, involves any processing by animals or animal byproducts.
Before you dive into the different types of labels, it may be helpful to consider the differences between a plant-based diet, veganism and vegetarianism. "Plant-based" generally refers to minimally processed foods and other products that mainly consist of plants and is often used synonymously with the term "vegan". Unlike vegan products, plant-based ones may include a limited amount of animal-sourced ingredients, however, the definition varies among different certifications.
1. American Vegetarian Association: "Certified Vegan"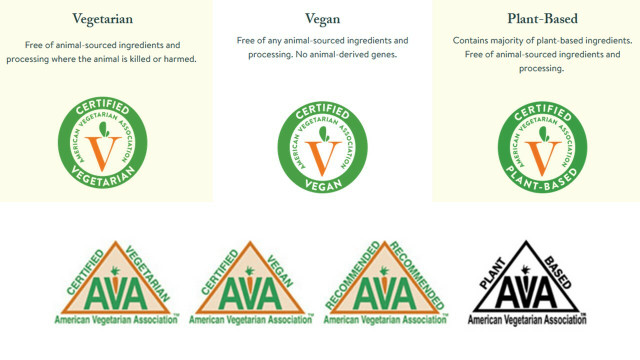 The American Vegetarian Association (AVA) has been around for nearly 25 years and offers multiple certifications for vegetarian, vegan, plant-based and animal-free products.
Product categories: food, beverages, vitamins, skincare, household products and more
Certification criteria: AVA does not certify products with ingredients that conduct active animal testing. Both the plant-based and vegan certification only appear on products that don't require any animal-sourced ingredients or processing. Moreover, the vegan label certifies that a product uses no animal-derived genes.
Certification process: The certification process for these labels is rather simple and the certification is affordable. Fill out an online form, provide an ingredient list and product sample and pay a fee; the certification review takes 5–7 business days once AVA has received all of these items. The label is granted for the duration of one year, after which a company can reapply to extend a product certification.
What the labels look like: An orange "V" with two green leaves at the top (like a carrot) inside a green circle with the words "certified" at the top and "vegan", "vegetarian", "plant-based" or "animal-free" at the bottom
Good to know:
There is no indication on the website of any additional testing carried out by AVA beyond the initial documentation and sample, nor that the association assumes any responsibility for the accuracy of the product description.
AVA has worked with companies like Taco Bell, Starbucks and Danone — none of which are known for selling products that are particularly environmentally or animal-friendly. Such partnerships are also pursued by other vegan certifiers and point to a larger problem: companies may introduce a vegan or vegetarian product and then use labels — or slogans — to make them seem more sustainable than they actually are, in other words, greenwashing.
Read more: What Is Greenwashing and Am I Supporting It?
2. "BeVeg" Vegan Certification
BeVeg is a US-based law firm that offers a certified vegan label. Here's what the label looks like:
Product categories: The scope of the BeVeg certification is very broad as the certificate may be granted to restaurants, manufacturing facilities, co-packing plants and other facilities in the production chain as well as individual products like food, cosmetics or household items.
Certification criteria: this label certifies that a product "is not of animal origin, and that at no stage of the production and processing was there use of or supplementation with any animal ingredients, substrates, processing aides or other substances of animal origin in processed or unprocessed form." BeVeg also stipulates that there should be "no cross-contamination with animal contaminants at the facility level," and "no animal exploitation or testing that would cause animal suffering, on the final product, and as far as practicable in the supply chain."
What the label looks like: A white circle with a green triangle in the middle and the letter "V" on top of it. It says "vegan" at the top and "BeVeg!" at the bottom.
Good to know:
BeVeg is the only ISO accredited vegan label in the world. It is an official vegan standard that is applied consistently and audited in about 200 countries. It uses third-party administrators like NSF to guarantee that vegan label claims comply with the BeVeg model.
Once a product has passed all preliminary testing, including lab analysis, onsite inspections and documentation, certification is granted for the duration of one year. In addition, certified vegan products at manufacturing plants and in stores are also subject to random testing during the year.
3. "Beauty Without Bunnies" and "Vegan Approved" by PETA
PETA, the well-known animal rights organization, offers several cruelty-free and vegan certifications. The signature look:
Beauty Without Bunnies Program
Product categories: Cosmetics, personal-care products and household-cleaning products
What's special about it: The certification is free. Once a company has been certified, it can choose to use PETA's global logo to show that its products are "animal test-free" or "animal test-free and vegan" for a one-time licensing fee.
What the labels look like: There are some slight variations between the different types of certifications and between the logos used internationally and those used in the European Union. However, they're all really easy to recognize: The name of the certification appears next to a drawing of a bunny rabbit, whose ears form the shape of a heart. The heart shape has a pink color. Take a look at PETA's website to see for yourself.
There are two types of certifications in this program:
Global animal test–free "recognizes companies and brands that have verified that they and their suppliers do not conduct, commission, pay for, or allow any tests on animals for their ingredients, formulations, or finished products anywhere in the world and that they will never do so in the future."
Global animal test–free and vegan "recognizes companies and brands that meet the same requirements and whose entire product line is free of animal-derived ingredients. These companies are truly cruelty-free." (PETA)
If you want to find companies certified in the Beauty Without Bunnies Program, check out their "cruelty-free" database.
PETA-Approved Vegan
The "PETA-Approved Vegan" certification highlights items made of "vegan alternatives to animal-derived materials, such as leather, fur, silk, feathers, and bone." Unlike the two "Beauty Without Bunnies" labels, this certification needs to be renewed annually and the cost is based on the company's revenue.
Product categories: Clothing, footwear, furniture and home decor items, and accessories including watches, handbags, sunglasses and wallets. You can browse the list of approved vegan brands for more information on certified products.
What's special about it: This certification is a voluntary show of commitment to a vegan lifestyle and does not require product testing. However, in order to be granted permission to use any of these labels, the company's CEO is personally required to sign a statement of assurance, which is a legally binding document. It is a chance for companies to publicly demonstrate their commitment to vegan products. The animal rights organization does support product testing and offers advice on testing facilities.
What the label looks like: Two large curly braces framing the name of the label "PETA-approved Vegan" in a sans-serif font. The letters are capitalized and the font of the word "VEGAN" is extra large.
4. Certified Vegan by Vegan Action
What is looks like:
Vegan Action is a US-based nonprofit organization that was founded in the 1990s and strives to "eliminate animal suffering, reduce environmental impacts, and improve human health through a vegan diet." Their label, Certified Vegan, is among the more common certifications: The organization states that it has worked with over 1,500 companies in getting more than 15,000 products certified.
Product categories: Certified Vegan is focused on individual products and does not certify entire companies, manufacturers or distributors like farms, kitchens or restaurants. Companies seeking certification must pay an application fee as well as a licensing fee.
Where it's available: "Certified Vegan" is available internationally. However, companies applying for the certification must be based in the US and its territories, Canada, Australia or New Zealand, so it may be more common there.
Certification process and criteria: The label is based on ingredients, animal testing and processing: Certified Vegan items may not contain any animal products, must involve no animal testing of the ingredients or finished product as well as no animal GMOs — although non-animal GMOs are permitted. In order for a product to become certified, these requirements must be verified by the manufacturers of the ingredients. Vegan Action does not state whether it carries out any additional independent testing.
What the label looks like: The round logo is easy to recognize. It is white with a big black heart and a white "V" in the middle. The heart shape is surrounded by the words "Certified Vegan" and "Vegan.org"
Also interesting: Is Beeswax Vegan? The Gist of the Debate (+ 5 Vegan Alternatives)
5. European Vegetarian Union: V-Label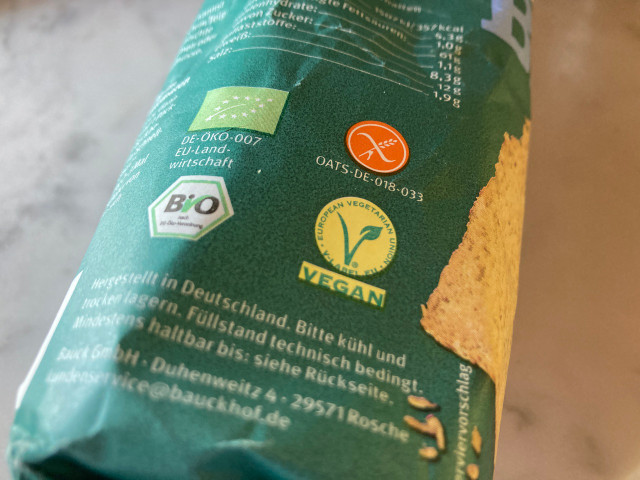 As the name indicates, the European Vegetarian Union (EVU) advocates for a plant-based lifestyle in Europe. The nonprofit serves as an umbrella organization of vegan and vegetarian associations and societies throughout the continent. Together, they represent the interests of vegan and vegetarian Europeans.
It is important to note that the organization is not associated with the European Union, however, it puts the issue of plant-based consumption on the EU political agenda, focusing on the topics of health, nutrition, consumer protection, sustainability and environmental issues.
Product categories: Food, cosmetics, fashion and textiles, cleaning agents, gastronomy, and non-food, which includes printing shops, books, phones, candles, tattoo parlors, beauticians, and hairdressers
Certification process: The European Vegetarian Union carries out regular audits of any certified products. In order to license a product, companies must submit to an inspection by the V-Label team and hand in a self-declaration stating all components of a product as well as those used during processing are vegan or vegetarian. The European Vegetarian Union also states that it carries out regular audits of any certified products.
Certification criteria: both the vegetarian and the vegan label take into account all production and processing steps. The vegan label excludes all products derived from animals as well as the use of animals during cultivation or harvesting. In addition, products declared as containing genetically modified organisms and products containing eggs from caged hens cannot be certified under the V-Label.
Where it's available: Through its "International Vegetarian Union" initiative, the EVU is also active beyond Europe. The V-Label is highly recognizable, appearing on more than 50,000 products worldwide. As stated by the organization, it is "Europe's only independent label in the 'vegan' and 'vegetarian' categories."
What the logo looks like: It is bright yellow, in the middle there is a "V" that looks like a plant with a little leaf on one side. It is framed by the words "European Vegetarian Union". Below, it says "Vegan" or "Vegetarian".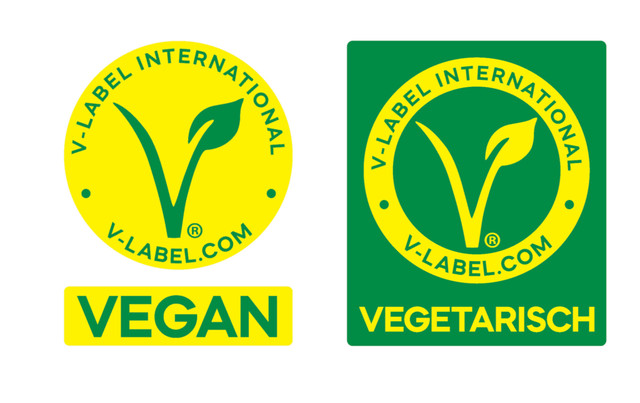 Good to know: Like other certifications listed above, the V-Label covers the period from harvesting, but not the fertilizers that were used on the soil. The EVU does encourage the use of raw materials grown from vegan, organic agriculture to avoid fertilizers containing animal-derived ingredients.
6. Vegan Farming Label: Biocyclic Vegan Quality Seal
Here's what it looks like:
Finally, we want to introduce another certification with a slightly different focus: the Biocyclic Vegan Quality Seal is a vegan farming certification specifically aimed at plant-based organic farming. This is what makes the biocyclic vegan cultivation model unique — other labels consider the production cycle of individual items starting with the harvest. The biocyclic vegan quality seal specifically considers the entire farming operation beyond harvesting.
How it works: Like the V-Label, this international certification system consists of a vast network of organizations working to advance animal rights and veganism, including groups, private citizens, businesses, and institutions in the fields of agriculture, processing, trade, and science.
Who's behind it: The system is managed by the Germany-based Adolf Hoops Society, who published a "Biocyclical Vegan Standard" in 2017, detailing their vegan farming principles. These guidelines have since become a global standard for vegan organic farming recognized by the International Federation of Organic Agriculture Movements (IFOAM), which strives to build ecologically, socially and economically sustainable systems worldwide, based on the principles of ecological agriculture.
Certification criteria: Biocyclic vegan cultivation of crops "excludes all commercial livestock farming and slaughtering of animals and does not use any inputs of animal origin," as the organization states. No synthetic chemical pesticides or fertilizers may be used in organic vegan farming, just like in "regular" organic farming. Genetic engineering is also prohibited. Beyond these criteria, this vegan certification model is focused on promoting biodiversity and preserving soil quality, for instance through the careful cultivation of the soil without the use of animal fertilizers.
Certification process: To grant certifications, the Adolf Hoops Society partners with CERES, an international inspection and certification body for organic food, sustainable textiles, food sustainability, and climate and environmental standards.
What the label looks like: The logo has a dark green color and looks like a plant growing out of soil — it's a circle with a root ball and three branches with leaves above it.
Besides the certification schemes outlined above, there are many more "vegan" labels that you may come across, especially outside the US. There is no need to know them all by heart, just familiarize yourself with the most common labels you encounter on the products you like to buy and make sure you know what they mean. The descriptions in this article will help you make the distinction between labels that are subject to an actual certification process by an independent party and simple advertising slogans.
Read more:
** Links to retailers marked with ** or
underlined orange
are partially partner links: If you buy here, you actively support Utopia.org, because we will receive a small part of the sales proceeds.
More info
.
Do you like this post?
Thank you very much for voting!