For a long time, vegan leather was mostly made from plastic, felt stiff and was generally uncomfortable to wear. But today, there are several new kinds of vegan leather, which make beautiful and cruelty-free fashion possible.
You don't have to be a vegan to decide against buying clothes and shoes made from animal leather. Many people avoid the material, because it often comes at a cost to the environment, and to human rights. Leather is often produced in low-wage countries, where the standards of environmental protection are lower. Toxic chemicals used in processing can make workers sick from constant exposure, and pollute the surrounding ecosystems.
The production of vegan plastic leather isn't much better. It is often produced on the other side of the world using energy-intensive chemical processing. Not to mention the fact that plastic is usually petroleum-based.
Lucky for all of us fashionistas (or fashionistos), designers have been busy in the past few years coming up with new ingenious ways to replace leather with natural materials, without making people, nature or animals suffer.
Piñatex: Vegan Leather Bag Made from Pineapple Leaves
Piñatex is a natural leather alternative developed by Spanish designer Carmen Hijosa and made from pineapple leaves that would otherwise be thrown away after the harvest.
Piñatex is just as durable as leather, but is much more sustainable. Hijosa's startup, called Ananas Anam buys pineapple leaves from Philippine pineapple farmer and sends them to Barcelona, where the fabric is produced in a textile factory. Biomass leftover from the production process can then be further processed into fertilizer or biogas.
For the pineapple farmers, Piñatex means an extra source of income. And as the raw material for the vegan leather does not have to be cultivated separately, it saves resources: no additional land, fertilizers, pesticides or water have to be used.
This Piñatex vegan leather laptop bag from Maravillas is cruelty-free, trendy, and will protect your tech just as well as conventional leather.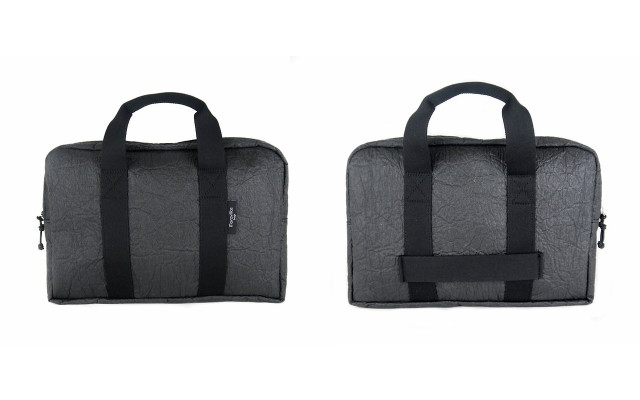 You can find more wallets, belts, and bags made from Piñatex on Amazon**.
Frumat: Vegan Leather Bag Made from Apple Fiber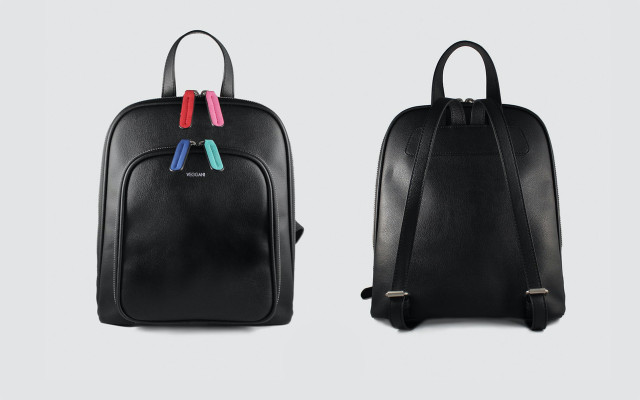 Tyrol, a region in the north of Italy, is known for its apple production. But because of that, every year, there is a significant amount of fruit waste.
To address this problem, an Italian-based company called Frumat is using the skin and cores of apples to make cellulose-based, vegan leather. The material is durable, water-resistant, and made from 50% apple fiber.
Vegan leather made from apples is now being used by sustainable vegan brands like Veggani in Philadelphia to make cruelty-free bags. Veggani even donates a portion of their profits to a local school in Laos, and to bestfriends.org, the largest no-kill sanctuary for companion animals in the United States.
Vegan Leather Jacket Made from Cork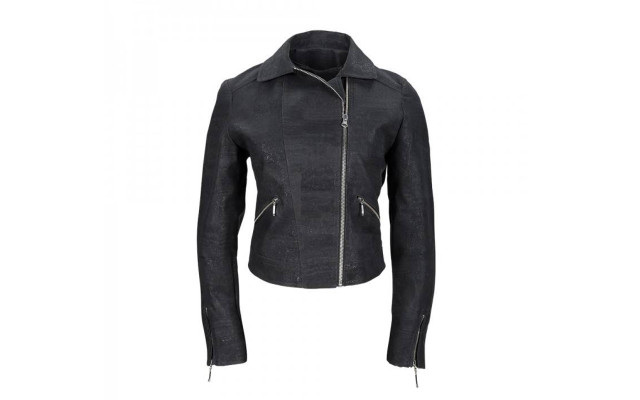 Who ever thought cork could look this good? Unfortunately, fashion made of cork is hard to find in the United States. Not in Europe: In Portugal, cork has long been used to make wallets, shoes, bags, hats, and even umbrellas. Bands like the German Fair Fashion label Bleed have been making vegan leather clothing like this sleek vegan leather jacket for years.
Cork is an almost perfect natural material: it's light, water-resistant, breathable but insulates well, and is almost as tough as leather. In contrast to the production of conventional leather, the extraction of cork is relatively sustainable: taken from the bark of a particular species of oak tree, cork is a naturally renewable raw material, and is harvested without cutting down any trees.
Since bottle corks are now often replaced by plastic ones, the use of cork in this case also has a social component. Bleed writes that vegan leather made from cork "gives Portuguese farmers in the Montado region a new perspective for the preservation of their threatened cork biotopes."
Eucalyptus Fiber Leather Alternative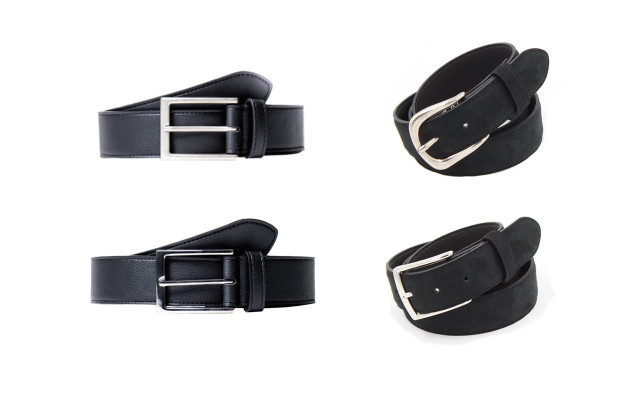 A small German startup called Noani produces vegan leather belts made from the fibers of eucalyptus leaves. The idea came to founder Fabian Stadler when he realized how truly terrible the conditions of leather production are.
The eucalyptus fibers used by Noani are cultivated sustainably and organically – without genetic manipulation or the use of pesticides. Material made from eucalyptus fiber "has an unsurpassed strength profile and at the same time requires little water and energy."
For Stadler, transparency in the production process is a priority. All of the steps in the production process – from the fiber to the belt – can be traced. In addition, the company follows the core norms of the International Labour Organization (ILO), whose standards exist to protect the rights of workers.
Utopia's tip: Most of the products we showed you have to be imported and shipped a long distance. If you find a regional and fair product made of non-plastic vegan leather, be sure to buy that instead – and tell us in the comments.
This article was translated from German to English by Christie Sacco. You can read the original here: Kork, Pilz, Ananas: Daraus besteht veganes Leder
** Links to retailers marked with ** or
underlined orange
are partially partner links: If you buy here, you actively support Utopia.org, because we will receive a small part of the sales proceeds.
More info
.
Do you like this post?
Thank you very much for voting!