So, is bread vegan? In many cases, yes. We'll show you a couple common vegan bread brands, what to look out for when buying and how to make your own with a great vegan bread recipe.
In short: Yes. According to PETA, bread is typically vegan. However, this is no excuse not to take a closer look at ingredients labels. While certified vegan breads are the safest bet, there is more to consider.
In this article, we'll introduce you to some of the most common types of vegan bread and give you some tips on scoping out the best vegan bread brands at the supermarket. For those at home in the kitchen, we've also included some vegan bread recipes to keep you busy.
When is Bread Vegan?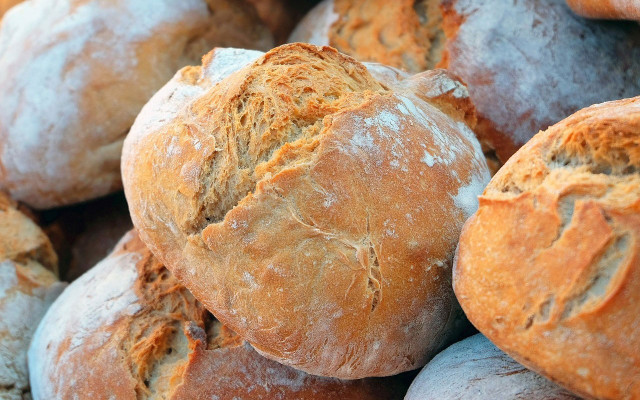 The vegan rule to buy by is: Any bread products which contain eggs, honey, royal jelly, gelatin, or dairy-based ingredients (i.e. milk, butter, buttermilk, whey, or casein) aren't vegan. Another easy way to help tell vegan from non-vegan is by the degree of processing involved in production. Less processed foods are more likely to be vegan.
In its most basic form, a (naturally vegan) bread recipe is made up of flour, water, salt and yeast. Yeast is a natural ingredient added to help bread rise and is therefore vegan. In addition, manufacturers often add some of the non-vegan ingredients mentioned above (such as milk or honey) as sweeteners or fats in order to modify flavor and texture.
Utopia's tip: How to Make Yeast: Preparing and Propagating Wild Yeast
Many types of flatbreads, savory and dry types of bread tend to be vegan. Here's a list of some commonly vegan breads you're probably already familiar with:
Sourdough
Pita
Ezekiel
Baguette
Focaccia
Ciabatte
Mexican flour tortillas
Western Asian lavash flatbread
Some common types of traditionally non-vegan bread to avoid are any breads made with honey (e.g. honey wheat), naan bread (made with eggs and milk), biscuits (produced using butter and milk) and crumpets (a milk product).
Is My Bread Vegan? Popular Vegan Bread Brands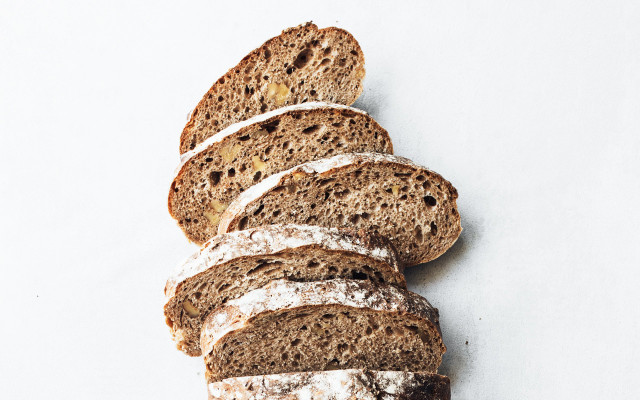 On your next grocery run, be sure to keep your eyes out for food labels such as the Certified Vegan Logo on your favorite bread products. Take things one step further by only buying USDA Organic and enjoy sustainably produced breads from seed to slice.
PETA has compiled their own list of vegan baked goods by brand which include an array of tasty flatbreads all the way to English muffins. Here are a number of reputable vegan bread brands you should know about:
Arnold Bread advertizes simple recipes with "no added nonsense". Their vegan bread selection spans the following items: Bakery Light—100% Whole Wheat, Brick Oven—Premium White, Healthfull Nuts & Seeds, Real Jewish Rye [Everything, Marble Rye, Melba Thin, Pumpernickel Rye, Seeded, and Seedless], Premium Italian, and Stone Ground—100% Whole Wheat). You'll also find a vegan option in Arnold Pocket Thins Flatbread (8 Grain, Italian Herb, and 100% Whole Wheat), Arnold Rolls (Dinner, Potato Hot Dog, Steak, Wheat Hot Dog, White Hot Dog, White New England Hot Dog, Potato Sandwich) and Arnold Sandwich Thins Rolls (Everything, Flax & Fiber, 100% Whole Wheat, and Multi-Grain).
Bloomfield Farms is a 100% gluten-free company also known for their vegan sandwich bread.
Add breakfast bagels to your list of vegan bread brands with: Thomas' Bagels (Limited-Edition Banana Bread, Blueberry, Cinnamon Swirl, Cinnamon Raisin, Everything, Onion, Plain, Plain Made with Whole Grain, and 100% Whole Wheat), Thomas' Bagel Thins Bagels (Plain, 100% Whole Wheat, Cinnamon Raisin, and Everything), and Thomas' Mini Bagels (100% Whole Wheat, Blueberry, Brown Sugar Cinnamon, Cinnamon Raisin, Plain, and Plain Made with Whole Grains)
Vegan Bread Recipe: How to Make a Tasty Fennel and Coriander Herb Bread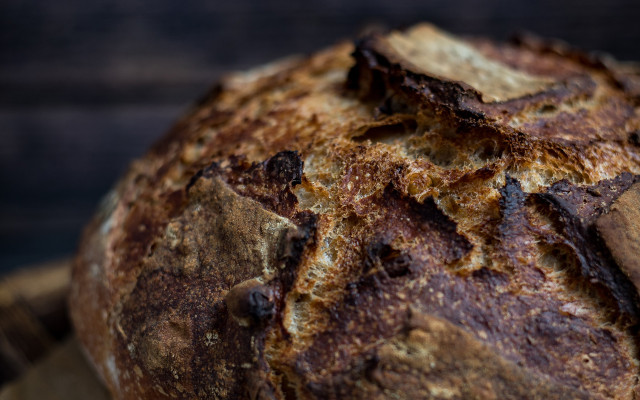 For this tasty vegan bread recipe, you'll need the following ingredients:
1 oz. fresh yeast
1 tsp. sugar
1/2 tsp. fennel pollen spice (or ground fennel seeds)
1 tsp. coriander seeds
1 1/2 cups wholewheat flour
1 2/5 cup wheat bran
2 1/2 rye wholemeal
1 3/4 vegan margarine (soft)
3 tbsps. of molasses
2 tbsps. wine vinegar
1 1/2 tsp salt
Here's how it's done:
Crumble the yeast and dissolve it together with the sugar in five tablespoons of lukewarm water. Leave the mixture to stand for ten minutes.
Crush the fennel pollen/ground fennel seeds and coriander seeds with a mortar.
Grease a bread pan (12 inches wide) with some margarine and then dust it with some flour.
Combine the flour, bran and wholemeal in a large bowl and mix the ingredients well.
Now add the margarine (in pieces), molasses, salt, vinegar, the fennel and coriander mixture and finally the yeast mixture, as well as one cup of lukewarm water.
Mix the ingredients with the dough hooks on your hand mixer. Then knead the dough with your hands once again.
Form an oblong loaf from the dough and put it into the greased bread pan. Slightly scratch the surface of the dough with a sharp knife.
Leave the dough to rise covered in a warm place for about an hour. The volume of the dough should approximately double.
Now place the bread in the oven at 320°F/160°C with circulating air. To ensure the dough doesn't get too dry, you can put a cup of water on the bottom of the oven.
Let your vegan bread bake for around 45 to 50 minutes. Once finished, remove from the pan and let it cool down completely on a cake rack.
Easy Bread Recipe: 1 Hour Prep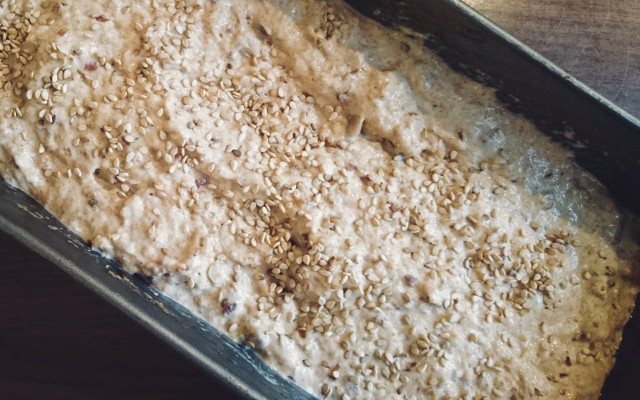 This quick and easy bread recipe is ready in an under an hour. Give spelt bread a try.
For this easy vegan bread recipe, you'll need the following ingredients:
4 1/3 cups of flour
½ cup sunflower seeds
1/3 cup whole flax seeds
1/3 cup sesame seeds
½ package of fresh yeast or 1 package of dry yeast
2 tsp. salt
2 tbsp. fruit vinegar (apple cider vinegar)
4 ¼ cups of lukewarm water
+ mixing bowl, hand mixer (with dough hooks) and a baking form
If you can, be sure to use organic ingredients whenever possible. Organic products contain fewer traces of pesticides.
Here's how to make your own bread from scratch:
Simply mix flour, seeds, salt and yeast by hand. Feel free to add any additional spices as preferred.
Add the fruit vinegar and water, stir together once more (this time using a hand mixer).
Thoroughly knead the dough one final time.
Grease the bread pan with a bit of oil and add your dough.
Sprinkle a handful of sesame seeds over the lot and it's off into the (cold, not yet heated) oven.
Set your oven to 390°F and let the bread bake for around 50 minutes. The time it takes your oven to warm up is enough to let the dough rise.
Once the 50 minutes are up, turn the oven off and leave the bread in the heated oven for another 15 minutes. Your bread is done – congrats!
This article was translated from German to English by Evan Binford. You can view the original here: Veganes Brot: Diese Sorten sind pflanzlich.
** Links to retailers marked with ** or
underlined orange
are partially partner links: If you buy here, you actively support Utopia.org, because we will receive a small part of the sales proceeds.
More info
.
Do you like this post?
Thank you very much for voting!
[contextly_main_module]