Not a yoga fan? Try out one of these yoga alternatives, from soothing forest bathing to high-energy pilates workouts to adventurous outdoor climbing.
Yoga is a physical, mental and spiritual practice that traces back over 5000 years to northern India. Practicing yoga has become very popular in recent years, and according to 2021 statistics, 36 million Americans practice yoga regularly. Yoga has the ability to focus and calm the mind, by allowing you to slow down and switch off from everyday life, as well as stretching and strengthening your body. However, yoga might not be for everyone, and there are many alternative exercises with similar benefits.
Why Try Yoga Alternatives?
Yoga is a spiritual practice and has its roots in Hinduism. Although many consider yoga more of an exercise program and meditative practice, some religious faiths may feel uncomfortable practicing yoga.
Those with chronic injuries or certain medical conditions may also be put off by yoga, as they may feel that the stretches could set their body back from healing.
For some people, yoga may just not seem interesting, or suit their personal needs when it comes to exercise. Those who prefer more intense workouts and high intensity cardio may find yoga too slow or repetitive.
There are many to ways to bring peace and wellness into your life, as well as improve your physical fitness. Here are eight yoga alternatives that give you similar benefits in a different context.
1. Pilates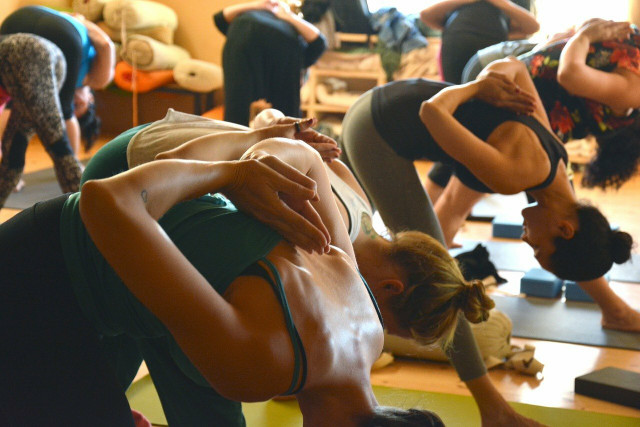 Joseph Pilates first introduced Pilates in the early 20th century. It was created based on the belief that our physical and mental health are deeply connected. Pilates is a rehabilitation exercise that was invented as a form of physical therapy and rehab for soldiers. Therefore, it has many of the same healing properties as yoga.
Pilates is a great yoga alternative for those who want a more intense workout; it is often called "yoga's more athletic cousin." Pilates lengthens and strengthens all of the major muscle groups. Like yoga, it focuses on breathing and meditation to improve strength, flexibility, balance and body awareness. A 2018 study found that practicing pilates resulted in a statistically larger reduction in depressive and anxiety symptoms, as well as feelings of fatigue and low energy.
Pilates is not affiliated with any spiritual practice, so it is suitable for those who feel uncomfortable practicing yoga for religious reasons.
2. Qigong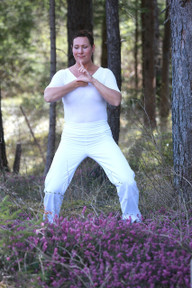 Qigong is a martial arts practice like yoga but originates from Chinese culture and not Hinduism. This yoga alternative is a holistic form of exercise that is aimed at the body and mind, as well as spirituality. For this reason, it has many similar healing properties to yoga, including practicing effective breathing techniques, meditation and controlled body posture. All of these techniques go hand in hand with mindfulness-based stress reduction.
Studies on the benefits of Qigong have found that it has many physical health benefits, including improving bone density, immune function and overall quality of life.
3. Tai Chi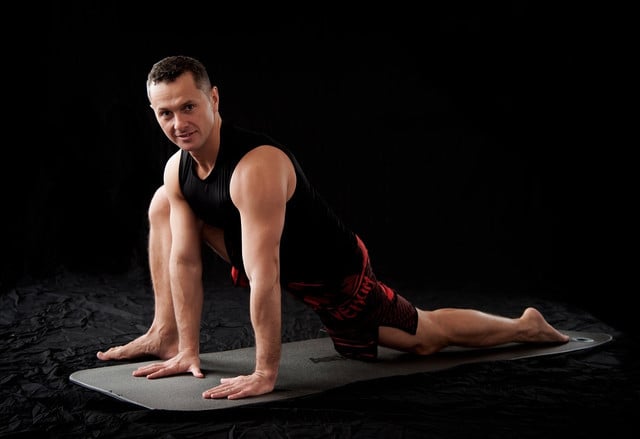 Tai Chi is another great yoga alternative with similar benefits. The practice of Tai Chi lies in ancient Chinese culture and is a type of art that embraces the body, mind and spirit. It involves a series of movements that are carried out in a very slow, systemic way, coupled with deep, rhythmic breathing. A 2019 study by Harvard University concluded that Tai Chi can help you maintain strength, flexibility and balance and could be "the perfect activity for the rest of your life."
If you do not find yoga that appealing, Tai Chi is a great activity to try. In the same way that yoga focuses on the mind, body and energy, the movements you practice in Tai Chi combine all of these elements to improve your posture and balance, as well as to strengthen your muscles.
4. Body Balance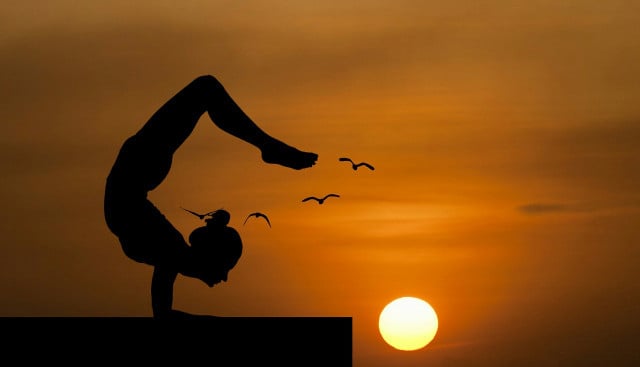 Body balance is a type of yoga-based fitness that focuses on the mind and body, particularly on controlled breathing. The exercise incorporates a series of yoga moves and elements of Tai Chi and pilates, usually with music playing in the background. Body balance has similar health benefits to yoga, including improving your flexibility and increasing your strength while reducing stress levels. A 2021 study on the health effects of pilates, which has a significant role in body balance, shows that it lowers blood pressure, improves back pain and joint mobility, and boosts spine strength.
5. Ballet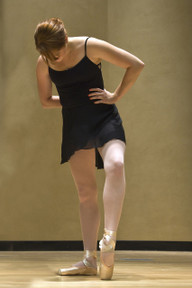 The idea of going to a ballet class may remind you of your childhood, but ballet is not just for kids. Ballet is a great yoga alternative with similar benefits. When practicing ballet, you focus on physical coordination, grace, posture, strength and poise. Similarly to yoga, ballet also focuses on mental strength due to the focus on coordination and precision that is required.
A 2020 study has found that ballet is especially beneficial for older women, as it has many positive physical and mental health impacts and, in particular, helps older women to have a more positive experience with age-related changes.
6. Aerial Yoga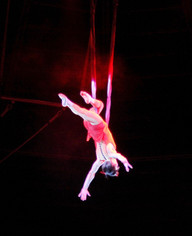 Aerial yoga incorporates traditional yoga poses, pilates and dance with the use of a hammock. A 2016 study by the American Council on Exercise revealed that a 50-minute session of aerial yoga burned an average of 320 calories and had all the cardiovascular benefits of low- to moderate-intensity exercise.
Much like yoga, aerial yoga will push your body to the limits regarding flexibility and physical strength. When practicing aerial yoga, you can create artful air routines. Aerial yoga is a mindful exercise requiring focus and discipline. It has many of the same physical benefits as yoga, including improving your strength, flexibility and balance. It can also help relieve back problems, as hanging in the air puts little pressure on your spine.
7. Cold Water Swimming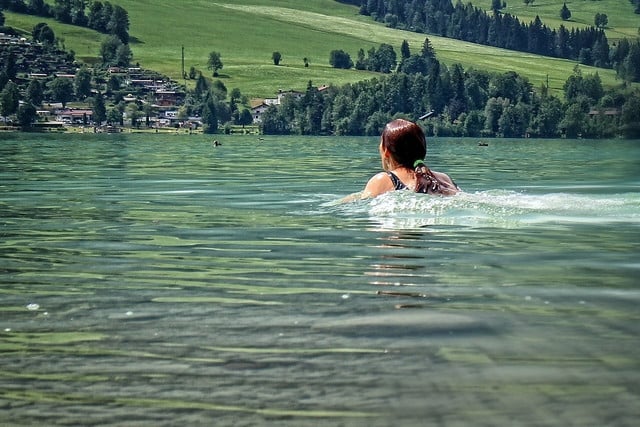 Cold water swimming includes swimming in lakes, rivers and the sea and is an umbrella term for swimming in ice-cold water. A 2020 study shows that the health benefits of this yoga alternative are numerous, including that it has a positive impact on cardiovascular risk factors such as blood pressure, as well as boosting your immune system. This is because swimming works to strengthen your muscles and build endurance, which improves your cardio fitness.
Cold water swimming also has many benefits for your mental health, such as reducing stress. The practice is also just as meditative as yoga, as it allows you to take time for yourself by making the most of your free time and enjoying being in nature.
8. Climbing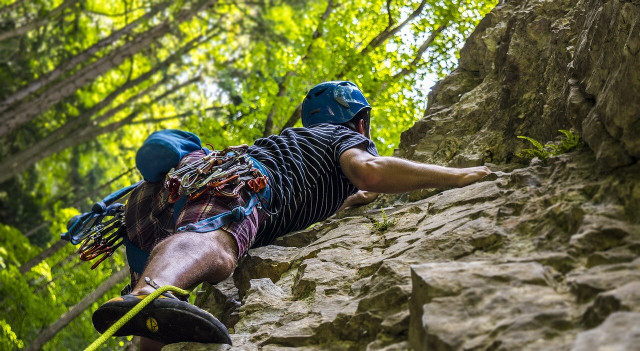 Whether you are climbing indoors at your local rock climbing center or you climb outdoors in nature, rock climbing is a great yoga alternative. Climbing is an excellent form of exercise that improves many aspects of your body and mind in the same way that yoga does. Both climbing and yoga focus on improving flexibility, core muscle strength, and toning muscles. Climbing works every muscle in the body in the same way an all-over yoga routine does. A 2018 study has found that rock climbing has a significantly positive impact on physical fitness, especially among young people.
Both climbing and yoga focus on mindfulness and require strategic and controlled breathing, which can act as a form of meditation as you focus on climbing and forget the stress of everyday life. A 2015 study provided the first evidence that therapeutic bouldering (indoor rock climbing) may offer an effective treatment for depression.
9. Forest Bathing
Forest bathing is a type of mindful walking rooted in nature therapy practice. Originating in Japan (where it is known as shinrin-yoku), it involves slow walks or hikes through forests or other natural areas. The key is to take your time, contemplating nature, focusing on the environment, and paying attention to your breathing and senses. Unlike a typical hike, forest bathing is not about pushing yourself physically or seeking out fantastic views but rather about immersing yourself in the soothing stillness of nature.
Like yoga, forest bathing is a form of exercise designed to calm our minds in tandem with repetitive motion. Research indicates that forest bathing can manage your mood and help prevent stress. An added advantage? It's 100% free — no instructor required.
Read more:
Important Information regarding Health-related Topics.
** Links to retailers marked with ** or
underlined orange
are partially partner links: If you buy here, you actively support Utopia.org, because we will receive a small part of the sales proceeds.
More info
.
Do you like this post?
Thank you very much for voting!