Looking after your skin is not always easy, but making your own homemade lotion has never been simpler. This all-natural DIY recipe is the perfect treatment for dry hands and tired skin.
Homemade lotions are often tricky, especially all-natural ones, as all lotions mix oil and water components — two notoriously unharmonious ingredients. In commercial body lotions, they are combined using an added manufactured emulsifier.
To keep things natural, the following recipe instead uses honey and a formidable amount of whisking to achieve the same effect. Vegans will be glad to know that the honey in this recipe can be substituted with just about any vegan alternative to honey without a hitch.
As the primary ingredient of this body lotion is oil, it may not be suitable for all skin types, especially those prone to oily skin. 
Benefits of Natural Body Lotion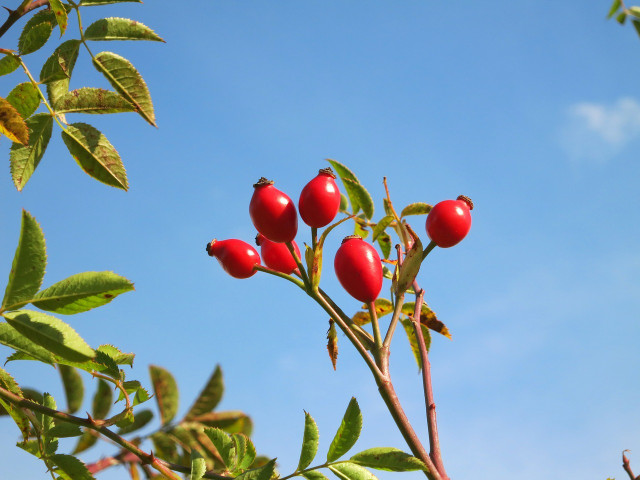 Organic coconut oil is this lotion's primary oil component. Coconut oil has antimicrobial, anti-inflammatory and antifungal properties thanks to its high lauric acid content. Despite there being only a few studies investigating the benefits of coconut oil on skin, all of them seem to confirm historical and anecdotal claims about the oil. Its uses in preventing and alleviating symptoms of skin conditions, such as atopic dermatitis, eczema or psoriasis, are well documented. Organic is always better when buying coconut oil.
The second oil in this recipe is organic rose hip oil, although it is also possible to use avocado oil if you already have some in your pantry. This is because both oils are rich in vitamin A and fatty acids, which may help reduce the appearance of wrinkles, sun damage and hyperpigmentation. However, because of the environmental impact of avocados, we would advise against buying this oil specifically for this recipe. Rose hip is a far more sustainably-produced option, as it can be found nationwide in a wide variety of natural habitats. If you want to source your own rose hips, they are best foraged in the late autumn and early winter.
The last oil, essential oil, is optional, so don't worry if you don't have any to hand. Nevertheless, we would recommend you use an essential oil in this recipe, as this gives you the chance to customize your homemade lotion specifically for your skin needs. Every oil is said to hold different properties, which benefit your skin in their own way.
The water component of this recipe is rose water. While you can usually purchase it locally, we recommend learning how to make rose water at home, which is an easy and more sustainable option. Rose water has been around for centuries as a staple of beauty and health practices across the globe. It continues to be a common ingredient in many natural skin lotions due to its antioxidants and anti-inflammatory properties, which help sooth and tone skin.
What You Will Need to Make Your Homemade Lotion
Equipment:
Measuring cups and spoons
Small pan and a heatproof glass bowl to make a bain-marie
Whisk
Pipette or dropper
Spatula
Sterile, sealable jar for storage
Ingredients: 
5 tsp. rose water
½ cup organic coconut oil
5 tsp. organic rose hip oil 
1 tbsp. locally-produced honey or a vegan honey alternative
10—15 drops of essential oil of your choosing
Makes about ¾ cup lotion. Keeps for up to 12 months when stored in a cool, dry place.
How to Make Natural Homemade Lotion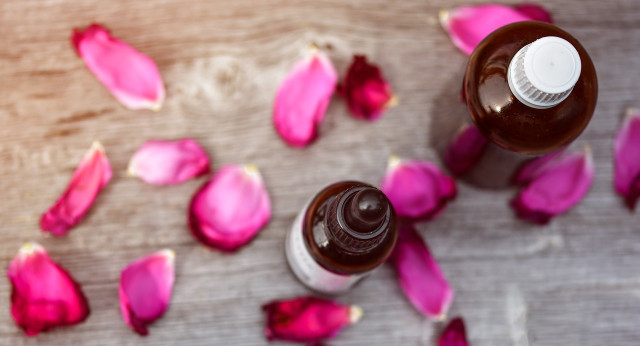 Follow these instructions for an all-natural, customizable lotion.
Gently warm the rose water: In the small pan, start to warm the rose water on the lowest heat. You don't want the rose water to boil, just to be warm enough to melt the oils. 
Melt the coconut oil: Place the coconut oil in the heatproof bowl and place it over the warming rose water. Coconut oil melts at around 78 °F, or a warmer room temperature, and so requires very little heat to liquify. 
Add the rose hip oil and honey or vegan substitute: Once the coconut oil is fully melted and transparent, add the rose hip oil and honey. Whisk well until the honey or honey substitute is evenly distributed through the oils. It is important that the honey be fully incorporated at this stage, as it's the key to binding the oils and rosewater later on. 
Remove the oils from the heat: Turn off the heat and remove the bowl from the pan. Take care when handling the bowl as steam will escape from the sides and could burn you. Place the bowl on a sturdy, heatproof surface ready for whisking.
Add the warmed rose water: Whisk the warm oil carefully and, using the pipette, add a few drops of the warmed rose water at a time. Whisk well between drops until there is no rosewater left. It's crucial to take your time with this step. If you add the rosewater too quickly, it won't fully combine with the oils and honey.
Continue to whisk until the mixture starts to solidify: This can take quite a while, so maybe make sure you have something to watch or listen to as you whisk — perhaps even have a helpful friend nearby who can take over whisking when you get tired!
Add the essential oil: When the mix is almost solid, it should be just about able to form "peaks" when you lift the whisk out. Add the essential oil and whisk to combine. Add more or less oil for a more or less fragrant lotion. The smell of the coconut oil will remain the most prominent scent and will be difficult to overpower without using quite a lot of essential oil. 
Keep whisking until solid: At this point, the mixture should look almost white. While it may seem like there's an awful lot of whisking to do, it is a necessary part of the process as this is a recipe for an all-natural lotion. There are no preservatives or emulsifiers to stop the oil and rose water from separating. By continuing to whisk the coconut oil until it re-solidifies, you are ensuring that the rest of the ingredients will bind to the oils.
Store in a sterilized, sealable Jar: Scoop the lotion out of the bowl and into a jar using the spatula. Store in a dry, cool place out of direct sunlight. If you find that your lotion separates, you can simply reheat the mixture by placing the jar in a warm water bath until semi-liquified, and you can restart the whisking process from there.  
Read more:
** Links to retailers marked with ** or
underlined orange
are partially partner links: If you buy here, you actively support Utopia.org, because we will receive a small part of the sales proceeds.
More info
.
Do you like this post?
Thank you very much for voting!