Concocting your own homemade body butter is a great way to give your skin an extra boost. Keep reading for a simple DIY recipe for how to make your own whipped body butter.
Making your own DIY body butter is a great way to make sure your skin gets all the nourishment it needs without any of the harsher ingredients that your body won't thank you for. Body butter is typically much richer in oils than lotions and creams, and should therefore be used more sparingly to avoid oversaturation on your skin.
As this recipe is for an airy, whipped butter, it's particularly good for helping soothe and heal small wounds and tattoos once they've begun to scab over. Reusing jars and tubs also helps to reduce the amount of waste in landfills and in your home.
DIY Whipped Body Butter Ingredients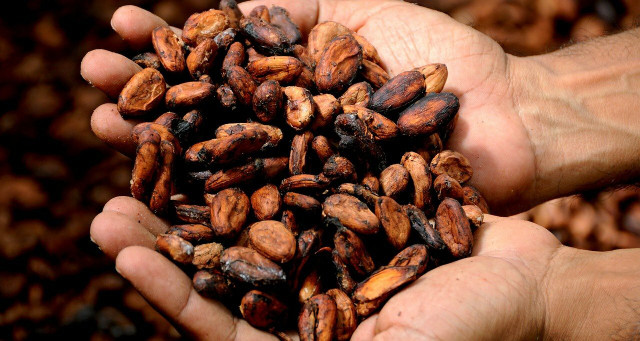 Cocoa butter, also known as Theobroma oil, comes from the cocoa bean. Although its name may be deceiving, cocoa butter is vegan. When used in chocolate manufacturing, it is what gives chocolate that rich and creamy texture. However, it has many other applications, especially for body care products. The natural antioxidants and polyphenols in cocoa butter help guard against harmful UV rays and reduce the skin's oxidative stress. While there is much anecdotal evidence that cocoa butter promotes healing of both stretch marks and scars, there is no scientific evidence of its efficacy in such matters.
However, cocoa products have to be imported from other countries, resulting in long, CO2-intensive transport routes. Furthermore, the production of cocoa with some of the most egregious labor violations in modern history, which makes many cocoa products highly unethical. In order to lessen your individual impact and make conscious decisions when purchasing cocoa butter, always look for products that are Fairtrade certified.
Organic unrefined, or virgin coconut oil, unlike refined coconut oil, undergoes very little processing and contains no additives. For these reasons, we recommend using only unrefined for use on skin, despite the nutritional values of the two types of oil being practically identical. Coconut oil has many health benefits, for skin in particular, its high healthy fatty acids content is great for repairing and protecting damaged skin.
Similarly to cocoa butter, coconut oil is unfortunately often unethically sourced, and its farmers unfairly paid. Again, you should always look for the Fairtrade label when purchasing organic coconut oil. While organically produced products are better for your personal health, promoting the fair and ethical trade of produce through purchasing power benefits a great many more people, and therefore should not be overlooked.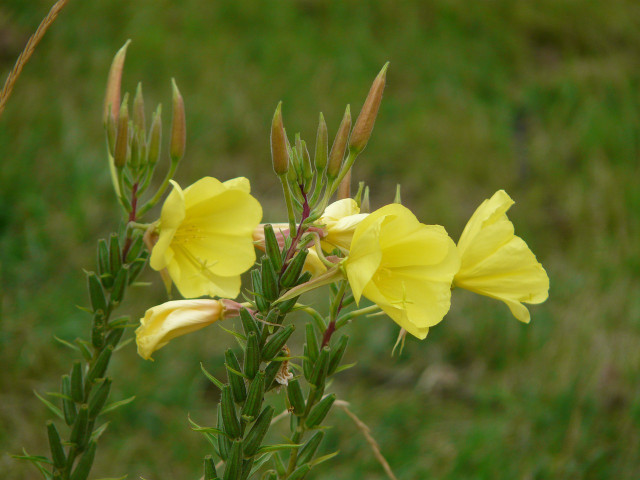 Evening primrose oil is extracted from the seeds of the yellow evening primrose wildflower, Oenothera biennis. It is a rich source of Omega-6 essential fatty acids some of which can help calm inflammation, and it may help ease skin conditions, such as eczema and acne. While it usually comes as a capsule, liquid evening primrose oil can easily be found in most health food stores. Make sure to look for organic and non-GMO labels when shopping for this oil as well as all other products, as pesticides harm ecosystems by contaminating the soil and water that crops are grown in.
Geranium essential oil or any oil you have on hand! While this body butter smells amazing thanks to the cocoa butter, we would recommend you use an essential oil in this recipe nonetheless. This gives you the chance to customize your homemade lotion specifically for your skin needs, as every oil is said to hold different properties, which benefit your skin in their own way. Geranium oil has the reported abilities to soothe symptoms of anxiety or stress, and restore skin. However, no matter which essential oil you decide to use, we always recommend buying certified organic essential oils.
Body Butter Recipe
Equipment:
Measuring cups and spoons
Small pan and a heatproof glass bowl to make a water bath
Whisk
Spatula
Sterilized jar or tub for storage
Ingredients:
3 tbsp. cocoa butter
1 tbsp. organic unrefined / virgin coconut oil
2 tbsp. evening primrose oil
5-10 drops of geranium essential oil
1. Melt Cocoa Butter and Coconut Oil
Add the cocoa butter and coconut oil to a heatproof bowl, and place in a pan with water to create a water bath. Gently warm the two main homemade body butter ingredients together on a low heat in a water bath until just melted. You don't want the water in the bottom pan to boil, just to be warm enough to melt the oil and butter.
2. Remove From Heat
Turn off the heat, remove the bowl from the water bath and let cool until lukewarm. Take care when handling the bowl as steam will escape from the sides and could burn you. Place the bowl on a sturdy, heatproof surface ready for whisking.
3. Add Essential Oils to the Body Butter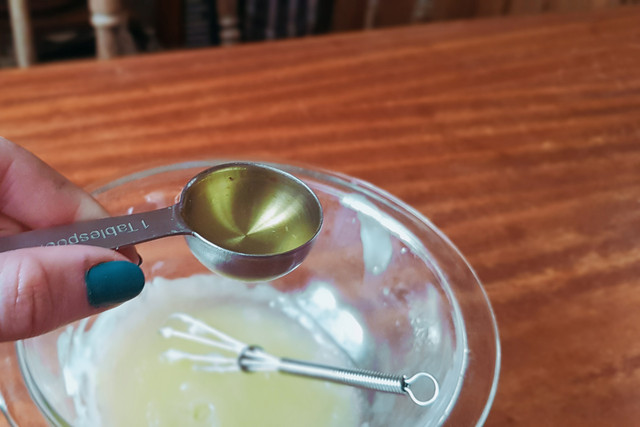 Once the butter and oil have lost most of their translucency, add the evening primrose oil and the essential oil. Whisk well until fully incorporated. Evening primrose oil does not set hard, so it will need to be well distributed through the setting mixture in order to avoid separation.
4. Whip to Combine and Thicken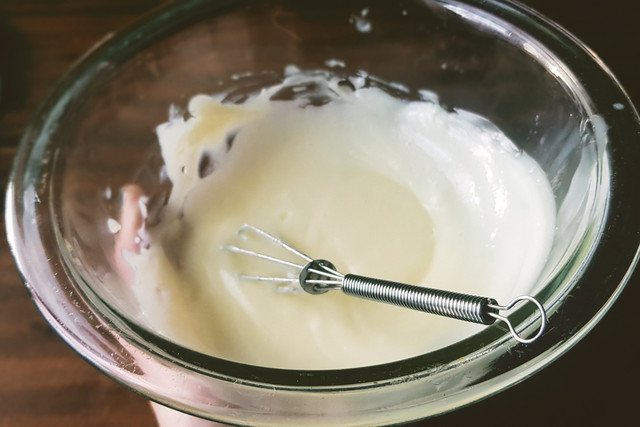 Continue to whisk until the homemade body butter mixture starts to congeal. It will start to look more white and will start to thicken up on the cold edges of the bowl. Due to the addition of evening primrose oil, this particular body butter will not solidify on its own, unless you continue whisking it for several hours.
5. Cool in Fridge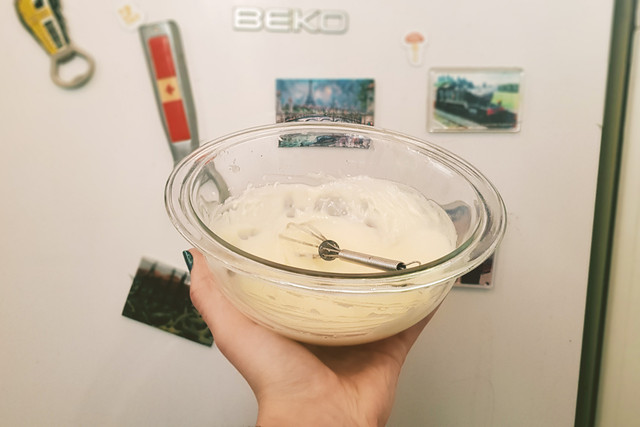 The best and most efficient way to speed up the process of solidification is to place the bowl in a fridge for about 15 to 20 minutes. Remove every 15 minutes and whisk for about 5 minutes. Continue in this manner until the DIY body butter has reached a consistency you are happy with.
6. Transfer to Jar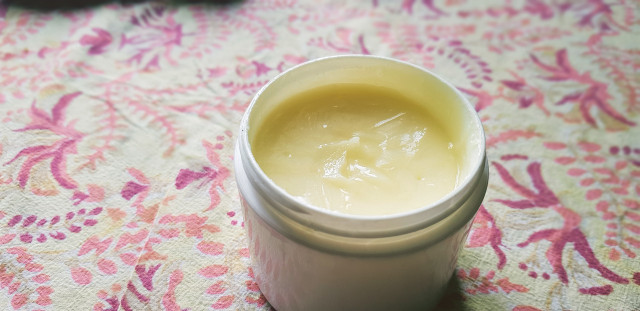 Using the spatula to make sure you're getting all the homemade body butter, place in the jar or tub of your choosing. Store in a dry, cool place out of direct sunlight and away from heat.
Use once per day on extremely dry skin or once per week on to keep skin feeling soft.
Read on:
Important Information regarding Health-related Topics.
** Links to retailers marked with ** or
underlined orange
are partially partner links: If you buy here, you actively support Utopia.org, because we will receive a small part of the sales proceeds.
More info
.
Do you like this post?
Thank you very much for voting!