We'll show you how to make zucchini fries in five different variations – baked, vegan, Korean, gluten-free and air fryer – so you can enjoy a crispy treat while getting your veggies in.
While regular fries are fine to enjoy in moderation, zucchini is good for you and has multiple health benefits, making zucchini fries a more health-conscious choice. These fries are fairly easy to make and only require a few ingredients. On top of that, there are many different ways to prepare them, so you get to choose your favorite! Just make sure to use organic, fair trade and locally-sourced ingredients when possible.
If you find yourself with leftover veggies, you can always freeze your zucchini and save them for a future batch of zucchini fries.
1. Easy Baked Zucchini Fries Recipe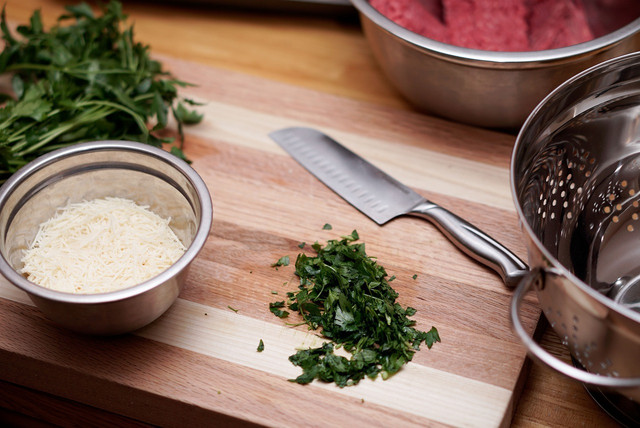 These baked zucchini fries come together in less than half an hour.
Yield: 4 servings
Ingredients:
2 medium zucchini
1 egg
1/4 tsp. garlic powder
1/4 tsp. black pepper
3/4 cup grated parmesan cheese
Instructions:
Prepare baking sheet. Use sustainable substitutes for parchment paper when possible.
Cut zucchini in half lengthwise, then into sticks. Each zucchini should make around 16 sticks.
Beat egg and set aside in a bowl. In a separate bowl, mix garlic powder, black pepper and parmesan.
Dip each zucchini stick in egg, shake off excess liquid and coat with parmesan mixture.
Place on baking sheet and bake at 425°F for around 20 minutes. Make sure to flip after 10 minutes.
2. Vegan Zucchini Fries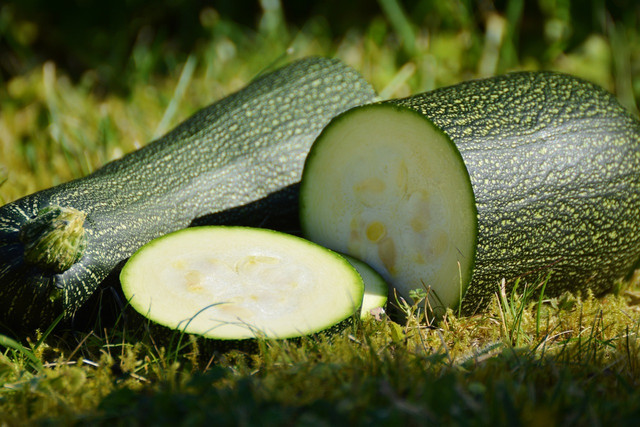 This recipe is completely vegan with no sacrifice in taste or consistency.
Yield: 4 servings
Ingredients:
2 medium zucchini
1 cup plant-based milk (unsweetened)
1 cup all-purpose flour
1 tbsp. mustard
1 tsp. salt
1 and 1/2 cups breadcrumbs
3 tbsp. nutritional yeast
Spices (for example: chili powder, garlic, onion, oregano)
Instructions:
Prepare baking sheet and cut zucchini in sticks (as above).
Mix plant-based milk, flour, mustard and salt and whisk until batter is smooth.
Mix breadcrumbs, nutritional yeast and spices in a separate bowl.
Dip zucchini sticks in batter, then coat with breadcrumb mixture.
Bake for 20 minutes at 425°F, flipping zucchini fries halfway through.
3. Korean Fried Zucchini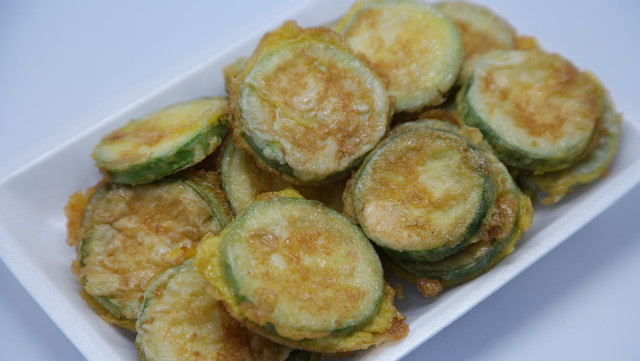 If you are looking to expand your cultural horizons while eating, try this popular Korean side dish — also known as Hobak Jun or Jeon. Unlike the previous recipes, there is no oven required for this one.
Yield: 4 servings
Ingredients:
1 medium-large zucchini
2 tsp. salt
2 large eggs
1/2 cup all-purpose flour
1-2 tbsp. vegetable oil
Instructions:
Cut zucchini in 1/4-inch coins and gather the remaining ingredients.
Sprinkle 1 teaspoon salt over zucchini slices.
Beat eggs and add remaining teaspoon salt. Whisk to combine.
Put flour aside on large plate. Lightly grease pan.
Dip zucchini slices in flour, then coat with beaten egg. Sauté in pan at medium heat for up to 4 minutes until golden brown.
4. Gluten-Free Zucchini Fries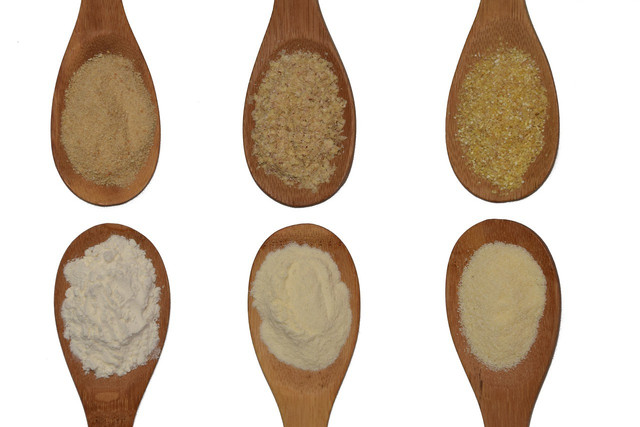 While most recipes require flour, it is easy to make zucchini fries gluten-free. This recipe uses almond flour, but you can also use chickpea flour, buckwheat flour or brown rice flour.
Yield: 2-4 servings
Ingredients:
2 medium zucchini
1/4 cup almond flour
1/4 cup nutritional yeast
1/4 tsp. salt
1/4 tsp. garlic powder
1/4 tsp. ground pepper
1/2 cup plant-based milk
Instructions:
Prepare baking sheet.
Mix almond flour, nutritional yeast, salt, and spices and put in separate bowl.
Cut zucchini into sticks and set aside.
Pour plant-based milk into bowl and dip zucchini sticks, then drop zucchini sticks in seasoning mixture and toss until fully covered.
Bake for 15-20 minutes at 350°F, then flip fries and bake for another 10 minutes until golden.
5. Zucchini Fries in the Air Fryer
An air fryer (available on Amazon**) can be a great way of spicing up your cooking routine. It uses much less less oil than a deep fryer, so is generally considered a healthier option. These ultra-crispy fries will be ready in under ten minutes.
Yield: 4 servings
Ingredients:
2 medium zucchini
2 eggs
1/4 tsp. salt
1/4 tsp. ground pepper
1/4 tsp. garlic powder
1 cup cornflake crumbs (or breadcrumbs)
1/4 cup cornstarch
Vegetable oil
Instructions:
Cut the zucchini into rounds or sticks.
Whisk eggs in a bowl and set aside. Mix salt, spices, and cornflake crumbs in a separate bowl and set aside.
Coat zucchini with corn starch, then dip in egg mixture.
Toss them in cornflake crumbs until fully covered.
Place in air fryer basket in even layer and spray with vegetable oil. Air fry 5 to 10 minutes at 400°F, or until golden brown.
How To Serve Zucchini Fries
Zucchini fries are great for a weeknight dinner, potluck, game day, or your next birthday party. We'll give you some inspiration on how to serve it!
Read more:
** Links to retailers marked with ** or
underlined orange
are partially partner links: If you buy here, you actively support Utopia.org, because we will receive a small part of the sales proceeds.
More info
.
Do you like this post?
Thank you very much for voting!
[contextly_main_module]