Nasturtium flowers grow in beautiful bright orange and yellow, and with their flowing tendrils, make a great addition to any garden. But did you know that nasturtiums are also edible? We'll take a look at the nutritional benefits of this plant and share some recipe ideas. 
Eating Nasturtiums: Recipe Ideas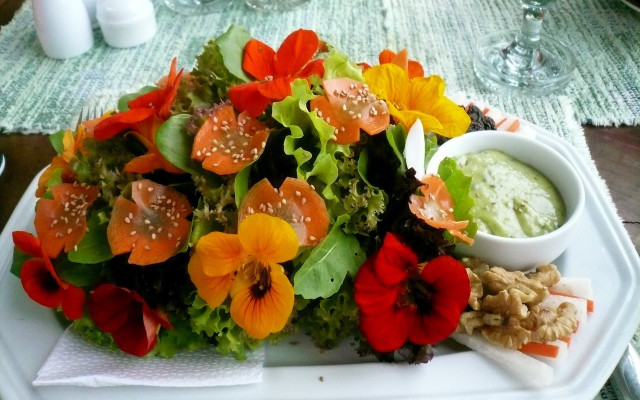 Are nasturtiums edible? Yes, they are! They're one of several types of edible flowers. Not only that, but all parts of the plant can be eaten. In order to maintain the health benefits, nasturtiums are best eaten either pickled or raw.
Flowers: Edible nasturtium flowers have a peppery taste, similar to radishes, and with a mustardy aroma. You can simply pluck them and eat them as a snack, or use the edible nasturtium flowers to garnish salads, soups, and desserts.
Leaves: These have a slightly more pungent peppery flavor, like watercress. Add them to sandwiches, salads or use as a garnish for vegetable dishes. You can also mix them into a green smoothie or chop them into your homemade pesto. 
Buds: Pickle the unripe, still-closed buds like capers. To do this, rinse the buds, boil them briefly with salt, vinegar, and water. Let the boiling hot liquid cool down a bit, then pour everything together into a glass jar and seal tightly while it's still warm. For step-by-step instructions, check out this Nasturtium Capers recipe by The Spruce Eats. 
For more pickling ideas: How to Ferment Vegetables: A Beginner's Guide
Nutritional Benefits of the Edible Nasturtium Flower
Besides being a beautiful pop of color in the garden, nasturtium flowers contain an abundance of vitamins and minerals. Studies have shown that edible nasturtiums are a good source of potassium, phosphorus, calcium, and magnesium as well as zinc, copper, and iron.  
The leaves are said to be a natural antibiotic and high in vitamin C, making them a great way to boost your immune system. Nasturtium flowers also contain vitamin C, along with vitamin B1, B2, B3, and beta-carotene. 
Growing Edible Nasturtiums Flowers in Your Garden
Edible nasturtium flowers aren't easy to find in stores, or at farmers' markets, so if you want to reap the benefits of these blossoms, you're going to have to plant them yourself. Keep in mind, this is a frost-sensitive, annual plant: you'll have to re-plant them every year.
Sowing
Time: It is best to plant the seeds directly in the open ground around mid-May.
Location: The nasturtium is a fairly undemanding plant. Plant it in a sunny or semi-shady location with humus-rich, loose, and slightly moist soil. Nasturtiums grow very quickly; before you know it, this plant will spread out like a carpet in the open and can climb trees, gates, fences, and walls. That means lots of edible nasturtiums flowers in no time!
Planting: Press the seeds into the soil, spacing them 10 inches apart. Keep the soil moist during their germination period, approximately 10 – 20 days.
Tip: Nasturtiums make a great companion plant for cucumbers, squash, radishes, tomatoes, potatoes, and members types of cabbages.
Care
In high temperatures in the summer, the plants will need daily watering. If the nasturtium flowers wither, you can remove them to encourage the growth of new flowers until the first frost. After that, you can collect the seeds and save them to plant again next year.
Harvest
Because nasturtiums grow so quickly, by the end of May the first leaves may have grown large enough to harvest. Starting in early June, the first flowers will appear, and once the plant is in bloom, feel free to harvest some of the buds for pickling. During the summer you will be able to harvest the edible nasturtium plant again and again, because of how quickly it spreads.
This article has been translated from German by Karen Stankiewicz. You can find the original here: Kapuzinerkresse: Wirkung, Anwendung und Anbau der Arzneipflanze
** Links to retailers marked with ** or
underlined orange
are partially partner links: If you buy here, you actively support Utopia.org, because we will receive a small part of the sales proceeds.
More info
.
Do you like this post?
Thank you very much for voting!