We'll take a look at some affordable sustainable clothing – so you can support ethical and planet-friendly fashion, and build a wardrobe that will never go out of style.
Sustainable and ethical are two terms that go hand in hand — if something doesn't meet the criteria for one, it certainly won't meet the criteria for the other.
Fast fashion labels love to advertise their 'eco-conscious' clothing lines, which are often classic cases of greenwashing. These companies rely on people seeing clothes as disposable so they keep buying the latest trends.
Join the slow fashion movement – it's intentional, sustainable, and helps put a stop to mindless consumption. And don't worry, it won't break the bank. We'll show you ten small brands that are making beautiful and affordable sustainable clothing.
Sustainable Clothing: What Does it Mean?
Sustainable fashion is any type of clothing that uses textiles that are manufactured and marketed in a responsible way. The brands do not only take the environmental impacts of their garments into consideration, but also the socioeconomic ones. An ethical fashion brand will have specific intentions in all parts of the supply chain. Just remember, every brand is trying their best — there isn't a perfect one out there.
Affordable ethical clothing may often seem hard to come by. This is because higher quality, organic textiles are used, and everyone along the supply chain is earning a fair wage. Organic crops don't use harmful pesticides, meaning that each crop actually requires more upkeep. When you take planetary health into consideration, paying a few extra bucks doesn't seem like such a bad investment. Let's take a look at some incredible brands making comfortable, sustainable, and affordable ethical clothing. 
Kotn: Affordable & Sustainable Basics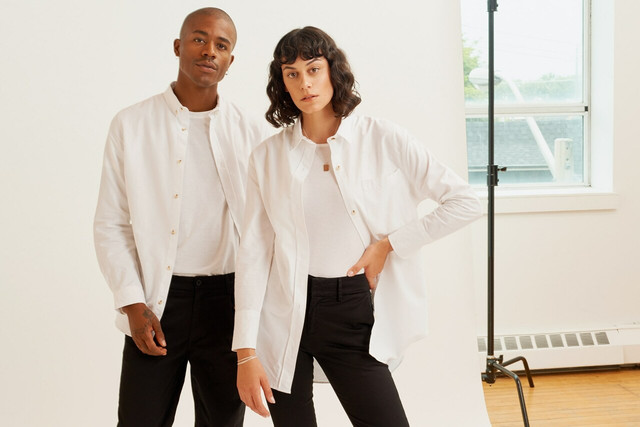 Price Range: $12 – $120 
Products: Mens & Womens Fashion, Home Textiles 
This Certified B Corp has actually earned the fourth-highest B Impact Score of apparel brands in North America. Kotn uses OEKO-TEX® certified non-toxic dyes and plastic-free packaging for their products in order to limit their impact on the environment. They also source directly from the Better Cotton Initiative and small family farms in Egypt with the goal of being certified organic by 2023. In order to best help the communities from which they source their textiles, this company forms direct relationships with their suppliers. This is also why they choose to donate a portion of proceeds to help build schools in the area. All of Kotn's products are designed in Canada and ethically made in either Egypt or Portugal. 
You can find their clothing available for purchase on the Kotn website, or you can visit their New York, Toronto, or Vancouver location.
Pact: Something for Everyone
Price Range: $15 – $120 
Products: Men, Women, Kids, & Baby Fashion, Bed & Bath Textiles 
Every product offered by this Colorado-based company starts with GOTS-certified organic cotton – and if any other material is used, you'll find it listed on the product description. Pact is all for full transparency along the supply chain, which is why they've partnered with Fair Trade certified factories. When it comes to shipping, they offset their carbon emission, and use recycled materials for packaging. As an extra bonus, Pact has also partnered with Give Back Box, meaning you can send your gently worn clothes to them and they'll pass them on to non-profits that need them. 
Shop the Pact website for their amazingly comfortable and affordable sustainable clothing. 
Ethical Clothing from Happy Earth Apparel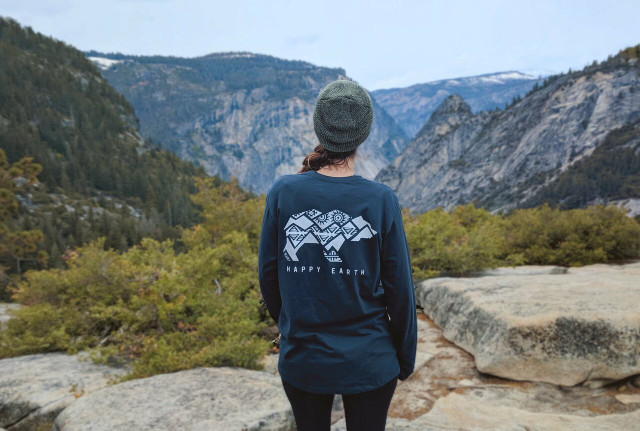 Price Range: $25 – $65
Products: Tops, Leggings, Hats, Beanies & Blankets 
Happy Earth Apparel is another Certified B Corp on our list of affordable ethical clothing. This apparel company is dedicated to being Earth-first, placing sustainability at the forefront of everything they do. They use organic cotton, reclaimed fibers, and sustainable cork. With the purchase of every product, they give back to a campaign of your choice — be it planting trees, cleaning up trash, or combatting climate change. Not only is Happy Earth Apparel climate positive, but they're also cruelty-free, meaning they only use vegan materials. They partner with Fair Trade and WRAP certified facilities to ensure fair wages and a healthy work environment and give back through 1 % For the Planet. 
Browse their ethical product offerings on the Happy Earth website.
tentree: Canadian Comfort
Price Range: $18 – $178 
Products: Men & Women's Fashion + Accessories 
For every product purchased, tentree plants 10 trees — and they've planted more than 61 million trees to date. They create sustainable essentials with the smallest environmental footprint possible, and their ethical factories ensure that each product is made in fair and safe working conditions. This Canadian company is also a Certified B Corp and believes in transparency along the supply chain. Plus, they use materials like TENCEL, recycled polyester, organic cotton, and hemp. Tentree isn't perfect, but they're committed to replacing all single-use plastics and eliminating virgin packaging materials from their supply chain by 2023. With a large product offering ranging from loungewear to everyday basics, you'll find what you're looking for in no time! 
Check out the tentree website to see what they have to offer. 
Read More: What is Tencel and Is It Sustainable? Everything You Need to Know
ABLE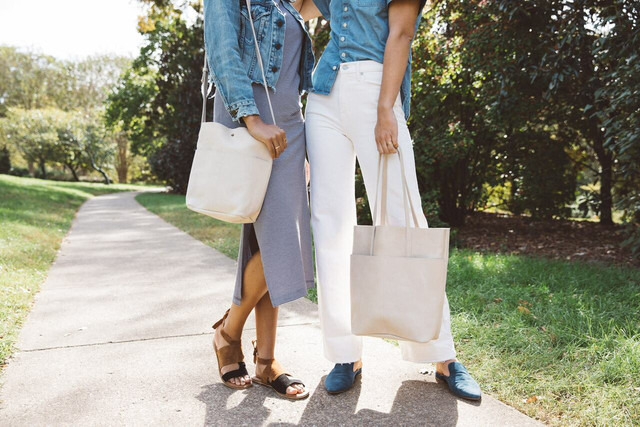 Price Range: $20 – $350
Products: Bags, Shoes, Apparel, Jewellery 
This Nashville-based company has such a wide product offering that you'll never regret quitting fast fashion. Their denim is sourced in the western hemisphere in order to reduce shipping routes, and their vendor in Mexico recycles 100 percent of their water and avoids harsh chemicals. All of their leather products are sourced from byproducts of the meat industry (i.e. things that would otherwise be wasted). ABLE's sweater line is made of organic cotton which is sourced from a zero waste, GOTS certified factory. On top of all that, they were the first fashion brand to publish their lowest wages because they believe in full transparency and accountability.  
Shop the ABLE website to find fun and affordable sustainable clothing. 
Quince: Affordable Ethical Clothing

Price Range: $30 – $120
Products: Men, Women & Home Goods
Quince has the goal of making higher quality products available at a lower price point; which makes affordable sustainable clothing their middle name. They're able to achieve this by partnering directly with factories. Quince only partners with factories that pay fair wages to their workers, meet the global standards of workplace safety, and produce goods in a sustainable way. They have a wide range of products that use organic cotton and organic linen.
Use the search function on the Quince website to search for organic materials! 
Read More: What Is Cashmere Wool, and Is It Sustainable and Ethical?
Coyuchi: Sustainable & Organic

Price Range: $28 – $158
Products: Women's Fashion, Pajamas & Robes, Bed & Bath Textiles  
While Coyuchi is better known for its bed linens, their apparel shouldn't be missed. There isn't a huge selection, but what they do have is beautiful and everything is made to complement each other. Their products are made from ethically sourced organic cotton, most of which is also Fair Trade certified. Coyuchi has also partnered with the Chetna Coalition, which is a supply chain network that supports sustainable farming communities in India. If that isn't enough, they're also a proud member of 1% For the Planet. 
Shop their stylish basics and comfortable loungewear on the Coyuchi website. 
Boody: Bamboo Basics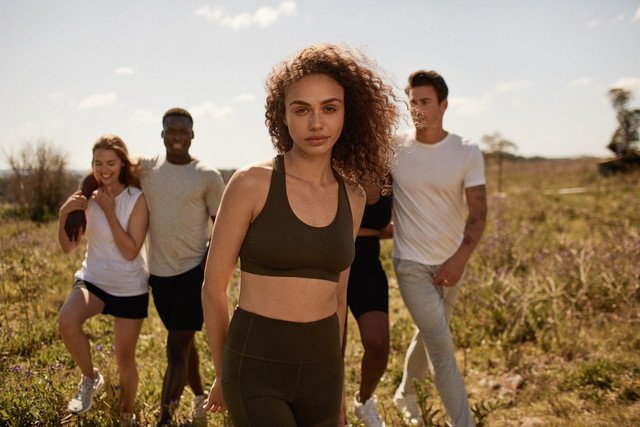 Price Range: $10 – $100 
Products: Men & Women's Athleisure, Baby
The Boody philosophy is that sustainability is a journey, not a destination. It requires constant learning, researching, asking, and changing. So, they knit their garments in tubes which results in very little waste compared to traditional cut and sew manufacturing. They also use organic bamboo because it doesn't require pesticides, fertilizers, or irrigation and grows like a weed. They ship in biodegradable corn-based packages packed into a recycled cardboard box. And they work with factories that are Fair Trade certified, meaning workers are given a fair wage and safe work environment. 
Shop online at Boody. 
Read More: Ethical Fashion: 10 Exciting Sustainable Shoe Brands
Mien Studios: Made in the USA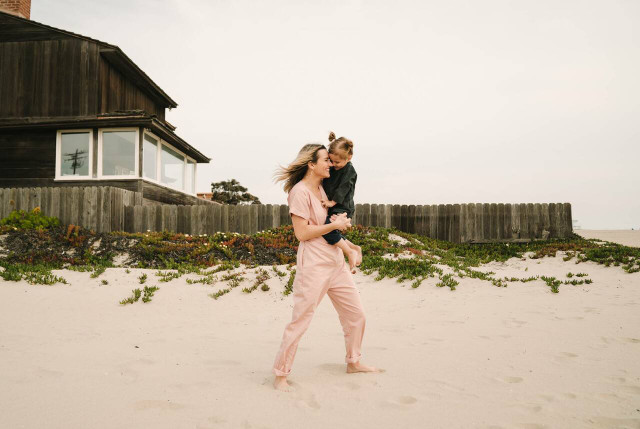 Price Range: $54 – $195 
Products: Women's & Children's Fashion 
If you're looking for affordable sustainable clothing that is made in the USA, Mien is the brand for you. Using eco-friendly fabrics like bamboo, modal, linen, and certified organic cotton, they make size-inclusive clothing for the modern woman. They produce all of their clothing in small batches in LA, and pay fair and living wages to all of their employees and makers. 
Find your next affordable sustainable clothing purchase on the Mien website. 
Tonlé: Zero-Waste Fashion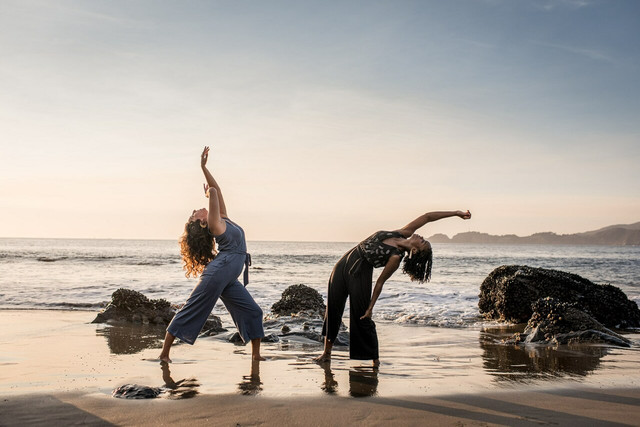 Price Range: $50 – $190
Products: Women's Apparel, Accessories & Home Textiles 
Tonlé believes so strongly in zero waste that their team in Phnom Penh heads to remnant markets where leftover textile waste from large garment factories is resold. The textile waste they purchase is then turned into new garments, and any small pieces of material leftover are mixed with used paper from their office and turned into handmade paper. They've chosen not to partner with any 3rd party certifications, but are fully transparent in their supply chain and compensate their workers with fair wages and benefits. 
Check out their unique products on the Tonlé website. 
Sustainable Alternatives
You might notice that many sustainable brands produce clothing that is fairly neutral — instead of jumping from trend to trend, they create staple pieces never go out of style. Affordable sustainable clothing is high quality and built to last. Start with basics like t-shirts and ethical underwear and slowly start to invest in larger pieces. 
Don't forget, buying new is not the only environmentally friendly option you have. If you want to create a sustainable capsule wardrobe, but the price tag for new is still out of your reach, consider buying secondhand, or even renting clothes. By using these options, you're still limiting your impact on the environment, without having to fork out money for a brand new piece of clothing. Start small — remember that every bit counts, and we all have to start somewhere! 
Read more: 
** Links to retailers marked with ** or
underlined orange
are partially partner links: If you buy here, you actively support Utopia.org, because we will receive a small part of the sales proceeds.
More info
.
Do you like this post?
Thank you very much for voting!