Have you been thinking about swapping your regular yogurt for something dairy-free? We have narrowed down seven of the best yogurt alternatives to try as a delicious replacement.
Yogurt is packed with protein, calcium and probiotics. It is great at breakfast time, topped with fresh fruit and nuts. And we can't get enough of it with the average American consuming 13.8 pounds of yogurt in 2020.
Why Choose Yogurt Alternatives? The Dairy Industry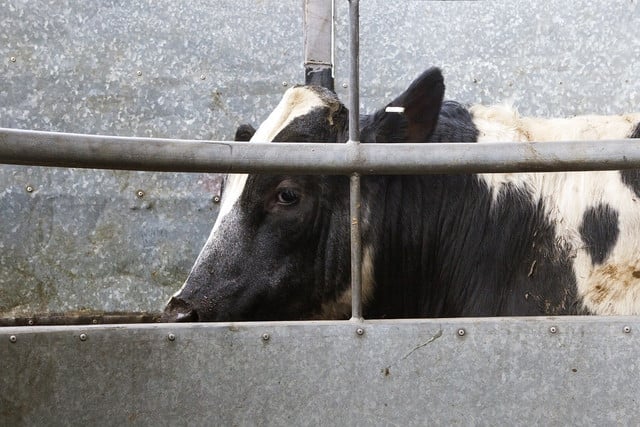 Consuming a lot of dairy yogurt does have its downsides: store-bought products are often laden with sugar, flavorings, colorings and other additives. The majority of mass-produced yogurt will come in single-use packaging or as a single-serve item, which isn't the most sustainable option. There are of course also concerns over the welfare of dairy cows.
We also all know about the damage the dairy industry causes to the environment. Dairy cows and their manure produce greenhouse gasses that contribute to the climate emergency. The production of dairy requires nine times more land than plant-based milk alternatives, and leads to the loss of ecologically important areas. Poor handling of manure and fertilizers can also degrade local water resources. 
With all this in mind, finding a yogurt alternative for your breakfast could benefit your health, the environment and animals.
Not All Milk and Yogurt Alternatives Are Equally Good
When looking for a yogurt alternative, it is also important to factor in the sustainability of the product. Many plant-based alternatives will still make use of single-use plastic packaging, and of course could also be loaded with additives, sugars and other not-so-healthy ingredients. 
The good news is that plant-based milk generally produces fewer greenhouse gas emissions than dairy milk – but not all milk alternatives are equal when it comes to sustainability.
While almond milk is delicious and is rich in vitamin E, there are some issues with how it is made. To name just one example: it takes 1.1 gallons of water to grow one single almond. This water consumption may have a lasting effect in fire-prone, drought-stricken California, where 80 percent of the world's almonds are grown.
1. Oat Based Yogurt Alternatives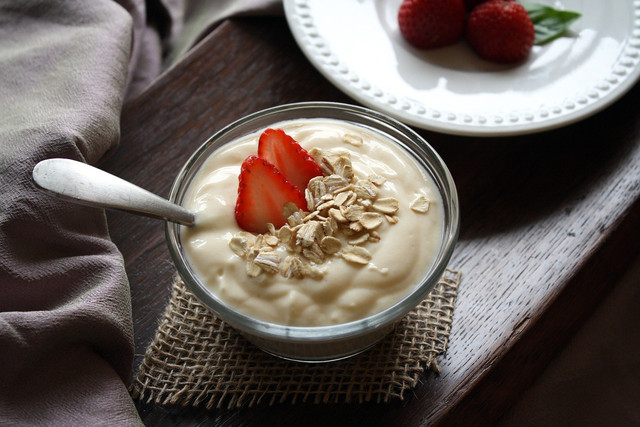 Oat milk, on the other hand, requires less land, produces fewer emissions and requires less water per 200 milliliters than many other plant-based milks. So why not give organic oat-based milk and yogurt alternatives a try – like a strawberry oat-gurt (available in supermarkets or on Amazon**)?
Better yet, why not do away with the packaging and make your own vegan yogurt? This alternative also contains the health-giving probiotics that dairy yogurt has. If you want to make your own yogurt, you can purchase the starter on Amazon**.  This way, you can really control the sweetness and the flavor. To be even more sustainable, you could even make your own oat milk!
Wondering whether greek yogurt is a better option at all? Check out our guide: Greek Yogurt vs. Regular Yogurt in Health, Taste and Culinary Uses
2. Chia Pudding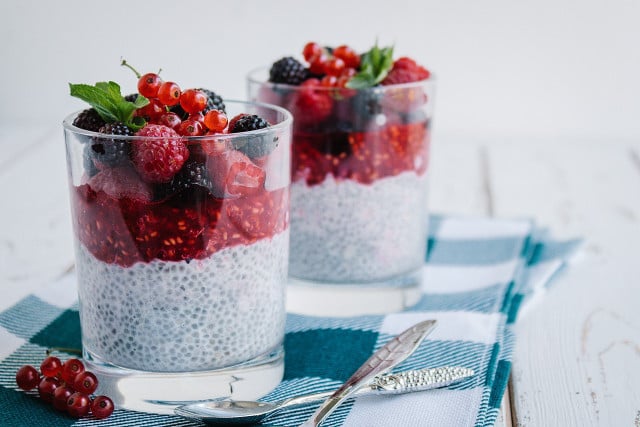 Chia pudding is high-protein, omega-3-rich and high-fiber. Thick like yogurt and naturally dairy-free. It is easy to flavor and make it on your own: All you need is chia seeds and plant-based milk (we recommend oat).
For one serving:
Ingredients:
3 tbsp. Organic chia seeds
3/4 cup organic oat milk
1/2 tbsp. organic maple syrup.
How to make this yogurt alternative:
Simply mix and let stand for 15 minutes.
Stir again and add fruit, nuts, nut butter – whatever you like.
Enjoy!
3. Kefir
Kefir has a thinner consistency than yogurt, and is often consumed as a drink. It is an excellent natural source of probiotics. Probiotic foods are said to strengthen the natural defenses and keep the intestines healthy. Kefir is a fermented beverage typically made with milk, but when made with vegan-friendly coconut milk or oat milk, the yogurt alternative delivers many of the same nutrients. In fact, oats are loaded with beta-glucan which is said to contribute to better blood sugar control and lowering cholesterol.
All you need is some oat or coconut milk, dates and these kefir grains, available on Amazon**. Plus a little time for fermentation, of course.
4. Easy DIY Yogurt Alternative: Fruit Puree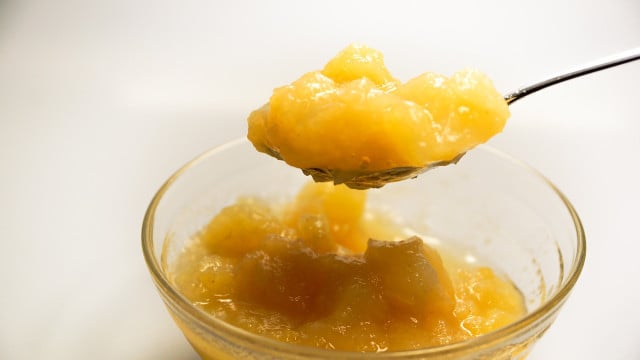 Fruit puree, mashed banana or homemade unsweetened apple sauce make for a great yogurt alternative especially in baking or on top of pancakes in the morning.
5. Overnight Oats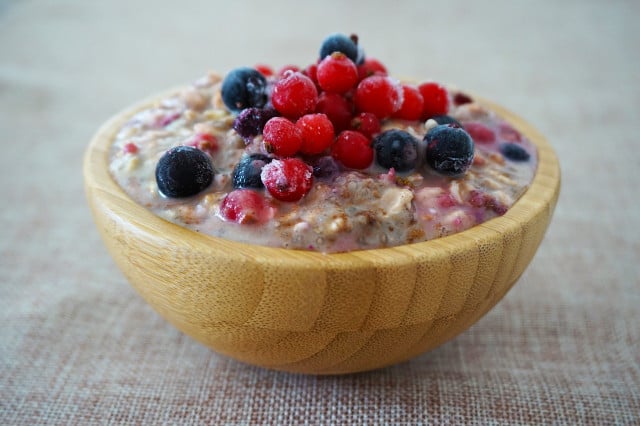 Many people eat oats with yogurt as a topping for breakfast. But there is an alternative without yogurt that is just as tasty: Bircher or overnight oats are generally prepared the night before. Throw in some unsalted nuts, a dusting of cinnamon, organic seasonal fruit and oat-milk or water and you have a vitamin packed, protein rich breakfast that will keep you satisfied till lunch. This breakfast can also be prepared with any vegan yogurt.
6. Protein-Filled Alternative: Silken Tofu Yogurt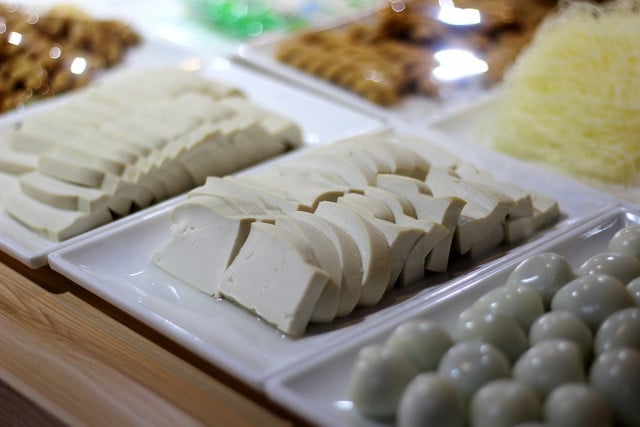 Silken tofu, blended till smooth with a little lemon juice will give a thick protein-filled alternative with a yogurt-like tang. For environmental reasons, be sure to source tofu made from soy that was grown in the US or Canada. 
7. Coconut Cream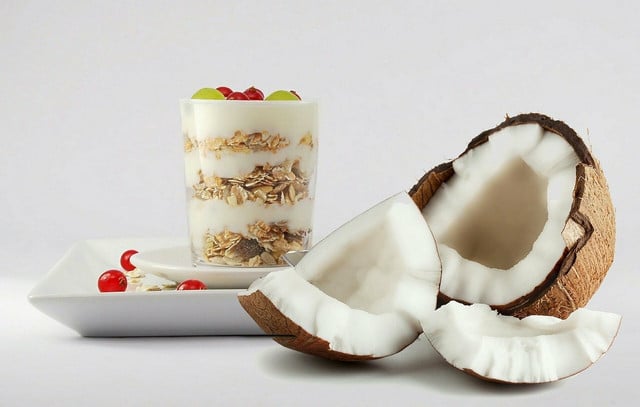 For a thicker, Greek-style yogurt you could also try refrigerating a can of organic coconut milk overnight to separate the creamy part from the liquid. Please note that this will have a fat content of around 16-22 percent. You could try thinning it down to your desired consistency by whisking in a little oat milk before serving. Be sure to check the label for additives, and buy organic where possible.
Read more:
** Links to retailers marked with ** or
underlined orange
are partially partner links: If you buy here, you actively support Utopia.org, because we will receive a small part of the sales proceeds.
More info
.
Do you like this post?
Thank you very much for voting!