Instant ramen is a popular snack and can easily be made into a delicious "home-cooked" meal. Check out our instant ramen hacks to try at home.
Instant ramen has become a go-to meal for many, as it is an easy and tasty option. Simply pop your noodles in boiling water for a few minutes and they're ready to eat. Another great thing about instant ramen is that you can find it in most bulk food stores. Buying ramen noodles in bulk allows you to do a bit of precycling and avoid plastic waste. 
The packaged varieties also come with a flavoring packet, which is not always the healthiest option – the flavoring is high in sodium and MSG, which can contribute to health problems such as obesity and cardiometabolic syndrome. Instead, there are plenty of tasty and fresh options that you can try when making ramen. So, ditch that flavor packet and elevate your meal with our instant ramen hacks!   
Instant Ramen Hacks: Quick Add-Ins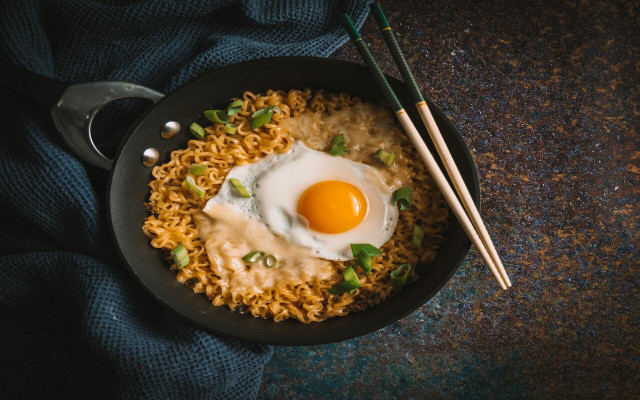 These instant ramen hacks are perfect if you're looking for a tasty and quick meal with minimal effort. Here are some tasty instant ramen recipes that you can try: 
Egg: Once you've cooked your ramen noodles, fry an egg and add it on top. As the yolk breaks, you'll get to enjoy a bit of extra richness. 
Egg & Soy: Crack an egg over your ramen while it's still in the pot and mix in some soy sauce until you like how it tastes. 
Meat or Meat Alternative: Sometimes you want to add a bit of extra oomph to your dish. Add bits of chopped-up chicken, vegan ground beef, or anything else you have left in your fridge. 
Soup: Instead of boiling your noodles in water, try adding them to your favorite soup and enjoying them that way. 
5 Ways to Upgrade Ramen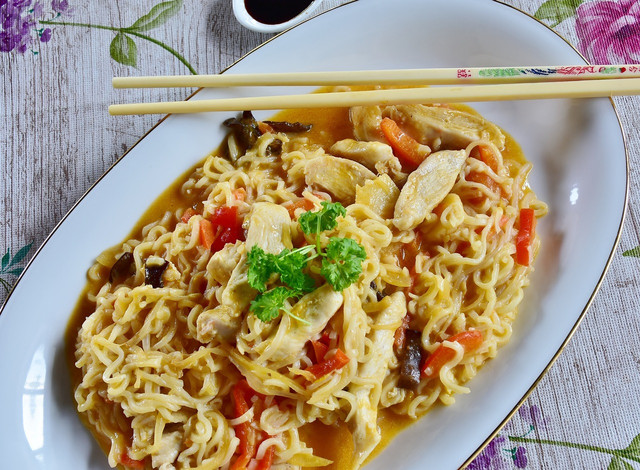 Now that we've gotten the basic instant ramen hacks out of the way, it's time to step it up a notch. 
'TikTok' ramen: Mix 1½ tbsp toasted sesame seeds, 1 tbsp poppy seeds, 1 teaspoon flaky salt, 1 tsp minced garlic, and 1 tsp minced onion. This will make your 'spice'. Next, add 1 teaspoon each of garlic, crushed red pepper, brown sauce, and soy sauce into your pan and stir for two minutes. Add your noodles and push to the side, then add an egg and scramble. Finally, garnish with the spice mix you made earlier and chopped green onion.      
Quick sauce: Mix 1 tbsp butter, 1 tbsp soy sauce, 1 tbsp brown sugar, 1 clove of garlic, 1-2 tbsp of water, and ½ tbsp red pepper flakes (or less depending on how spicy you want your ramen). Melt some butter in a wok, add your sauce and continue to stir. Add your noodles and garnish with chopped spring onion.
Cheesy ramen: Add butter, ground black pepper, garlic powder, and grated Parmesan or mozzarella cheese to your piping hot noodles. Let the cheese and butter melt before stirring it all together. You can add any protein of your choice. Garnish with green or spring onions. 
Bacon ramen: Fry two pieces of bacon (or bacon substitute) and an egg. Add a little bit of leftover ramen liquid to your noodles and mix in your cheese of choice. Add the bacon and egg with some black pepper. Garnish with green onion if you wish.   
Pad-thai inspired: Mix together soy sauce, peanut butter, coconut milk, sriracha, ginger, and a bit of beef or vegetable stock. Add your pre-cooked ramen noodles.
If you're vegan and want to enjoy ramen, there are also plenty of tasty options and healthy ingredients that you can use. 
7 Vegan Instant Ramen Hacks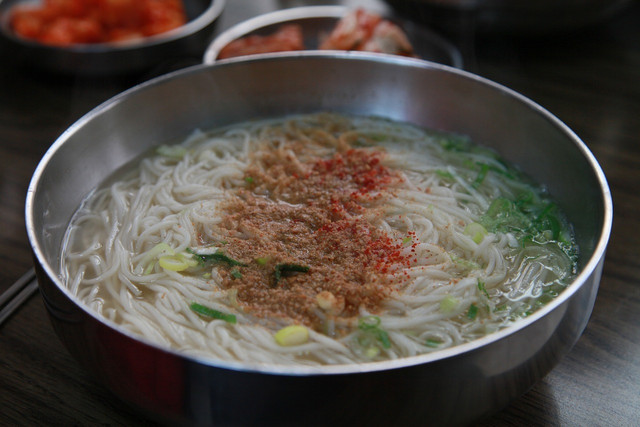 In order to enjoy these vegan instant ramen hacks, you'll want to cook your ramen noodles first and then drain them. Once you've completed that step, you're ready for any of the following recipes: 
Soy sauce: Add 1 tbsp light soy sauce, 1 tbsp dark soy sauce, 1 tbsp vegan oyster sauce, vegetables, sesame seeds, and vegetable oil to your noodles.  
Broth: Take two cups of vegetable broth and add chili garlic sauce, sesame oil, garlic and onion powder, sesame oil, and soy sauce. You can then add your noodles with green onions on top.    
Tofu ramen: Sautee four garlic cloves, three inches of grated ginger, chopped onions, and green onions in a pot with 2 tbsp vegetable oil and add 1 oz dried shitake. Sautee for two minutes. Add one liter of homemade vegetable broth, 2 tbsp soy sauce, 1 tbsp miso paste, one cup water, and 1 tbsp agave syrup. Simmer for 10 minutes before adding your ramen and seasoned tofu. 
Aromatic: Mine some garlic and ginger and saute in vegetable oil. Add two cups of vegetable broth to your pot alongside your ramen noodles and sprinkle some green onions on top.
Thai-Inspired: Mix together 2 tbsp pure sesame oil, 1 minced garlic clove, 2 tbsp soy sauce, 1½ tbsp peanut butter, 2 tbsp vegan honey, 1½ tbsp rice vinegar, and ½ tsp grated fresh ginger root. Add some sesame seeds if you wish and add the sauce to your hot ramen noodles.  
Spicy Kimchi: Cook your ramen using the vegetable broth recipe and add some kimchi. This will add a nice heat to your dish.
Chilli noodles: Use 500ml water to cook your ramen and keep the leftover ramen water in the pan. On your cooked ramen, add 1 tbsp of the reserved ramen water. Add soy sauce, Chinese black vinegar, gochugaru, green onion, sesame seeds, and minced garlic to your noodles. Smoke 1 tbsp of avocado oil in a small pot and then pour over your noodles. Mix all the ingredients together and garnish with green onion. 
You could also try these two quick and easy vegetable ramen recipes if you want to add some spice with sriracha sauce.  
Tip: You can add any of your favorite vegetables to these dishes. 
Read more: 
** Links to retailers marked with ** or
underlined orange
are partially partner links: If you buy here, you actively support Utopia.org, because we will receive a small part of the sales proceeds.
More info
.
Do you like this post?
Thank you very much for voting!