Home remedies for dry lips can come in handy when they begin to crack under pressure from the elements. Read more to find one that suits you and the planet.
Dry, chapped, and sore lips are something most of us have experienced at some point. Our home remedies for dry lips might just stop you from reaching the point of cracked, bleeding, and painful lips. Cheilitis is a medical condition that refers to an inflammation of the lips. This condition can be acute or chronic and sometimes requires medical intervention. We only recommend our home remedies for dry lips for short-term use. If your symptoms do not resolve, seek guidance from a medical professional.
Many commercial cleansing and cosmetic products contain volatile organic compounds, which wreak havoc on the environment and our health. Consider using one of our natural home remedies for dry lips that provides only a soothing and healing effect on everything from your lips to the planet.
Washing and Drying Dry Lips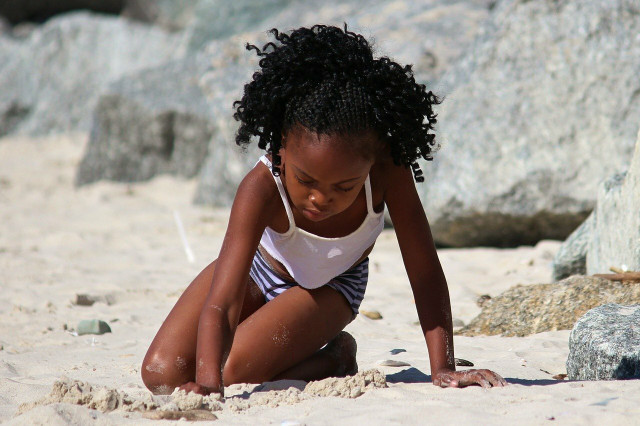 Washing is the first of our home remedies for dry lips because it can prevent chaps and cracks from becoming colonized and infected. Dry lips are usually tender, therefore, choosing the correct product is important. We recommend a natural soap, like castile soap, which can be used to wash your face too and is sensitive-skin friendly.
Castile soap is free from animal products and testing, contains no synthetic ingredients, and is available in bar or liquid form. It is also gentle, highly concentrated, and very versatile — which cuts down on cost and packaging waste. Create your own face wash by mixing 2 tablespoons of liquid castile soap with 12 ounces of water and wash the lips gently. Dry your dry lips and proceed to exfoliation.
Exfoliate For Kissable Lips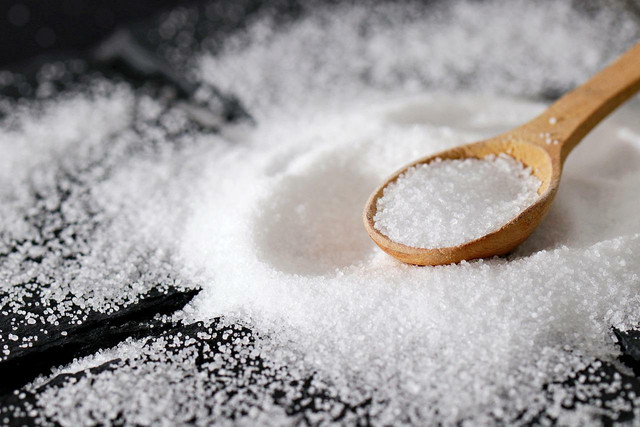 Exfoliating skin naturally at home is something many of us do, but do we always remember the lips? Chances are, the answer is no. It is important to remove dead skin cells to allow the healthy layer beneath to regenerate. This will also allow the healthy lip tissue below to absorb your other remedies for dry lips better. 
You can easily make a homemade lip scrub using an oil base, like coconut or olive oil, and salt or sugar. Gently mix a few drops of your chosen oil with half a teaspoon of salt or sugar granules to make a paste and gently apply to clean, dry lips. Rub gently in a circular motion and rinse off excess paste and a layer of dead, chapped skin. Dab your lips gently with a clean towel and proceed to select a natural home remedy for dry lips you can apply directly.
Try Aloe Vera as a Home Remedy for Dry Lips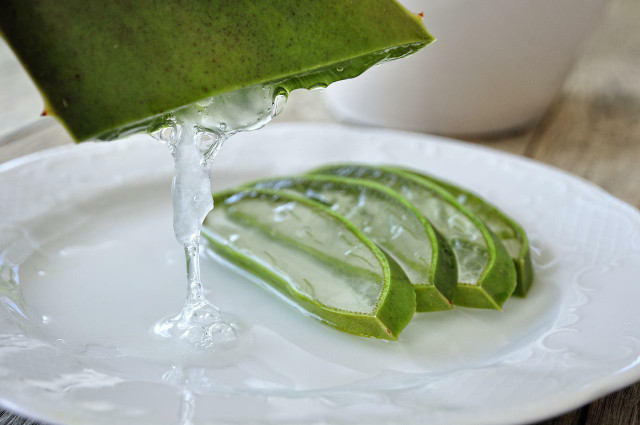 Aloe vera is well known for its soothing and healing properties. That is because this remedy for dry lips contains plant hormones called auxins and gibberellins and another compound called salicylic acid. These compounds are among the seven hundred that we find in aloe vera that have wound healing, anti-bacterial and anti-inflammatory effects. These benefits are even further enhanced because aloe also contains fatty acids that have anti-inflammatory and pain-relieving properties too.
Many organic aloe vera gels and ointments are available commercially, but by learning how to propagate your own aloe vera plant, you can have access to a constant supply. Simply cut off a small portion of your plant's fleshy green spikes and rub the pure aloe that oozes from it onto your dry lips. Even if you can't grow your own, it should be fairly easy to source as the USA supplies 65% of the aloe vera market – just be sure to look for organic! 
Aloe vera will not just revive your lips naturally, it can also revive the planet. It has been shown to absorb more carbon dioxide than other plants and it releases less. This plant naturally occurs in extremely dry and poor soils, so it thrives without fertilizers and needs minimal water to grow and spread. Aloe Vera is also a superfood, so it can help your body if it goes beyond the lips and becomes part of dinner.
Use Honey as a Home Remedy for Dry Lips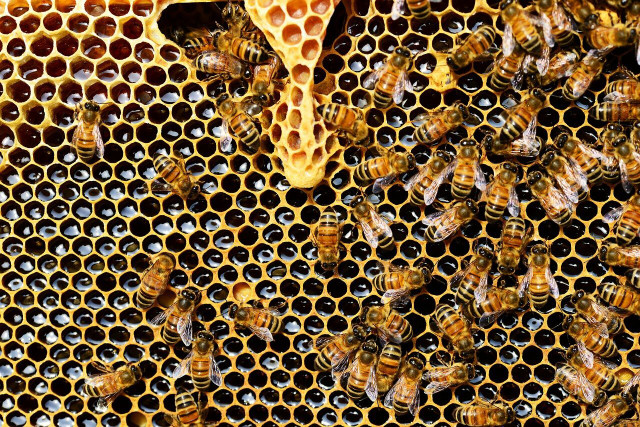 Honey is associated with a range of benefits when used and consumed in its raw state. It makes a great home remedy for dry lips thanks to its natural properties. The U.S. Department of Agriculture (USDA) Grading Standards for Extracted Honey awards higher grades for honey that has more clarity — which means it has been processed to achieve this clarity.
Research persistently shows that raw honey can have antioxidant, antimicrobial, anti-inflammatory, and anti-cancer effects — but the compounds are often destroyed during processing. Bee pollen also produces powerful effects when not removed from the original honey. Effects include anti-fungal, anti-microbial, anti-viral, anti-inflammatory, and even anti-cancer properties. 
Raw honey is extracted directly from the hive and undergoes no processing other than straining for dead bees and other debris. In the US, there is no rule that organic honey can't be heated or processed. So, do not assume that organic and raw honey are the same thing. Always look for products that say raw on the label. 
Many varieties of raw honey are available in stores and at farmers' markets. 100% U.S. raw, unfiltered honey is also sold by GloryBee Stores on Amazon** with a climate-friendly pledge. Just remember that the processing of honey removes most of the pollen and that the majority of the commercial brands tested in the U.S. do not contain any. So, make sure your home remedy for dry lips contains the right compounds.
Coconut Oil as a Home Remedy for Dry Lips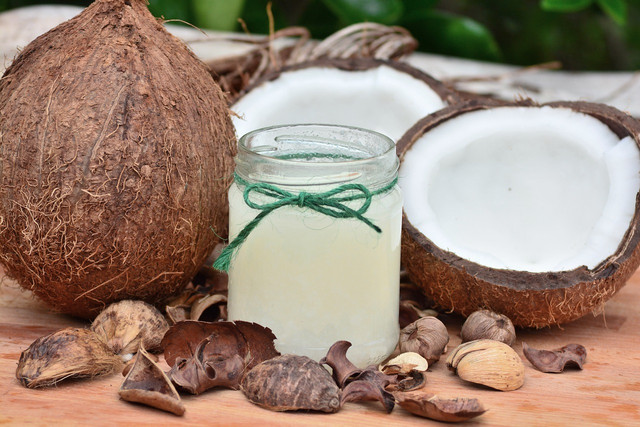 Coconut oil contains lauric acid – a strong antibacterial, antiviral and anti-inflammatory agent. It is also moist thanks to its fatty base and emollient properties. Coconut oil has shown to exhibit benefits on skin barrier function and regeneration — making it an ideal home remedy for dry lips. You can also use coconut oil as the base for your homemade exfoliation paste.
There are many other coconut oil benefits you need to know about. It is such a versatile and eco-friendly substance to keep in your home. Go beyond the lips and learn how to use coconut oil in your hair, or find out if it's worth the hype for use in beards.
Using Green Tea for Dry Lips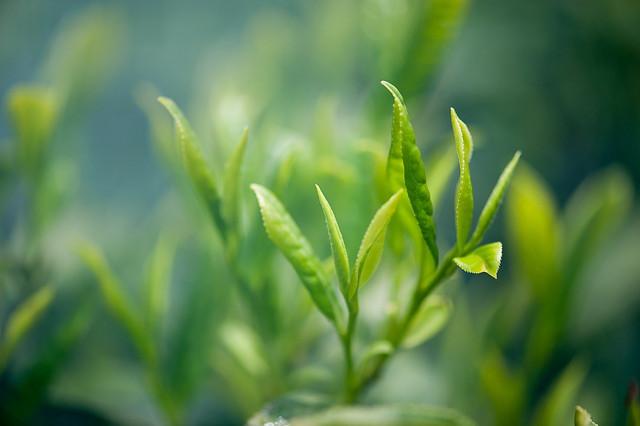 Green tea is also an effective home remedy for dry lips as it contains tea polyphenols — the main group being flavonoids called catechins, The evidence suggests that these compounds have many biological functions — including antioxidant and anti-inflammatory properties that can ease sore, dry, and inflamed lips. These compounds are all affected by heat, so dab lukewarm green tea onto your lips for maximum effects.
There isn't a huge amount of farms in the US growing Camellia sinensis. Most green tea is imported, with China being the major producer globally. Green tea is heavily associated with many catastrophic environmental impacts — including:
Habitat conversion
Deforestation of the land
Soil erosion
Pesticide and fertilizer use
Destruction of biodiversity
Finding locally sourced, organic, or fair trade green tea will help your environment and your lips. For locally grown tea, check out the United States League of Tea Growers website. 
Avoiding Dry Lips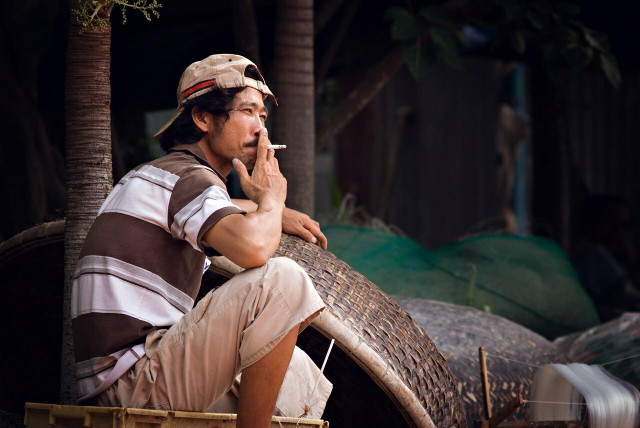 We can prevent the development of chapped, dry lips by:
protecting them from the sun and harsh weather
exfoliating regularly
avoid licking the lips as saliva drains moisture from them
staying hydrated
avoiding scented or flavored lip products
avoiding lip products that contain known allergens
quitting smoking
beware of medications that cause skin and lip drying
Protect your lips from the climate without contributing to climate change by learning how to make homemade lip balm You could also check out our natural lip gloss you can make at home for some added shimmer and shine that protects your puckered lips.
Read more:
Important Information regarding Health-related Topics.
** Links to retailers marked with ** or
underlined orange
are partially partner links: If you buy here, you actively support Utopia.org, because we will receive a small part of the sales proceeds.
More info
.
Do you like this post?
Thank you very much for voting!