Once you know how many surprising uses orange peel has, you'll stop tossing it. We'll share what to do with orange peels in your household, kitchen and for body care.
Packed full of vitamin C and refreshing flavor to boot — it's no wonder oranges are one of the most popular fruits. But before buying oranges, it's important to consider the eco-balance of this tasty citrus fruit. Florida is one of the world's largest orange producers, so in the United States, they're at least homegrown. However, it's estimated that a mature citrus tree requires 135 gallons of water per day in the summer. 
Here are some things to pay attention to when buying oranges:
If you want to use the orange peel, buy only organic oranges. Look for Fairtrade certification seals. 
Pay attention to the country of origin — choose local oranges whenever possible.
Purchase oranges during their peak season (November–March).
Store them in a cool, ventilated place, and use them within a few days.
To improve the ecological footprint of oranges, use orange peels instead of throwing them away. To help you get started, check out our list of orange peel uses and benefits.
What To Do With Fresh and Dried Orange Peels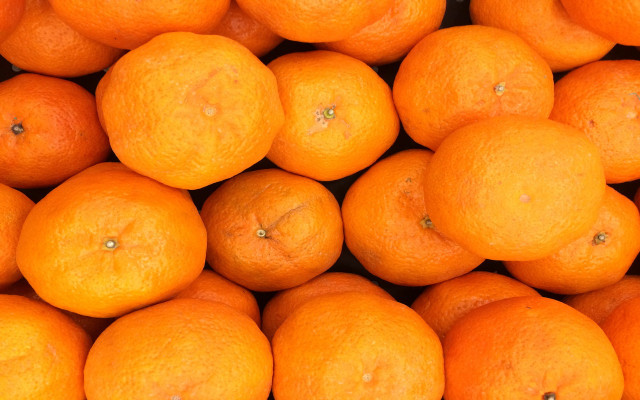 Depending on their freshness, orange peels can be used differently:
Fresh: Use the peel as it is, directly after eating the fruit.
Dried: Place the orange peels on a heater or let them dry at room temperature for several days. Once the peels are dry, you can store them for a long time.
If you want to use orange peels in the kitchen (like using orange peel in tea), you should always buy unsprayed organic fruit and grate or zest the peel quite thin. 
Household Uses for Orange Peels
Removing Limescale: One of the most convenient orange peel uses is that the citric acid they contain makes them effective at removing limescale stains in the bathroom or kitchen. Use the inside of fresh peels to rub the affected faucets, making them shine like new. 
Neutralize Odors: Another orange peel benefit is that they can be used to get rid of unpleasant smells. This works especially well with plastic bowls or lunch boxes that have acquired an unpleasant odor over time. Simply rub them with the peels and then give them a good wash.
Remove Smells in Oven: Orange peels even help against strong smells in the oven due to the essential oils they contain. Heat them briefly in the oven, and the bad smell will soon be a thing of the past. Check out our DIY oven cleaner recipes if it's more than the smell that you're worried about.
Fabric Softener: You can also use untreated orange peels as an alternative to fabric softener. Pop the peels in a cotton bag and add them to your laundry. They help soften the water and add a pleasant orange smell to everything. 
As a Rinse Aid: Also among the many orange peel uses is a rinse aid substitute for the dishwasher — just pop the fresh peels in the cutlery compartment.
Fight Against Moths: Keep a few orange peels in your closet to help keep moths away.
Homemade All-Purpose Cleaner: Infuse vinegar with fresh orange peels, and you've made your own natural all-purpose cleaner.
Integrate Orange Peels into Your Skin Care Routine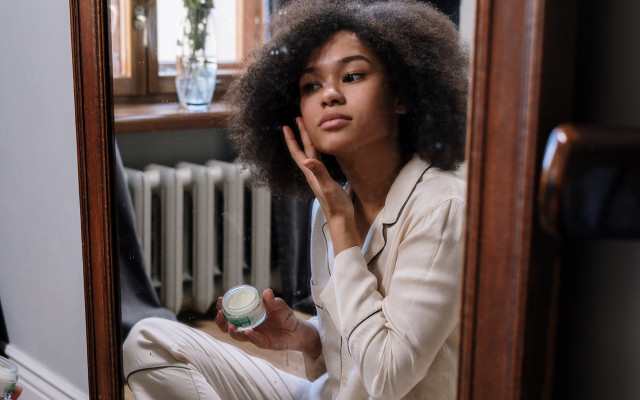 Orange peels also have many cosmetic uses and offer several beauty benefits:
Help with skin blemishes: The essential oils in orange peels help fight age spots and pimples. Rub the white inside of a fresh peel over the affected area. Repeat for two to three days, and the area should clear up.
Bad breath remedy: Chewing on untreated orange peel can help against bad breath (or even garlic breath). But be careful not to use this trick too often – too much acid isn't good for tooth enamel. Leave yourself some time before brushing your teeth after using orange peels in this way.
Shiny hair: Perhaps the least known of all of the orange peel's benefits is that it can be used to make a clarifying hair rinse. Put the peels in a container and cover them with apple cider vinegar. Let the mixture sit for about two days. After that, remove the orange peels and dilute the infused vinegar with water. There should be about three times as much water as apple cider vinegar. After washing your hair, pour the hair rinse over your head. The rinse frees your hair from residues and adds a healthy shine.
Orange Peel Uses in the Kitchen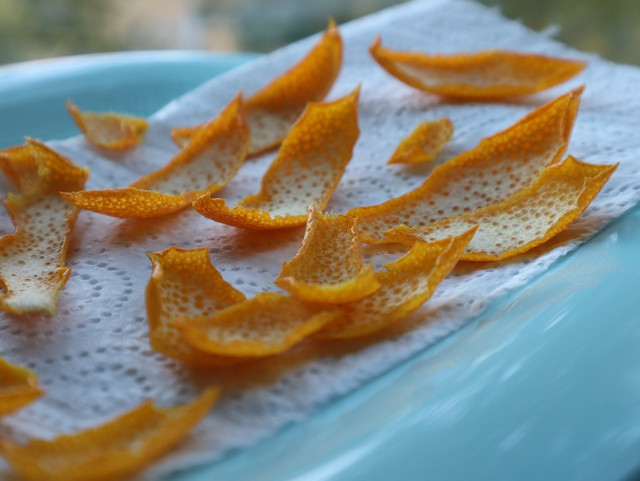 Orange Peel Tea: You can easily and quickly make your own tea from orange peels. Pour hot water over dried or fresh peels. The tea should steep for about ten minutes. The skin of one orange is enough for a pot of orange peel tea. 
Citrus Flavoring for Baking: Use dried lemon or orange peel to add a fruity note to homemade baked goods. Slice or grate off some of the peel and let it dry well, then store them in a dry and airtight container. 
Vitamin C Powder: One of the orange peel's benefits is its high vitamin C content. Grind dried peels with a blender or in a food processor until they are pulverized. You can sprinkle the resulting vitamin C powder over your cereal or eat a spoonful now and then to boost your immune system.
** Links to retailers marked with ** or
underlined orange
are partially partner links: If you buy here, you actively support Utopia.org, because we will receive a small part of the sales proceeds.
More info
.
Do you like this post?
Thank you very much for voting!