Are you a wild garlic enthusiast? Wild garlic is a resilient plant that pokes its head up as soon as winter fades away, making it one of the first edible plants to sprout. We'll look at where and when to find wild garlic and some delicious recipes to use it in. 
The term "wild garlic" can refer to several members of the allium family, which includes garlic, leeks, shallots, onions and chives. We'll use "wild garlic" to refer to allium tricoccum, a.k.a wild leeks or ramps. This type of garlic is the closest relative to European wild garlic (allium ursinum).
Ramps are a native plant found on the east coast of the US, ranging from North Carolina to Canada. To find out if wild garlic grows in your area, check out the USDA range map. Some cities, like Richwood, WV or Waynesville, NC, even have festivals celebrating this beloved spring green.
Once you've verified that wild garlic grows in your area, check local foraging websites. They are a great resource for both new and experienced foragers.
When and Where Is Wild Garlic Found?
The time to find wild garlic is in the spring, once the weather starts getting warmer. By the time summer comes around, the plants will be in bloom. And you can't harvest blooming garlic — for this purpose, anyway.
You'll often find ramps growing in sporadic patches on the forest floor. They thrive in shady areas with rich and well-drained soil — look for them near sugar maple or oak trees. Some companion plants you may see growing nearby include trout lily, trillium and nettle.
Close to where wild garlic grows, you might also be able to buy it at a farmer's market in season. It's not always easy to find wild garlic in stores, however, as many people like to harvest it themselves.
Identifying the Right Plant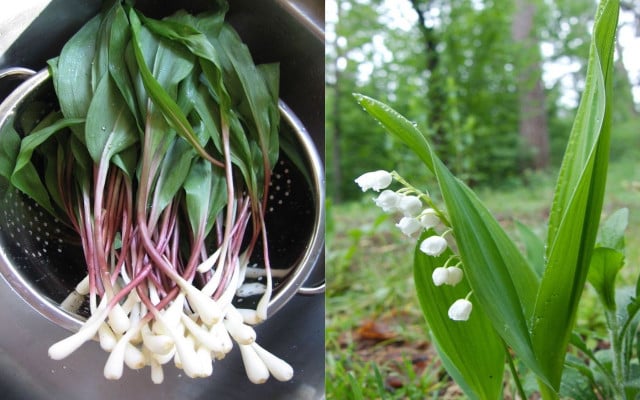 Ramps are traditionally foraged as opposed to cultivated and can be confused with poisonous plants like lily of the valley or false hellebore. To identify wild garlic correctly, look for the following characteristics:
two broad and flat leaves anchored by a bulb
light, silvery green color
1-2 ½ inches wide and 5-10 inches long
red hue that runs from the base of the leaves down to the bulb
Wild garlic enthusiasts often say you can smell the plant before you see it, especially if you find a large patch. The plants give off a sweet, garlicky and slightly oniony smell. When identifying the plant, crush a leaf in your hand: if you get an onion or garlic aroma, you've found ramps.
If you're still not sure, ask a local forager. It's better to be safe than sorry!
Harvesting and Storing Tips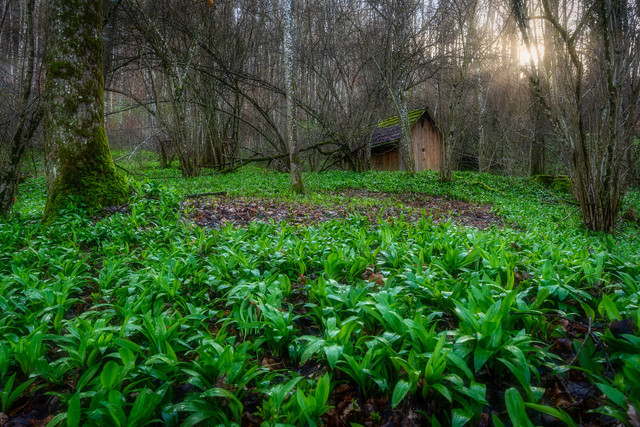 When it comes to harvesting ramps or wild garlic, keep a few things in mind.
Location: Places like the Great Smoky Mountains National Park have bans on harvesting ramps. In Quebec, commercial harvesting has been forbidden since 1995 due to a study outlining the plant's vulnerability. That means you may only harvest for your own consumption and only up to 50 bulbs or plants a year. You're also not allowed to take any wild garlic from a national park area. Always check the regulations before you pluck wild garlic.
Quantity: Harvest only what you need and use a sharp knife, so you don't damage the plant unnecessarily. Take one or two leaves per plant, leaving the bulb in place so it can regenerate for years to come. Choose to harvest from areas with an abundant supply, if possible, and remove a maximum of 5% of a patch. When it comes to preserving plants for the future, sustainable harvesting is key.
The leaves of the wild garlic plant are best used fresh, within a day or two of harvesting. You can extend their shelf life by wrapping the leaves in a damp paper towel and storing them in the fridge or by blanching and freezing them.
Cooking with Wild Garlic
There's something incredibly satisfying about cooking with food you've foraged or grown yourself. Ramps are no exception and can add some much-needed vitamin C to your post-winter diet. You can use this leafy green in several ways, including in pestos, pasta sauces, salads, soups and spreads. Here are two recipes that highlight this tasty green vegetable.
Ramp and Potato Soup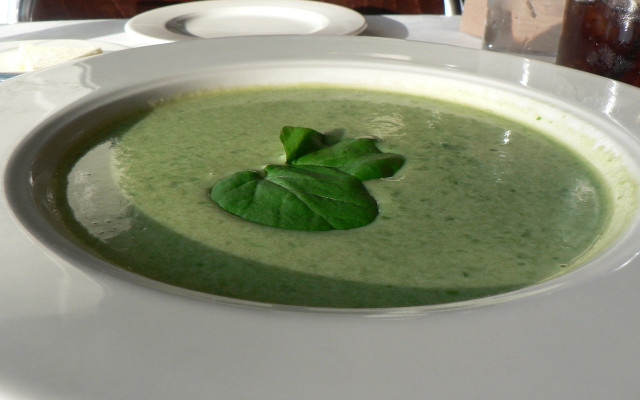 Ingredients:
Instructions:
Heat olive oil in a large pot or dutch oven on medium heat.
Add ramps and potatoes, sautéing until ramps are tender.
Sprinkle in the flour, stirring until the oil is absorbed.
Add vegetable stock and bring to a boil.
Reduce heat and simmer until potatoes are tender.
Stir in the heavy cream and heat thoroughly, adding salt and pepper if necessary.
Using an immersion blender, purée the soup until you reach the desired consistency
Wild Garlic, Asparagus and Pea Frittata
This dish uses the best of what spring has to offer. When you're hunting for wild garlic, you can also look for wild asparagus to make this a truly foraged feast.
Ingredients:
½ lb. waxy potatoes
⅛ cup olive oil
1 small onion, diced
1 cup coarsely chopped wild garlic (plus extra for garnish)
1 cup chopped asparagus
⅓ cup peas
1 ½ tbsp butter or vegan butter
salt and pepper, to taste
4 eggs or equivalent vegan egg replacer, beaten
Optional: parmesan cheese or vegan parm substitute
Instructions:
Steam potatoes on the stove until tender; let cool, peel and slice thinly.
Toss chopped asparagus in oil, salt and pepper, spread on a baking sheet, and roast in the oven at 350˚F for 20 minutes.
Heat oil in an ovenproof skillet on medium-high heat. Cook onion until translucent, then add the wild garlic and cook until wilted.
Stir in the roasted asparagus, peas, potatoes, butter, salt and pepper. Stir to evenly distribute the vegetables.
Add the eggs and reduce to medium heat, cooking until golden brown on the bottom (approximately 8-10 minutes).
Broil in the oven until the eggs are set and golden on top (approximately 3 minutes).
Optional: garnish with more wild garlic and parmesan cheese.
Bonus: check out this mouthwatering wild garlic pizza recipe!
** Links to retailers marked with ** or
underlined orange
are partially partner links: If you buy here, you actively support Utopia.org, because we will receive a small part of the sales proceeds.
More info
.
Do you like this post?
Thank you very much for voting!