Black sesame seeds aren't just a delectable addition to any dish, they also come with an abundance of advantages. Keep reading to learn about the benefits of black sesame seeds.
The list of black sesame seed benefits is long and includes nutritional, health, and cosmetic advantages. Read on to learn about why you'll want to add black sesame seeds to your diet, and how to use them.
The Nutritional Benefits of Black Sesame Seeds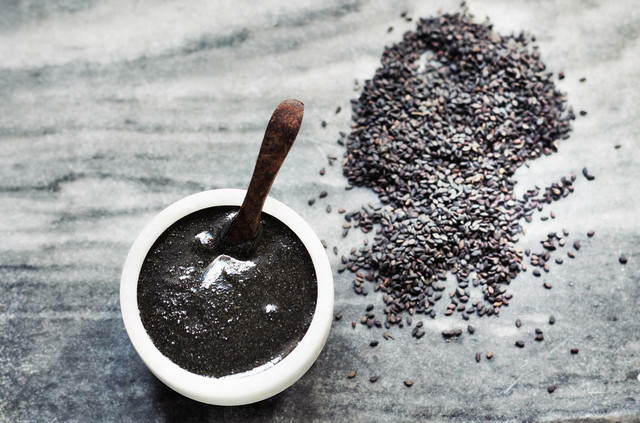 What better place to begin our discussion on the benefits of black sesame seeds than by looking at its potential benefits in your diet and nutritional well-being?
1. Contains Healthy Fats: Some research shows that the unsaturated fats found in sesame seeds and sesame oil can be beneficial to health. Given that oil makes up more than half of a sesame seed, they are also a superb source of the monounsaturated and polyunsaturated fats that have been linked with reduced cholesterol levels.
2. Contains Important Nutrients: Nutrients like magnesium, copper, and zinc can be found in abundance in black sesame seeds. In addition, they contain a high amount of filling fiber that prevents you from feeling hungry again too soon after eating.
Reported Health Benefits of Black Sesame Seeds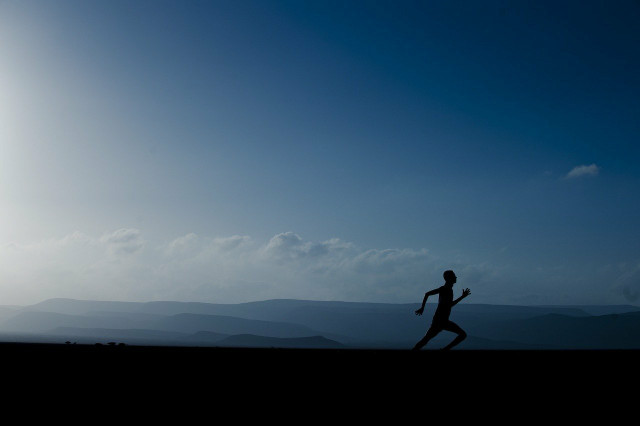 Next, let's cast a glance at how black sesame seeds benefit other aspects of our health too.
3. Contain Valuable Antioxidants: If you're a frequent visitor to this site, then you'll know that we often sing the praises of foods that are high in antioxidants. For those that don't know, antioxidants protect the body against cell damage. As luck would have it, black sesame seeds are a great example of an antioxidant-rich food. Although most forms of sesame seeds are high in antioxidants, black sesame seeds in particular appear to have higher antioxidant levels.
4. Combat Inflammation: Sesame seeds and oil have been studied for their anti-inflammatory properties, with promising results. Black sesame seeds appear to be beneficial in combating inflammation, swelling, and hypertension due to their high concentrations of antioxidants and anti-inflammatory compounds, such as sesamin and vitamin E.
5. Digestive Aid: Black sesame seeds are a great source of fiber. As such, black sesame seeds are an excellent remedy for constipation due to the oil and fiber they contain. Unsaturated fatty acids included in sesame seeds aid in easing the bowels, making bowel movements less painful.
6. Linked to Lower Blood Pressure: Black sesame seeds include magnesium, a mineral that has been shown to help decrease blood pressure. The high fiber content we just stated is also advantageous to lowering blood pressure, as fiber helps keep our arteries clear. Although more conclusive research needs to be undertaken, one promising study found black sesame seed benefits in lowering blood pressure and lowering the risk of cardiovascular disease.
Benefits of Black Sesame Seeds for Cosmetic Care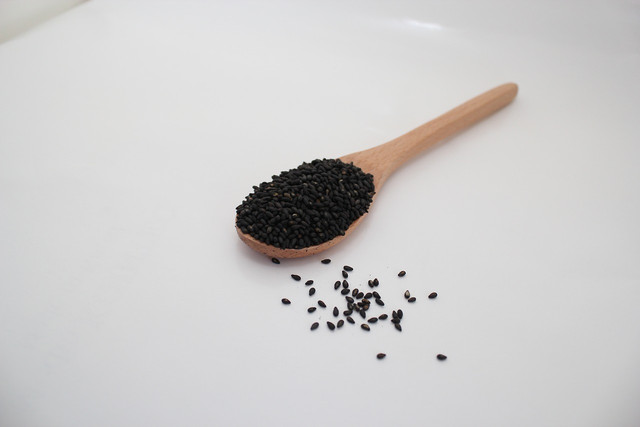 7. Keeps Skin Healthy: Sesame seeds can enhance moisture retention, which is one of their skin benefits. Although more research into the specific advantages of black sesame seeds is needed, all sesame seeds are a wonderful source of fatty acids, which help keep the skin hydrated and smooth. The antioxidant vitamin E content also aids in protecting the skin from potentially harmful sun rays.
8. Can Improve Oral Hygiene: Black sesame seed consumption has been linked to better oral health and the reduction of dental plaque. This is because black sesame seeds have a high calcium content, which exfoliates the teeth. In the same vein, sesame seed oil serves the same function.
Lignans are also found in black sesame seeds, which have anti-inflammatory characteristics that can reduce gum inflammation. Due to sesame oil's antibacterial properties, no germs can survive in the mouth, making it an excellent resource for improving dental hygiene through oil pulling.
Recipe Considerations & Sustainability Factors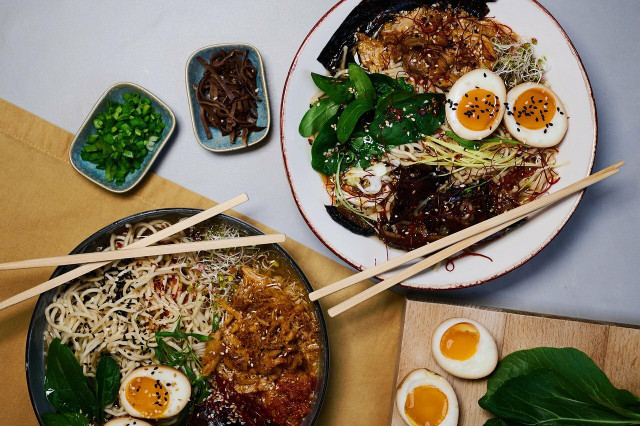 Sesame seeds are one of the world's oldest condiments. For over five millennia, these small, flat, oily seeds have been farmed and historically produced and traded in Asia and parts of Sub-Saharan Africa.
Black sesame seeds can be used to make popular side dishes such as tahini or baba ganoush. They can also be sprinkled as a toasted topping for salads like avocado and tomato salad, vegan chickpea salad, or Mediterranean cucumber salad. Black sesame seeds are also great in Asian recipes, like sprinkled on top of vegan onigiri, vegan dan dan noodles, vegetable ramen, or vegan buddha bowls. Keep in mind, though, that black sesame seeds have a much smokier taste than their multi-colored counterparts.
Thanks to their growing international popularity, the commercial production of sesame seeds in the US takes place in Texas, Oklahoma, Kansas, and Arkansas. So, to limit the carbon footprint in its journey from the field to a condiment in your kitchen, always buy local, organic black sesame seeds.
Fortunately, black sesame seeds are a relatively sustainable product to have in your pantry. Another thing you can do to help the environment and your overall health is to only buy 'Non-GMO' or 'USDA Certified Organic' black sesame seeds to limit your potential exposure to dangerous chemicals and to support farming practices that do not pollute the air or local soils.
Read more:
Important Information regarding Health-related Topics.
** Links to retailers marked with ** or
underlined orange
are partially partner links: If you buy here, you actively support Utopia.org, because we will receive a small part of the sales proceeds.
More info
.
Do you like this post?
Thank you very much for voting!