Vegan crockpot recipes offer a sustainable alternative to traditional dishes. Check out these 9 recipes from all around the world for a mouthwatering, vegan experience.
Vegan crockpot recipes are a must for everyone owning a crockpot. Crockpots are a type of slow cooker, ideal for soups, stews, or easy weeknight dinners. They use moist heat to cook food over hours and come with a pot, a glass lid, and a heating element. They're a practical, easy-to-use must-have for every modern and sustainable kitchen.
Many people use crockpots for their ability to cook meat more tenderly, but vegan crockpot recipes are actually just as good, if not better! Lentils and other legumes are a perfect example of a common ingredient for a crockpot dish, as they take relatively long to cook thoroughly.
We'll show you the best vegan crockpot recipes. Make sure to use organic, local, and fair trade ingredients when trying them out.
1. Vegan Crock Pot Chili Verde Recipe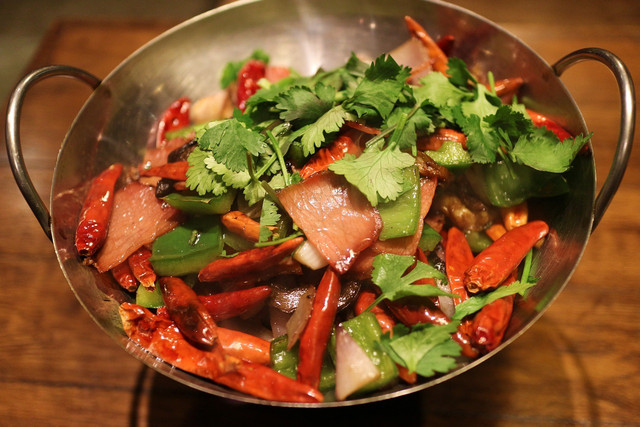 Check out this vegan crockpot chili verde recipe that is simple, healthy, and tasty. You basically just have to cut up all ingredients and toss them in and the crockpot will take care of the rest and let all flavors simmer throughout the day while you sit back and relax.
2. Vegan White Bean Soup In The Crockpot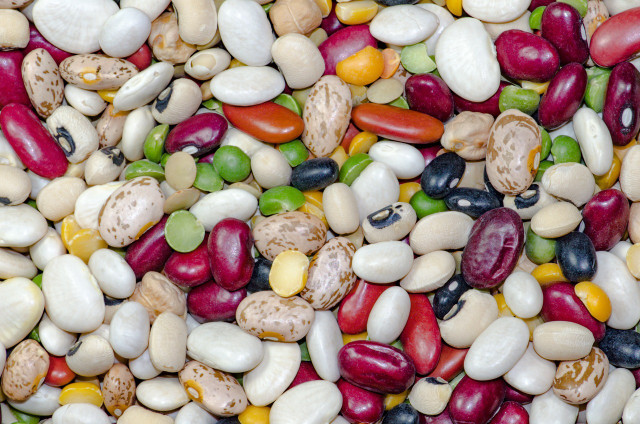 Similar to vegan Tuscan white bean and kale soup, this vegan crockpot recipe for white bean soup is a nourishing, simple and hearty vegan dinner idea.
Yield: 6 servings
Ingredients:
4 cloves garlic
1 yellow onion
4 carrots
2 tbsp olive oil
4 ribs celery
1 lb. dry navy beans
1 bay leaf
1 tsp dried rosemary
½ tsp dried thyme
½ tsp smoked paprika
6 cups water
2 tsp salt and pepper
Instructions:
Mince garlic, dice onion, and slice celery and carrots. Add to crockpot together with olive oil.
Rinse beans and add to crockpot, along with herbs (bay leaf, rosemary, thyme, paprika, salt, and pepper).
Add water and stir to combine. Place lid on crockpot and cook on low for 8-9 hours or on high for 4-5 hours.
Once time has passed, stir soup and mash beans, and thicken to your liking. Add salt if necessary. Serve with some vegan bread.
3. Vegan Moroccan Chickpea Stew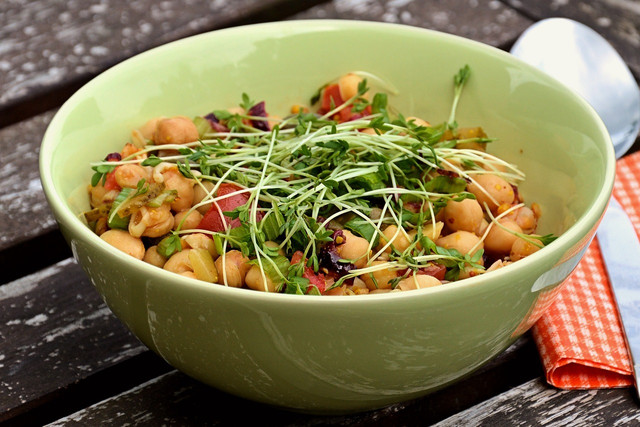 Bring an original taste of Morocco to your home with this hearty chickpea stew and use the help of your crockpot to bring out the variety of spices. This stew goes especially well with some freshly cooked quinoa or a vegan pumpkin dip.
Yield: 6 servings
Ingredients: 
1 small butternut squash
1 red bell pepper
1 medium onion chopped
3 garlic gloves, minced
¾ cup red lentils
1 can chickpeas
1 can tomato sauce
1 tsp freshly grated ginger
1 tsp turmeric
1 tsp cumin
1 tsp paprika
½ tsp cinnamon
½ tsp salt and pepper
3 cups vegetable broth
Instructions:
Chop butternut squash and bell pepper into small bite-sized pieces. Then add to crockpot along with all the other ingredients.
Stir to combine and cook on high for 3-4 hours or low for 6-7 hours. For a thicker result, cook with the lid off for the last hour.
4. Vegan Peanut Stew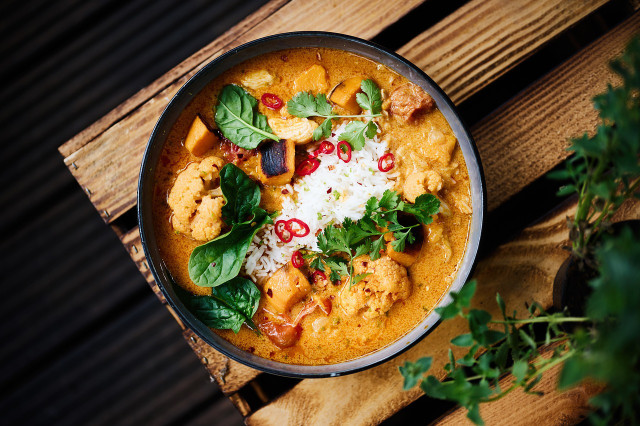 This is another delicious vegan crockpot recipe with chickpeas, but this time peanut-flavored! This creamy stew is African-inspired, rich in nutrients, and naturally gluten-free.
Yield: 6 servings
Ingredients:
4 garlic cloves, minced
2 small onions, diced
2 medium-sized sweet potatoes
1 tbsp olive oil
1 tbsp curry powder
1 tsp cumin
1 tsp chili powder
1 tsp salt
2 cups vegetable broth
⅓ cup homemade peanut butter
1 can crushed tomatoes
1 can chickpeas
1 red bell pepper
2 cups spinach
½ cup chopped peanuts for garnish
Instructions:
Mince garlic gloves, dice onion, and cut sweet potatoes and bell pepper into small chunks. Then add to crockpot along with all the other ingredients (except the spinach) and cook on high for 4 hours or on low for 8 hours.
Add in spinach right before serving and garnish to your liking with chopped peanuts.
5. Vegan Mushroom Soup Crockpot Recipe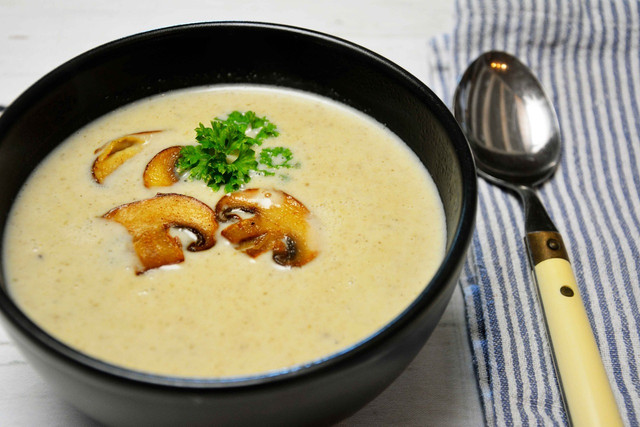 Vegan soups are an absolute comfort food, especially for colder days. This vegan mushroom soup for the crockpot is creamy, easy, and well-seasoned.
Yield: 6 servings
Ingredients:
1 cup onion
3 cups dried mushrooms (oyster, shiitake, or a mix)
3 cups fresh button mushrooms
3 tbsp olive oil
4 cups homemade vegetable broth
1 cup white wine
1 tsp dried tarragon
2 tsp salt
1 tsp ground pepper
4 cups unsweetened plant-based milk
Instructions:
Cut onions and mushrooms and let dried mushrooms soak in hot water for one hour.
Add onions, mushrooms, olive oil, vegetable broth, white wine, tarragon, salt, and pepper to a crockpot and cook on low for 3-4 hours.
Blend cooked mixture, add non-dairy milk, and heat up on stove top on medium heat before serving.
6. Vegan Jambalaya Recipe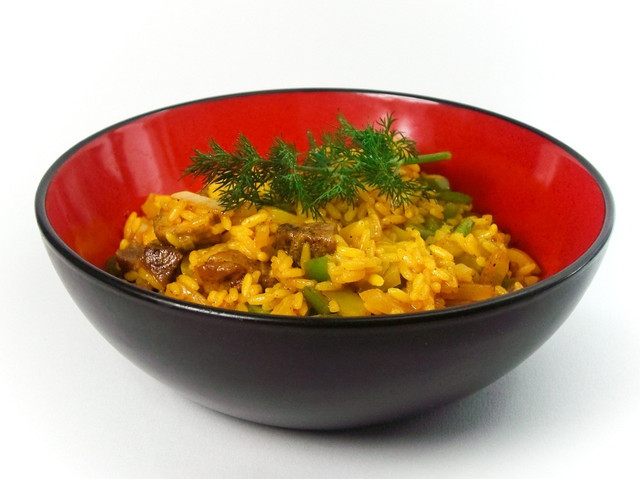 Jambalaya is traditionally prepared with sausage, chicken, and seafood, but luckily there's a great vegan alternative. While this dish can be prepared using a stove top, the crockpot simplifies the process and makes flavors more intensive.
Yield: 6 servings
Ingredients:
1 green bell pepper
2 celery stalks
1 medium onion
3 garlic cloves, minced
1 tbsp paprika
2 tsp cumin
1 tsp ground black pepper
1 tsp dried thyme
1 tsp dried oregano
3 cups vegetable broth
1 can diced tomatoes
2 tbsp hot sauce
2 cups basmati rice
1 can kidney beans
2 cups chopped vegan sausage (optional)
3 scallions, chopped
Instructions:
Place all ingredients except for rice in the crockpot and cook for 4-5 hours on high heat.
Once the liquid is near simmering, switch to low heat. Stir in the rice and cook for another hour or two, stirring in the additional vegetable broth if the texture is too dry.
If using vegan sausage, sauté it in a pan until brown. Stir into the mixture when done, season with salt, and top with scallions.
7. Vegan Goulash Recipe With Tempeh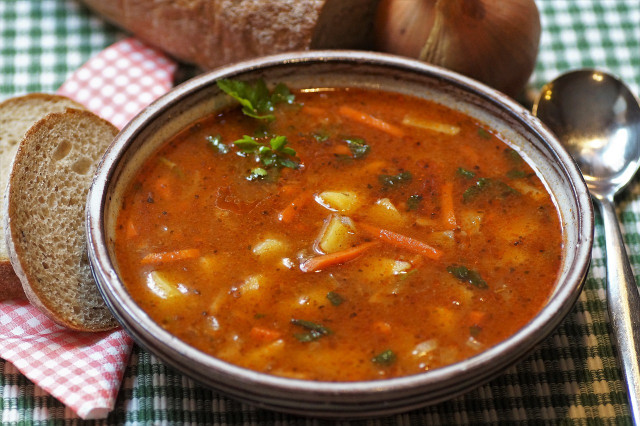 Goulash is known as a traditional stew in Hungary and is usually made of beef. This version for the crockpot gives it a vegan twist by using tempeh to absorb the sauce and soak up all flavors.
Yield: 6 servings
Ingredients:
12 ounces mushrooms
8 ounces tempeh
1 cup carrot
2 medium onions
1 large tomato
1 bell pepper
2 garlic cloves, minced
1¼ cups vegetable broth
2 tbsp paprika
1 tbsp dried parsley
2 tsp dill
½ tsp salt
¼ tsp pepper
10½ ounces silken tofu
1 cup peas
Instructions:
Add mushrooms, tempeh, and carrots to the crockpot.
Combine onions, tomato, bell pepper, garlic, and broth in blender and purée, then add to crockpot along with the paprika, parsley, dill, salt, and pepper. Cook on low heat for 8-10 hours.
Before serving, purée silken tofu with some liquid from the crock pot until smooth. Stir the mixture into the crockpot, add peas, and heat through. Serve over noodles, potatoes, or rice.
8. Autumn Harvest Veggie Soup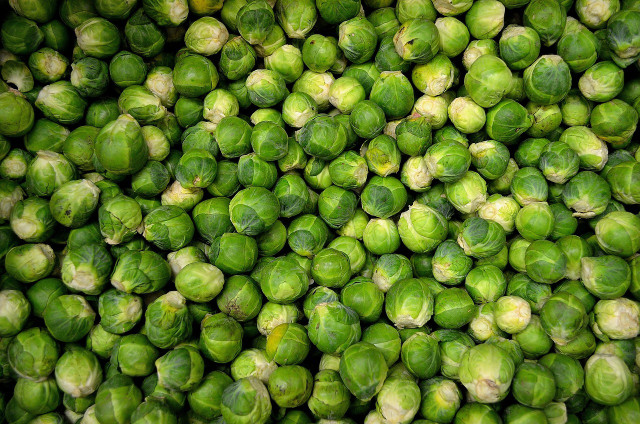 This is the perfect dish for every fall lover, allowing you to stick to seasonal vegetables only. It's filling, healthy, delicious, and easy to make.
Yield: 6 servings
Ingredients:
16½ cups winter squash
3 cups brussels sprouts
1½ cups diced carrots
¾ cup bell pepper
6 tbsp cooked onion
6 cups water
3 garlic cloves, minced
3 vegan bouillon cubes
3 tsp dried sage
6 tsp dried thyme
3 tsp apple cider vinegar
salt and pepper to season
Optional: toasted pecans or almonds
Instructions:
Dice your vegetables and shred brussels sprouts.
Add all vegetables, water, garlic, bouillon, sage, and thyme to the crockpot. Cook on low heat for 7-9 hours.
Next, add apple cider vinegar, salt, and pepper. Optionally, garnish with toasted pecans or almonds.
9. Refried Beans For Your Next Taco Night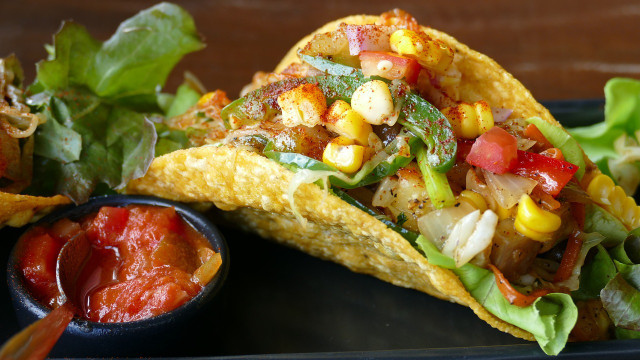 If you are planning on making vegan tacos, you don't want to miss out on this vegan refried beans recipe for the crockpot. This Mexican dish is oil-free and full of flavor.
Yield: 6 servings
Ingredients:
1 lb. dried pinto beans
1 small onion
2-3 garlic cloves
1 tsp cumin
1 tsp chili powder
1 jalapeño
2 bay leaves
salt and pepper to season
9 cups vegetable broth or water
Instructions:
Rinse the beans and remove any that are oddly shaped. Chop up the onion and mince garlic. Then add all ingredients to the crockpot. Cook on high for 8-10 hours.
Once done cooking, remove bay leaves and excess liquid. Mash or purée beans and serve with plant-based taco meat, nachos, birria tacos, or burritos.
Read More:
** Links to retailers marked with ** or
underlined orange
are partially partner links: If you buy here, you actively support Utopia.org, because we will receive a small part of the sales proceeds.
More info
.
Do you like this post?
Thank you very much for voting!