No need to skip snack time on your low carb diet: Try Utopia's own low carb peanut butter and chocolate chip cookie recipes for a delicious snack or dessert.
Low Carb Chocolate Chip Cookies: Recipe Ingredients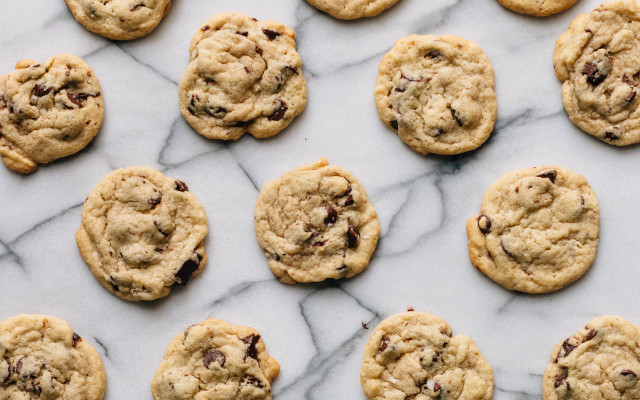 This low carb chocolate chip cookie recipe replaces conventional wheat flour and refined sugar with almond flour and xylitol. What's xylitol? Learn more about it as well as a number of additional commonly used sugar substitutes here: Sugar Substitutes and Natural Sweeteners: What You Should Know.
For a baking tray of around 15 low carb chocolate chip cookies, you'll need the following recipe ingredients:
1 cup (or slightly more) of organic fair trade dark chocolate
3.5 oz. of birch xylitol
1/3 cup of almond mash
7/8 cup of almond flour (only use almond flour and not ground almonds)
1/3 cup of butter
1/4 cup of coconut flour
1 egg
1 tbsp. cream of tartar baking powder
1 pinch of salt
pulp of a vanilla pod
Important: When you purchase your ingredients for this tasty low carb chocolate chip cookies recipe, remember to stick to locally produced organic ingredients. This ensures your food isn't laced with unnecessary pesticides and hasn't travelled very long from local farms to your kitchen.
Utopia's tip: Kick off the holiday baking season with a sparkling clean oven! You have all the ingredients for your homemade oven cleaner in your pantry. All-natural homemade oven cleaners will leave your oven spotless and save you money.
How to Make Low Carb Chocolate Chip Cookies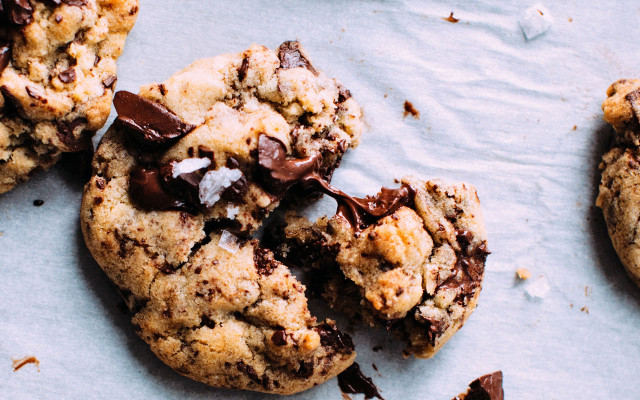 Bake low carb cookies like you would any other common cookie recipe. You should let the dough rest for around half an hour.
Total prep time: 50 minutes. 
Melt the butter in small pot or sauce pan.
Pour into a bowl and mix together with the xylitol until dissolved. This may take a couple minutes.
Add the egg, vanilla and almond mash and mix together thoroughly.
Now add the coconut flour, almond flour, baking powder and salt. Mix, then knead into a dough.
Crush the chocolate into small chunks and add three quarters to the bowl. Mix into the dough.
Shape the dough into a ball. Once smooth in appearance, place in the fridge for around 30 minutes. In the meantime, line the baking tray with parchment paper.
Remove the dough from the fridge and roll into 15 small balls. Place on the baking sheet leaving ample space between and sprinkle the remaining one quarter of chocolate chips onto the cookies.
Bake the cookies for 15 to 20 minutes at 350°F until golden brown. Check to see if they're done – it's fine if they come out a bit soft as harden slightly after cooling.
Utopia's green baking tip: Save energy and skip preheating your oven! Place your homemade low carb cookies in the cold oven and set to 350°F as outlined in the recipe. Baking time for this low carb cookie recipe is only around five minutes longer.
Ingredients for Low Carb Peanut Butter Cookies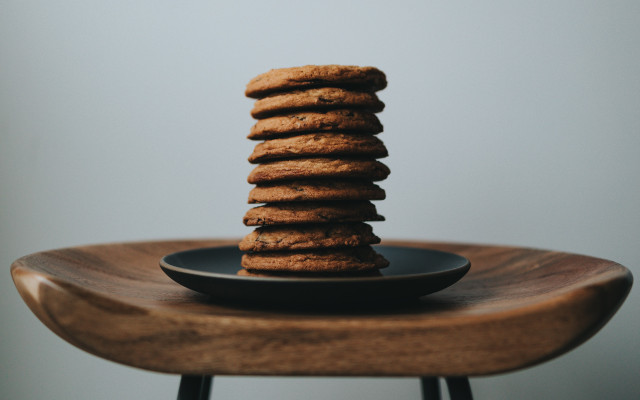 Now it's on to the next tasty cookie recipe: Peanut butter cookies. These are very easy to make – all you have to do is mix all the ingredient together in a bowl, shape your cookies and it's off into the oven. Here's what you'll need:
Low Carb Peanut Butter Cookies: The Ingredients
1 cup of organic peanut butter (with no additives)
1/2 cup powdered monk fruit or erythritol sweetener
1 tsp. organic vanilla extract
1/2 tsp. sea salt
1 egg
tsp. baking powder
In addition to these ingredients, you'll also need an electric mixer, cookie sheet (non-stick or parchment paper), a small bowl and a fork. Be sure to use only locally sourced all-natural organic ingredients. This is one way to make sure local farmers get a fair cut and pesticides or other harmful chemicals weren't used in production.
You may also enjoy Utopia's own Lebkuchen Recipe: Traditional German Gingerbread Cookies.
Quick and Easy Recipe for Peanut Butter Cookies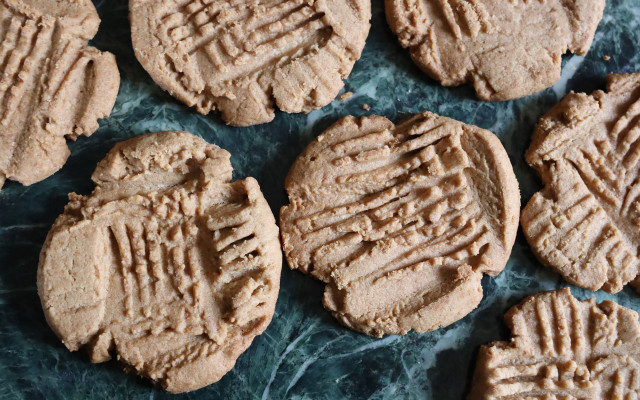 Total prep time: around 40 minutes.
Tip: Skip preheating your oven and toss your low carb cookies straight into the cold oven. Baking may take a couple minutes longer, however this saves a lot of energy.
Mix the peanut butter and sweetener thoroughly in a medium sized mixing bowl. Scrape the bowl when you are done.
Add the egg, vanilla, sea salt and baking powder. Mix until fully combined.
Line your baking sheet with parchment paper (if not non-stick), place the dough on top and roll out into a log. Cut the rolled dough into eight equally sized pieces.
Even space them when placing on the baking sheet. Flatten them slightly with your hand. Wet a fork and press down on each cookie to make the criss cross pattern.
Bake the cookies for 15 to 20 minutes at 350°F until golden brown at the bottom and edges. Let cool for ten minutes. And you're done!
Share some with friends and family, pack some away for tomorrow's snack or wrap them up in a tin and give them as a gift. We hope you've enjoyed these tasty recipes for low carb cookies.
Utopia's tip: Do you have more holiday baking on your agenda? After you're done with this easy low carb cookie recipe, why not give this one a try: Easy Homemade Oatmeal Cookies – Three Recipes.
Read more: 
These tasty low carb cookie recipes were translated from German to English by Evan Binford. You can view the original here: Low-carb-Kekse: Ein Rezept für kohlenhydratarme Plätzchen.
** Links to retailers marked with ** or
underlined orange
are partially partner links: If you buy here, you actively support Utopia.org, because we will receive a small part of the sales proceeds.
More info
.
Do you like this post?
Thank you very much for voting!