Hidden all around the country, these places offer a wellness experience like no other. Visit the best hot springs in the US to improve your health and mental state.
What could be more soothing than a dip in naturally hot, mineral-rich water? There are thousands of hot springs in the United States, many of which are great for bathing. Some are hidden in the wilderness, while others belong to formal resorts and provide luxury and comfort. Here are the 15 best hot springs in the US to put on your travel itinerary.
Benefits of Hot Springs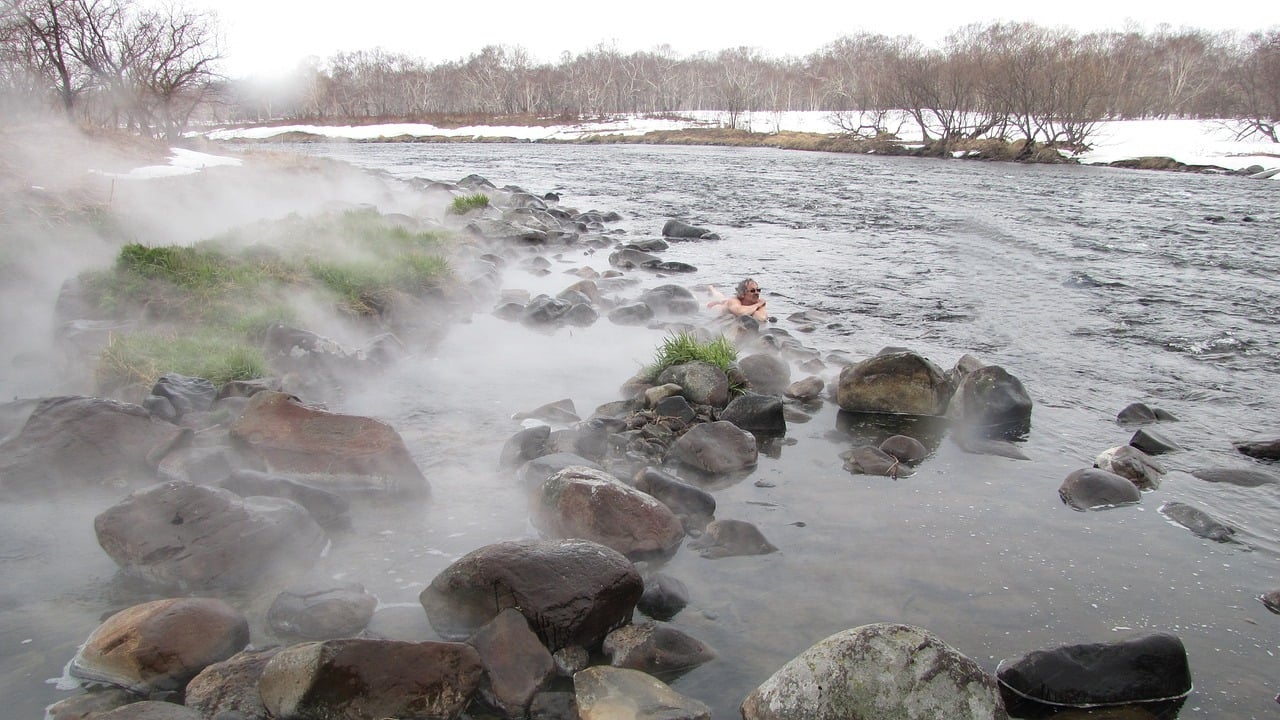 It's been proven that, besides being incredibly relaxing, bathing in hot springs has a variety of health benefits.
Here are some health benefits of hot springs:
Improved blood circulation. Once absorbed into the body, calcium and sodium bicarbonate can improve circulation and total oxygen flow.
Pain reduction. Warm, mineral-rich waters can improve flexibility and remove lactic acid from tired muscles.
Improved skin conditions. Hot spring water contains sulfur, which has both antifungal and antibacterial properties.
Relaxation and improved sleep. The water in hot springs can also help reduce stress by relaxing tense muscles.
Get Ready for the Best Hot Springs in the US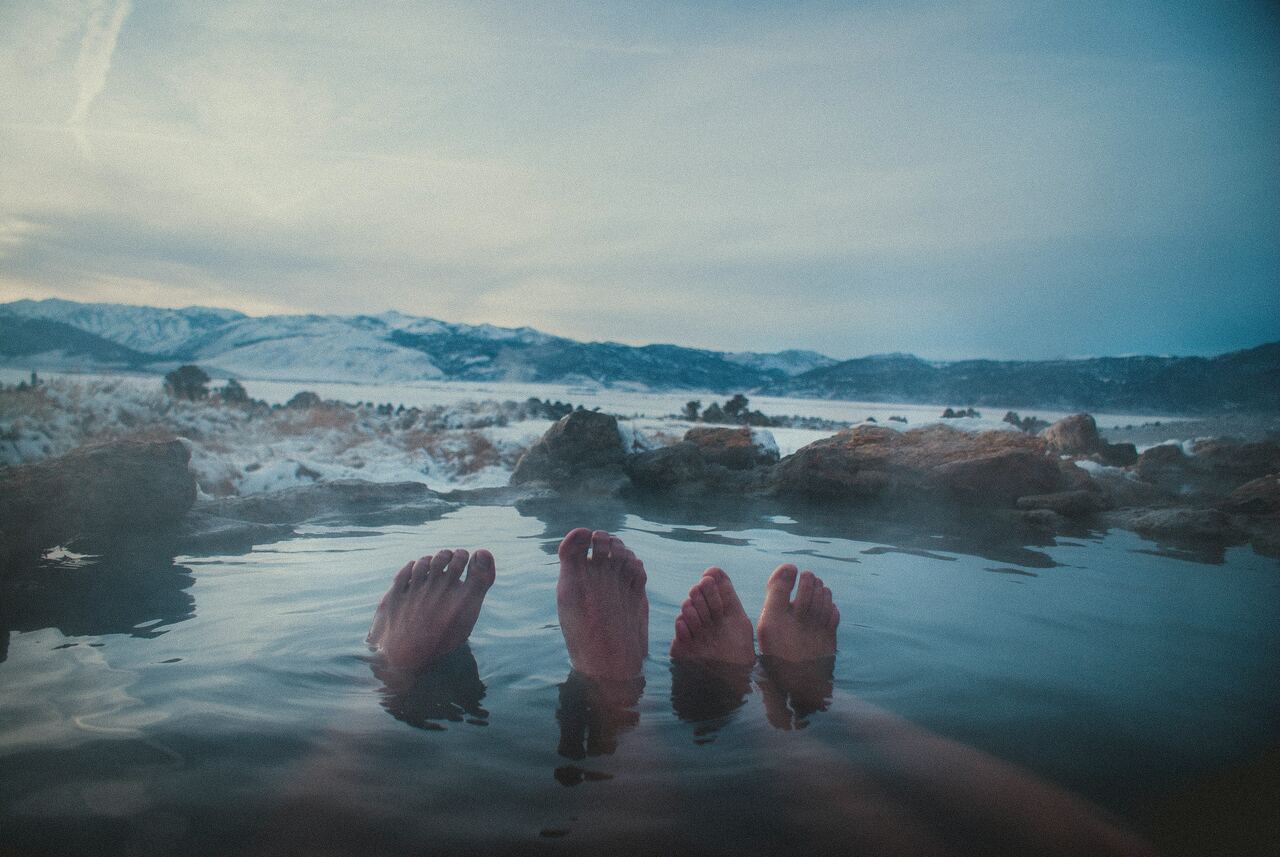 Visiting hot springs is usually a one- or multiple-day trip. To get the most out of your experience, remember these simple guidelines.
Do your research. Read everything about the location, especially if you are heading for wild backcountry hot springs.
Bring the essentials. Make sure you have the appropriate footwear if you need to hike to the location. Bring water, a decent towel, sunscreen and swimwear. When the weather is chilly, bring a hat to keep your head warm while you soak.
Stay safe. Before entering the hot springs, dip your foot and check if the temperature feels comfortable. Do not soak for more than 15 minutes without a break if the water is 104°F or warmer. Drink plenty of water to stay hydrated.
Feel ready for a soak? Here are the best US hot springs.
1. Fifth Water Hot Springs, Utah
Relaxing hot water, the serenity of the forest, stunning landscapes — these hot springs have it all! Located about an hour outside downtown Salt Lake City, Fifth Water Hot Springs, also known as Diamond Fork Hot Springs, makes for a perfect day trip. There are a variety of pools of different temperatures, ranging from 102°F to 111°F. You can even stand underneath a hot spring waterfall.
To get to the hot springs, you'll have to take a moderately strenuous hike of about 5 miles (round trip).
2. Glenwood Hot Springs, Colorado
If you prefer to enjoy hot springs in total comfort, Glenwood Hot Springs might be the perfect place. This mineral pool is said to be the largest in the world and one of the hottest in Colorado. The water is drawn from the Yampah Spring, which has a temperature of 122°F. Before it enters the pool, the water is cooled to 104°F.
In Glenwood, you don't need to hike through the woods since the hot spring pool is owned by the Glenwood Hot Springs Resort, located directly in Glenwood Springs, CO.
Interested in more relaxing getaways? Check out our list of the 10 best wellness retreats in the US.
3. Burgdorf Hot Springs, Idaho
Want to spend a day hiding from everyone and everything? Then this hidden gem in Idaho should be your next destination. Burgdorf Hot Springs is just about an hour's drive from McCall and accessible by road during the spring and summer. The resort has three historic log-sided pools of hot water. The two smaller pools are around 118°F, while the larger pool varies between 100°F and 115°F, depending on the season.
In colder months, you will need a snowmobile to get there.
4. Hot Springs State Park, Wyoming
The park is small but definitely worth your time. You can hike, picnic, take pictures of a bison herd or enjoy free bathing at the State Bath House. More than 8,000 gallons of hot water flow through hot springs every day at a constant temperature of 128°F. At the bathhouse, the temperature is kept at a soothing 104°F.
To visit these hot springs, head to Thermopolis, Wyoming. Hot Springs State Park is located right outside the town.
5. Bagby Hot Springs, Oregon
Although this beautiful old bathing facility may have seen better days, it is still one of the best hot springs in the US. There are three major springs and several minor seeps at Bagby. The large bathhouse spring flows 24 gallons of water per minute at 138°F.
Bagby Hot Springs are hidden in a remote location in the heart of the Mt. Hood National Forest, 80 miles southeast of Portland, OR. The hot springs remain closed during winter and usually reopen when the road is clear of snow, and the site becomes accessible.
6. Mystic Hot Springs, Utah
Get ready for the most memorable bath of your life. Your bathtub sits on a hill, and you can watch the sunset while you soak! Mystic Hot Springs, just outside Monroe, UT, offers two concrete pools and six vintage cast iron bathtubs. The temperatures in the soaking areas are usually between 99 and 110°F. Don't forget to bring your own towel and reserve a time slot in advance!
7. The Crater, Utah
Indeed, there are no hot springs like The Crater. It is a geothermal spring hidden within a vast beehive-shaped limestone rock at the Homestead Resort in Midway, UT. The hot spring pool at the Crater has a depth of 65 feet and an average temperature of 95°F. This place neither looks nor feels like a typical hot spring pool. The Crater looks more like a cenote in Mexico and offers activities you can't do at other hot springs, such as yoga and even scuba diving.
8. Conundrum Hot Springs, Colorado
Located in central Colorado near Aspen, Carbondale and Crested Butte, Conundrum Hot Springs are popular among hardcore nature lovers. The water temperature in these natural pools is usually around 102°F. There are campsites close to the hot springs, but you must buy a permit if you wish to camp there.
Nothing but untamed nature awaits you at the end of this 8.5-mile hike along Conundrum Creek Trail.
Learn more about wild swimming and why it's good for your health.
9. The Jefferson Pools, Virginia
Had enough of hot springs? It's time for warm springs, then. The historic Warm Springs Pools, also known as the Jefferson Pools, were restored and reopened in December 2022. They have the oldest spa structure in the US, the Gentleman's Spa, which first opened in 1761. Find the pools at the Omni Homestead Resort near Warm Springs, VA. They are naturally fed by a hot spring and have a water temperature of about 98°F.
10. Chena Hot Springs, Alaska
The resort offers woodsy cabins, rustic lodges and family suites. You can bathe in the geothermal hot springs lake, hot tubs and indoor pools filled with mineral spring water that rises from the earth at about 165°F. During the summer, you can go hiking or horseback riding in the area. During the winter, you can go on a snowmobile tour or ice fishing. If you're lucky, you might even see the Northern Lights.
Chena Hot Springs facility is located in the Alaskan wilderness, 60 miles outside Fairbanks.
11. Hot Springs National Park, Arkansas
At Hot Spring National Park, bathing is not to be taken lightly. The park is located in Hot Springs, AR. Some may think this area is more like a hot springs museum than a hot spring itself. The park's Bathhouse Row consists of eight historic buildings. Each facility offers various bathing options and spa services. Plan enough time to stroll through the area, discover the location's history and unwind while soaking.
12. Valley View Hot Springs, Colorado
There are seven pools and ponds with hot mineral water that you can enjoy at the Valley View Hot Springs. Orient Land Trust, a charitable non-profit organization, owns and operates the facility. The hot pools are kept between 104 and 106°F. Reservations are required, and visitation is restricted to protect this delicate and peaceful ecosystem.
The hot springs are 146 miles from Colorado Springs or 175 miles from Denver.
13. Calistoga Hot Springs, California
The Calistoga Hot Springs is a geothermal spring system in the upper Napa Valley town of Calistoga, CA. It is estimated that these hot springs were discovered approximately 8,000 years ago. The minerals in local waters aid in treating rheumatoid arthritis, back pain and skin conditions like psoriasis. Today, Calistoga is a well-known destination for hot springs lovers. There are six luxurious bathing facilities and resorts to choose from and plenty of local wineries and restaurants to enjoy between soaks.
14. Hot Springs in Mammoth, California
Some 760,000 years ago, a massive volcano erupted in this area, leaving behind the region's network of natural hot springs. Many of them are still exactly as Mother Nature intended: naturally heated geothermal mineral water tubs. There are some resorts and bathing facilities in the area, along with a dozen smaller hot springs that are free and available at any time of the day.
The hot springs are mainly concentrated between Bridgeport and Mammoth Lakes, CA. Stop by the Mammoth Lakes Welcome Center for locations and directions.
15. Mono Hot Springs, California
Whether you're looking for a relaxing retreat or an adrenaline-fuelled adventure in the wilderness, you can find it at this tranquil location, about 85 miles from Fresno, CA. The Mono Hot Springs Resort bathhouse offers everything you need for a comfortable soak. And if you have time to explore, you can soak in one of the free hot springs, which are located alongside the San Joaquin River. The hot water in these natural pools ranges between 104°F and 107°F.
Bonus: Boiling River, Wyoming
Bad news for hot spring lovers: the Boiling River is not boiling anymore. Hot spring enthusiasts have long considered Yellowstone National Park's famous Boiling River a must-soak location. However, a flood in June 2022 drastically changed the swimming area. The flood surge caused the river to change its route, so there is less of a convergence of hot spring water and chilly river water. Currently, there is no swimming at the Boiling River and no road access.
You can still enjoy the beautiful landscapes of Yellowstone National Park and visit the famous Mammoth Hot Springs, where the water temperature is generally about 170 °F.
Read more:
** Links to retailers marked with ** or
underlined orange
are partially partner links: If you buy here, you actively support Utopia.org, because we will receive a small part of the sales proceeds.
More info
.
Do you like this post?
Thank you very much for voting!